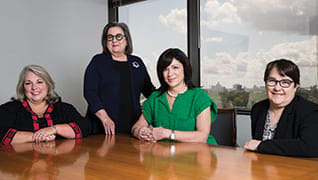 Photo by: Felix Sanchez
Seeing the Big Picture
When a charity needs a little help, four Beaumont attorneys are ready to jump in and get it 'from here to there'
Published in 2017 Texas Super Lawyers magazine
By Marc Ramirez on September 5, 2017
For four lawyers at MehaffyWeber in Beaumont, it was a typical week.
Sandra Clark was preparing to file a probate litigation motion before meeting with the scholastic foundation at Lamar University, where she sits on the board. Between prepping for depositions in a construction defect case, Michele Y. Smith was preparing to volunteer for the annual Spindletop Spin bike ride, which raises funds for legal-aid programs. Barbara Barron, working on a temporary restraining order, spent her lunch break making a pitch to Exxon Mobil's charitable committee for a grant to help a social-services center. And Pat Chamblin was finishing up an appellate brief before leading a weekly class for first-graders at her church.
"All four are exceptionally active in the community," says Bob Black, managing shareholder at MehaffyWeber, a 71-year-old litigation firm. "It is a mark of great pride for us."
Their volunteerism—from pro bono work and civic leadership to service on legal committees—has earned the firm recognition, prestige, and probably some business. The four attorneys say it stems from MehaffyWeber's give-back culture, which embraces everyone, including legal assistants and secretaries. The firm operates a charitable foundation and participates in pro bono events for local veterans. 
When Jefferson County experienced a backup of divorce cases for indigent clients several years ago, MehaffyWeber offered a four-hour pro bono clinic to alleviate the load. "People would come to the receptionist and get assigned a lawyer, and off they'd go," Barron says. "It was a pretty large, firm-wide effort."
That culture was instilled by people like co-founder O.J. Weber, who once ran for Texas State Bar president, and other elders in the firm who held roles on the local school board, city council and chamber of commerce. "We are expected to be civic leaders," Smith says.
When Barron started at the firm in the 1980s, fresh from law school, Weber showed her the evaluation form for associates. One thing she recalls: It left plenty of space for community service and Bar activity. "That was one of the things he sat down and talked to me about," she says. "He felt we were all given opportunity and that we should provide something back. So it was sort of imprinted in me that that's just what you did."
It's fair to say, though, that these four women—who range in age from 51 to 68—have taken the firm's volunteerism to a new level.
"We spend as much time working on charitable and community commitments as we do on our actual jobs," says Clark, who's been with the firm since 1980. "There's probably not a board in Beaumont that one of us hasn't served on, or is still serving on."
The four are proud to live in the former logging town, whose Spindletop gusher—tapped in 1901—became ground zero of the Texas oil boom of the early 1900s.
Smith is a Beaumont native, while Barron has been here since second grade. Chamblin, an Army brat born in San Antonio, moved back to Texas after her dad completed stints in Germany, Japan, Vietnam, Kansas, Washington, D.C., and San Francisco. And Clark is a fourth-generation Texan from tiny Trinidad, 70 miles southeast of Dallas—the only girl in her class of five graduating seniors. 
Between them, they handle a mix of defense work: premises and products liability cases, as well as commercial and personal injury litigation, such as defending clients against asbestos and silica injury claims. 
Chamblin has been with the firm longest, since 1978. She pursued her passion for debate at Abilene Christian University until her dad became seriously ill, requiring bypass surgery. "I was trying to get him to quit smoking," she explains, "and he said, 'If you think it's so easy to quit something you love, you quit debating and I'll quit smoking.'" So she quit the team: "Though I must say, I quit debating better than he quit smoking." 
Her debating skills still proved useful, though, when she got her law degree at the University of Texas. On a whim, she interviewed with a firm in Beaumont rather than a big city. She was so impressed with MehaffyWeber that she ended up joining the team. "They were swamped with work and happy to give me opportunities and turn me loose," Chamblin says. "In 1978, there weren't a lot of female lawyers doing trial work, but these guys were completely happy to have me."
A member of the Texas State Bar's professional ethics committee, Chamblin has also served on the Bar's grievance and disciplinary rules committees. In addition, she's a former president of the Jefferson County Bar Association, for which she does pro bono work and which named her Pro Bono Attorney of the Year in 2004.
In 2010, she won the professionalism award from the Jefferson Bar—"which is a big deal," Smith says—and the prestigious John H. Hannah Jr. Award for Public Service, given by the Eastern District of Texas Bar Association.
As for Clark, she has managed fundraising events for several local nonprofit organizations, is president-elect of the Art Museum of Southeast Texas, and serves on the board of the Symphony of Southeast Texas, as well as at Some Other Place, an agency serving Jefferson County's needy and homeless community. 
Though she taught high school English for several years before switching careers, MehaffyWeber is "the only law job I've ever had," Clark says. Having been referred for an opening at the firm by a professor at the University of Houston's law school, she uses her story to stress the importance of making connections.
"It's the only résumé I've ever sent out; the only job I ever interviewed for," Clark says. "I always tell young people: Never underestimate any job connection you have. You never know when one thing you do can end up with a great result."
Like Chamblin, Smith has been president of the Jefferson County Bar Association; she's also served as president of the Texas Association of Defense Counsel. She's handed out water bottles during the Spindletop Spin race and serves on the board of the Lamar University Foundation. In 2014, she received the county Bar association's community service award.
A Baylor Law School grad whose interest in the field was sparked by the TV show L.A. Law, Smith is involved with the Symphony of Southeast Texas and the Shorkey Center, which offers physical rehabilitation services for kids.
Barron, meanwhile, in addition to chairing local nonprofit boards, is incoming president of the Symphony League, which supports the local symphony. She also led efforts to raise $1 million to build the 15-year-old Southeast Texas Family Resource Center, serving needy kids.
As lawyers, they bring leadership and focus to their volunteer roles and a legal sensibility that nonprofit boards sometimes lack. Barron has helped numerous organizations construct bylaws and sort out governance issues.
"You can sort of see the big picture of where they want to go and help them get from here to there," she says. "Just sitting on the board, we see issues that other people don't necessarily see. When you're looking at a budget, a lawyer's going to be interested in, say, general liability coverage. We raise different questions than other people do."
All four women have served on MehaffyWeber's five-person management committee; at one point, three of them served at the same time, putting their stamp on an already cooperative company culture that they've found especially supportive for women. 
"When somebody's ox is in a ditch, everybody will come pull it out," Barron says. "I know that these women in this room—I can count on them if I'm at my wit's end."
And that's true of everyone at the firm, they say.
"I've heard people say that, when you go up against one of us, you go up against the firm," Barron says. When Barron's parents went through lengthy illnesses, she served as their primary caregiver, while raising two kids. "You can't do it all," she says. "It's nice to know you have an atmosphere here where people don't look at you like, 'Oh, you can't get that done.' Everybody jumps in and helps out."
She adds, "There's a lot of satisfaction in helping where we live be a better place."
---
The Day Barbara Barron Found the Right Fit—in a Hat and a Job
Every life has pivotal days, but Barbara Barron can point to one that was more so than most.
She and her siblings were first-generation college students, pushed to succeed by their parents, whose fiscal sense was so ingrained that Barron earned her undergraduate degree at Baylor in just three years "so I didn't have that fourth year of expense."
Most of her siblings pursued advanced education, but Barron, the youngest, chose law. When the holidays rolled around during her first year at the University of Houston Law Center, she peppered every law firm in Beaumont with résumés, hoping to line up a summer clerkship. 
One day that December, a senior business major named George joined her and a friend of his at their dorm cafeteria. He wore his cowboy hat the entire time. "I remember thinking he was very rude because he didn't take off that hat," Barron says. Still, there was something about him. Whenever she would run into George, she'd suggest something like a game of backgammon—but he wouldn't take the bait. 
In the meantime, she scored her first clerkship interview, with MehaffyWeber, set for Jan. 31, 1981. She didn't have a car, so her parents agreed to drive the 80 miles from Beaumont to pick her up in Houston and take her back to Beaumont for the interview.
Then, George finally asked her out to dinner. His proposed day: Jan. 31. Barron's parents agreed to drive her back to Houston after her interview, in time for her date.
The day came, and her parents showed up as scheduled in their yellow Pontiac sedan. Back to Beaumont they went, looking for a downtown corner to drop her off, out of eyesight of anyone at the firm. "I really did not want them to think my mom and dad had to take me there," Barron recalls. 
After the interview, she quietly called her parents for her ride. When they got back to Houston, flowers from George were waiting at the dorm's front desk, with a note saying he hoped all had gone well. The couple went to dinner, then for drinks at the revolving Hyatt Regency rooftop bar, where she remembers ordering a drink called the Yellow Rose of Texas.
She scored that clerkship at MehaffyWeber, joined the firm in 1984 and has been there ever since. That same year, she married George Perrett, who eventually explained he didn't want to take off his cowboy hat that day because he had "hat head."
Observes Barron, "My whole life got settled on one day."
Search attorney feature articles