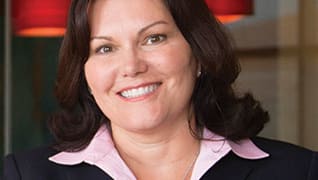 Photo by: Felix Sanchez
Shannon Schmoyer Finds Her Groove
Once an aspiring drummer, the San Antonio attorney discovered a new love in labor law
Published in 2015 Texas Super Lawyers magazine
By Michael Corcoran on September 1, 2015
As a young girl, Shannon Schmoyer would stand admiring her grand-uncle's wall of books and panoramic office view at Baker Botts and think, "I want to do what he does when I grow up." But her plans soon switched from lawyering to professional drumming.
In grade school, Schmoyer had gone right for the drums at her heritage-fostering "Indian school" in Edmond, Oklahoma; in high school, she played snare in the all-state marching band and toured China in a youth orchestra. She kept a full set of skins and cymbals in the basement, where she jammed in various rock combos.
"I wanted to be the next Buddy Rich," says Schmoyer, seated in the Tuscan-style San Antonio offices of her 7-year-old firm, Schmoyer Reinhard, where she now practices employment law.
But before she returned to her original idea of becoming a lawyer, she decided a more realistic musical career was as a band director. That dream didn't make it out of Schmoyer's freshman year at the University of Oklahoma, where she discovered in music theory class that she was tone-deaf. "I was pretty shook up," she recalls, describing how she failed an exercise in which the professor played notes and students tried to identify them. "I was this really accomplished percussionist, but with my tin ear, I could never lead a band, because I couldn't tell if they were in tune."
That's when Schmoyer changed her major to law. She went on in 1988 to Harvard Law School, where she had several classes with a slightly older student named Barack Obama. "We all hated to be called on to speak after Barack," she recalls with a laugh. "He was so eloquent and articulate. You could tell he was going places." If she'd kept in touch, she reflects, "maybe I'd be Secretary of Labor."
She was drawn to employment law when Haynes and Boone hired her out of college and assigned her to its Dallas section representing employers in discrimination, retaliation and wrongful termination suits. She then spent 13 years at Akin Gump Strauss Hauer & Feld, which sent Schmoyer to San Antonio in 2005 to head its labor and employment section. "I knew I wanted to litigate and I wanted my practice to be people-oriented, but I didn't want to go into family law," she says. "The thing that people are most emotional about, besides their families, is their job. You look at the law, but you also look at the human element, because you are affecting people's lives in a major way."
Her advice to young associates is to represent clients to the best of their abilities, but in a way that is respectful to the other side. Once, after she took a plaintiff's deposition, the older woman "hugged me and thanked me for letting her tell her side of the story," Schmoyer says. "She forgot I was the opposing lawyer and actually ended up making some admissions that hurt her case. But the greater point is that if you treat people with respect and dignity, generally you come out ahead."
Schmoyer is known for a no-nonsense approach, says Brad Barron, CEO at NuStar, who first worked with Schmoyer when he was general counsel with the energy company. "Shannon is able to manage the most complex cases in a way that allows us to maintain our focus on what is important about the case rather than the emotions that sometimes come along with litigation," he says.
She knows about dealing with much more overwhelming emotions. She lost both her mother and older sister while a student at OU. "I didn't know how to deal with those losses," she said. "My whole world was turned upside down, and my way of coping was to just throw myself in my studies." After her sister committed suicide, Schmoyer spent hours and hours researching depression and turned it into an A-plus term paper. She had to keep busy, she says, to cope with the losses.
Her mother's dream for the second-oldest of her four children was for Schmoyer to go to Harvard Law School. "When I was an undergraduate, my mother and I took a trip to Boston to just check out Harvard," says Schmoyer, whose father was a surgeon. Schmoyer's mother took her daughter's photo in front of the school's sign, but passed away just weeks before Schmoyer was accepted. "Somehow, she knows," Schmoyer says.
She started her own law firm with Christine Reinhard in 2008. "I loved being at Akin Gump," says Schmoyer. "But there was that other dream, of having your own firm." Schmoyer and Reinhard, who also came from Akin Gump, now have nine lawyers at their firm, which leases office space in the Eilan complex about 15 miles from downtown San Antonio.
The mother of two girls (both drummers) and a son (a golfer), Schmoyer says employment litigation makes up the bulk of her work. But when she's not in court, she's helping clients stay out. She often speaks to human resources managers at companies ranging from health care to transportation industries. "If I can keep them out of the courtroom, I've done my job," she says.
She also shares her expertise with other lawyers. In May, she drummed up awareness of laws in flux with a talk at the 22nd Annual Labor and Employment Law Conference in Austin titled "Emerging LGBT Issues in the Workplace." After June 2013, when the U.S. Supreme Court deemed unconstitutional part of the Defense of Marriage Act—thus allowing people married in states where same-sex marriage was legal to receive the same federal benefits as heterosexual couples—the effect on the workplace was significant. 
At the conference, Schmoyer's tempo is quick as she informs the gathering about the implications of that ruling. Since a number of states, including Texas, still banned same-sex marriages at the time of her talk, there were some clouded areas for her to shine a light on. For instance, if a gay couple legally wed in Massachusetts, which became the first state to issue marriage licenses to same-sex couples in 2004, were they eligible for married-employee benefits if they worked in Texas? The answer was yes, for federal benefits. The Internal Revenue Service quickly adopted the 2013 DOMA ruling as a guideline for federal tax purposes, including retirement plans. (The U.S. Supreme Court's legalization of same-sex marriage came just weeks after Schmoyer's presentation.)
Her speech also delves into gender-identification issues, another hot workplace topic. Afterward, she is approached by a human resources manager. "We have a guy at our office who started dressing like a woman about a year ago," the manager starts. "He hasn't had the operation yet, so we don't know if he's a male or female." Schmoyer's answer: Employees are  generally considered to be the gender with which they identify. She gives the manager her card and says to call if she has further questions.
"She packs a lot of valuable information in 30 minutes," says James H. Kizziar Jr. of Bracewell & Giuliani in San Antonio, who helps organize the conference. "Certainly I would want Shannon to return as a speaker next year."
For Schmoyer, it's all fascinating. "Labor law is never dull," she says. But it can be exhausting. With an exploding practice and plentiful speaking engagements, Schmoyer usually comes home too wiped out to play "Wipe Out." Her Ludwigs are set up in the basement, but one of the few times she's beaten the dust off them in recent years was at last year's annual Ethics Follies in San Antonio, where she played drums in a lawyer band that spoofs current hits. Follies creator/writer Lee Cusenbary, general counsel at Mission Pharmacal, appreciates both of Schmoyer's talents. "I've known her as an expert in employment law and a skilled litigator, and now, working on the Ethics Follies with her, I can tell you she's also a talented drummer," Cusenbary says. "She's funny and upbeat."
There is some commonality between the two disciplines, Schmoyer says, because in both you have to listen and react—though one requires quick thinking while seated, and the other, at least in the courtroom, requires quick thinking on your feet.
"I remember one time this judge threw us for a loop," Schmoyer recalls. "He had told us we'd be doing closing arguments on a case Monday morning, so I thought I had all weekend to prepare. But on Friday at about 4 o'clock, he said, 'Let's do closing arguments now.'" Schmoyer only had time to jot down a few things, but she killed it. "Sometimes, with all the paperwork that comes with the job, lawyers get too far in the weeds," she says. "It really did feel like playing with someone when you don't know the song. I just went with the feel and really felt a connection with the jury.
"I don't think I've ever given a better closing argument."
Search attorney feature articles