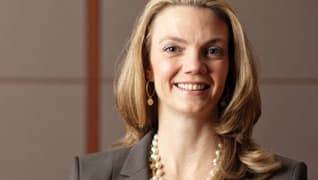 Photo by: Jeremy Enlow
Shelly T. Greco Keeps Her Cool in Court
The Dallas trial lawyer excels at handling heated situations
Published in 2012 Texas Rising Stars magazine
By Michael Hoinski on March 9, 2012
Let's call her "Lucy." That's not her real name, which she wanted to remain confidential. The point is she is a horse whisperer who moonlighted as an exotic dancer until a taxicab hit the car behind her, which in turn hit her truck and injured her neck. This cut off a source of income integral to Lucy's nonprofit, an equine rescue organization. She couldn't get the taxicab's insurance company to pay her medical claims so she had no choice but to sue.
"The taxicab company wanted to try this case because [it thought] there's nobody who's going to give a stripper any money. She's a stripper. She's a piece of crap," says Shelly T. Greco, the plaintiff personal injury attorney who represented Lucy.
The defense team came at Lucy with a bullwhip. And when Greco, an attorney at the Dallas-based firm of Eberstein & Witherite, started to establish Lucy's character, bringing up her work with rehabilitating horses and that she had graduated magna cum laude with a B.A. in business management, the defense counsel just rolled his eyes.
"They said I was a liar," says Lucy, 29, of the 2010 trial for the 2006 incident. "They said I had no morals."
Greco's opponent was playing right into her hands.
"The defense attorney was aggressive and demeaning toward my client," Greco, 40, says, "which is great. Because when the opposing counsel is disrespectful to me and my client, it alienates the jury." She adds that such behavior can encourage a jury to want to take action.
A verdict for $154,000 was reached in Lucy's favor. Her medical bills were paid and her nonprofit is still in operation today.
"Shelly has a special ability to relate to people from all walks of life and to explain difficult legal concepts in a way that makes sense," says Rosalyn Tippet of Tippett Law Office, who has known Greco since Texas Tech University School of Law, where the two graduated in 1998. She now serves as Greco's appellate counsel.
Greco started out as a defense attorney focusing on medical malpractice, but she moved to practice personal injury law on the plaintiff's side after the state's tort reform in the early 2000s (in part, because it had been unfulfilling and sometimes frustrating to deal with the reporting and paperwork required by the insurance companies).
Greco had an epiphany about how to try cases while representing Diane Brownlee, an emergency room nurse from the Panhandle. Brownlee was having chest pains so she went to Lubbock to get checked out by a cardiologist.
An angiogram was performed, but a kink in the femoral artery—similar to how a water hose can kink—existed following the procedure. The health care professionals failed to recognize the signs and symptoms, discharged Brownlee and sent her home. The delayed diagnoses resulted in a permanent nerve injury.  She no longer was able to fulfill her ER duties and was assigned a desk job.
"I had a judge who, every time he could, would rule against me; I mean just put money on it," Greco says. "I had a defense counsel who would file every motion under the sun. They tried to strike my expert multiple times. Any reason, you name it."
But Greco managed an against-all-odds win—and received the John Howie Award for the Courageous Pursuit of Justice in the Face of Adversity. The key, Greco says, was in telling the client's story and getting the jury to stand in her shoes. Greco uses the "story discovery" and telling techniques taught by Gerry Spence through the Trial Lawyers College.
"If the jury is looking at the case the way you have framed it and you believe in your case," Greco says, "you have a chance, even with a jury who, on paper, might not look favorable, like the Lubbock jury panel we had, where 50 percent of the people were either health care professionals or had close friends or family who were employed in the health care industry."
Brownlee was awarded $434,238.05 but tort reform caps brought it down to $281,354.09. And as of the day before Thanksgiving, the appeals court, in Amarillo, took the verdict away, due in part to an argument that hadn't even been brought up in the original trial. The firm had been working on a contingency fee agreement and lost the expenses it had put forward in pursuing the case.
Medical malpractice law began to frustrate her. "The laws are so written in favor of a defendant health care provider that should a patient be able to find an attorney willing to bring suit, you are guaranteed an appeal and risk losing it all, and the patient lives with the consequences," she says.
So she went into personal injury law. Her practice is in large part devoted to automobile and trucking accidents. It's a much better fit.
"We've been sold a bill of goods about how money-hungry plaintiffs are," Greco says. "Most people are in it to have justice served."
Greco was interested in law at an early age. Her father was a political science teacher and discussions related to law, government and current events were common at the dinner table. Greco put the lessons learned there to good use in the mock hearings and debates in her government class at Duncanville High School, near Dallas.
At the same time Greco was learning how to win in debates, she was also winning on the basketball court. Greco played shooting guard for a Duncanville women's basketball program that went 3 ½ years without losing a game.
"I could think and see the floor, and I could shoot," Greco says, "but I was not the fastest, nor could I jump the highest. I was an overachiever more than a natural athlete."
During her senior season, Greco's legendary coach and mentor, Sandra Meadows, underwent chemotherapy. She had been diagnosed with breast cancer and died a couple of years later, in 1994.
"Coach Meadows—second to my parents—had the most impact on my life," Greco says.
Greco's mother was also a victim of breast cancer. As a result, Greco is a supporter of the Susan G. Komen for the Cure and participates in the races.
today, lucy, her client, is using a portion of the money she received from the verdict to pay for graduate school at the Texas A&M University College of Veterinary Medicine. While her injury hindered the physical endurance necessary to be a horse whisperer, veterinary medicine allows her to continue her passion of working with animals. She'll always remember that Greco stood up for her when she was being personally attacked in court.
"Shelly made sure I didn't let them get to me," she says.
Search attorney feature articles
Helpful links
Other featured articles
How Tara Knight and Hugh Keefe became Connecticut's criminal law power couple
Erin Lee's immigration work includes a newspaper column
When Andrew Lindemann argued a 10th Amendment case before SCOTUS
View more articles featuring lawyers
Find top lawyers with confidence
The Super Lawyers patented selection process is peer influenced and research driven, selecting the top 5% of attorneys to the Super Lawyers lists each year. We know lawyers and make it easy to connect with them.
Find a lawyer near you