Sister Act
Gwen and Sharla Frost didn't plan on growing up and practicing law together; it just worked out that way
Published in 2020 Texas Super Lawyers magazine on October 19, 2020
Updated on October 26, 2020
Sharla and Gwendolyn Frost were born 3½ years apart and grew up on a ranch in rural Frogville, Oklahoma. Older sister Sharla rode horses and practiced piano; Gwen played basketball and learned to overhaul engines alongside her father. 
Their paths converged, however, after both completed law school: Sharla at Baylor University in Waco; Gwen at the University of Oklahoma in Norman. The sisters have spent nearly their entire careers—from 1993 through Sharla's April 30 retirement from Houston-based Tucker Ellis—working together, defending some of the country's biggest and most complex personal injury and products liability cases. Sharla has served as first-chair counsel in over 60 jury trials, often involving asbestos claims, with her "consigliere"—as she calls Gwen—by her side for many of them.
"Gwen has, for the last 10 to 15 years, done virtually all my trial preparation and support," Sharla says via phone during the coronavirus shutdown from her ranch, located 7 miles from the childhood home where their parents still live. Gwen's ranch, purchased from an uncle, is also nearby. "She has been the primary case-development lawyer for me on my trial cases." Those included a 2017 suit, Johnson & Johnson v. Herford, in which Sharla successfully defended the corporation against an individual talcum-powder mesothelioma claim. 
Until she was a semester away from becoming valedictorian of her 37-member high-school graduating class, Sharla intended to become an executive secretary. That's what she told her principal, a former lawyer who taught an introduction-to-law class, when he inquired about her plans. "He explained to me that I would have a secretary, not be a secretary, and suggested that I needed to go to law school."
Gwen, class valedictorian in 1983, was only 9 when she decided her career path, inspired by visits to the law office where her legal-secretary aunt worked. "I just thought that was the neatest thing ever," recalls Gwen, speaking from her Houston home. 
Both sisters knew they were expected to become their family's first college graduates. But their professional pairing was unplanned.
Sharla, who practices civil litigation defense, had moved to Houston for
a job with Fulbright & Jaworski. When Gwen, who practices personal injury defense, finished law school, Oklahoma's job landscape was bleak, so she moved in with Sharla to study for her bar exams and began clerking for a San Francisco firm representing two defendants in Chatham v. AC&S Inc., one of the largest consolidated asbestos personal injury trials ever. 
When that firm shifted cases to Roberts Markel Folger & Powers in Houston, Gwen went with them.
Sharla became involved in asbestos cases after moving to Holtzman & Urquhart in 1989. In the Chatham trial, she represented the Manville Personal Injury Settlement Trust as lead counsel. 
After the trial, in 1993, personal injury defense attorney James Powers recruited her. They wound up co-founding Powers & Frost the next year, with Sharla as managing partner; Gwen became their first new partner. After 18 years, the entire company joined Wilson Elser. When Sharla's largest, oldest client wanted to consolidate external work among a few firms and asked if she would take their account to Tucker Ellis, she agreed. Gwen also moved to that firm.
Because of Sharla's high-profile role litigating cases worth billions in potential liability, she worries Gwen's work is sometimes under-acknowledged. "Gwen is really good at [understanding] business. And she did sports law, and she has an entire career of her own," Sharla notes. 
"Most people who have tried cases with us, maybe the first three or four days they see us as one person, then they realize that we aren't," Gwen says. "We have different skill sets. I like the math and I like putting the pieces of the puzzle together and coming up with a theme, and getting it all ready to go. And I like to watch a trial; I don't really like to stand up and argue. I can, and I have. But everybody has their niche and what they're good at. And Sharla's better at that part than I am." 
Adds Sharla, "We get along well. Being business partners forever causes that—or results in prison sentences." 
Gwen says she'll miss collaborating with her sister, but observes, "Life is about change and moving forward." 
---
Head to Head
|   | Sharla | Gwen |
| --- | --- | --- |
| Favorite trait of my sister's | Her ability to dissect a problem, even a personal problem, then figure out the next step. | Her ability to talk to anyone at any time. |
| I wish I had invented | Rolling luggage. I have traveled more than 300 days a year for the better part of 15 to 20 years, and rolling luggage has saved my life. | The iPhone. … I could probably own all of Oklahoma if I'd done that. |
| Legal TV shows: yea or nay? | There's not enough alcohol for me to watch those. | I'd like to be able to resolve some of the cases we have in an hour! |
| If I weren't a lawyer, I'd be | A journalist. I was offered a job with The Oklahoman when I graduated from college. | An architectural engineer. I like to build things, and I like to figure out how to build them. I'm actually pretty good at it. |
Other Featured Articles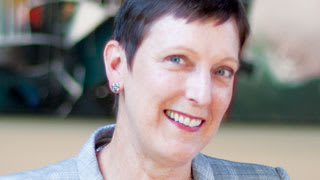 A Civil Defense
Don't underestimate the cordial Nancy Sheehan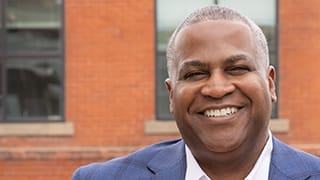 A Desire to Serve
Brian Newby has worked in the governor's office, spent three decades at his law firm, and retired from the Air Force with two stars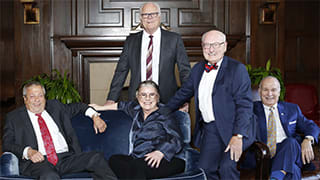 Law & Practice
Six pillars of the legal community look back on three decades of law Featuring Nancy Zalusky Berg, Michael V. Ciresi, Joseph S. Friedberg, Earl P. Gray, Kathleen M. Newman, Lewis A. Remele, Jr.