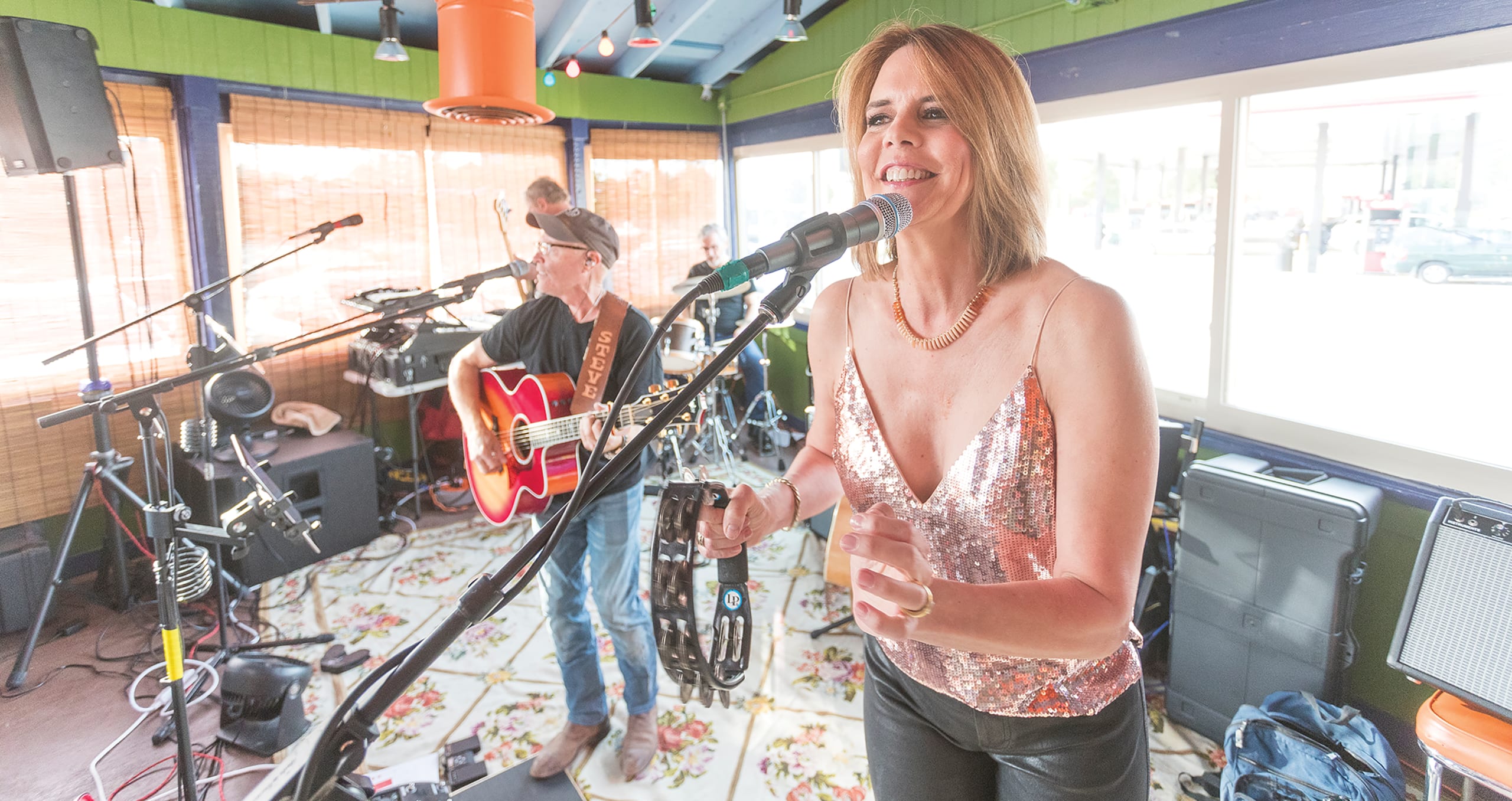 Strike Force
Dawn Estes tears it up, both at her women-owned powerhouse and with the band
Published in 2019 Texas Super Lawyers magazine
By Alison Macor on September 6, 2019
Dawn Estes likes to say she's seen the inside of pretty much every prison in Texas. Oklahoma and southern Arkansas, too.
It's true, though not in the way you might think. As a teenager growing up in Big Spring, she was part of a group of high schoolers who sang with a local church group. Estes and about a dozen other teenagers performed gospel songs a cappella for prison trustees and inmates.
During one trip to Hot Springs, Arkansas, Estes and a girlfriend ducked out and rented a jet ski. When they crashed their rental, Estes smashed her nose into the back of her friend's head. The next day, at a performance for a group of female prisoners, Estes' nose began to bleed as soon as she sang her first note. The incarcerated women couldn't have been nicer to the mortified teen, reassuring her and applauding to cheer her on.
What happened next struck a chord with Estes. Each woman stood up and talked about her life, and it helped Estes realize that every person has a story. The women shared the circumstances that led to their being imprisoned, and Estes admired their ability to admit to bad judgment and the mistakes they made along the way.
Around the same time, she was learning another type of performance art, in a mock trial competition at her high school. "For me, most of doing a mock trial was performance, because I didn't really understand all the procedures," Estes says. "But I got a little taste of it and thought, 'This is kind of fun.'"
The word fun seems to crop up a lot around Estes. Either she's using it to explain what she loves about her work as a trial attorney, or friends and colleagues are using it to describe her—both in the courtroom and on stage as a member of the roots-rock band Black Dirt Tango. Former colleague and current bandmate Steve Henry cites Estes' authenticity as one of the keys to her success with juries: "Dawn strikes a good balance between being firm and serious and being folksy or funny. She comes across as real in the courtroom and, as a result, jurors just like her. They can identify with her. She's a really good trial lawyer, but she comes across as someone you want to hang out and have lunch with."
On a Monday morning in early April, Estes strides into a conference room in an office tower overlooking Turtle Creek in Dallas. The city is drying out after a soggy spring weekend, and Estes wraps her hands around a bright white coffee mug that matches the room's leather chairs and quilted leather coasters. Estes' black tweed sheath and jacket contrast with the room's stark whiteness, and she exudes an easygoing warmth. She sits with her back to a wall of floor-to-ceiling windows that offers a panoramic view of downtown from the 20th-floor perch. Inbound planes arriving at nearby Love Field glide past every five minutes or so, their reflections bouncing off the high gloss of the room's dark wood conference table.
As a witness prep unfolds in a room next door, Estes, 55, talks about the evolution of the firm she opened with three other attorneys in 2008. Over the last few years especially, Estes Thorne & Carr has been working with clients whose complex cases often produce late-breaking crises involving trade secrets, confidential information, noncompetes and other commercial matters that require immediate action, such as temporary restraining orders and injunctions. "We need to swoop in like a SWAT team and fix whatever it is, and then move on with the case," she says. "It's like drinking from a firehose, but I like it."
At Southern Methodist University, Estes majored in political science and minored in economics, but she knew by then she wanted to go to law school. Still, the 6-foot-tall college freshman also wanted to try modeling, so she did some catalog work and a few other jobs at what is now Dallas Market Center. Eventually, it became harder to maintain the 3.5 GPA her parents expected of her;
she also realized modeling didn't allow for much interaction. "In modeling, you get a lot of 'advice' about needing a nose job or needing to have your ears pinned back, but they never asked you what you thought about anything. It was hard for me not to talk. I like that feedback loop of performing. That's part of what I like about being in a courtroom or in front of a judge and clients."
Estes became comfortable in the courtroom while still in law school at St. Mary's University. She clerked for Sue Hall, a San Antonio family law attorney who gave Estes a lot of responsibility. In addition to drafting discovery responses, Estes accompanied Hall to court, where she sat in on client interviews and observed how the well-liked attorney would pass out M&Ms to the clerks when she filed her paperwork before a case. Estes would also tag along when Hall engaged in a pre-hearing ritual of taking the stairs instead of an elevator, telling Estes, "I gotta get my blood pumping." Estes loved it.
But she didn't love family law, except when the separation issues involved family-owned companies, and Estes had to learn about different businesses. That she liked. So Hall advised her to get a clerkship in the commercial hub that is Dallas, which led Estes to Gardere & Wynne (now Foley Gardere) and, eventually, her first job.
Once on board at Gardere, Estes jumped at the chance to take on criminal pro bono cases with the public defender's office in Dallas. In one case, Estes defended a man accused of a DWI, arguing to exclude the client's breathalyzer test because he had burped beforehand. Estes theorized that the test had measured the contents of his stomach rather than his lungs. "It was the first brief I filed ever in my legal career. My theory was unsupported by any expert testimony, but it had lots of passion behind it," says Estes with a laugh.
But she found that she didn't have a passion for criminal defense. She was encouraged by mentor Peter Vogel to obtain her license as a mediator and learn how to arbitrate so she could become a stronger advocate for her commercial clients. Nearly two decades later, Estes is grateful to have developed those skillsets. "The goal is to move things toward the finish line as quickly and expeditiously and fairly as possible," she says.
While at Gardere, Estes met her husband, David Timmins, when the Houston firm he worked for merged with Gardere. Timmins, an insurance attorney, is now a partner at Husch Blackwell. They have a son, Grayson, who is a sophomore in college, and a high school sophomore daughter, Katy.
In 2006, Estes decided to campaign for an open bench in the 192nd Judicial District of Dallas County. "I've always felt at home in the courthouse, and I thought that would be the right place for me," says Estes. She lost, but campaigning meant visiting attorneys throughout Dallas County, and it opened her eyes to the many ways one could practice law. "You can have an amazing practice and not have 500 lawyers working with you. You can be more like a strike force as opposed to a big, giant army," she says. Shopping for shoes in Houston with friend Kim Phillips, a local attorney there, they hatched the idea for Estes to open her own firm back in Dallas. An inveterate list-maker, Estes started tallying the pros and cons on her flight home that evening.
"When I got back to Dallas, I contacted Lori Carr and we started discussing it," says Estes. Two other women who had recently left Gardere came into the discussions and, a year later, they opened the first women-owned, business-focused law firm in Dallas.
Estes suspected the firm had made it when it was hired to represent a client who had been on the opposing side while Estes was at Gardere. Amy Osteen was assistant general counsel for Orix Corporation USA during what became a series of high-profile cases about commercial mortgage-backed securities that played out over two years in the early 2000s. When Orix had another high-stakes piece of litigation years later, it hired Estes' firm. "You find out a lot about people when you're adverse to them, and Dawn always handled herself with grace under fire," says Osteen, who today is general counsel for Rug Doctor.
She adds, "When a jury is looking at one side of the table and it's five guys and maybe one female paralegal behind them, and Dawn's at the other table and she's surrounded by women and being kind to her helpers and assistants, juries pick up on that. Some people get that, and other people don't. Dawn gets it."
Nowadays, Estes primarily works with in-house attorneys, and she likes it that way. "I think you come up with better solutions when you have a team," she says. Estes likewise appreciates having clients who are also friends. It's a philosophy she adopted from Henry, who headed up the construction practice at Gardere when they both worked there. "I'd always talk about how you attract and obtain business," he says. "When Dawn first went out on her own, she understood that she was responsible for her clients. She took that responsibility seriously. And when you do that, they become like family."
Estes adds, "Whether my clients are my friends when we start or whether we've become friends through the process, I can say that most of the people we represent are friends. They're collaborators and they're clients. We enjoy being around each other, and that makes it easier to deliver difficult news. It makes it easier to work long nights. It makes it easier to want to make them look good."
---
Playing in Dirt
Black Dirt Tango has been together for nearly a decade, but if Dawn Estes has her way, the band might re-brand itself as Awkward Homies. Or Suicide Squirrel. She keeps a running list of fun band names, a pastime she shares with her daughter, Katy, as well as bandmate and fellow attorney Steve Henry. A blend of Americana, bluegrass and roots rock, BDT features Estes on vocals, harmonica and melodica; Henry sings, plays guitar, and writes most of the songs. Several other musicians, including voiceover artist Michael Brown and Milo Deering—who also plays fiddle and pedal steel with Don Henley—round out the band.
Estes' clear, low alto rings out on "Breath Like Fire," then transforms with an Irish lilt on the rousing "Donegal Bay," both on the band's second album. Estes and Henry first joined musical forces at Gardere, when they and a handful of colleagues formed cover band Secondhand Noise. Even today, Estes occasionally performs a version of John Prine's "Angel from Montgomery" at BDT shows. "When I'm really busy, I forget how freeing it is to go play music," she says. "You can't be upset about something at the office or a court ruling. You are in the moment, and that's awesome."
Search attorney feature articles