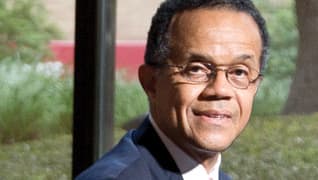 Photo by: Felix Sanchez
Texas Two-Step
Veteran trial lawyer A. Martin Wickliff Jr. follows in his father's pioneering footsteps by starting the largest minority-owned law firm in Texas
Published in 2012 Texas Super Lawyers magazine
By Anna Befort on September 10, 2012
Aloysius M. Wickliff Sr. was one of the first African-American lawyers in Houston, at a time when courtroom segregation was still common. He became a respected civil rights attorney who helped start the Houston Lawyers Association and fought for the right of women to serve on juries in Texas. He managed the campaign of the first Southern black woman to be elected to the U.S. House of Representatives and led the Harris County Council of Organizations, an umbrella organization of African-American civic groups.
But his is by no means the only Wickliff name known in Houston. One generation later, his son, A. Martin Wickliff Jr., has created his own pioneering legacy. The prominent 64-year-old labor and employment lawyer has worked his way up through institutions, and he's helped pave a path for other minority lawyers along the way.
That the younger Wickliff would embrace trial law is not all that surprising. In high school, he spent Saturdays and summers working in his father's law office, typing pleadings, filing papers, even mopping the floors. "I just liked that atmosphere of being around a bunch of lawyers," he says. He'd often sit in the courtroom while his father argued cases. "Seeing how he enjoyed it—even though for a lot of his cases he was not paid or not paid much—it was sort of in my blood, in my DNA, to be in the courtroom."
And yet "Papa Wick," as the 91-year-old elder Wickliff is affectionately known, didn't want his son to follow in his footsteps. "He wanted me to be a physician, because in those days African-American doctors made more money than African-American lawyers did." To appease his father, Wickliff enrolled as pre-med at the University of St. Thomas in Houston—a decision that lasted two years before he pursued his true calling. 
Law school at Texas Southern University was followed by grad school at New York University School of Law, where Wickliff received a Master of Laws degree in order to bolster his reputation at a time when major Houston law firms had few minority lawyers. By the time he finished at NYU, he found himself at a crossroad: He could stay in New York and work with a union leader; he could handle school-desegregation cases with the NAACP in the Midwest, or he could take a job with a major firm in Houston. He felt the magnetic pull of his home state, where the Wickliff name meant something, so in March of 1975, he returned to Houston to become the first minority lawyer at Fulbright & Jaworski.
The move was pivotal for Wickliff in many ways, not least of which was that it brought him over to the management side of labor and employment law—as opposed to the union-side affairs he'd watched his father litigate. Though most people were welcoming, he says there were times when it seemed unwelcome for an African-American to be handling the corporate side of matters. "I just held my head up high and kept in mind the principles my father taught me about being prepared and going into the courtroom," he says. "If you had an all-white jury, you just were talking to 12 persons on the jury, and you did the best you could in representing your corporate client or individual. I felt comfortable in my own skin." 
After nearly a decade at Fulbright & Jaworski and six-and-a-half years of starting and chairing the labor department for Mayor Day & Caldwell, the desire to build something of his own became too strong to ignore. So, in 1990, he and fellow African-American attorney Alton Hall left their secure firm jobs to build their own firm from the ground up. "It was a scary proposition. The economics were not that great for starting a new enterprise. But I had been talking about it for so long, my wife told me, 'Look, if you're going to do it, do it now and shut up,'" he says with a chuckle.
What started as two attorneys and a secretary grew into a 31-lawyer firm spread across three cities at its high point, becoming the largest minority-owned law firm in the state. It was also one of Texas' first minority-owned law firms to represent major corporate clients, many of whom had followed Wickliff from firm to firm. "We became a very unique and interesting commodity in Texas because many minority lawyers saw us as a nice alternative to being at a large firm. We had large-firm clients but a small-firm atmosphere."
In 2011, the State Bar of Texas Minority Counsel Program awarded him with the first-ever Trailblazer Outside Counsel of the Year Award for his decades of work promoting diversity.
After 12 years of running their own shop, Wickliff & Hall joined Epstein Becker Green in 2002 to grow the firm nationally, and in 2011 Wickliff and Hall led a 14-lawyer team over to Cozen O'Connor. Though Wickliff has been happy to leave the administrative and managerial side of running a firm behind, he still considers Wickliff & Hall to be one of the high points of his career. "Managing your own enterprise where you can look back and say we as minority lawyers were successful in operating a law practice like a business with corporate clients as our client base, was a very gratifying experience."
Search attorney feature articles