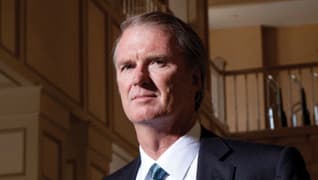 Photo by: Felix Sanchez
The Bulldog
Bob Hilliard takes on the cases other lawyers won't touch—and wins
Published in 2011 Texas Super Lawyers magazine
By Erin Carlyle on September 12, 2011
Bob Hilliard watched the men dash beneath the Paso del Norte border bridge. He saw the officer jump from his bicycle, chase them, and aim. Then he heard the gunshots and a woman, crying out in Spanish.
In the aftermath, a 15-year-old boy lay flat on his back, his green T-shirt crumpled, blood spurting in red waves from his face.
The cell phone video, filmed on the Mexican side of the border, was grainy. But it was clear enough for Hilliard: An innocent teenager had been murdered by the U.S. Border Patrol.
Six months later, Hilliard filed a $25 million wrongful death and civil rights violation lawsuit against the American government, and represented the family of the dead teen, Sergio Adrian Hernandez Güereca.
"El Paso and Juárez is a tough place right now, and the Border Patrol agents, they have a tough job," Hilliard told a television reporter in an interview with Fox News. "But it certainly hasn't come down to a point in the relationship between our countries that we're shooting each other's children."
After the interview, Hilliard's voicemail at Hilliard Muñoz Gonzales filled with threats. Unfazed, he simply forwarded the calls to the FBI.
During nearly 30 years of trial work, Hilliard has consistently chosen to represent the powerless. One of Hilliard's early clients in his solo practice was Kelly Havner, a teenager born with no fingers on her right hand. While pregnant, Kelly's mother had taken a morning sickness drug called Bendectin. Hilliard sued the drug maker, Merrell Dow Pharmaceuticals Inc., partnering with Barry Nace, a Washington, D.C. attorney who had prosecuted the most famous of the Bendectin cases. When they met, Nace noticed Hilliard's distinctly Texan demeanor right away. "Just the way he talked, his lanky moves—he reminded me a little bit of a cowboy," Nace says.
A methodical cowboy. To prepare for trial, Hilliard pored over every bit of information Nace had from prior cases. On the first day of the trial, the judge asked Hilliard to tell the jury a bit about the case. When he finished, Hilliard recalls Nace saying to him, "That was exactly what I was going to say in my opening. What do I do?"
Hilliard responded, "Give your closing!" Nace remembers, "He said, 'Barry, you give the wildest closing argument you ever made.'"
So Nace did—offering the jury the kind of detailed, dramatic narrative he normally reserved for the end of the trial—and it worked beautifully. A jury awarded $30 million in punitive damages and compensatory damages of $3.75 million.
But when the case reached the Supreme Court of Texas, Hilliard discovered something about the attorney for Merrell Dow: He'd promised to raise half a million dollars for one of the justices on the bench. Hilliard protested, and the judge recused himself.
In less than 30 days, the court ruled in favor of the pharmaceutical company. However, while doing so, the court changed the admissibility standard for certain expert testimony, reverting to an old standard that disadvantaged the plaintiffs. Applying the standard required the judge to be the "gatekeeper" and make a determination during a hearing of whether the expert and his opinions met the new "Havner Standard."
But the court refused to remand the case so that Hilliard could try it again under the new rules. Instead, the court rendered a verdict in favor of the defendant.
Hilliard poured out his frustration in a motion for rehearing that slammed the judges. "Outlined against a hazy July sky, the four horsemen rode again last Wednesday," Hilliard wrote. "You know them: Pestilence, Death, Famine, and this Texas Supreme Court." The brief nearly cost Hilliard his law license. But to this day he's proud of it.
"You know, I never recall Bob taking a case that he didn't strongly believe in," says Dax Cowart, an attorney who worked with Hilliard for five years.
Hilliard's deep affinity for protecting the helpless began at home. His father, an Air Force fighter pilot who flew the first mission into North Vietnam, attended law school when a diagnosis of muscular dystrophy forced him to retire from the military. Shelley Hilliard became the county attorney of Newton, where he prosecuted from his wheelchair. Eventually, he sued the county because he had to drag himself up the courthouse steps on his hands and knees to get to work.
"Once he won the lawsuit, the county named the elevator 'Shelley's Shaft,'" Hilliard says.
Hilliard's older brother, Del, also had muscular dystrophy, and had suffered brain damage as a child. Growing up, Bob defended his older brother against bullies at school. But at home, where the boys shared a room, Del provided the comfort a little brother sometimes needs. "I used to have nightmares growing up, so I would go sleep in his bed," Hilliard says.
After majoring in English on a tennis scholarship to St. Edward's University in Austin, Hilliard attended St. Mary's University School of Law in San Antonio, where he graduated with honors. Trial law was a natural fit for Hilliard's dramatic streak—he'd loved performing in high school plays. He worked for two years for Guy Allison, one of the toughest trial lawyers in the state. Then, Hilliard started his own practice.
In 1995, Hilliard attended Gerry Spence's Trial Lawyers College in Wyoming where he met Dax Cowart. A former football star and fighter pilot from East Texas, Cowart had lost both hands and eyes in a tragic explosion that left two-thirds of his body horrifically burned and also killed his father. He'd wanted to die, but doctors refused to let him. Instead, he was forced to undergo excruciatingly painful treatments. Eventually, Cowart went to law school and became an advocate for patients' rights. Though today Cowart says he is glad he lived, he still believes that he should have been allowed to end his life.
The men hit it off right away and Hilliard offered Cowart a job. The East Texas lawyer became one of the most influential people in Hilliard's life.
"He reminded me of how important it is to stay in the moment," Hilliard says. "Use the pain you have experienced to positively affect those around you."
Last year, Hilliard got a phone call from a Minnesota attorney who was filing a lawsuit against Toyota. A family had lost three members—a father, his 9-year-old son and his 6-year-old niece—because a Toyota Camry slammed into the back of their car at 90 miles per hour.
From the moment he stepped away from the accident, Koua Fong Lee claimed he had been pressing the brakes. But the jury didn't believe him. The Hmong immigrant and father of four was charged with criminal vehicular manslaughter and sentenced to eight years in prison.
Four years later, several Toyota models were recalled amid problems of unintended acceleration. Hilliard flew up to Minnesota to help the victims' family in a civil case against the carmaker, but ended up helping out Lee, pro bono. Toyota's models with an electronic throttle control (ETC) system had been recalled, and Hilliard and his team began looking at older models—like the one Lee had been driving. The case played out as a high-stakes drama in the newspapers and on the nightly news. Despite increasing evidence that Lee had been telling the truth, the county prosecutor, Susan Gaertner, opposed a retrial. In one instance, she adopted a mock Texas accent as she declared that no lawyer from Texas was going to come up and overturn her case, and accused Hilliard of "stirring up trouble."
"Here's a news flash for Mr. Hilliard: This is Minnesota, not Texas, and attorneys in this state are expected to abide by stringent ethical standards," Gaertner said in one statement.
"In Texas, we don't knowingly put innocent men in prison," Hilliard shot back.
Last August, after a four-day hearing, in which the plaintiff's attorneys presented compelling evidence, a judge released Lee from prison. Minutes later, the Minnesota prosecutor announced she would not seek a new trial. Hilliard stood on the courthouse steps and celebrated, with Lee embracing him in a fierce hug.
A few months later, in December, Lee and his family traveled to Corpus Christi to share Christmas with the Hilliards. "My 5-year-old knows them well," Hilliard says. "It was powerful stuff."
Hilliard is father to six children, ages 20 months to 22 years. "He's a very good dad," says Jacobo Muñoz, Hilliard's partner of 16 years. "He devotes his life primarily to his work and to his children."
These days, Hilliard is busy with a case against BP related to the Gulf of Mexico oil spill; a suit on behalf of mentally disabled residents at a Corpus Christi state school who were forced to fight each other for the pure amusement of school employees; and a case against the San Angelo Independent School District where a special needs girl was sexually assaulted by a fellow student as a result of the school's failure to keep someone with her at all times.
Hilliard is also prosecuting a San Antonio priest in a child sex abuse case. A staunch Catholic, he says that the decision to take on the case has earned him criticism from some of his fellow parishioners—but he doesn't mind.
"If there's a priest doing this, he's not part of the church that I believe should exist," Hilliard says. "Cleaning house does not mean that you don't like the structure. It just means that the rats leave."
Search attorney feature articles