The Life Aquatic
Since Fanning and his wife Carolyn made their yacht a permanent home in 2001, they have traveled more than 10,000 ocean miles
Published in 2005 Texas Super Lawyers magazine on September 22, 2005
Updated on February 22, 2017
When Bob Fanning's wife Carolyn had a heart attack in 1998, he knew it was time for them to move into the next phase of their lives. Fanning retired from his near-half-century law career at the firm he founded, Dallas' Fanning Harper & Martinson, and asked Carolyn what she wanted to do.
"I'd like to get a boat," she said.
So in 2001, the Fannings moved themselves permanently onto a 54-foot yacht, the Bar-Mar VI (named after sons Barry and Marc, who now run the firm) and threw out their anchor in Key Largo, Fla. They've been sailing the high seas ever since.
The Fannings crew the boat themselves with help from friends and family, including their 24-year-old grandson Justin, a gourmet cook and full-time crewmember who keeps the couple well fed for their nautical adventures.
They've made the most of their first few years at sea. The 74-year-old Fanning estimates that he's captained the boat over more than 10,000 miles of ocean, as far north as Maine and as far south as the Bahamas. "If you stop and think about it, historically every major city is on the water," he says. "There's a beautiful waterway to every major city in the country. Every morning you're in a new place –– you come out onto the back deck and there it is."
For Fanning, the biggest adjustment to living on the boat was the difficulty of staying in touch with the outside world. "We have satellites on the boat but there's a lot of room for advancement," he says. "There's difficulty communicating, especially during a storm."
That said, the benefits of living at sea far outweigh the drawbacks. "You never hear of people running two yachts together and getting killed," Fanning says. "It's a safe way to travel, if you just respect the weather.
"There's no grass to mow, no homeowners associations. You meet so many lovely people –– there's an army of people out there ready to help you," he says. "And like Walter Cronkite said in his book, 'There's always a new adventure around every curve!'"
Other Featured Articles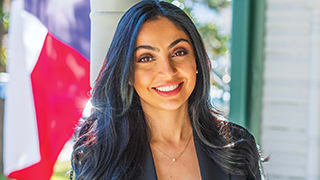 Belonging Somewhere
After many years, Rasha Zeyadeh Thompson has found a place in her country Featuring Rasha Zeyadeh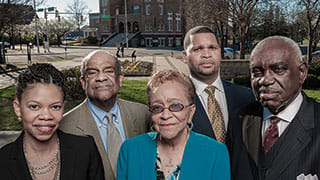 'We've Come a Rather Remarkable Way'
An oral history of civil rights and the African-American bar 60 years after Montgomery Featuring Kendall C. Dunson, G. Courtney French, Fred D. Gray, , Derrick A. Mills, Kenneth O. Simon, Stephanie Mays, Danielle Ward Mason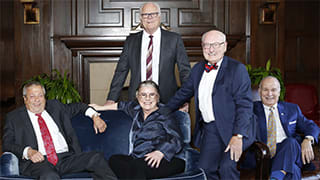 Law & Practice
Six pillars of the legal community look back on three decades of law Featuring Nancy Zalusky Berg, Michael V. Ciresi, Joseph S. Friedberg, Earl P. Gray, Kathleen M. Newman, Lewis A. Remele, Jr.