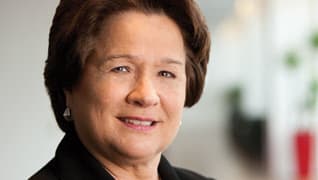 Photo by: Jeremy Enlow
The Puzzle Solver
How tax attorney Emily Parker became the first female managing partner in 125 years at Thompson & Knight
Published in 2012 Texas Super Lawyers magazine
By Pat Evans on September 10, 2012
When Emily Parker graduated from Stephen F. Austin State University in 1970, she wanted a career beyond the traditional roles for women at that time, like being a homemaker, teaching school, nursing or working at drug stores, such as the one in Henderson, Texas, where she grew up.
"I thought I might become a doctor, but there were all those science courses," Parker says, grinning. "I did well but the other students lived and breathed medicine. It was all-consuming to them, so I realized I did not have that same level of dedication and commitment to medicine."
Dismayed, Parker decided to sample some other professions. One early experience proved fateful.
"I worked one summer for James N. Phenix Sr., a true general practitioner and small town litigator in Henderson. He really enjoyed the practice of law and encouraged me to go to law school. Sometimes we'd take off and play tennis. Jim would tell his secretary to tell clients he was in court," Parker says. "So I thought, 'This is great.' But I was totally naïve about what it would mean to go to law school and be a lawyer at a major firm."
Parker says there were 10 women enrolled in Southern Methodist University Dedman School of Law during her first year. She didn't get any offers for a summer associate job in Texas in her second year despite her excellent academic record.
"By that time, most firms already had hired a woman. So that's a pretty small opportunity if a firm did not hire women or was only looking for one woman. And there were interview challenges. People didn't shy from asking things that are verboten today, such as, 'Are you going to get married?' and 'Are you going to have children?'"
After she earned her J.D. in 1973, Thompson & Knight in Dallas hired Parker as its first female attorney.
In her first two years, Parker handled fender benders, slip-and-fall cases, collections, real estate deals and insurance subrogation. There were only a handful of female lawyers at the major firms in Dallas, but Parker says she didn't encounter much overt discrimination from male colleagues, except in court.
"Some judges would call me, 'Honey' or 'Sweet Thing,' which may have had more to do with my age than my gender. But, when a judge calls you 'Honey' or 'Sweet Thing' in court, it kind of steals your thunder," Parker says.
Male opposing counsel also tested the limits to see if Parker had the emotional control to be effective in court.
"When male lawyers get emotional, they lose their tempers and might be on the verge of swearing or yelling. When women get angry or emotional, they might cry. Both are being emotional, but one is defined as feminine or weak while the other is defined as being masculine or aggressive. So I had to steel myself against the female tendency to tear up or cry," Parker says.
After a tax law associate left the firm, J. Waddy Bullion, a nationally renowned attorney and counsel to Lyndon B. Johnson, told Parker she was wasting her time in litigation and should come work for him in tax law to replace the outgoing lawyer.
"My mama didn't raise a fool," Parker says. "I told him, 'Yes, sir, I've always wanted to be a tax lawyer.'"
Parker quickly surmounted the steep learning curve of tax law. In the 37 years since then, she's handled significant cases for the firm's major clients, and she became the first woman to be named practice group leader, management committee member and hiring partner at her firm.
"I've never felt I was working against type," she says. "Tax law is entirely logical in an alternate universe. I love solving difficult puzzles, and that combined well with my enjoyment of public speaking, engaging people and doing verbal and written combat."
Near the end of 2001, some Washington, D.C., insiders asked Parker to serve as deputy chief counsel for the IRS. "This was right after 9/11. I asked myself, 'What can a tax lawyer do for her country?'"
Her IRS adversaries were amazed when she took the job, telling Parker, "We can't believe you of all people are coming to the IRS from the 'dark side.'"
Parker says she intentionally waited six months before launching any new initiatives at the IRS, thinking it better for her to learn the system and gain support from career IRS lawyers. She says she is proud to have helped strengthen the IRS enforcement of abusive tax shelters.
Cary Pugh, former special counsel to the IRS chief counsel and now a tax attorney at Skadden in Washington, D.C., says, "This was a stressful time after 9/11. There was a full-on press to deal with tax shelters and perceived abuses. One of the challenges in government is when perceptions rule and reality gets lost. Emily brought an important perspective to that challenge. She always understood that she was from the outside, but she also knew how important it was to listen to insiders. She worked exceptionally well with strong personalities. She herself is a 'force of nature' but has a natural Texas charm that puts everyone at ease."
About a year after Parker took the IRS appointment, the chief counsel resigned. Parker was named acting chief counsel, overseeing a department of more than 1,500 lawyers and 800 staff members.
"Working at the IRS was as demanding a schedule as I've encountered in private practice. I now have greater understanding of why it is so difficult for IRS and Treasury to move regulations, take action or get things done, and I have greater understanding of why the system doesn't work as effectively as we think it should. I also have greater respect for career employees who are very talented, hardworking lawyers and would be highly successful on the private side but made a conscious decision to work for [the] government. It becomes and is a real calling for them," Parker says.
Asked about popular notions to simplify the nation's tax code, Parker says, "Tax law is very political. By that I mean it touches Americans every day. But it's also political because politicians are constantly messing with it. It's not the rates that make the tax law complicated. It's the definition of income that makes the tax law complicated. When people refer to a 'flat tax,' what they are really talking about is eliminating deductions. That simplifies things but takes away deductions that are near and dear the hearts of most American voters."
In 2004, Parker returned to Thompson & Knight after Congress approved the appointment of a new chief counsel. Because strict recusal restrictions affected most of the firm's cases dealing with IRS, Parker focused on management duties until she could return to practicing tax law full force.
In February 2012, Parker was elected as Thompson & Knight's first female managing partner in its 125-year history.
"I was pleased when I heard the news, but not surprised. Emily has been a trusted legal adviser for more than 20 years," says Stacy Lucas, assistant general tax counsel for Chevron. "We find her skill and judgment to be without parallel. She is my go-to outside counsel when I run into issues where there's no clear answer, and I need advice from someone who really understands the law."
David Wheat, a partner at Thompson & Knight, has known Parker since 1987. "Emily is a natural leader and very, very smart. I wouldn't let that East Texas charm fool you. She is an extremely tough, hard-nosed litigator when she needs to be," he says. "Everyone on the management committee looked at Emily as the right person for job, without regard to gender. I think that's indicative of the culture of Thompson & Knight, and there was a groundswell of excitement when she agreed to take the managing partner role."
As for the direction she wants to lead the firm, Parker says, "I'd like to see Thompson & Knight continue its grand tradition of providing the highest quality lawyers and service to our clients, and expand our footprint in the United States where our clients desire a presence and it makes sense from a competitive advantage for us to be in that location."
Search attorney feature articles