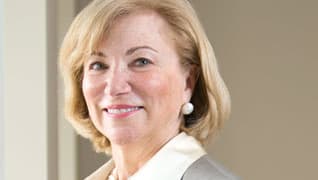 Photo by: Felix Sanchez
The Trailblazer
Lynn Kamin entered family law and made it her own
Published in 2012 Texas Super Lawyers magazine
By Alison Macor on September 10, 2012
In the sixth-floor offices of Jenkins & Kamin, at 5 p.m. on a weekday in late May, the energy noticeably shifts as partner Lynn Kamin returns from court. Laura Mireles, Kamin's longtime assistant, greets her as she enters the hallway en route to her crisply furnished corner office. A small group of associates and paralegals, all female, huddles around Kamin's desk to discuss that day's events and their impact on a particular divorce case. They talk strategy and trade folders in preparation for the following afternoon's return to court. Conversations end after Kamin tells the young women to go home to their families. The excited buzz recedes as the last person shuts Kamin's office door behind her. 
It is a rare moment of calm for the Houston native, who has been practicing family law for nearly 25 years. Kamin's calendar is always busy, but this month in particular has seen her juggle a schedule packed with professional and personal commitments, including traveling to New York to take depositions for a high-profile divorce case and volunteering a week of her time to serve as a faculty member at the Houston Family Law Trial Institute of South Texas College of Law, her alma mater.
She is in demand and there's a reason for that, says Ellen Cokinos, who first met Kamin in the late 1980s when she was a new attorney and Cokinos was a young caseworker at Child Protective Services (CPS) in Houston. "Anybody you ever know who, unfortunately, needs a divorce, they have to have Lynn. She's so enormously talented." That aptitude, says Cokinos, is a combination of tenacity, preparation, and even a bit of attitude. "She's a diva in her own right," says Cokinos with a laugh, noting how Kamin used to call her to demand specific caseworkers and interviewers for her custody cases, particularly if the cases involved allegations of abuse. "What it's about for Lynn is that the more complex, the harder it is, the more deeply she gets involved in cases," says Cokinos. In the past year, Cokinos has referred to Kamin two male friends, each seeking a divorce and custody. Kamin won for both clients.
One of Kamin's current cases is a bill of review. "They're very difficult cases because people have been divorced for years," says Kamin, "and all of a sudden someone's coming back and saying, 'Hey, I don't like the deal I got. I want another bite of the apple.'" The parties then revisit the divorce and its surrounding issues.
"I understand how upsetting and devastating divorce can be," she says. "But I also think that people have to get on with their lives. I really believe particularly if you're a young woman in your 30s or 40s, you can pick yourself up and get on with your life. You need to do that, too, for your kids' sakes."
More than three decades ago, Kamin's first marriage ended in divorce (she's since remarried). Afterward, she worked full time and raised her daughter, Kathryn, who was preschool-aged. Out with a group of girlfriends one evening, Kamin floated the possibility of going to law school in response to the question, "If you could do anything in life, what would you do?"
"In the back of my mind it was something that I always wanted to do. I always thought it would be a career where you could make a difference in the world and actually be out doing something constructive, intellectually stimulating," says Kamin. But not many women went to law school at that time. Instead, she majored in English and journalism while earning a teaching certificate. After a series of newspaper reporting jobs in Guadalajara, Mexico, and California, Kamin began teaching children with learning differences and working on a master's degree in secondary education and psychology.
The morning after Kamin revealed her desire to attend law school, one of those friends, also divorced and hoping to study architecture, called. "I'm going to pick you up and take you to get an application for the LSAT, and I'm going to apply for graduate school," she told Kamin. Both women earned their respective degrees the same year, in 1988.
Early on, Kamin's legal career involved ad litem work in the juvenile courts representing children in CPS cases. Cokinos, who specialized in sexual abuse investigations, says, "We had cases where kids were being kidnapped, taken out of state, all kinds of stuff." She adds, "Lynn was right there witnessing how all these kids had to testify in court, how we were going all over the place for medical exams by people who had no expertise in medical exams, and it just made for bad law."
One especially tough case involved a girl, 2 or 3 years old, who had been taken away from her parents because she had appeared in an emergency room covered with burn marks. "The parents were very educated; they were well spoken. I was a young lawyer. I just couldn't imagine that they had done anything," says Kamin. Nonetheless she built a case after interviewing the emergency room doctor and friends of the family, and the child was taken from the parents for a period of six to nine months. "I was adamant about protecting that child," says Kamin. When the child was returned to the parents, the mother approached Kamin, hugged her, and thanked her. "I asked 'Why?' and the mother said, 'Because I had a drinking problem, and I did burn my child and if you hadn't stepped in to do something, I don't know what would have happened.'"
Cokinos says, "Typically in court-appointed ad litem cases, you don't get somebody like Lynn who is that involved in child advocacy, and that clearly has been a calling for her in her life. Lynn is never, ever afraid, ever, to say the right thing, do the right thing in all of her advocacy work."
United by a desire to change what Cokinos described as "a very sick system," Kamin worked with her and other advocates, including  Baylor University professor Michael Cox, to create the Children's Assessment Center. "That was Ellen's dream," says Kamin of the "one-stop shop" that brought together members of the police department, experts in forensic interviewing, and others to establish protocols and programs designed to protect children. Cokinos says the center helps children "tell their stories in a comfortable, friendly environment."
Cokinos says Kamin's involvement and expertise, offered on a volunteer basis, helped make the center a reality. "Lynn was a trailblazer in supporting us in creating that model. She also was very committed to the therapeutic side, which usually people don't care about. These kids would go to therapy for long periods of time, until they would feel better," says Cokinos. "Lynn's always been there for the most vulnerable population."
Kamin's practice has shifted somewhat over the years. "I don't do those cases any more," she says, "but I still have that feeling for people going through divorce and what it does to the children," she says. These days Kamin focuses primarily on high-stakes divorce cases, and she's noticed in recent years that the development of technology has only increased those stakes for everyone involved.
"I really started to notice it in issues with pornography," says Kamin. "In the old days a spouse would go to a strip club to see a dancer, and so we would look through the records to see how much money they were spending, which club they went to. All of a sudden I started seeing cases where one of the parties would be on the Internet all the time looking at porn. It really started to make a difference in people's lives."
Kamin has been involved in cases in which a child has discovered a father in front of the computer watching pornography, and where a child has found and read text messages on a parent's cell phone that exposed an affair.
Although Kamin is less than tech-savvy ("For years I was calling my computer the email machine"), she has, by necessity, become aware of the impact of the latest technology on her clients' lives. "My pet peeve is tracking devices. I think that's really an invasion of privacy," says Kamin, who points out that, with a few exceptions, it is legal in the state of Texas to place a tracking device on a vehicle listed in one's own name. This practice, often used to track a spouse's whereabouts, has compelled Kamin to file an invasion of privacy along with the divorce proceeding in her last few cases.
Kamin has explored these issues in advanced classes that she teaches annually as a distinguished faculty member of the Houston Family Law Trial Institute. Sugar Land attorney Allan Cease, who first met Kamin several years ago when they tried a divorce case involving a post-nuptial agreement, has attended Kamin's family law seminars that focus on electronic communications. "The institute is very selective about who they have come and speak. I've sat through several of Lynn's courses and also have been present when she was on the electronic surveillance panel some years ago. She comes across as very knowledgeable, a good instructor, and very informative." Noting Kamin's master's degree and the extreme emotional nature of family law, Cease adds, "It would be a good idea for most people who are going to deal with family cases to learn a little psychology."
Teaching law is one of Kamin's passions, and she admits that she might teach more if she ever retired from her practice. Another passion is being out on the water with her husband, Marcel Gremillion, a retired attorney who specialized in mergers and acquisitions. The couple keeps a boat near the Clear Lake area, where they head to nearly every weekend. "It's very relaxing," says Kamin. "I get on Interstate 45 on Friday afternoons, and I put on my country western music, and I'm like a different person."
That western influence took root in Kamin's Texas childhood and is perhaps best illustrated by a framed photograph that hangs on her office wall. In it, a besotted 4- or 5-year-old Kamin poses with the cowboy actor and singer Roy Rogers. Books about Rogers and his wife, Dale Evans, grace a nearby coffee table.
This year she began a one-year stint as president of the non-profit Aid to Victims of Domestic Abuse. She also serves on the State Bar of Texas Family Law Section's legislative committee, where she advocates for issues like increasing the amount of child support in Texas. Of course there are two daughters and three grandchildren to tend to, and a boat just asking to be taken out on the water, but she won't slow down. She's too energized.
"I can't ever see myself totally retiring," she says.
Search attorney feature articles