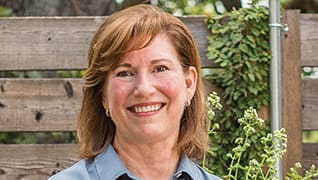 Photo by: Jeremy Enlow
The Well-Grounded Career of Debbie Alsup
This Austin litigator has helped make Texas law—while making life better for abused children
Published in 2020 Texas Super Lawyers magazine
By Carlos Harrison on October 19, 2020
Debbie Alsup landed in law after her original high-flying plans were brought down to earth in college.
Blame Baylor. Or thank it. 
"I wanted to be a pilot," she says.
After spending nearly 40 years at Thompson & Knight, and taking part in more than 100 appellate cases in state and federal courts, including the U.S. Supreme Court, Alsup chuckles as she reflects on the happy accident that launched her legal life. 
Her ambition to become a commercial airline pilot began in high school, when her parents signed her up with a coach who taught ground school during the week and took his students flying on weekends. 
That led her to Baylor University, which had a joint program with American Airlines, Alsup says. "It was a degree in aviation sciences, and I was one of only four students to get accepted in Texas. You would go to school for three years and fly your fourth year and get your commercial license. And I thought that was super cool."
Neither of her parents was a pilot. Or a lawyer. Dad worked in the insurance industry. Mom was "an artist and undercover Bohemian."
The family moved every three years or so, "kind of like if I was a military kid. I lived in Des Moines, Iowa; Omaha, Nebraska; Harrisburg, Pennsylvania; Vienna, Virginia. And then he was going to get transferred to Syracuse, New York, and my mom said, 'That's enough.'" Her dad switched companies and the family settled in Fort Worth. 
"I was an oddity with my Northern accent," she says, noting that it worked to her advantage. "Everybody wanted to get to know me. I was different. I said 'you guys,' instead of 'y'all.'"
Learning to fly and speak fluent Spanish were, more or less, thanks to her mother.
"My mom was fairly cool," she says. "She took in exchange students through our church, from El Salvador. And then I got to go two different summers when I was in high school down to San Salvador and live with them."
At Baylor, she double-majored in Spanish and English. As for aviation science? In her sophomore year, the program was canceled. 
"So I took an aptitude test and it said I was good at law," she says. "And it turns out they were right."
Baylor had a "three-three" program, in which her first year of law school counted as her last year of undergrad. She finished her B.S. and her J.D. in six years, served as associate editor of the law review, and graduated first in her law school class. But she had no idea what kind of law she wanted to practice—a fact that showed up when she interviewed with the full Texas Supreme Court for a spot with a justice.
"They asked me what kind of law I wanted to do. And I said, 'Um, insurance law,'" she recalls. And when someone clarified, "Oh, insurance defense," she clarified right back. 
"No," she said, "just straight insurance."
She got the job anyway, serving as briefing attorney to Texas Supreme Court Chief Justice Joe R. Greenhill right out of law school. A year later, in 1983, she got hired at Thompson Knight. She has stayed there ever since, making partner after just five years. Along the way, she co-founded the Travis County Bar Association's Appellate Section. 
But her first step was a bit of a misstep. 
"Everybody said, 'You just clerked for the chief justice of the Texas Supreme Court, why do you want to do corporate work?' But I thought that there was no way I could do litigation work, because I didn't want to put myself out there like that.
"It turns out I did not like corporate work," she says. "I worked on these great big deals—selling airplanes and doing securities filings … and then I realized trial work is bite-sized pieces that you can master. So I switched."
She got into appellate work partly because of her undergraduate experience.
"So much of being an appellate lawyer is being able to think in a linear fashion. And I was good at that, because my major was Spanish/English. So I was good at analysis and telling a story. That made the briefs not quite so dry."
Her colleagues noticed.
"More and more, the trial lawyers would come to me and ask me, 'Would you help me with this?' Or, 'Would you edit this? Or 'Will you do this for me?'" she says. "And it evolved into its own practice.
"Back then, there wasn't an appellate practice. The trial lawyers did their own appellate work. But it was coming into its own as a specialty. People were recognizing you needed a certain skill set. You needed to like to write and analyze and figure out how to take what happened at the trial court and put it into an appealable fashion. 
"It's been a great gig," she says with a smile. "I got to raise my three daughters. Because with appellate work, you know when you have an argument. You know when you have a brief due. … [It] let me also be the kind of mother I wanted to be."
And it gave her the chance to tackle some thorny legal issues.
The list of cases she has participated in include constitutional challenges involving freedom of speech, arguments over antiquated Texas liquor laws, and a battle about overbilling that helped change the state's rules on guardian ad litem service and payment. That one involved lawyers who sought nearly $400,000 in fees—including, Alsup says, for time one admitted was spent sleeping and, in the case of another, in excess of 24 hours in a day. 
Jody Hughes, an assistant solicitor general at the Texas attorney general's office, faced her in a convoluted state Supreme Court case testing the limits of the state's laws on overlapping ownership among alcohol manufacturers, distributors and retailers.
"She speaks very eloquently, as she writes," he says. "She really did a great job of taking a complex legal position and making it very understandable. She did it in a way that you didn't have to be an expert in corporate law or in the nuances of the alcoholic beverage industry to quickly grasp the issues at hand." 
She's also had an impact on the law in Texas in a more indirect fashion—as a mentor. One of the people she helped along the way is state Supreme Court Justice Jeffrey S. Boyd, whom she helped recruit and train when he was a young attorney diving into civil trial work for the first time.
"She was very caring and very supportive and really worked hard to make you feel like you were welcome and wanted there," Boyd says. "And she was adept at switching from the recruiting process to the training process."
He recalls, vividly, her letting him sit first chair in a trial within a couple of months of his starting at Thompson & Knight. He had been cross-examining a witness for a bit when "she kind of leaned over and said, 'That's good. You can stop.'"
He kept going. 
"She's like, 'You can stop. He said what we needed. You can stop.' 
"And I didn't stop. Finally, she wrote on a piece of paper, just huge letters: STOP!"
One of the most complex cases came a decade ago, involving a 15-week trial, three appeals, and a docket of more than 200 claims by residents of Somerville alleging that a railroad-tie treatment plant in the town caused their cancer.
She was engaged in both the longer-term strategies and the day-to-day frays from the very start, writing and arguing everything from expert-exclusion motions to emergency appeals and jury charges; then on to the appellate level with post-judgment motions and briefs. 
"You're just active the whole time," she says, "writing the motions and talking about the next day and what needs to be excluded and what you need to object to.
"There was a whole team of trial lawyers," she continues. "We won at the trial level and at appeal. The jury found there was no causation."
The ultimate appellate experience, of course, is going before the U.S. Supreme Court; and in 2000, in Rotella v. Wood, she did just that. "I did all the briefing," she says. "Charlie Frazier [Alexander Dubose & Jefferson] got to do the argument. 
"Going to the U.S. Supreme Court is so awe-inspiring," she says. "You just walk in there with all this marble and everything around you and think, 'Oh my gosh, how lucky am I? I get to do this. This is the coolest thing that's ever happened.'"
Seven years ago, she faced a more personal battle—and a wake-up call.
"Breast cancer has been part of my journey," she says. "I was diagnosed in 2013 and had chemo, radiation and several surgeries over the next year, while still billing a respectable number of hours. I compared bald heads with my male colleagues. Cancer gets one's attention, and it started the process of dialing back my practice. Retirement age for partners at my firm is 68, but I made it official at 60."
Alsup still works of counsel at Thompson & Knight, but these days she's logging more hours helping others. She's guiding another generation of budding appellate lawyers as an adjunct professor at Baylor, as well as dedicating more time to doing nonprofit work with foster children, both as a state-accredited child advocate and on the board of a residential treatment home for abused children.
She again credits her mother's influence.
"She took in foster babies when I was in middle school," Alsup says. "When you're in middle school, you're not paying much attention to what's going on, but I think that was always in the back of my mind."
Alsup began with the simplest of acts, to fill the greatest of needs. She became a "buddy" to an abused 6-year-old at Helping Hand Home for Children. She flew with her to Amarillo when the state found a family to foster her, and stayed in touch for the next decade of her life.
"They just want to be loved so much that you could pour buckets and buckets and buckets of love and it wouldn't be enough," Alsup says.
She now handles much of the nonprofit's legal needs, pro bono. 
"She's just been an incredible asset to us," the home's executive director, Ted Keyser says, "from a business standpoint as well as in our mission. She has served in every capacity, meaning she's been on our board as our legal counsel the entire time I've been here. She's also a donor and she's also been a buddy, which is like a mentor to our children. We call that the trifecta."
Alsup calls it a perfect next chapter. Many times, she says, "We can really help put Humpty back together again."
---
Supping with Alsup
When she's not working or volunteering, chances are you'll find Debbie Alsup somewhere between her kitchen and the organic vegetable garden on the side of her Austin home, where she lives with her husband, real estate attorney Jim Alsup.
"I like to nurture things," she says.
The garden, designed by her oldest daughter and son-in-law, is reminiscent of Frank Lloyd Wright's iconic Falling Water. Corrugated metal frames triangular beds in a way that is minimalist and marvelous. It's simple, subtle, serene—and bursting with shades of green. 
"I've got collard greens and spinach and kale," Alsup says. "Lots of kale."
They're all great for the Italian dishes she likes to create, or as sides to go with the hearty mains she cooks outdoors. 
"I like to grill things. I like to smoke things on the grill. I'm pretty good at quail. I haven't mastered duck."
But the garden, she says, offers more than just food for the famished. It also feeds her soul: "I just come out here and hang out."
Search attorney feature articles