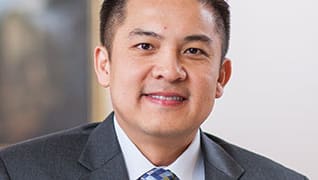 Photo by: Jeremy Enlow
Tran's Way
As a kid, Tai C. Tran mapped buildings; now he puts buildings on maps
Published in 2015 Texas Rising Stars magazine
By Alison Macor on March 6, 2015
As a child, Tai Tran made maps to familiarize himself with each new Dallas neighborhood as his parents, immigrants from Vietnam, moved the family around in search of opportunities. So accurate were his detailed drawings that his parents relied on them to navigate the city.
"I had a thing about maps," Tran recalls. "I would know the names of all the streets and how they're laid out, where all the buildings were and how this community was organized. I liked how things fit. I just loved how retail was positioned with residential, and how communities were developed."
Tran is still fascinated with watching communities develop. For the past 15 years, he has overseen transactions involving real estate and finance and commercial-lending practices at Locke Lord Edwards. The firm's Austin offices occupy 1 ½ floors of choice real estate in the heart of the city's vibrant downtown corridor. On this Friday in late October, the area is especially busy as the Austin Film Festival and the Texas Book Festival kick off mere steps from Locke Lord Edwards' recessed entrance on Congress Avenue.
But all is tranquil in the firm's 22nd-floor lobby, flanked by spectacular views of Austin that include the skyscrapers of downtown, a slice of Lady Bird Lake, the rolling hills of West Austin and beyond. Several construction cranes silently pivot, lifting and lowering as they make progress on the various projects.
In the mid-2000s, it was common to hear locals grumbling that the (construction) crane had replaced the Mexican free-tailed bat as the unofficial bird of Austin. Condominium and other building projects seemed to spring up overnight, transforming the city's low-key landscape. But where some saw eyesores, others—like Tran—saw potential. One of his memorable projects from that time period was a high-end mixed-use commercial development in North Austin.
"The Domain is a cutting-edge development in that you don't have a lot of mixed-use development that combines retail, hotel, office and residential," he says. "You're creating this community that didn't exist before. If I were a young professional, I'd live there because I could walk down from my apartment and all the amenities are nearby, and yet it's not in the middle of town. That's the unique thing about that project that's made it very successful."
Dressed in jeans, a dark polo shirt and a lightweight North Face jacket, Tran, 40, appears relaxed but focused as he gazes out the firm's expansive conference room windows. He speaks thoughtfully and with a quiet enthusiasm as he describes his work on projects as disparate as The Domain and his most meaningful one, Britain Way Apartments, an affordable-housing development funded in part by government incentives and located in Irving, just northwest of Dallas. Tran and colleague Cynthia Bast represented developer OM Housing, owned by Deepak Sulakhe, in a redevelopment of the outdated apartment complex in 2011.
The project brought Tran's life full circle.
Britain Way was where Tran lived with his parents during high school. At the time, the complex had few amenities beyond a laundry facility and a pay phone in the parking lot. "There was trouble out there at the pay phone at night," says Tran, referring to drug problems and crime that lurked at the edges of the complex. With the help of tax credits and investments, Britain Way has been transformed into a facility that continues to provide affordable housing but is safer and boasts swimming pools, plus workout and computer facilities.
Tran attended Britain Way's ribbon-cutting ceremony in 2012. "I hadn't been up there in almost 20 years, and when I pulled up, I just couldn't believe it," he says, pausing to compose himself. "Every project's important, and it will affect a lot of people. That's why I like doing real estate. You see something tangible. It requires a lot of teamwork, but you get to see a building that's there, and it's going to be there for a long time."
Place matters to Tran. In late April 1975, as North Vietnamese soldiers flooded into South Vietnam, 2-month-old Tran and his three older siblings were spirited out of Saigon by their parents, Hien and Phu. Tran's father, Hien, was a police officer who feared imprisonment by the new communist regime, so the family ended up on the island of Guam. From there, thanks to sponsorship by the First Baptist Church of Palestine, they relocated to that small East Texas town, where football is king.
While Tran's parents found factory jobs and helped their four children to assimilate, a young Tran quickly acclimated to the local football culture, tossing the ball with neighborhood kids. At night, he used his football as a pillow. In the early 1980s, Tran's parents found themselves out of work as a recession took hold, so they moved the family to Dallas and opened a seafood shop on the east side of town. The Trans spent the next several years moving around the city. By the time Tran entered high school, he had attended eight schools.
Two things provided continuity beyond his tightly knit family: his maps and the support of the local Boys & Girls Club (BGC), which introduced Tran to organized sports. When he was about 9 years old, Tran and a friend walked nine city blocks to the nearest BGC after they heard that kids could play football for free. "I walked in the door and, immediately, we were welcomed. They put pads on us and took us out to the practice field and they said, 'Tai, you can play quarterback.' It was my first team experience."
Decades later, Tran started giving back by supporting and volunteering at the Boys & Girls Club of Austin as part of its Emerging Leaders program, a group of young professionals dedicated to fundraising, volunteering and networking. Tran spoke once at the organization's annual gala, which is how Mark A. Kiester, chief professional officer of the Austin BGC, learned about Tran's connection to the organization. "He talked about the support and the friendship that the club members and staff had given him, and how that helped to build his self-confidence," says Kiester. "It was a place for him to go to feel safe and positive. Tai's just a very good example of how the club helps kids in challenging circumstances find their way."
The upbeat attorney insists that his seemingly difficult childhood equipped him with adaptability and a knack for making friends quickly. But he credits sports in general, and football specifically, with shaping the person and attorney he is today. "It kept me out of trouble; it gave me an identity and gave me a focus," says Tran. "On transactions that I work on now, every deal, there's a team involved, and you have to depend on them. On the other side of a transaction, you're dealing with so many different parties and personalities; the trick is to get along with everybody."
Jim Bennett, Tran's former high school coach, remains a close friend. "People who don't know a whole lot about football think that to be a leader, you have to be vocal," he says. "Tai wasn't all that vocal, but he was a leader by example. He was a kid who physically probably wasn't as good as some of the others, but he played better because of his attitude and his work habits."
Tran landed at Locke Lord after clerking in the firm's Dallas office two summers while attending Harvard Law School. He chose the Ivy League college after majoring in government at the University of Texas at Austin, where he considered a career as a high school teacher and coach.
"I went to law school with an open mind, thinking maybe I could be a litigator," says Tran. On track to join the Dallas office's litigation team after graduation in 2000, Tran instead accepted a position in the real estate and commercial finance division of the Austin office to work with two attorneys he admired, Brad Hawley and Jeff Hubenak, and also to be closer to his fiancée, Randi, who had been accepted to graduate school at UT. They are now married and have a 7-year-old son, Andrew.
Tran's first project was the Four Seasons Hotel's residential tower in downtown Austin. Responsible for filing disclosure documents with the U.S. Department of Housing and Urban Development, he spent hours researching the area surrounding the proposed site. He pored over maps to determine things like the distance to the nearest hospital and the closest school. At a certain point on the project the longtime mapmaker said to himself, "This is exactly what I'm supposed to be doing."
Tran's other clients include Cathay Bank, Wells Fargo and JPMorgan Chase. And between 2006 and 2007, Tran and more than 50 other lawyers spent several months at Texas Pacific Group's Fort Worth offices, working to help it and other private equity firms purchase Harrah's Entertainment (now Caesar's Entertainment Corp.). Gaming applications needed to be hand-delivered by a specific deadline to each of the 16 jurisdictions where Harrah's had holdings. Hundreds of millions of dollars were at stake. In February 2007, Tran found himself on a cargo plane to Toronto, alone save several boxes of gaming applications and the two pilots. When a blizzard grounded them in St. Louis, Tran called colleague Billie Ellis, a real estate attorney and chairman of their firm's global private equity practice in Dallas.
"Tai is passionate about solving people's problems and taking care of them," says Ellis, who found other pilots willing to fly through the storm. Tran eventually landed in Toronto and delivered the applications just before the deadline. "It's not hard to find people that are smart," adds Ellis. "The fact that Tai went to Harvard Law School doesn't make him a good lawyer. What makes him a good lawyer are his personal attributes. Tai 'gets' people."
Tran likes his role at Locke Lord Edwards. "Growing up, I always yearned for that stability," says Tran. "I feel like my background and my childhood, everything that's happened to me, has prepared me for what I do now. It's just funny how it works out."
Search attorney feature articles