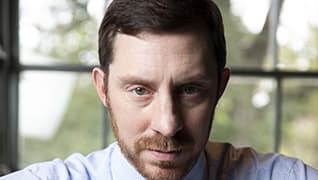 Photo by: Felix Sanchez
Wearing the White Hat
Former Marine K. Knox Nunnally still works toward the greater good
Published in 2019 Texas Rising Stars magazine
By RJ Smith on March 14, 2019
K. Knox Nunnally tells a story from when he was a Marine infantry officer logging three combat deployments to Iraq. It says a lot about who he is.
"My great contribution to the war on terror is the Kevlar groin protector," says Nunnally, now a partner at Ware, Jackson, Lee, O'Neill, Smith & Barrow in Houston. Back in 2004, Nunnally was deployed to Fallujah, Iraq, and—like his fellow infantrymen—was expected to wear a cumbersome array of protective plates attached to his vest when out in the field. The men, he says, didn't always bother with the add-on: "We thought it was uncomfortable, it looked weird; we didn't really get the importance of it." 
Nunnally's team was meeting with local tribal and city leaders in downtown Fallujah when mortars started raining down. One landed near where he was standing in the compound, tearing his leg open. Nunnally would fully recover, but when medics dressed his wound, it became known that he was wearing underwear with a goofy print. And then a colonel leaned over and asked, "Were you wearing your Kevlar groin protector?" 
The next day the order came down: Going forward, all Marines in theater had to wear them. 
What this story tells you—besides that your mom was right about dressing appropriately for the emergency room—is that Nunnally is self-deprecating and modest about a portion of his life that few of us can imagine.
"I'd trust him with my life, of course," says Octavio Mendoza, who was with Nunnally in Fallujah. "I spent seven months with him, most of the time in the turret [of an armored vehicle]. And when you are with somebody that long, you talk about everything: childhood memories, family, random stuff. You get to know who they are.
"He is a great guy, and every time we got into it"—"it" being hostile fire—"he maneuvered us the proper way. He never once panicked or hesitated."
According to Mendoza, a friend back in Texas would somehow ship a little whisky to Nunnally; and when the team was on patrol and he sensed it was heading into a hot mess, Nunnally would pull out a flask and pour out a taste for his men. Just before everybody sipped, Nunnally would offer up a toast.
"It was his blessing on us all," says Mendoza. "And even today, when I get together with folks in a bar, if nobody else has something to say, I'll say that: 'For God and Texas.'"
Nunnally grew up in Houston, in the shadow of his late father, a standout player for the University of Texas football teams in the early 1960s. Knox Nunnally Sr. also practiced law in Houston. 
After graduating from the Naval Academy in 2001, Nunnally signed up for Marine training in Quantico, Virginia. "As my classmates and I saw it, we were probably just going for kind of fun deployments or cruises in the South Pacific or the Mediterranean," he says. Then came 9/11, and he was designated for the infantry. Nunnally participated in the 2003 Iraq invasion, subsequently returning for two more hitches. 
He would earn a Purple Heart, Bronze Star, and a pair of Navy and Marine Corps Achievement Medals. But after his third tour, Nunnally was burned out. He returned to Houston, where his mom had fallen ill; an only child, he wanted to help take care of his family. Soon after, he went out drinking with a former high school football buddy who had become a prosecutor in the local DA's office. The friend invited Nunnally to watch him prosecute an assault case in court the next day.
"The thing that drew me to the Naval Academy and the Marine Corps is, you know, 'the greater good.' Kind of wearing that white cowboy hat," he explains. "And when I saw my buddy up there wearing that white hat and standing up for this victim of domestic violence, I said, 'That's the kind of thing I could do and not get shot at while doing.'"
Nunnally says he was able to fit back into civilian life because he had a healthy support network—including many other veterans transitioning through the American Legion—and because he swiftly made plans to enter law school (the University of Texas, same as his dad) soon after returning to Texas. "People get into trouble when they don't have something to do," he says. 
In Iraq, a unit commander gave him the call sign "Lighthorse"—to be used on all communication. On a whim, Nunnally put it on his business card when he started his law career. The court and DA's office copied it from the card onto the signature space on his legal filings. He decided to just roll with it, and Lighthorse has traveled with him ever since. It's one more way his military career defines him today.
From the beginning of his legal career, Nunnally's dad had his back. He began his career as an assistant district attorney for Harris County. His father would sit in the back of the courtroom while Nunnally tried assorted DWI and assault cases, taking notes on his opening statements and cross-examinations, handing over yellow notebooks thick with suggestions. 
"More than that, when I went civil, he gave me his perspective regarding how to develop a business—the importance of treating everyone as if they were a client," says Nunnally. "He was a gentleman lawyer who never thought you should burn bridges."
Nunnally met his wife, Cara Burton, when both were working in the Harris County District Attorney's Office. "She is a senior felony prosecutor, and she's incredible. She calls herself a trial lawyer now and calls me a litigator," he says with a laugh. They have a 2-year-old son, "and his mother won't even let me give him a Matchbox tank," Nunnally says with amusement. "I want him to do whatever he wants to do."
In their spare time, Nunnally and family get away to a family ranch outside of Houston that has 30 to 50 head of cattle. "It makes me feel like a real Texan—with jeans, boots and a hat on—messing around with the cows."
On a recent winter day, Nunnally got up, went duck hunting, and was in the office by 9:45. A partnership meeting started soon after that, during which the team discussed oil and gas cases. Nunnally has had success in cases in which mineral holders' leases with oil and gas companies are, by the mineral holder's lights, underperforming, and thus revocable. "By threatening to kick them off, you can sometimes stimulate them to more production," he says.
This year, he has spent a lot of time working on royalty cases from all over the state, "helping people get their due [from oil and gas firms] where they've not been paid accurate amounts." 
He's also been working on a case involving a fellow Marine, a decorated combat officer who recently underwent gender transformation. She has been fighting to have her name and gender change registered on her Texas birth certificate and driver's license. Nunnally argues that restricting her access to accurate legal records deprives her of 14th Amendment protection of her right to "life, liberty and property." 
He has a reputation for being a good listener. "My first impression was this was a good guy whose word was gold," says client Hunter Hayes. He and his business partner formed a clothing design firm in Houston that "got screwed over by a manufacturer who lied," says Hayes. "We lost a lot of money and it set us back two years.
"[Nunnally] never BS'd us—he was just the complete opposite of what you hear lawyers are, and that was the beauty of it. He reads people very well, too; he can read your personality and find a way to work with you." Nunnally successfully represented Hayes' company in his first civil case before a jury.
Nunnally still raises a glass to God and Texas at reunions of his Marine unit. But does he miss anything about the time when he was getting shot at? "The number one thing is the camaraderie, the brotherhood," he says. Having been a Marine, he feels that people look at him as a Marine still, and he feels a need to comport himself accordingly. "I stand straight when I walk; I try to stay in shape," he says. And when a rival lawyer rakes him over the coals in front of a jury, he thinks of other times.
"This attorney may be giving me hell right now, but he wasn't in Fallujah and I was," he says. "So I can take it better than he can." 
Search attorney feature articles