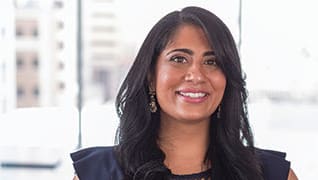 Photo by: Jeremy Enlow
'You Helped Me Change My Life'
These are the words that get Sujata Ajmera out of bed every morning
Published in 2018 Texas Rising Stars magazine
By Alison Macor on March 12, 2018
On an average day, Sujata Ajmera fields dozens of phone calls from stressed-out clients. Will this Iranian national be able to travel to the U.S. to speak about his groundbreaking research? Can that Indian immigrant accept a promotion to a slightly different role without jeopardizing years invested in his permanent residency process? Will this professor conducting artificial intelligence research be able to remain in the United States long enough for his work to yield results?
On the days when the anxious phone calls come in waves—sometimes as many as 10 an hour—an exhausted Ajmera reminds herself, "This is their life."
Ajmera, a partner at Strasburger & Price in Austin, says, "This is what I see when people talk [to me] about problems in immigration. It's not people with immigration status lapses or fearing deportation—mostly what you hear about in the news. There's plenty of that going on, and that's a beast of its own."
Indeed, in her mid-20s, Ajmera started her career handling those very types of cases at Tidwell, Swaim & Associates in Dallas. She spent many heartbreaking days in court representing clients in the midst of removal proceedings, people about to be torn away from their families. "It's such an emotional experience representing asylum victims and people who are in removal proceedings in general," she says. "I just didn't see myself doing that forever."
So she opted to handle what she calls "happy" cases—like assisting people with their immigration status because they plan to marry, or shepherding clients through the complex process of residency and citizenship for immigration focused on education or employment. "I felt a little closer to that story," she says. "That's my parents' story."
Born in South Bend, Indiana, Ajmera is the daughter of Indian nationals: a retired professor of electrical engineering and an IT specialist with a doctorate in physics, who met in graduate school at North Carolina State University in the 1970s. When her father, Pratul, received a job offer with the Department of Engineering at Notre Dame, he relocated to the Midwest with his wife, Meena, and their son, Sameer. Sujata was born soon after. While at Notre Dame, the Ajmeras were able to obtain permanent visas. 
"It was a very quick process back then," says Ajmera. "They were debating whether to stay in the United States or go to Canada. They had options. To do it today, especially as an Indian national—when there are overwhelming numbers applying for a limited amount of employment-based visas—even with a Ph.D., it's taking 12 to 13 years."
Her parents' narrative has shaped her career. "My parents didn't have a tough immigration plight, but they have an immigrant story. I felt like I was helping people like my dad or my mom. I still feel that way."
Ajmera is winding down her week on a Friday afternoon in late October. She pops a piece of candy in her mouth as she settles into a sleek chair in The Hill Country, one of Strasburger's conference rooms—all named for popular recreation areas in and around Austin. Located just south of the state Capitol, the firm occupies a top floor of a building in the downtown district. The law firm's décor strikes an industrial vibe with its exposed brick and clean lines. 
Ajmera is just as comfortable discussing the latest changes to her favorite type of immigration case (the EB-1A Extraordinary Ability designation) as she is chatting about the newest addition to her impressive shoe collection (a Valentino Rockstud heel) or about Maxwell, her beloved rescue dog. She laughs at the irony that, an hour earlier and just a block away, U.S. Attorney General Jeff Sessions spoke to the media at the U.S. Attorney's Office for the Western District of Texas. He emphasized President Trump's commitment to a wall along the Texas border.
Ajmera's path to law was evident in middle school, where she became involved in student government. "I wouldn't have been able to tell you at the time that I was interested in case law and how it's interpreted," she says, "but in reality, that was really a big part of the conversations I would engage in back then." 
By that time, her family had moved to Baton Rouge so her father could teach at Louisiana State University. "Sujata's very gregarious and interested in people—I think it's her Louisiana roots," says fellow immigration attorney Maggie Murphy, a mentor and former colleague at Jackson Lewis in Austin. "She's also very academic in nature, and her parents are academics. Sujata wants to know the why behind the statement."
At the University of Texas at Austin, where her brother, Sameer, was also a student, Ajmera majored in government and economics. She earned her degree in just three years, graduating in 2001.
Feeling too young to go directly to law school, she moved to Dallas and took advantage of Baker Botts' program for graduates considering a legal career: "They do people a real service to expose them to the law. I was essentially a paralegal's clerk for a year."
At UT law school, she says, "I was really interested in race and sentencing issues and juvenile-justice issues." She spent a summer clerking for the nonprofit Georgia Justice Project in Atlanta and imagined that she would find a job in the nonprofit world after graduation. The low-paying nature of those jobs, however, was at odds with the reality of her law school loans. When she heard about an opening for an associate at Tidwell Swaim, a small Dallas immigration firm, she decided to apply. "I'd never considered immigration law before, but that is my story," she says. "That is why I'm here."
Within a week of joining Tidwell Swaim, she was accompanying a client to an interview at a field office. Within a month, she was standing in front of a judge at her first master hearing. In five years, Ajmera had racked up enough court cases and federal filings to qualify to take the board certification exam.  
She was also introduced to the specialty visa cases that became her passion: helping athletes, including professional bull riders and hockey players, qualify for certification as aliens of extraordinary abilities. "You get to learn a lot about what people have accomplished. It's very personal: You get to talk to your clients to really understand what they do," says Ajmera. 
One such case involved a professor conducting research into artificial intelligence to develop cutting-edge technology that could affect the way people interact with electronic devices. "How smart are these machines we surround ourselves with?" she asks. "How smart will they get? And how will they help us be better human beings? … Learning about the latest and greatest in so many different industries is why I love the EB-1A cases. Each one is different, complex and exceedingly interesting. They are the hardest cases you can do [in immigration] because they are so dense." 
By 2011, she was back in Austin working at Jackson Lewis, where she focused almost exclusively on the immigration needs of businesses, such as securing H-2B (temporary, non-agricultural) visas for workers in industries like hospitality, seafood and energy. Obtaining those types of visas is just as difficult as the EB-1A, but the difficulty with H-2B stems from the process and regulations. She might need to factor in the regulations and interactions of several federal agencies, and accommodate deadlines that don't always sync up. "We're just piecing all of these things together into one filing that is predictive of what every agency is going to do. They're actually extremely difficult visas to get," says Ajmera. "I hated this work at first, and sometimes I still do. But I'm good at it and I understand it."
"Sujata understands the personal side of immigration," says Charisse Castagnoli, vice president of security and general counsel for Trucker Path, an Austin-based transportation-network business that specializes in applications for mobile devices. She recounts a situation in which a Trucker Path software engineer had returned to her native Russia and was preparing to come back to Austin. The employee took her visa to the consulate to get it stamped, and instead it was revoked. "Things go into the government ether and there's no way of finding out or knowing what happened. This was a case that Sujata wasn't even responsible for, but she stepped in to help out," says Castagnoli. "Immigration attorneys can be very process-driven and fact-based. Sujata has an amazing personality, and it makes me more comfortable with the process, since I feel like I know her personally."
Says Murphy, "Sujata's always looking for the bigger picture, which is a really useful personality trait in our line of work. We're constantly running up against these deadlines or boundaries where we can't make a certain case type work, but if you take the time to find out the history of the person or the company, there may be another option you can utilize."
Ajmera takes satisfaction in helping companies stay viable. "It's nice to be able to tell clients that I can help them with something very complicated and, usually in these situations, something that's very important to their overall business," she says. "I see how these issues affect their bottom line, and I really see when they have no other hiring options to get the work done."
Sessions' visit to Austin to discuss potential changes to immigration policy illustrates how the current political climate has affected Ajmera's work.
"There's a general level of fear right now," she says. "It stems a little from uncertainty, it stems a little bit from rhetoric, but it also stems from bad experiences that are starting to happen. Very routine visas are being delayed inexplicably, and we don't know why. There's nothing that's changed in the law. … There's something rotten in Denmark; we don't know what it is, but eventually we'll figure it out." 
Her days and weeks can be long, with frequent travel to speak at human resources seminars. She's also co-chair of StrasburgerBOLD, the firm's initiative to promote and mentor women within the firm and the larger legal community. 
Ajmera's work is stressful these days, given the uncertainty around immigration issues. "But trying to keep the person that you're helping in mind helps make it a little less exhausting," she says. "It's a tangible end goal. There's a person who can say, 'You helped me change my life.'"
---
The Social Spaniel
Haven't heard of Maxwell? Check out @maxajmera on Instagram. Ajmera has dreams of making her 19-pound Cavalier King Charles Spaniel "Insta-famous." With her demanding travel schedule, she takes him on trips around the country. Keeping Maxwell with her at a hotel solves the doggie day-care issue, and his presence is comforting. "Maxwell's an obsession," says friend and former colleague Maggie Murphy. Ajmera found Maxwell through friends who foster dogs for a local Cavalier rescue organization. Maxwell's social media account showcases his busy life: travel photos in different cities, cozy airplane shots, and snaps of Max as a purple unicorn and a lobster for Halloween. Last May, Maxwell reunited with his "foster siblings" at Yard Bar, a North Austin hangout popular with canines and people alike. The dogs competed in a race in honor of the Kentucky Derby. "He did not win," Ajmera says. "But," she adds with a trace of maternal pride, "he was the only dog who stayed in his lane."
Search attorney feature articles