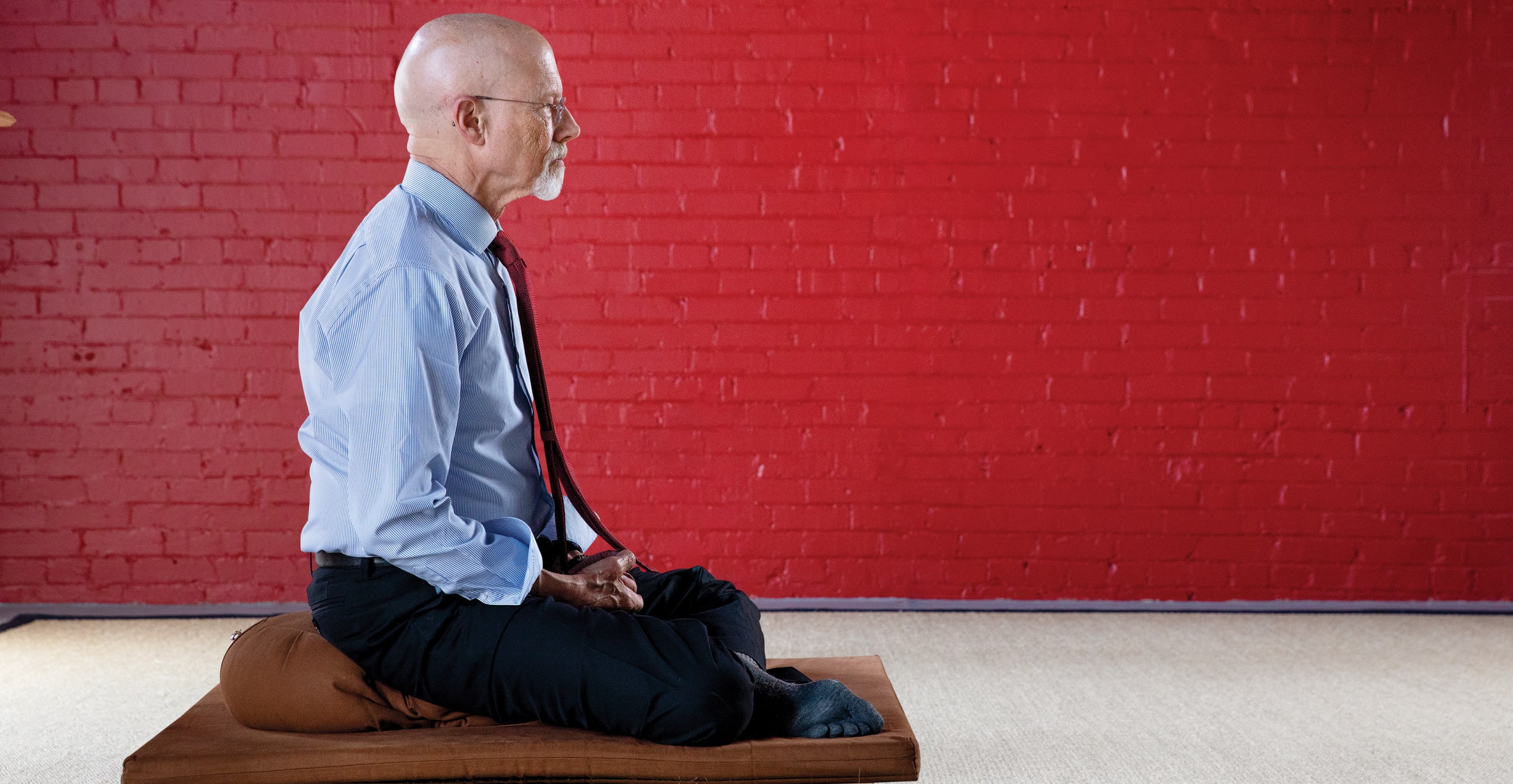 In the Moment
Zen and the art of Michael Zimmerman
Published in 2020 Mountain States Super Lawyers magazine
By Riley Beggin on June 12, 2020
Early in the mornings, with his daughters fast asleep and the sun just cresting, Michael Zimmerman would go out to his porch, close his eyes, and sink into meditation.
"I'd just listen to the sounds of traffic, feel the air on my skin, and let my mind and my breath settle," he says. "And, in those moments, everything was fine."
Off the porch, everything was not fine. His wife, the mother of their three young daughters, was dying of cancer, while he was about to become chief justice of the Utah Supreme Court. It was nearly too much to bear. "I felt like I was in a cage, three-by-three, and I didn't quite know how I was going to manage all of this," Zimmerman says.
But the meditation habit, picked up in the mid-'90s while everything seemed to be crumbling around him, later became the foundation of a sustained Zen Buddhist practice—and a new approach to legal work. Zimmerman is now a Zen Buddhist monk, and he runs a zendo and retreat center in addition to heading up Utah's only appellate law firm, Zimmerman Booher, in Salt Lake City.
"He's really become a kinder, gentler version of his old self," says Christine Durham, a fellow former chief justice of the Utah Supreme Court and now an attorney at Zimmerman's firm.
Along with the ideals of justice that Zimmerman has always fought for, Durham says that makes for a powerful combination. "Michael has always been one of the smartest people in the room."
Growing up, Zimmerman was often uprooted, moving a half-dozen times before the age of 15. As a teenager, he landed in Arizona—a far cry from the farmlands and suburbs of Illinois where he had spent much of his youth.
As for college, Zimmerman did a patchwork of undergraduate studies at two Arizona schools, taking whatever courses would fit around the 60 hours per week he spent on odd jobs and drag racing. He worked as a gas station attendant, mechanic, and bellhop on the night shift at a hotel, and eventually wound up in Salt Lake, where his parents lived.
After graduating from the University of Utah with a degree in political science in 1966, he took the LSAT and enrolled in Utah's law school. "I never met a lawyer until I went to law school. I watched Perry Mason a lot," he says with a laugh. "I was just kind of interested in systems of governmental power."
During these formative years, in the tumultuous '60s, Zimmerman began drifting from his early ideological affinity for a "Calvinistic view of the world" that drew him to thinkers like Ayn Rand, and started developing a philosophy of empathy that would shape his career.
"I thought, all of the people that I'm working with in my jobs are basically worthless in [Rand's] philosophical system," he says. "All of a sudden, I just said, 'You're off in some intellectual world. And it's not the real world.'
"It seemed to me that sort of cold, capitalist view of the world was just sad. There was no humanism in it. Existentially, I thought it was bankrupt."
Law school fit Zimmerman like a glove.
"It was the first time I had really blown it out of the park," he says. "The things the law doesn't care about, it ignores. The things it cares about, it cares in disproportionate amount for. I found it fascinating."
"He was a standout right from the beginning," says former classmate Clayton Parr, of counsel at Parr Brown and one of Zimmerman's editors at the Utah Law Review. "He was young, probably a little bit cocky at the time," but stood up well to tough editing. "He was fun to be around, even at that time."
In 1969, as he was wrapping up law school, Zimmerman snagged a clerkship on the D.C. Circuit Court of Appeals for Judge Warren Burger. Six months later, both Burger and Zimmerman were on their way to the U.S. Supreme Court, unexpectedly making Zimmerman the first Supreme Court clerk to come out of the University of Utah College of Law.
"I was driving [to D.C.] the same day they were landing on the moon; I had a Volkswagen with everything I owned in it," he says. "I drove across country, and that was it. It was a culture shock."
The capital was roiling at the time: Burned-out buildings marked recent protests after the assassination of Martin Luther King Jr., while buses headed for Woodstock lined Constitution Avenue. Inside the Supreme Court, Zimmerman had his own early reckoning with how the legal concepts that fascinated him in law school worked at the highest levels.
"The law superimposes a structure over everything—all physical reality, intellectual reality—and nobody sees it but lawyers," he says, adding that, in practice, "you see how human of a process decision-making is."
After the clerkship, in 1970, Zimmerman headed to O'Melveny & Myers in Los Angeles, then the largest law firm in California. He worked on both trials and appeals, including two before the Supreme Court. For the first time, he had money. Fast cars, nice clothes and a house in what's now one of the most expensive real estate markets in the nation followed. But he chafed at the big firm culture. "I can't say I thought that people were overjoyed in their lives," he says.
Then, suddenly, Zimmerman came face to face with what would become an unwelcome pattern throughout his life: "I keep bumping into mortality for some reason."
Zimmerman's ex-girlfriend, whom he'd recently broken up with, was diagnosed with terminal brain cancer. Shortly afterward, his father, 61, died unexpectedly of an aneurysm. Against the backdrop of these traumatic events, his life at O'Melveny & Myers came into focus. He recalls himself thinking, "I work hard, but that isn't how I want to spend all of my life."
So he returned to Salt Lake City, where he could be closer to his mother and siblings. By taking a job teaching at the University of Utah law school, Zimmerman leaned into a more balanced life, rife with hiking and skiing, and, a new love: his first wife, Lynne.
The only thing Zimmerman didn't like about teaching was that writing academic papers on securities regulation and antitrust laws would inevitably be in his future. Before that time ever came, he met the new governor, Scott Matheson, who needed personal counsel after clashing with the attorney general of the opposing party. Zimmerman became a part of Matheson's team and, for the first time, sunk his teeth into policy and advocated on behalf of a wider public. Among other issues, he helped lead the state's inquiry into federal suppression of information about the effects of Nevada's 1950s nuclear bomb testing, upwind from Utah communities. Matheson would later die of cancer, suspected to have been caused by the radioactive fallout whose other victims the pair had fought to protect.
In 1980, Zimmerman returned briefly to private practice. But he missed having a hand in public policy, as well as the chance to further his ideals of social justice. "Fairness has always been important to me," he says. "I was small, physically, as a kid. I moved around a lot. I felt like an outsider. Studying political theory, that's all about allocating power."
When a spot opened up on the Utah Supreme Court, Matheson offered it to him. Though only 40 years old, Zimmerman took the chance, knowing that Utah was moving away from his politics—making it unlikely an offering would be coming in the future. To this day, Matheson was the state's last Democratic governor.
Utah's judicial system changed radically while Zimmerman sat on the court. A constitutional amendment that passed in 1984, the year Zimmerman took his seat, essentially created a judicial branch of the state government with the chief justice as its head. And, until 1987, Utah had no Court of Appeals. The state's high court began considering constitutional questions in ways it never had before, and sharpened its focus on appellate decision-making.
When Zimmerman became chief justice in 1994, he was among the first to make leadership of the judicial system a central tenet of his work. "That resonates to this day, in terms of the governance and administration of the courts in our state," says Durham. "We have a very progressive, forward-thinking governance model that's admired by state courts all around the country. He deserves a lot of credit for getting that launched."
It was in the midst of the court's transformation that Lynne got sick. She was 41 years old, and the diagnosis was terminal. Zimmerman immediately felt in over his head.
"Having a drink at night didn't do it," he says. "I tried antidepressants, and they didn't work."
But meditation did. A year later, after Lynne passed away, meditation continued to be a refuge.
"It was a different opening for me on the world," he says. "It's only when you start regretting, thinking about the past—or getting anxious and thinking about the future, trying to figure out a narrative arc for how the world ought to be—that you get stressed, because the world doesn't match your expectations."
Over the next several years, Zimmerman struck up a friendship with Diane Hamilton, who ran the state court system's alternative dispute resolution program. She had studied Buddhism, philosophy and psychology, and nudged Zimmerman to take classes at a local Buddhist center.
He became hooked on the faith's philosophy of living only in the present moment, and took Zen vows shortly after stepping down as chief justice in 1998. He and Hamilton later got married, became monks, and opened a Zen Buddhist center and retreat called Two Arrows Zen.
"As soon as you form a narrative about yourself, it requires that you reach into the past and project into the future," he says. "You cast yourself as a certain character, and you eliminate all the parts of yourself that don't fit that. Now you've invested yourself in the story of who you are, and if the world bumps up against you, or challenges that self, it gets pretty indignant. It can get angry, and threatened, and it becomes desiring. … We don't even realize that our lives are dominated by these narratives. … It narrows possibility. If you can't be present to not knowing what's going to come next, you can't be present to infinite possibility."
Zimmerman left the court in 2000, and returned to private practice at Snell & Wilmer, where he worked on commercial litigation, arbitration and appeals. He had dreaded going back into private practice, based on his past experience. "I can be pretty intense, and practice inevitably has a lot of conflict in it—whether it's with lawyers or the people on the other side. I was dreading going back into that conflicted environment," he says.
But his Zen practice showed up in the most unexpected ways.
In one instance, "somebody was doing the kind of things lawyers do to each other—to put it crudely, they pee on each other's legs all the time," Zimmerman says. "I can have a bad temper, and I started to get steamed. All of a sudden, I managed to step back. I realized I had developed the capacity to distance myself from my stories.
"I've enjoyed 90 percent of my practice ever since," he continues. "It really is very helpful for lawyers. You can see it all, through the narrative of uncertainty. Uncertainty is what humans need to learn to be comfortable with, and that's what Buddhist practice is about."
His lifelong passion for equity and justice converging with his new faith system, Zimmerman took on pro bono work overturning wrongful convictions, and picked up cases representing Native American tribes fighting for oil and gas rights on their land.
"He understands the human side of everything," says Alan Sullivan, an attorney at Snell & Wilmer who has known Zimmerman for four decades. "There aren't many lawyers who spend the time that he does to fully appreciate the human dimensions of judicial decisions."
After 11 years at Snell & Wilmer, in 2011, Zimmerman took another risk: starting the state's sole appellate-only law firm. He says most thought the firm wouldn't last more than a year; other lawyers believed there was no market for it. The weekend before the firm opened, Zimmerman got a call concerning a $60 million case that needed appellate specialists. More than eight years later, Zimmerman Booher employs 10 attorneys.
"One of the things that was most appealing was the prospect of being able to build a firm that was a humane place to work," he says. "My experience of the practice is that it is hard to manage a healthy work-life balance because of the drive to make money. … We wanted to create a place that was profit-making, but not profit-maximizing."
Zimmerman, of course, has long been known as an intellectual with a talent for the technical aspects of the law.
"But that's only half the story," says Parr, his former law school friend. The other part—the part Zimmerman really excels at, is: "What kind of human being are you?"
---
As trained monks and lawyers, Michael Zimmerman and Diane Hamilton know better than most the value that Zen teachings can bring to the practice of law.
"Look at the studies that have come to the fore on lawyers' high rates of stress, of alcohol and drug addiction, of anxiety disorders," Zimmerman says. "We have repeatedly spoken to lawyers' groups and judges' groups about the value of mindfulness and meditation."
One lesson, he says, is in how lawyers communicate: "Being able to distance yourself from the stories that create stress—in other words, saying things more dispassionately."
As for meditation itself? "People think it's a great idea, but it requires sitting still, it requires discipline. And you have to do it for yourself. I find lawyers think it's a great idea, and they don't do it very much.
"In the present moment, if you just sit still, take a breath, put your awareness inside your body, you can feel it calm itself. Listen. Look around you: Everything's fine; you don't need anything. Your sense of self, your separateness, your identity fades. It becomes muted."
Search attorney feature articles