Bill Axselle: At Your Service
After 16 years as a legislator, the government law attorney at Williams Mullen lobbies for change from the outside. And yes, he helped bring Nordstrom to Richmond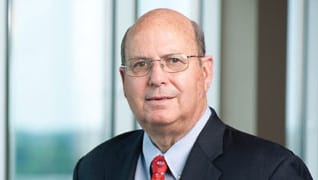 Published in 2011 Virginia Super Lawyers magazine
By Beth Taylor on June 17, 2011
Q: How did you end up first in government, then as a lobbyist?
A: You know how you look back on your life and you wonder, "How did I get into this?" It was sort of a natural extension of early family upbringing … a lot of civic, community, government activities. My senior year in college, I felt I had to make a choice between going to seminary for religious [education] or practicing law and going to law school. I decided to go to law school.
Q: Some would consider those career paths polar opposites.
A: [Laughs] There are similarities. I think the common feature is service. Your masters, if you will—and the source of your service—are different, but still involved with helping people. Upon reflection, I made the right choice. It was just one of those forks in the road. I've enjoyed practicing law and continue my faith very strongly. I teach Sunday school and enjoy that, but I don't find it inconsistent with the legislative or government advocacy efforts. We in Virginia are very fortunate that we've got a very strong, ethical basis in our government operations, so it's not inconsistent in that respect. I'm not sure, upon reflection, I had the patience to be a good pastor. I'm pretty patient, but I'm not sure I'm that patient.
Q: I would think being a lawmaker would also require patience.
A: It does, but you understand that what you're achieving in setting public policy is worth the demands on your time, energy and discussions that sometimes take place in the political legislative environment. I enjoyed it, had 16 good years, then I decided it was time to focus on practicing law. Probably the biggest transition I've made was that … for about 20 years I practiced with a small firm, a general practice firm, and then when I left the Legislature 21 years ago, I transitioned to Williams Mullen, which is about 300 lawyers. I chair the government group, the operations in Virginia and North Carolina. So that was another choice, and that was a good one, too.
Q: What's the main difference between working inside the Legislature and working outside as a lobbyist?
A: It's the same game, but in the Legislature you are the participant in the game; as a government advocate, you are influencing the game. You're watching it with some degree of involvement, because you can advocate for your client, but at the end of the day you know that the legislators assess the facts and make what they think is the best public policy. I learned from my legislative experience—not just working in the general assembly, but I did a lot of land use work—[that] one of the best traits to have is to understand what really are the key factors for the decision-makers, whether they be legislators or local government officials. I think they take two matters into consideration. One: What is the best public policy? And two: It has to be within the range of acceptable political consequences. Both of those are valid considerations in making public policy and reflecting what your constituents want. Once, as a government advocate, you sort of realize that, it helps you frame your positions and advocacy to appeal to and influence their ultimate decisions. This is the thing I like about the government advocacy: You're doing things that are beneficial for your community …  as well as trying to service your client.
Q: What did you like most about being a legislator?
A: I really enjoyed having a say in the public policy debates, working with people to reach that best public policy.  What I got a little tired of was the political aspect of public service. I won every election I ever ran in and all that good stuff, but it is very demanding on your time. When I left 20 years ago it was demanding. It's even more demanding on the public officials now: more time demands and probably more criticism from the public, no matter what you do. That, I don't miss.
Q: It seems like slamming politicians is a favorite American sport.
A: It's unfortunate, because these men and women—Republicans, Democrats—they really put their hearts into it.
Q: What do you like most and least about being a lobbyist?
A: I like having the ability to influence decisions, and I love conceptualizing and planning and then fulfilling a purpose, and that you can do in your government-advocacy work. I enjoy it. On the flip side of that, sometimes when political considerations overtake good public policy, that is just appalling.
Q: Seems like you have a great variety of clients.
A: Yes, we've done work for the Capital Region Airport Commission, the Richmond International Raceway, the Greater Richmond Convention Center. We do work for the Virginia Museum of Fine Arts, which is one of the top 10 in the country, and we secured a lot of funding and other things for them over the years. Example: Tomorrow night, we're going to the only Picasso exhibit on the East Coast. The fact that you can help with something like that is pretty nice.
Q: It must be fun to drive around Richmond and see your handprint all over the landscape.
A: There are some [projects] in which I've been a significant player; others I've just helped with. That is a very tangible illustration of what you've been able to accomplish. I do find that rewarding, because we've got a great city.
Q: Did you grow up here?
A: I was raised in a rural part of an adjacent county and my children were raised in suburbia, if you will. But the same community feeling is here. I mean, people really care. I always say Richmond is a big city and a small town. You get to know people, you maintain relationships, it's got just about every cultural opportunity and recreational opportunity. The best thing is it is a wonderful place to raise a family. We own a beach house at Virginia Beach, and we've got offices down at Virginia Beach and Norfolk, so that's my real hobby: the beach. Just like any other area, there are some places that are better than others, but we've been very vibrant, we've done well through the various ups and downs in the economy. I finished high school in '61, and the South obviously had difficulties adjusting to the desegregation and so forth, but the city of Richmond never closed its schools, the local counties never closed their schools, and we've not had the aftermath of those days and people get along well. It's just a nice place.
Q: What are some of the projects you've handled in Richmond?
A: I do a lot of land use work. We've done probably the three largest shopping centers here in the Richmond area; helped with a number of office complexes, a lot of zoning over 40 years. One thing I'm working on now: The Richmond area lost a Triple-A minor league team and we have now brought into Richmond a minor league team, the Flying Squirrels. This is a Double-A team and they have just had unbelievable success here and great entertainment and good baseball, and I'm coordinating the activities for them in building a new ballpark and working with four jurisdictions. That's very exciting.
Q: Is that just the best project you've worked on?
A: Well, my wife thinks the pinnacle of my public and private career is having been part of the team that brought Nordstrom to Richmond. I've worked with a number of governors and served in the Legislature and on college boards, but bringing Nordstrom, that is it.
Q: At age 67, sounds like you couldn't be much happier with life.
A: I am doing the type of work that I love and just every day it's exciting and fulfilling. That's not to say there aren't some days when it's less fulfilling and a little too exciting, but after 40-plus years, my career has gone very well and I'm very pleased with where it's taken me. I thoroughly enjoy it, and my wife tells me I can't come home to retire. You know, everybody has their own turf, and I don't think she's really interested in my being around her "office." She knows I'm at times a little, not demanding, but I do tell her what I think. I'm not a golfer and I don't have those types of hobbies.
Q: So when you retire, you're just going to be hanging around the house?
A: That is her fear. That is her fear.
Search attorney feature articles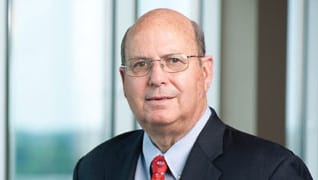 Helpful links
Other featured articles
Beth Terrell takes on cases and causes for those without a voice
Walking through his favorite Buffalo haunts
Attorneys tell their stories of immigrating to the U.S.
View more articles featuring lawyers
Find top lawyers with confidence
The Super Lawyers patented selection process is peer influenced and research driven, selecting the top 5% of attorneys to the Super Lawyers lists each year. We know lawyers and make it easy to connect with them.
Find a lawyer near you