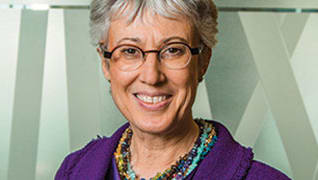 Photo by: Stephen Voss
Masters of the Insurance Universe
Lorelie S. Masters is an insurance lawyer by day, social activist by night—and in 2014, the overachieving moonlighter added political candidate, too
Published in 2015 Washington DC Super Lawyers magazine
By Joan Hennessy on April 21, 2015
From 9 to 5, Lorelie S. Masters of Perkins Coie is known for game-changing insurance litigation. A colleague says her knowledge of insurance law is "encyclopedic."
"She's not spending a lot of time looking up answers," says partner Tim W. Burns.
From 5 to 9, she's just as well known for her other job: advocate for pay equity for women, human trafficking laws, voting rights and other issues.
An overachieving moonlighter, she added one more role in 2014: candidate in Washington, D.C.'s historic attorney general election
"You put yourself out there when you do a big oral argument," Masters says. "But [campaigning] … took me out of my comfort zone."
Slender with short white hair and glasses, Masters has spent decades in D.C. without losing the Midwestern cadence of her native Michigan. She came out of law school in the early '80s, and began work in antitrust litigation. About that time, insurance law was moving to the front page of major newspapers for one reason: asbestos. In 1982, The Financial Times described asbestos claims as "the latest and fastest moving product of the U.S. litigation industry."
By the mid-1980s, Masters had taken a job at the firm now known as Anderson Kill. She was asked to help on the damages portion of a major asbestos coverage case, Keene Corp. v. The Insurance Company of North America. Anderson Kill represented Keene—a manufacturer of thermal insulation products that contained asbestos—which had been named in lawsuits alleging injury due to exposure to asbestos.
In a muddle of finger-pointing, various insurance companies argued that manifestation of disease should trigger coverage, while others argued that insurance coverage was triggered by first exposure. For someone with exposure in the 1960s, but who didn't have symptoms until 1985, Masters says, the documents produced during litigation showed "coverage is triggered at any point during that 25-year exposure period, as long as there's some damage or injury during that period."
The firm won the case, and lawyers across the country began to argue what became known as the "continuous trigger of coverage." When the liability insurance industry in the U.S. crashed, entrepreneurs and insurance brokers eventually created an alternative insurance market in Bermuda.
"Bermuda was an attractive venue in which to base this new insurance market given that insurers selling insurance at high-excess levels were not subject to U.S. regulation," Masters says. "The creators of these new insurance companies in Bermuda also drafted an insurance policy form with certain unique provisions, including a new and untested trigger of coverage called an occurrence-reported trigger."
In a quest to avoid the U.S. court system, the new insurance companies required arbitration of disputes in London under the English Arbitration Act. But the policies were sold in the U.S. and the "Bermuda Form" remained subject to most principles of New York law.
She ultimately coauthored Liability Insurance in International Arbitration: The Bermuda Form.
"We were really making law all over the country," Masters says. "To this day, you can file cases and the law will not be settled on a particular issue. … If you don't have settled law that addresses how a particular provision should be applied, your job is to shape the law." 
It sounds like the perfect upward career trajectory. But Masters remembers how it felt to be a young woman at a law firm. 
"I felt I was lucky to have a job," she says. "And you were made to feel that way as a woman [in the law in the early '80s]. 'We gave you this job.' As opposed to, 'I worked hard through law school the way guys did and I earned this job.' So we sat in our offices and we kept our noses clean and we did our jobs. We knew that we were going to set the standard for the women who came behind us."
When she had a son, Ian, in 1988, she took three months of maternity leave: exactly what her firm offered. But once back at work, she realized something had changed. The day before she gave birth, she was Lorie Masters, a solid and dependable lawyer.
"The day after you come back, it is assumed that maybe you are someone who can't be counted on anymore," she says. "This doesn't happen with guys. A guy has a baby and he's … considered a pillar of the community; he's more reliable."
But by the 1990s, she was the leading attorney in a series of cases involving Hoechst Celanese Corp., sued over the plastic used in faulty plumbing fittings, in pursuit of insurance claims.
"We argued that Celanese was being held liable for progressive deterioration or injury from exposure to chlorine that took place over a period of years," she says. "And if that was the case … then each of those policy years in play during that period of damage should be called on to apply. It makes a huge difference because if you're limited to one year, you only get one set of policy limits."
She won. She was in her 40s at the time.
But away from work, the district's lack of voting representation in Congress troubled Masters. "It's the unfinished works of the civil rights era," she says.
It is unlikely that Congress is going to give D.C. statehood any time soon, she acknowledges. But until then, she has served as board member for groups working on voting-rights issues. She wants to see pay equity for women and public pay scales. And come to think of it, she doesn't like the word "equity."
"Let's call it what it is," she says, "pay equality. Why do we call it equity?"
The counter-argument is that the problem isn't that women are paid unfairly; it's that women don't negotiate for themselves. But Masters, who remembers once being made to feel lucky to have a job, is fast on the defense.
"Women are not negotiating for themselves," she says, "because they know that if they are perceived as too aggressive, that will come back to haunt them."
Masters didn't have anything to prove, and she certainly didn't need a new job; but after years of law by day and civil rights advocacy by night, a new opportunity presented itself with D.C.'s attorney general election in 2014.
The election had been a long time coming. In 43 states, the attorney general is elected; prior to 2014, in the district, the mayor appointed the position and the district council approved.
Voters decided in 2010 that they wanted to elect an attorney general. But the council and mayor differed on the new attorney general's scope of power and in July 2013, the council voted to delay the election until 2018.
That wasn't the end of it. After a legal challenge, a D.C. Court of Appeals panel ruled in June 2014 that the election must go forward. At that point, less than six months remained until Election Day. That made for a hurricane-like election cycle.
For Masters, it was even shorter. One month after the court decision, in July 2014, she declared her candidacy. She couldn't resist. In her view, the race for the first elected attorney general in D.C. needed to include women's voices.
"It is a big decision to leave your practice. It's not like I'd been in politics before," she says. "But I thought about all the women who have made it possible for people like me to do what I do—to be able to apply for law school and to practice law, and they didn't shy away from a challenge. It did strike me that in this history-making election, one of them would have jumped in. … And I thought my candidacy was a way that I could honor that legacy."
Masters had to get her sea legs quickly, remembers Kemry Hughes, her campaign manager. On the plus side, he noticed right off that she could connect with people. "Her grasp of the community and its issues truly impressed me," he says.      
She went into public housing and talked to residents. She danced at a club. She listened. She talked. She was forced out of her comfort zone.
Five candidates entered the race; Karl Racine, who had been managing partner at a powerhouse law firm, emerged as a frontrunner. Even so, audits took issue with his firm's billing under government contracts.
At a press conference, Masters challenged Racine by pointing that out. It wasn't softball, either. She noted that Racine could have put a stop to the problematic billing the first time it happened. Later, he fired back, saying that the charges against him were a sign of desperation.
Racine won with 36 percent of the vote; Masters finished third with 14 percent. She was disappointed. It was a crowded field, but sadly, in the district where Masters and others worked so hard for voting rights, the turnout was a dismal 38 percent. In fairness, turnouts in midterms tend to be low. "If we can work together to solve problems, the low turnout and alienation that people expressed will change," Masters says.
Even so, she doesn't have an interest in tossing her hat into another race anytime soon. The attorney general's job was a lawyer's job, she points out.
Her father, a doctor, served on medical boards long after retirement. The work kept him young, she says. She remembers how he told her that the great thing about having a profession is that it offers so many options. "I saw that with what he was able to do with his life and his career and the contributions he could make," she says.
Masters' mother also worked well into retirement age. A registered dietician, she quit to raise children, only to pick the career up again. Eventually, she ran the Women Infants and Children program in a six-county area of Michigan.
"She always told me she refused to tell people her age, because as soon as she [did], they started to treat her differently," Masters says. "They would talk down to her. She felt she wasn't considered as able as she was. So she just never talked about her age."
Masters is currently immersed in legal projects—prominently, as an adviser for the restatement of the law of liability insurance by The American Law Institute. It's time consuming, but judges, academics and other lawyers look to those restatements when interpreting the law.
Recently, someone called her an activist dismissively; Masters took it as a badge of honor.
"I think that if you see an injustice, you need to work to right it," she says. "If that makes you an activist, then so be it."
Search attorney feature articles