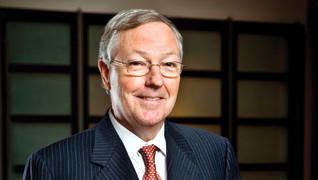 Photo by: Stephen Voss
The Lawyer's Lawyer
Q&A with Carter Phillips
Published in 2011 Washington DC Super Lawyers magazine
By Adam Wahlberg on April 29, 2011
Have you ever noticed that great lawyers tend to be baseball fans? Something about the analysis and the strategizing, and the keeping score. Carter Phillips loves baseball and he keeps score. He's made more appearances before the U.S. Supreme Court than anyone currently in private practice—71 and counting—and, yes, he can tell you his record. He can tell you plenty of other things as well, from clerking for Chief Justice Burger to throwing darts with Justice Alito. We caught up with the managing partner at Washington, D.C.'s Sidley Austin in late January and asked him to go through his box scores.
Q: Tell us about your first Supreme Court appearance.
A: I was 29. I was quite nervous and when I go back and read through the transcripts on occasion it's quite painful to see how formalistic I was in my approach to the argument. It was a little different in those days; it wasn't quite [at] the same intensity as it exists today. Although, Justice [Byron] White gave me a particularly hard time as he did young lawyers who had their first or second argument. At some point I remember him asking me a series of hypotheticals and eventually the chief justice interrupted and said, "Well, Mr. Phillips, how would you answer this hypothetical?" and proceeded to essentially restate the facts of the case. [Laughs] I think that Justice White recognized that OK, fun's fun, it's time to move on. I survived my first one, that's as much as I can say for it.
Q: Do you still get nervous?
A: I don't anymore. I mean, I get excited about it. I do get goose bumps when I walk into the courtroom, and sit there and realize that what I'm about to do is actually the most fun thing you can do in private practice in my judgment. But I don't have the same anxiety level at this point, just because after 70 of them, it gets a little easier.
Q: What's the night before an argument like for you?
A: My preparation technique is: I will not look at anything after 5 o'clock. I just go home and watch a movie or some kind of TV, or something that's utterly mindless. I won't say that my mind doesn't wander in that direction, but at least I'm not actually trying to think through the problems. I usually go to bed early. I almost invariably wake up very early—4:30, 5—my mind is racing and I'm ready to go, and the adrenaline is already started and off to the races.
Q: Can you tell us a story about Chief Justice Warren Burger?
A: I suppose the most heartwarming was the chief's rather charming practice of inviting the four law clerks to lunch every Saturday. One of his secretaries would call us, either at 8:30 or 9:30 every Saturday asking us if we'd like to have lunch with the chief. He mostly served bean soup because that seemed to be the best thing he knew how to fix. He'd just take everything he could find in the kitchen and dump it in a soup pot and stir it up, and we'd have some soup. He'd drink a glass of wine and we'd have a Diet Coke or whatever, and he'd go back home and we'd go off to get the work done. Those were the warmest memories because he'd talk about what it was like to be the assistant attorney general in the Civil Division, an insurance defense lawyer in Minnesota. When you're a relatively young lawyer, to have somebody you have a tremendous amount of respect [for] and you owe an enormous debt to, willing to sit down and talk to you about their lives and their careers, it's very special.
And I'll tell you another. The year I clerked was the first year that the court had any kind of computer system. We had the old Wangs, which are so old you probably won't even remember—the true original word processing system. We only had one machine for the office. I vividly recall a Saturday: After I had put together a draft of the opinion for the chief, he had marked it up for changes and handed it back to me around noon. [He] said, "I can't imagine I'll probably get your changes Monday or Tuesday—whenever you can get them input and get a new draft back to me." And I said, "Well, Chief, I think I can do better than that." And he kind of looked at me askance, and I went back, and, because we had this word processing type device that could input the changes pretty readily and correct, got everything fixed. So literally I'm back in his office 45 minutes later or something like that. I said, "Here's the revised draft, Chief." And he looked at me and he said, "How did you do this?" And I said, "Well, it's the computer." And he said, "We gotta get more computers." [Laughs] He was the man who brought copying machines to the Supreme Court; they didn't have them before he was there. People sometimes criticize him on the law side. I actually enjoyed working with him on the law side. But he had a real genius on the judicial administration side.
Q: You go way back with Justice Samuel Alito. Can you tell us about meeting him?
A: I think the funniest story with the justice was really the first meeting because we were introduced as two people who were interviewing for the same job; it was an assistant job. And this was right after our morning interviews—six lawyers in the [solicitor general's] office asked us if we wanted to go down to lunch. So we said yes. They took us to the basement cafeteria of the Justice Department—it was a really elegant meal. [Laughs] We go through the line and we're carrying our trays, and the six lawyers from the office sit at a table for six, and they point at a table for two and tell the two of us to go sit over there.
So he and I have this conversation that's at least a little strained the first few minutes, but ultimately we turned to baseball. He's a Phillies fan and I was a Pirates fan, and we're essentially the same vintage, so we had very similar memories of our childhood and baseball. And as it turns out, there were actually two openings, and he was two doors down from me in the office. We used to play darts almost every day for about a half-hour, 45 minutes, at 5 o'clock; just kind of unwind. We became very good friends as a consequence of that.
Q: This case you have right now for Fox TV concerning expletives on the airwaves is certainly quite interesting.
A: It's probably been [my] most interesting case in general. … That's probably an overstatement. It's been a very interesting case. It's a little different in that it's been televised in a Court of Appeals hearing, so that was unusual—get a call from your mother saying, "I never taught you to use those words." [Laughs]
Q: Would you say that's been among the most challenging cases?
A: One of the advantages of having a practice that is predominately in the Supreme Court is that almost all the issues are fairly complicated because they usually have to have square conflict on the circuits. So you're going to have two courts going in different directions. I think ultimately the cases that are the most interesting tend to be the statutory interpretation questions, not because they are more important—because usually the constitutional issues are more important—but because the justices haven't thought about them as much. So if you're working through an interesting statutory problem, even in an ERISA case—I had one of those managed care ERISA cases years and years ago; it was a wonderful puzzle, but the court hadn't really dealt with that many of those issues at that point—and just trying to both effectively communicate a complicated subject matter and be persuasive, and try to move the justices so that managed care wasn't going to be destroyed by this interpretation of ERISA—it was an interesting challenge. But it's not the kind of case that The New York Times was necessarily going to get excited about.
Q: You're a baseball fan and pay attention to stats. Do you know your own record before the Supreme Court?
A: Well, five of them are pending, so 36-30.
Q: You've certainly had the most appearances at the plate.
A: That's true. [Laughs] The one disadvantage of going to the plate that often is unfortunately you're going to swing and miss a few times.
Q: What's the one piece of advice you give young lawyers, such as your daughter, who clerked for Justice Alito?
A: Actually the same piece of advice I received, which was to realize what a very special place you are in and to enjoy it, and not think about what's next. Just finish out the year, soak in every experience you can, play basketball as much as you can. [Laughs] There's not a lot of places where you have a basketball court on the top floor of your building. Have fun doing that. Just soak it in and experience it, and [don't] think of it as the next step before [you] do something else—because you'll look back and say there was no other experience quite like that one.
Search attorney feature articles