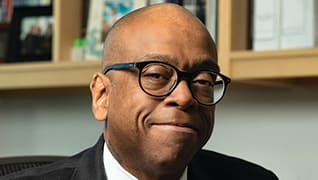 Photo by: Rick Dahms
Above Reproach
Why James Williams came to mind when the ACLU needed someone to spearhead a major access-to-justice case
Published in 2019 Washington Super Lawyers magazine
By Bob Geballe on June 24, 2019
One evening in the late fall of 1992, the phone rang at the San Vito dei Normanni Air Station in Brindisi, Italy. Capt. James Williams, on his last military assignment in the Air Force Judge Advocate General's Corps, picked up.
"I was the only person in the base office," says Williams, who was surprised to hear Marcella Fleming Reed, a friend from law school, on the other end. "We hadn't talked in four years. She wanted to convince me to interview for work in Seattle."
Williams was ready to transition into private life, and he had an offer from a South Carolina firm. But she was persuasive. "I thought this would be a great fit for him," says Fleming Reed, now an employment attorney with MFR Law Group in Mill Creek. "I had come to Seattle earlier that year and thought it was accepting to people of color." She set up four interviews for him.
Twenty-seven years later, Williams—recently elected to the American Law Institute—is firmwide business litigation chair at Perkins Coie, the largest firm in the Puget Sound region, according to the Puget Sound Business Journal. He is also managing partner of its Seattle office, where he's known for mentoring young lawyers and performing community service.
Williams is also known for a headline-grabbing 2013 pro bono case that transformed the way public defense is practiced in Washington and had nationwide consequences.
The suit uncovered the fact that public defenders in many smaller cities had caseloads so overwhelming, they couldn't possibly do the required work. Seattle attorney Sarah Dunne, then legal director of ACLU of Washington, realized the enormity of the suit required resources the ACLU didn't have.
"I knew I needed a gladiator," she says, "someone who was a top-notch constitutional litigator, who would understand the importance of the issue and be willing to go the distance. And someone who was always professional. We were making social change, and that person has to be above reproach. That was James."
Williams grew up in Rembert Township—a hiccup of a town off Camden Highway, 117 miles outside of Charleston, South Carolina. "There's one blinking light at the crossroads," he recalls. "It was a very rural and remote existence. I am a son of the South, truly an African American. My great-great-grandparents on both sides were slaves."
As a child, Williams worked in cotton, soybean and wheat fields with his father on their family farm. "The laborers my father hired lived in substandard housing," he says. "They were always very generous with me, but I learned that their lives were very hard because they had no education. I felt I was privileged. I remember thinking that the way out for me was the military. You can change your status—this was the ticket."
Williams was accepted to The Citadel in Charleston. It was transformative: "The discipline, the order, the consistency. I was late for class once during my freshman year, and had to spend the entire weekend in the barracks. I was never late again."
Williams had thought about law, but a political science teacher helped him make the leap. "The professor suggesting that I had the makings and ability to do it sort of solidified in my mind," he says.
So Williams went to law school at the University of Virginia, where he encountered views that differed greatly from those in his hometown. "U Virginia law school allowed me to see that the conservative principle was not the only one. I was impressed by people's contemporary knowledge, and I knew I needed to gain some worldliness."
He got that chance after law school, when his five-year JAG stint took him to  European posts. "It gave me the ability to stand on a foreign shore and look at the U.S. critically," he says. "I served for three years overseas and thoroughly enjoyed it, but I never wanted to live anywhere else [than the U.S.]. The pursuit of justice, fairness, the level of ethics and the commitment to democracy … there's no better place than here."
When he arrived in the Pacific Northwest, he confesses, "All I knew about Seattle was the SuperSonics. I loved Downtown Freddie Brown, and their speed and style. But that was it." Still, he felt an immediate affinity.
"People showed me here that they were interested in First Amendment rights; that they were not afraid to challenge the government; that they would make their voices heard," he says, adding this was in stark contrast to where he grew up. "In South Carolina, people rarely protested, and protests had a history of turning violent. I liked that that wasn't the history here."
Williams was quick to jump into community service, and he joined the Loren Miller Bar Association, an affiliate of the nation's largest organization of African American attorneys. "[It] had been founded by the heroes of the civil rights scene in Seattle," Williams notes. "It was a bit daunting to move here and lose my African American community, and this was one of the best decisions I made."
He met many Seattle leaders, including activist Larry Gossett, currently a King County Council member, whom Williams considers a mentor. "When it comes to business, he's a no-nonsense leader," Gossett says. "That he also finds time for important civic and community involvement sets him apart from others. He is good at injecting confidence, and he's able to communicate to young lawyers that they can do anything anyone else can."
Williams mentors young lawyers through the Washington Leadership Institute, which he co-chairs with state Supreme Court Justice Mary Yu, and for which he developed a curriculum.
"I teach them things I wished I had learned when I was young," he says. "For instance, we talk about the three different styles of leadership: commander, collaborative and servant leaders. I also want them to know about the legislative process—how to change laws."
He also brings his passion for the future into his work with Treehouse, a local nonprofit that supports foster children, where he was a board member for more than a decade. "These kids are the most vulnerable of our society," he says. "We try to give them a sense of community, a sense of normalcy. The alternative for them is terrible."
Williams organizes volunteer work days at Treehouse, where Perkins Coie's summer associates help out.
"It's important for their professional development to be exposed to the community and give back to a nonprofit like Treehouse," he says.  "Foster kids don't have a safety net, a benefactor. I never wondered whether I had that security.  When I see a foster kid who's made it, I see a miracle. I believe in the future.
"I can't feel comfortable until I know younger people will carry on the work I am doing."
Williams' law practice focuses on complex business litigation and civil trials. In a recent federal appeal case involving allegations of business fraud and deception against the multiple real estate investment funds Williams was representing, he turned around a difficult case  and prevailed.
"I have always believed I belonged in front of a jury," he says. "I am motivated by the rush I get in being a lawyer."
But it's the pro bono case that rang up the headlines.
Nearly five decades after the landmark Gideon v. Wainwright case, in which the U.S. Supreme Court said states must provide attorneys to indigent criminal defendants, Letty Alvarez-Gubitosi, director of the Skagit County Department of Assigned Counsel, alerted attorney Toby Marshall to the fact that poor defendants in Skagit County were not being properly represented. In turn, Marshall, with Terrell Marshall Law Group, alerted the ACLU, who brought in Williams.
"It was a massive case—there were so many municipalities with indigent people facing jail time who weren't being served," Dunne recalls.
"The cities were allowing sloppy practice," Williams says. "People were accused of misdemeanors and there was no investigation. They would meet with their lawyer for the first time in a courtroom, whether they were guilty or innocent. You have to provide proper counsel, and have to investigate the crime.
"This is a fundamental thing the Constitution requires that was being routinely ignored and run roughshod for generations."
The case, co-litigated by Williams and Marshall, found defendants were often told to plead guilty, pay a fine and avoid jail. Williams says, "[The cities] were funding their operations with the fines from these misdemeanor guilty pleas. They had line items in their budgets banking on an anticipated amount of revenue."
In 2013, U.S. District Court Judge Robert Lasnik required Mount Vernon and Burlington to hire supervisors to ensure that their public defense systems complied with constitutional standards. He ordered three years of court-ordered supervision of those systems.
Adam Rosenberg, who represented Mount Vernon and Burlington, says this of Williams: "He was fastidiously prepared, he didn't make any mistakes, and he didn't engage in any theatrics. We lost, but in terms of trial presentation, he doesn't give you much to complain about."
Then-Attorney General Eric Holder cited the ruling in a Washington Post editorial. Williams received awards including the 2014 Champion for Justice Award from the Washington Association of Criminal Defense Lawyers, Civil Libertarian of the Year from ACLU of Washington, and Champion of Justice from Washington Defenders Association. "We are supposed to take on cases which can have a profound impact," he says. "It's broader than Mount Vernon and Burlington, and broader than the state of Washington. It has nationwide implications.
"Just being able to establish, for all those people who are too poor to hire lawyers, that they have the right to an attorney who will explain the charge, will do some investigation and give them confidential advice so they can make an informed decision about their destiny—that's very important and meaningful to me, and I'm glad I played a role in it." 
---
Don't expect to find James Williams dressed down on a work day. He cuts a dapper figure, and that's by design. "Martin Luther King Jr. and Thurgood Marshall are on my walls, and they're in suits," he notes.
Credit for minding his appearance also goes to his dad: "My father was a barber as well as owning a farm. He trained me." Williams earned pocket money in college by cutting hair. His family still runs the Williams Barber Shop in Camden, South Carolina.
"There are so few African American lawyers, so I've become cognizant that I'm a role model, whether I want to be one or not," Williams says. "I feel compelled to have a standard that is higher than the average lawyer, because I want young African American males and females out there to have a realistic image of what it takes to be successful. Image is super-important in that regard.
"It's also an homage to King and Marshall—all those people who paved the way for me—because it's a privilege to practice law and do what I do. If it wasn't for their fight in the '50s and '60s, I wouldn't be here right now. So the least I can do is dress the part."
Search attorney feature articles