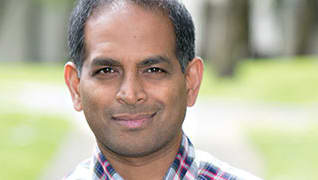 Photo by: Redstone Pictures
Balasubramani, Offline
Internet attorney Venkat Balasubramani loves talking about tech matters and legal theory, less so about himself
Published in 2015 Washington Super Lawyers magazine
By Erik Lundegaard on June 15, 2015
When it's pointed out that his battered iPhone 4, sitting on a tabletop at a Central District coffee shop on a drizzly February afternoon, is hardly cutting-edge technology, Venkat Balasubramani, 44, a lawyer who focuses on Internet and tech matters, laughs and shrugs. "I like it," he says. "It works."
Balasubramani is surprisingly laid-back for an attorney. He's wearing a dark shirt and jeans, and holding meetings at a coffee shop in the middle of the afternoon because his seven-lawyer firm, Focal PLLC, doesn't really have its own office. It shares space in downtown Seattle, which Balasubramani says he reserves only about once a month: for depositions, say, or for clients who prefer a more traditional meeting space. Otherwise he'll meet clients at a coffee shop, or he'll go to their offices, like—it's suggested to Balasubramani—a doctor making a house call.
"I don't know if I would put it like that," he says, slightly wary.
Sometimes, he can go for years before actually meeting a client. In the virtual age, with a virtual law firm, it's as if he's a virtual lawyer.
"I like to stay away from that word," he says. "Does it really matter if you go to an office? … Most people these days have stuff on their computers and PDF files anyway, right? Nine out of 10 lawyers probably have a laptop, and 90 percent of their stuff is on that laptop."
Balasubramani's clients include Whitepages and meme network Cheezburger; he's been involved in cases for or against Amazon.com and Craigslist. "I would say technology and intellectual property is our sweet spot," says Nathan D. Webb, Balasubramani's partner at Focal. "We're both generalists in that we do a little bit of everything—whether that's IP protection or licensing. But we also do employment, commercial disputes, leases. The only thing we really don't do is tax work."
For all that, Balasubramani's best-known case is a small, bizarre one.
In 2011, Matt Inman, creator of the popular online comic The Oatmeal, discovered that hundreds of his comics were being used without attribution or links on FunnyJunk.com, a user-uploaded, ad-heavy content aggregator. He wrote a funny blog post about the situation, listing the various images on the site, including classics such as Calvin and Hobbes and The Far Side, and asked readers what he should do. FunnyJunk's Arizona lawyer, Charles Carreon, sent Inman a letter demanding that he take down his blog post and pay FunnyJunk $20,000. Inman wrote another droll post in response. He decided, via his readers, to raise that $20,000 but give it to charity instead—and ended up raising more than $200,000. In June 2012, Carreon filed a separate lawsuit against Inman but later dropped it.
The Internet freaked. "It was a crazy thing to see," Balasubramani says. "I've done other cases that have had some media effect, but this one almost felt like a roller coaster."
And in all of this, what did Balasubramani do? "I wrote a legal letter [to Carreon]," he says, shrugging again. "But had I not even written the letter, the court of public opinion was resoundingly in Inman's favor."
Webb says his partner is being modest. "He wrote one of the best letters I've seen in terms of response to what we thought was a weak claim," he says. "It was well-argued, he cited all the cases that were on point, and it had humor. And it kind of went viral. Bloggers started posting about it. On Scribd, there were literally hundreds of comments from people, saying, 'Oh, my god, Venkat is the best lawyer ever.'"
Within a month, Carreon voluntarily dismissed his lawsuit, but Balasubramani is almost wistful about that decision. "It's fun to see how arguments pan out," he says. "There's a part of me that thinks, 'Hey, it would've been fun to see how, ultimately, the court would have ruled on his arguments.' I would think, hopefully, it would have rejected them."
The two partners, who met as baby lawyers at Perkins Coie in the 1990s, are opposites in many ways. Balasubramani is the litigator, Webb the transactional attorney. Balasubramani gets a bigger thrill talking about abstract legal theory. Both men dress down—jeans and T-shirts—but Balasubramani is more frugal. It's not just that battered iPhone 4; he relies on old transportation technology, too: the bus, or a beat-up 1990s Volvo. "When we valet that at the Four Seasons for a client meeting," says Webb, "I joke with him: 'They probably think you're an eccentric billionaire.'"
Webb is also better than Balasubramani at talking about Balasubramani, who would much rather talk about you, or legal theory, or where the Internet might be in five years, or anything, really, other than himself. "People who talk to you about themselves and their lawyering—are they usually comfortable?" he asks before the interview even begins. "'Oh, yeah, this is me, this is what I do.' I feel weird talking about my own accomplishments, so to speak."
"That's very Venkat," Webb says.
Balasubramani grew up in the San Fernando Valley, and you can still hear traces of Valleyspeak in his conversation. As a child he was a big reader, and as a teenager he went through a Dungeons & Dragons phase. His parents, who immigrated to the U.S. in the 1960s, tapped into the Indian community in Southern California, so Balasubramani grew up in two worlds: a broadening rather than isolating experience for him. Summers, the family invariably returned to Kerala, India, to visit relatives. "I think it was, like, important to our parents," he says.
After getting a degree in environmental studies from UCLA, Balasubramani went through a typically American phase of wandering and soul-searching. He traveled, particularly to Asia; and, within Asia, particularly to India. "I was interested in clothing and fashion," he says. "I was misguided, for lack of a better word. I was trying to pursue business interests, but I didn't have good business experience."
That phase ended after about a year and a half with a parental ultimatum. "OK, you should do something," he remembers them saying. "Get a job."
His only sibling, an older brother, was already in law school at the time, and that's the direction Balasubramani found himself going—at Sturm College of Law at the University of Denver. "It just seemed like a productive thing to do, I guess," he says. "[But] it was fun reading cases and just thinking about the law." Balasubramani wound up both Order of the Coif and an editor of the law review.
He almost wound up at Ted Olson's firm, Gibson Dunn & Crutcher, where he'd worked one summer. But first he clerked for U.S. District Judge John C. Coughenour in Seattle, and … well, it's a familiar Seattle story. "I thought, 'God, I really like it here, I think I want to stay.' The weather is terrible compared with LA, but even the grocery stores were awesome. The food was good. I also got the sense that the legal community in Seattle was … smaller? More collegial? People knew each other. It seemed a more fun environment to practice law in."
At Perkins Coie he served in the tax group before he, Webb and a third lawyer left to start a music/culture website called Urban Earth. It quickly became a victim of the first dot-com crash in 1998, but it got Balasubramani professionally interested in online matters. From there, he worked at WildTangent, a multimedia platform company, where he was immersed in licensing and privacy issues, and then on to Newman & Newman, where he was exposed to litigation, which he discovered was a strong suit. About 10 years ago, he hung a shingle. Webb, as general counsel at Whitepages, often used Balasubramani as outside counsel: He was trustworthy, and both cheaper and more responsive than larger firms. In April 2009, they joined forces again, and Balasubramani's formerly solo practice was renamed Focal.
Emily Huh, director of publicity at Cheezburger, echoes Webb's thoughts about how quickly Balasubramani returns emails and messages. "I'm like, 'Whoa, that was an amazingly quick response,'" she says. "He has responded to emails even when he's on vacation."
For Sarah Dunne, legal director at the Washington state ACLU, it's less the speed of the response than its graciousness. Balasubramani has acted as cooperating attorney on numerous cases for the ACLU, and serves on its board and legal committee. "When a speech case comes in, or something involving social media, boy, Venkat's one of the first people I call to see if he has time and availability," she says. "He's such a wonderful example of someone who will say, 'Yes, I'll happily make time.' It's a great service he's giving to the community."
For him, it's also—that word again—fun.
"The fun cases I love are the public interest cases—the ACLU cases," he says.
He cites Rickert v. State Public Disclosure Commission, in which the Washington State Supreme Court in 2007 ruled, 5-4, that it's a violation of the First Amendment for a governmental agency (in this case, the Public Disclosure Commission) to regulate and sanction political speech—even false political speech. The 2007 Seattle Times headline said it all: "No lie, state Supreme Court rules candidates can make false statements."
"Well, yeah, in the sense that, if you made a false statement about somebody, the voters should be able to figure it out," says Balasubramani, who handled the case from hearing to appeal. "It's not up to some commission to come in and say, 'This politician said something right or wrong.' And if you made a statement, somebody is obviously free to file a defamation lawsuit."
In Scheier v. City of Snohomish, he represented a 55-year-old UW fine arts professor who was frisked, handcuffed and detained for taking photos of a power line near the Bonneville Power Administration substation as part of an arts project. Snohomish settled out of court for $8,000.
He's still excited by the issues at the heart of his latest ACLU case. "A group called Seattle Mideast Awareness Campaign had these bus ads trying to raise awareness about Israel's foreign policy," he says. "The texts of the ads were like, 'Israeli war crimes: your tax dollars at work.'" Before they went up, though, the press got hold of the story, controversy ensued, and King County pulled the ads. SMAC sued, lost in summary judgment in district court, and appealed to the 9th Circuit, which is where Balasubramani argued on its behalf.
"It's a very interesting and timely legal issue," he says. "In response to threats or perceived threats, what is the government's obligation? Can the government exclude speech because people don't like it?"
But doesn't government already exclude forms of speech?
"They don't exclude speech just because it's unpopular or offensive," Balasubramani says. "Parades are a good example. If the Ku Klux Klan wants to have a parade, just because people don't like [the KKK] doesn't mean you're going to ban that parade."
But can the KKK advertise on the side of King County buses? What about homophobic organizations?
"The key is what the standards are, and is there a neutral standard," Balasubramani says. "And in our case, our main argument was, 'Listen, King County has had political ads on buses going back a long time, and there's even been ads about Israel from other organizations. There's been ads about Rush Limbaugh. There's been ads about abortion. So you can't just pick this topic and say, 'OK, there was some uproar in response to this topic.' That's not a good enough reason to pull the ad."
A month and a half after our talk, the 9th Circuit ruling came down, 2-1 against the Seattle Mideast Awareness Campaign. "We're considering our options as far as next steps," Balasubramani says. "The issue of whether the government should be allowed to exclude a message or access to a forum in response to public pressure or threats of violence will not go away, and hopefully, courts will come down on the side of the First Amendment."
Tough cases energize Balasubramani—even when they're not his own. He blogs once or twice a week about copyright, trademark and domain-name matters on Santa Clara law professor Eric Goldman's site. For a time he ran his own blog, Spam Notes, but last year GoDaddy let its blogging platform lapse, and he never ported his content onto a new platform. Besides, he was already working with Goldman, whose site, Balasubramani says, "tends to highlight overreach. Like people who are being overly aggressive in enforcing their rights—whether it's trademarks or copyrights. Or government overreach."
A recent blog post was about a woman who sued her employer for harassment because she was included in a company video and was teased as a result. "It was a tool where you could make a [JibJab-like] video. I could take a picture of you and put it on a character," he says. "So that's the kind of case that interests us because it's relatively new technology: how that [technology interacts with] traditional workplace rules."
"I've told him on numerous occasions that I could see him being a judge or a professor," Webb says. "He dwells on theory and the implications of decisions—not only with respect to our client but how certain decisions or holdings by courts can impact other companies or the, quote-unquote, social good. I think the good lawyers do that."
Currently, Balasubramani is in a long-term relationship and lives in West Seattle. His post-undergraduate wanderlust hasn't diminished, either. "I love to hear about his travels," says Huh. "That's his excess," Webb adds. "Spain and India and things like that."
He keeps up on legal and tech news via social media. "I'm kind of a Twitter convert," he says. "That's probably my big source of news and links to what's going on. [See sidebar.] But the danger of Twitter is you just get sucked in."
That's always the danger with a curious nature.
"There's never a shortage of interesting stuff," he says. "Never, ever, ever, ever."
Search attorney feature articles