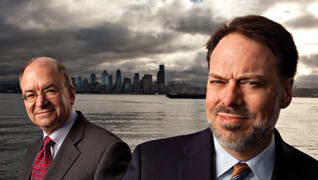 Photo by: Rick Dahms
Battle in the Bayou
Brad Marten and Billy Plauché tackle the Gulf oil crisis—from Seattle
Published in 2011 Washington Super Lawyers magazine
By Geov Parrish on June 14, 2011
As a horrified world watched last year, a sea-bottom gusher poured an estimated 206 million gallons of crude oil into the Gulf of Mexico. The April 20, 2010 explosion at the Deepwater Horizon offshore-oil rig—which killed 11 workers—caused the largest marine spill in U.S. history, devastating marine life and fisheries, shoreline ecosystems and economies.
A year later, two of the primary lawyers helping the state of Louisiana litigate the spill were working away in offices five blocks from each other—not in New Orleans or Dallas, but in distant Seattle. How did they come to be fighting to restore the Gulf of Mexico from 2,000 miles away?
On the top floor of a downtown Seattle skyscraper, Brad Marten's office overlooks a body of water that has seen a lot of pollution in its day. But Elliott Bay's past problems pale next to those of another body of water over which Marten spent years litigating: Prince William Sound in Alaska.
The affable 58-year-old founder of Marten Law was born in New York but grew up in Southern California. He went East for school, earning his law degree at Harvard, then came to the Pacific Northwest in 1981 to clerk for U.S. District Court Judge Donald S. Voorhees. Marten liked Seattle and decided to stay put. He selected his first firm among several attractive offers because Preston Gates & Ellis (now K&L Gates) also needed a drummer in its house rock band. Among other distinguished alumni, the band's bassist, Dan Satterberg, went on to become King County's prosecuting attorney.
From an inauspicious beginning—his first assignments were in the foreclosure department—Marten became an early pioneer in the embryonic field of environmental law. "It was clear that it was going to be an emerging area," Marten says. "Most environmental laws were passed in the '70s; they were all new laws. There was no field. We had to sort of invent it."
Over the next decade, Marten became chair of the firm's environmental and land use group—and represented Alaska in its three years of litigation against Exxon over damage to natural resources and recovery of state costs surrounding the 1989 Exxon Valdez oil spill. Alaska settled with Exxon for $1 billion.
"A lawyer, if he or she is very, very lucky, will get one case like that in a lifetime," Marten says. "I've been fortunate enough to have two."
That's because there simply aren't very many lawyers around the country with experience in litigating massive oil spills. So Louisiana's attorney general, James D. "Buddy" Caldwell, turned to Marten as a special assistant: his agency's only out-of-state legal help in the case. The state is suing defendants—including BP, the principle leaseholder of the well, and Transocean, operator of the rig—over damage to the state's waters and coastline; damage to tourism and fisheries; damage to wildlife; and the costs of cleanup, response and social services as a result of the spill.
The Deepwater Horizon spill is different from Exxon Valdez in a number of ways. As opposed to his work for Alaska, Marten says, this suit involves "five states instead of one, many agencies, literally tens of thousands of people, and a whole host of unique issues that haven't been litigated before about how to value [the damage]. … All those people and their interests have to be heard."
At Marten's firm, 15 lawyers work on "almost everything that you can imagine in this field, from endangered species work to air quality work, to Clean Water Act, fisheries, energy work, everything that would arise in the natural resource, energy, and environmental areas," he says. Marten himself—when he's not litigating against an enormous energy corporation—focuses primarily on climate change. Once again, 30 years after entering environmental law, he finds himself on the cutting edge of an emerging field. And he's attracted to it for the same reason he was attracted to this practice area in the first place: a lifelong interest in environmental protection.
"This field is about problem-solving among competing—usually legitimate—interests, and trying to bring people to a resolution so that they can get something done and move on," he says. "In the best tradition of the profession, lawyers are problem-solvers, as opposed to problem-makers. And as problem-solvers you have to respect the variety of interests that have an important position on a lot of these issues, the political process, the regulatory process and the litigation process."
One of the environmental lawyers Marten knows well works only a few blocks over and a bit down the hill toward Elliott Bay. He is also working on the BP case. Samuel "Billy" Plauché IV, as his Cajun name implies, has far more direct ties to Louisiana than Marten. His father owns a law firm in Louisiana. As did his grandfather. And his great-grandfather. After an interview process by the office of Gov. Bobby Jindal, Plauché's small firm was picked to help in the administrative end of Louisiana's litigation of the Deepwater Horizon spill, handling such matters as assessing natural resource damages and evaluating ways to restore the environment.
"I was very honored to be selected," Plauché says. "Our lead clients [in the BP case] are the Coastal Protection and Restoration Authority, and the Louisiana Oil Spill Coordinator's Office. My passion for restoring Louisiana's coastlines is all of a sudden front and center every day in what I'm doing in my practice; it's really wonderful."
Plauché grew up in south Louisiana, in the heart of Cajun country in the city of Lafayette. His parents had a camp on the shore of Calcasieu Lake, nestled among the bayous between Lake Charles and the Gulf of Mexico. Plauché came to love hunting, fishing, and being surrounded by the swamps and wetlands of bayou country. A self-described "country boy," the voluble Plauché left the bayou—but even 2,000 miles away, the bayou has never left him.
When he came out of law school in 1990, Plauché's first interest was environmental law, and like Marten before him, he saw the relatively new body of law and regulations as a challenging, dynamic field. From 1991 to 1995 he worked for the U.S. Department of Justice in D.C., litigating environmental cases that crossed the boundaries of district offices or had the potential to set national precedents.
"Intellectually, I found it just fascinating; most environmental statutes came into being in the last 30 to 40 years," Plauché says. "You're out there writing on a blank slate."
But he'd done a clerkship in Seattle and fallen in love with the natural beauty of the Pacific Northwest, and in 1996 moved to Vashon Island, a short ferry ride from Seattle. Plauché joined the firm GordonDerr, where he stayed for 14 years, building a long-term client base that he and partner Amanda Stock brought to their own firm, Plauché & Stock, in 2009.
Plauché still gets jazzed by his work. "A lot of our clients are resource-based clients," he says. "It's this huge issue that we've got to deal with as a society: How do we maintain the environment while providing the things that we as humans need to live on the planet?"
The question also motivates Marten, whose clients have included Alcoa, NCR Corp. and a number of local governments. "We've solved a lot of big environmental problems, particularly in this region," he says, with a sparkling Elliott Bay in the background. "Forestry issues, salmon, cleaning up Puget Sound. There's always some residual thing we didn't get done, but when you look outside, the world is cleaner and there's every reason to believe that it will continue to improve."
Putting a price tag on the losses from the Gulf oil spill is no easy matter. "The different impacts on different states have been challenging," Plauché says. "Louisiana's impacts are coastal marshes—the Gulf's nursery, with oysters, crabs and other [marine life], an ecosystem that was already experiencing challenges from coastal erosion processes. How do you value that? In natural resources damage actions, that's always an issue: How do you put an economic value on these resources? On a Florida beach there's a lot of tourism. Louisiana has huge commercial fishery economies, but there's also the ecosystem itself. … It's an incredibly unique ecosystem from a purely environmental perspective. There are ways to quantify that financially, but it's not as easy as with tourism dollars."
Up the hill, Marten also sees the BP case in terms of problem-solving. He also talks about the larger picture, in particular the importance of solving our energy problems. "Energy production in this country is about as important an issue as anything," he notes. "A lot of the calls now for energy development in this country arise not simply because of concerns about greenhouse gases and global warming, but because of concerns about national security."
Plauché sees a possibility for progress stemming from the BP litigation. "There's been some huge lessons learned," he says. Those include holding companies to higher operating standards.
Marten says the efforts are paying off, and observes that the facilities he works with now are much cleaner than the ones he dealt with in the early '80s.
It's no easy job.
"Keeping a sense of humor is important," Marten says. "These are all really challenging issues, but at the end of the day, you do the best you can, and you have to remember all the other important things in life: your family, your friends, your music and your workouts or whatever's important to you. And hopefully, you leave the place a little better than you found it."
Search attorney feature articles