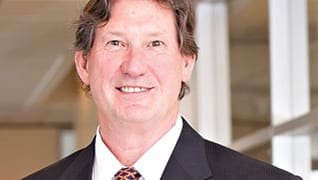 Photo by: Redstone Pictures
Defending the Mastros
Jim Frush has always lived for high stakes—and high peaks
Published in 2014 Washington Super Lawyers magazine
By Bob Geballe on June 13, 2014
Four words went through Jim Frush's mind as he stood up in the King County Courthouse to deliver the prosecutor's closing argument in a 1982 murder trial:
"Going through the motions."
Thirty-two years later, sitting in the 35th-floor office of Cable, Langenbach, Kinerk & Bauer, Frush explains: "I had become the go-to guy for murders for the prosecutor's office. But if you feel yourself bored when you are about to give a summation in a murder case, it's time to move on. It's funny, but after you've done a bunch of them, murder trials become pretty similar. I wanted something new."
In the years since that courtroom epiphany, Frush has climbed many of the world's highest mountains, written two unpublished novels, spent two years living in Katmandu, changed firms twice, and become a much-sought-after civil and white-collar criminal defense attorney. His clients have ranged from Mexican drug dealers to large corporations to Michael and Linda Mastro, the Seattle couple accused in a $400 million federal fraud case and now living in France to avoid extradition.
Frush, tall, fit and in his early 60s, says boredom is no longer an issue.
The white-collar work reflects a couple of things about him. First, he's not too concerned about what other people think of him. And second, he gets a charge out of dealing in high stakes, whether in front of a skeptical jury or an exposed ice face.
Frush grew up in Trinidad, in Southern Colorado, surrounded by sandstone cliffs, near the Sangre de Cristo Mountains, which he says were irresistible attractions for a young boy. "I loved to climb. My dad gave me a copy of Mountaineering, Freedom of the Hills [the Seattle-published seminal mountaineering textbook] when I was 11, and by my teens, I was ordering my climbing gear from REI."
From an early age, Frush relished taking the contrarian position and ignoring public opinion. Frush recounts that he and his high school best friend, Bob Cunico, "were not the best-behaved kids in school." Nevertheless, to the surprise of many classmates, Cunico became class president and Frush was the senior class valedictorian. Frush attended the University of Denver, and after graduating, decided it was time to move away. "By the time I finished college," he says, "I wanted to get my ass out of Colorado."
It was the middle of the Vietnam War, and Frush gave up his student deferment. He was 1-A for a year in the lottery, but he remembers the numbers reached only about 222, while his was 242. "I was in that first wave of hippies—with hair down to here. I thought I'd be a writer or a history teacher or a climber." But he got accepted to Columbia Law School. Law, Frush says, was a "default choice."
Attending Columbia was an eye-opener. "It was competitive; the grading was vicious, on a strict bell curve," he says. "It was the first time I really felt pushed." After graduating, Frush was offered a position in the Manhattan office of White & Case. Within a few years, Frush says, he realized that working in a big city was not for him. He and his then-wife had to decide "whether we were New York lifers. She was working for the designer Halston, but when we were thinking about the future, we decided the big city was not for us."
Frush spent three years at a private Seattle firm before becoming frustrated. "I wanted to get some trial experience but I never got to speak in court." So he went to the U.S. Attorney's Office in 1980.
Even then, his eyes were set on higher goals. Literally. First, climbing all the volcanoes in the Cascades; then bigger peaks in North America, South America, Africa, Europe and, eventually, the Himalayas.
Frush spent four months in Nepal in 1983, training and preparing for an ultimately unsuccessful attempt on Makalu, the fifth-highest peak in the world. "I had applied for a place on an early Everest expedition and was an alternate, but when another climber—who was my friend, actually—died, I got a spot." The next year, he went on an Everest expedition to the infamous North Face in Tibet.
He wanted more. So he quit his job, moved to Katmandu, became a stringer for the Seattle Times and a full-time climber. "I've always enjoyed being a little bit different," he says. "I like not doing what most people would do."
He ascended many of the highest peaks in the world, led numerous climbs, read a lot of Buddhist thought and "became enamored of being in the present," as he says. "Being on the edge provides a real sense of existence. An awareness of death is how you really experience what it means to be alive. When I was climbing, I was really getting out there—people would turn to me on climbs to do the hard stuff."
Still, he wasn't reckless, according to Peter Ackroyd, a retired construction management consultant and climbing buddy of Frush's who was with him on many challenging ascents. Ackroyd says Frush "is aware of his own limits, and is willing to turn back when conditions are warranted. He knows his abilities. We had some unforeseen and treacherous adventures climbing in remote places, and I think that helped Jim develop a sense of confidence and self-reliance."
In 1989, Frush returned to the Northwest but continued to climb; he's been on more than 25 expeditions to the Himalayas. However, there was a personal cost. "Climbing broke up my marriage," he says. "It is a very self-centered, egoistic, narcissistic avocation. It has to be." He restarted his law practice and eventually joined Helsell Fetterman, informally apprenticing himself to William Helsell, who was considered one of the Northwest's preeminent trial lawyers. "[Helsell] was a lawyer's lawyer—he believed in preparation, preparation, preparation. He was exhaustive, but he made it look like he was doing it off the cuff."
Steve Fogg, with Corr Cronin Michelson Baumgardner & Preece, prosecuted one of Frush's clients in an assault case. "I felt [Frush] was a guy I could trust and deal with," he says, adding that Frush is willing to try the unorthodox. In the assault case, Fogg notes, "He said I could have full access to his client—and that's unusual for a defense attorney. But it humanized his client for me. He zealously represented his client, but he did so realistically and we were able to come to a better plea agreement as a result."
With Helsell, Frush also cut his teeth on high-stakes white-collar litigation—Helsell's clients included Frank Colacurcio Sr., often called Seattle's "strip-club magnate."
"White-collar criminal defense hasn't always had the cachet it does now," says Frush. "In my early days, it was looked down on." Even now, representing white-collar criminals—especially the Mastros, who are particularly reviled by their former investors—is not a path to universal acceptance. "People initially thought, 'Oh, this is like Bernie Madoff,'" says Frush. "Before they left, Mike told me he and Linda couldn't even go out to a restaurant to eat; people would make note as to what they were ordering and would report it to the newspaper."
Defending the Mastros has been a particularly intensive effort, Frush says. "What a tremendous case—it was like a world war. There were different theaters of operation; accusations of fraud, of Ponzi schemes." Mastro was arrested temporarily in France for committing fraud in the bankruptcy proceedings by hiding assets, but France has refused to extradite the 88-year-old man and his wife for trial in the U.S., citing humanitarian grounds.  The U.S. government has confiscated what it could find of the Mastros' assets. Frush is satisfied he did a good job—federal prosecutors concluded that Mastro did not run a Ponzi scheme. However, he and his wife were charged with bankruptcy fraud. Mastro vows never to return from his small village in France, even though Frush says that every time he speaks with him, "I tell him to comply with the return order. I think we could have gotten him off. But … federal prison? Or a small town in France … ?"  He raises both hands and shrugs.
Frush has been active politically with the Democratic Party, even entertaining thoughts at one time of moving to Washington, D.C., to work with the Obama administration. But at this point, the Northwest, his teenage son, his activities with the Cystic Fibrosis Foundation and the Himalayan Youth Foundation, and his active career are enough. And though he has scaled back his climbing since his most adventurous days, his legal work keeps him close enough to the edge. 
"Being a good white-collar attorney requires some of the same skill set as being a world-class climber," he says. "You have to pay attention to detail, keep the result in view, and prepare. In climbing, if you make a mistake, you're dead. Legally also, mistakes can be fatal."
And for this diehard contrarian, there's nothing like defending an unpopular client and standing up to the government: "I'm like the pipe stopping Big Bertha."
Search attorney feature articles