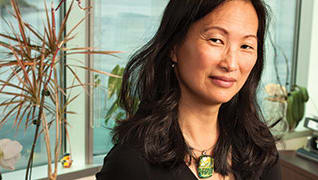 Photo by: Rick Dahms
Finding Her Voice
In kindergarten, Tana Lin was punished for not speaking English. Today, she speaks for those who have been treated unfairly  
Published in 2016 Washington Super Lawyers magazine
By Bob Geballe on June 10, 2016
When Tana Lin was 3 years old, she and her family picked up their lives in emerald-green Taipei, Taiwan, and flew 7,400 miles, landing in the golden heartland of Kansas. 
"My parents gave up a lot," says Lin. "All my dad's dreams were put into his daughters." Those dreams pretty much revolved around the sciences. "All good Asians are doctors," she quips. "That's what they wanted for me." 
So, some 18 years later, when Lin—premed at Cornell University—announced to her parents that she was considering a career in law, they greeted the news with a certain amount of disappointment. "They really didn't understand what it meant to be a lawyer," Lin recalls. After spending the early part of her career in government work, the Keller Rohrback partner gazes out at the spectacular view from the orchid-filled 31st-floor window of her downtown office and says, "I finally have a place I can bring my parents." 
A plaintiff's lawyer focusing on class action and complex litigation, Lin is lean and energetic, with an immediate and engaging irreverence. In her prior work with the Equal Employment Opportunity Commission, she successfully pursued class action litigation against the Louisiana State Police and Wal-Mart. In her dozen years at Keller Rohrback, she has obtained large settlements for investors from their advisers; and recently she was a lead attorney in an antitrust class action that resulted in a $90 million settlement for nurses who accused eight Detroit-area hospitals of conspiring to keep their wages low. 
Mark Blocker, a partner at Sidley Austin in Chicago, was an opposing attorney in a 2014 case about fees charged to investors by Principal Mutual Funds. "The case lasted for two years," he recalls. "Tana was extremely good—aggressive, but also civil; very respectful of civility obligations. Some people outside of the law may perceive civility as a weakness, but it saved a lot of time, money and energy."  
Keller Rohrback partner Derek Loeser characterizes her as "very careful, thorough and accurate. … Whoever she is representing, big or small, she does a great job." 
Lin says, "I've been very lucky that all of my cases have been interesting and I've been able to use the law positively—in the cause of social justice." 
Her sense of fairness may reflect her own early exposure to some of the harsh realities faced by many immigrants in the U.S. After about a year spent in Lawrence, Kansas, while her dad finished graduate school at the University of Kansas, the family moved to Chicago, where he found work as an accountant. They initially lived in a neighborhood troubled by shootings, burglaries and drug-dealing, and less than welcoming to a child who looked different and spoke only Mandarin. 
"I didn't speak English till I was 5," she recalls, "and I spent a lot of time in kindergarten with my head on my desk—I was punished for not being able to speak."  Lin's parents moved the family to the relative safety of the suburbs as soon as they could, but the prejudice continued. "We were the first Asians … I was called all sorts of names. One time, I was shoved off a swing and skinned the whole side of my leg so badly that I actually couldn't walk. My parents told me it was my fault; that I had to learn to act 'more white.' They kept asking what I had done to cause the girl to push me off the swing." Lin says she came to understand their response: "They wanted to think that I had done something to contribute to it—then they could do something to protect me."
Lin and her two sisters (one is a journalist, the other did become a doctor) gradually assimilated. After high school, she headed to Ithaca, New York. Even there, she was still getting used to certain Western habits. "I lost 10 pounds when I first got to Cornell because I didn't know how to use a fork," she says with a laugh. "I only ate with chopsticks." 
Planning to head to med school at that point, she displayed her hallmark strategic thinking by deciding to major in government. "It was a way to stand out on my med school applications," she explains. But near the end of her junior year, a flyer caught her eye. It advertised summer internships in Washington, D.C., working with the public defender's office. The 12-week experience was an eye-opener. 
"I had been a shy child, pretty sheltered, and suddenly I was supposed to go knock on doors and find witnesses. The internship involved doing research on criminal cases—one of my first ones was a triple rape case," Lin recalls. The summer was a profound experience. "The lawyers were so inspirational—they worked so hard. The clients were full of despair …  It brought back memories of what I had been exposed to when I was first in Chicago."
Having decided law was her calling, Lin applied to the New York University program, graduating in 1991 with a lofty vision: "I was going to change the whole criminal justice system," she recalls with a smile.
She went to work as a trial attorney with the Public Defender Service for the District of Columbia. Though she loved the pursuit of social justice, other aspects of reality intruded. "I got married and had kids—and I could see that being a public defender was not family-friendly. I was pretty much a social worker—visiting clients in jail constantly, working until 11 p.m. every night—I saw that wouldn't work as a mother."
Lin moved to the DOJ's civil rights division, working in employment litigation. There, and later at the Chicago district office of the EEOC, she investigated and prosecuted employment discrimination cases. 
In the case against the Louisiana State Police, Lin represented women who had applied to become deputies with the Assumption Parish Sheriff's Office. She saw an overt pattern of discrimination. "The sheriff of the parish had never hired a woman. He told me (she switches to a Southern drawl), 'I can eyeball a candidate and decide whether they'd be a good hire.'" It was a harrowing case for the plaintiffs, Lin recalls. "These women were so courageous, so strong. They felt targeted; some of them said they were followed and intimidated. Some of them wanted to withdraw from the case. I remember talking to them; they were in tears, and two of them were too scared to be witnesses." 
Though the case was settled in favor of Lin's clients, none of the women, at least at that time, went on to apply for the jobs. That was disappointing to Lin. "Some of them were nervous that if they got hired and were on the job, they wouldn't get backup if they called for help." 
By this time, Lin and her husband, Paul Holland, had two children and wanted to try small-town life with their young family. They moved to Ann Arbor, where she worked part time at the Michigan Poverty Law Program. Lin says the experience convinced her of two things: "Small-town life wasn't for me, and I still wanted a career. … I finally realized I had to do what makes me happy."  
In 2003, her husband got an interview for a professorship at Seattle University School of Law. Lin accompanied him and reconnected with Loeser, with whom she had worked at the DOJ. He was now at Keller Rohrback. "Derek said the firm had a very strong social justice perspective," she says, "and told me they could use a litigator." 
"We were talking," Loeser remembers, "and Tana said, 'I just really don't know what I'd do if we moved out here.'" Busy with a number of large class actions, he told Lin he would be happy to have her help. "And it just clicked," Loeser says.
Loeser arranged a meeting with Lynn Sarko, head of the firm's complex litigation group. Lin, whose long-term plan was to return to public service, was typically straightforward: "I told him I really just wanted the work, but I had no interest in being part of the firm; that I didn't want to make partner, and that the money wasn't important," Lin recalls with a laugh. "He sort of looked at me and said, 'Well, don't say that in your other interviews.'"
A dozen years later, she is a partner—and has settled in comfortably, along with seven orchid plants in varying stages of development in her window. 
"Oh, those," she says. "You know, I have a black thumb. I was given my first one by my daughter, Julia, and I didn't want it to die, so I immediately read up about them. Orchid care is so complicated—but I didn't have the time to do it, so I just left it alone and it did really well." 
Search attorney feature articles
Helpful links
Other featured articles
And that was just the beginning of the tumult in Rosa Parks' estate case
How Iris Eytan and Dru Nielsen create magic—and not-guilty verdicts
Jim Gilbert's crusade for victims of unsafe vehicles
View more articles featuring lawyers
Find top lawyers with confidence
The Super Lawyers patented selection process is peer influenced and research driven, selecting the top 5% of attorneys to the Super Lawyers lists each year. We know lawyers and make it easy to connect with them.
Find a lawyer near you