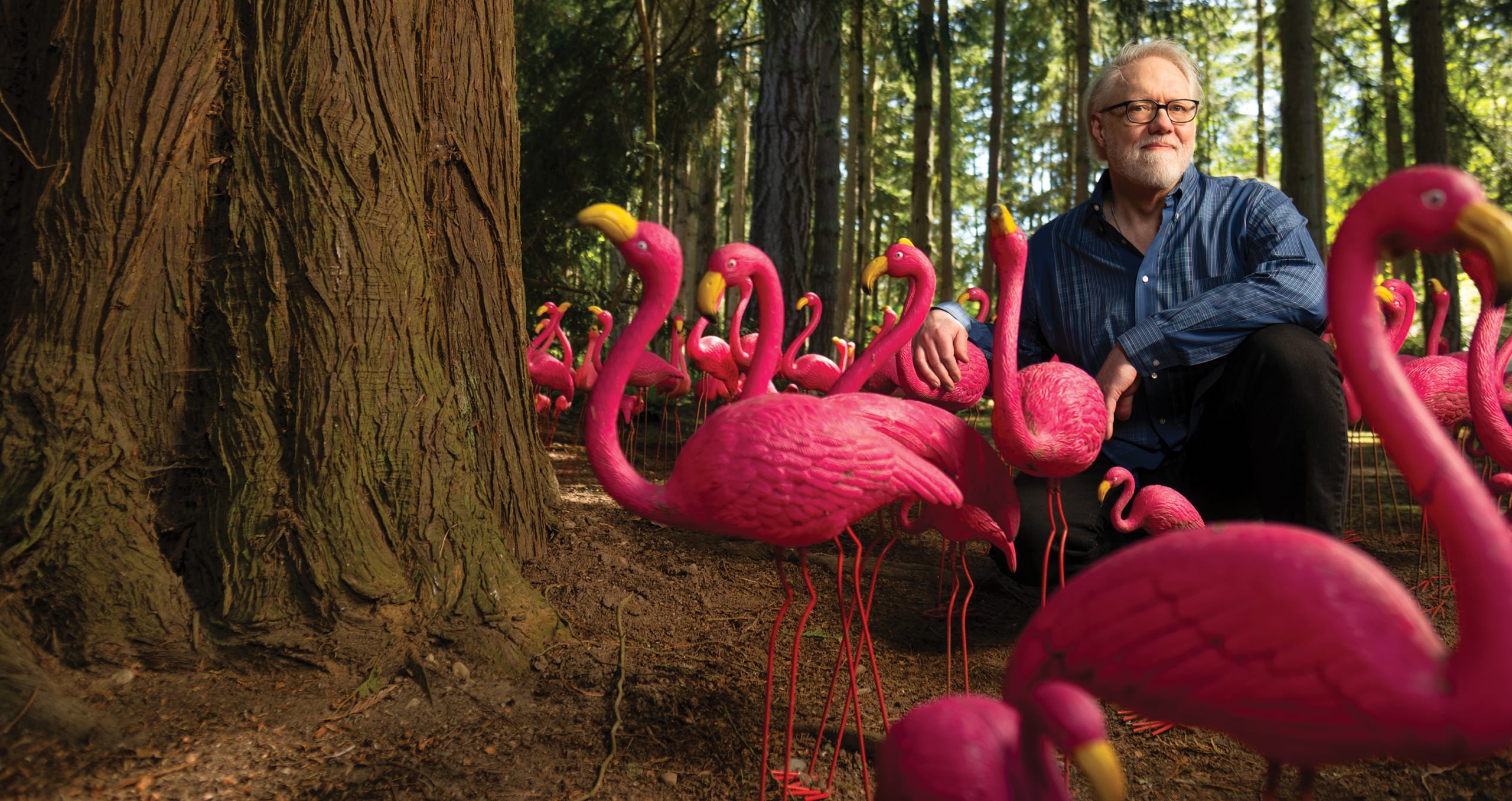 Goliath Slayer
Parker Folse was still a newcomer in town when he started taking on Pacific Northwest icons
Published in 2023 Washington Super Lawyers magazine
By Ross Anderson on July 27, 2023
Parker Folse is one of the best antitrust lawyers you'll find anywhere. To meet with him, you can find him at his downtown Seattle office. But to truly understand him, you have to take the ferry to Bainbridge, then follow a twisting path until the road turns to dirt and you think you're lost in the woods. There you'll see a rustic house that appears to have grown organically from the roots of the surrounding Douglas firs.
This is the home and sometime office of a softspoken Texas transplant with a love of poetry and heavy metal music, who has made a career of slaying corporate dragons ranging from AT&T and Apple to Google and Microsoft. Especially Microsoft. Since moving to the Pacific Northwest, Folse, now 69, has become the software giant's legal nemesis, suing the company six times and collecting more than $1 billion in judgments and settlements.
"I feel a bit awkward about how well I've done," he says, sitting at his kitchen table and gazing into the mossy woods. "You have to be in the right place at the right time."
Folse's success is more than good timing. His list of cases reads like the stock pages. He's represented a few goliaths like Amazon. But in most cases, he's worked for smaller companies challenging the big guys over alleged price fixing or patent infringement involving all manner of technology—from cathode ray tubes and jet fighters to smartphones and operating systems. "Parker Folse is an intellectual powerhouse," says Seattle business litigator Lou Peterson, with Hillis Clark Martin & Peterson, who has sparred with Folse in several cases. "He has that rare combination of intelligence and common sense. And there isn't a pretentious bone in his body."
---
Folse was raised in Austin by a single mom, Marlee Baker, who supported her two sons as a teacher, concert pianist, realtor, secretary and, later in her life, a criminal defense attorney. "She was my hero," he says.
A good student and debater, Folse was admitted to Harvard, where he studied politics, economics and philosophy. "But I always assumed I was going to practice law," he says. So he came back to Austin for law school at the University of Texas.
Neal Manne, a fellow Texas law student and now a partner at Susman Godfrey's Houston office, recalls Folse studying in his apartment above an Austin liquor store, complete with late-night noise and flashing neon lights. "The noise didn't bother him," Manne says, "because he played his music even louder."
He went on to prestigious clerkships in the 9th Circuit and later with Supreme Court Justice William Rehnquist. "I lived in an efficiency apartment behind the court, walked to work," Folse recalls. On at least one occasion, he fried up eggs and hash browns for the office-bound justice.
"He couldn't get home because an airliner crashed into the bridge over the Potomac River, so he spent the night in the Supreme Court building and I offered to fix him breakfast," Folse says.
Folse practiced briefly in Phoenix before returning once more to Texas, joining Susman Godfrey, then a relatively small but high-powered firm that had wooed him. A month later, he found himself flying to Los Angeles to represent Northrup Corp. in a complex suit over an aborted sale of F18 fighter jets to Iran.
"I was in L.A. for a year. We had an incredible array of expert witnesses ready to testify—Henry Kissinger, Chuck Yeager … and then the case settled on the eve of trial."
Back in Houston, Folse dived into antitrust law. "I get bored with cases that are overly simple or repetitive," he explains. "Antitrust was where the smartest lawyers gravitated, where you gain insight into the power structure. And almost every case is different."
In Houston, he worked mostly in defense of major airline companies, including Northwest Airlines, fending off suits from smaller rivals.
But in 1994, he and his wife, Carol, fleeing the summer heat, visited friends on Bainbridge Island. Enthralled by Seattle, the Bainbridge lifestyle, and the ferries that connected them, they decided to make a move, and his Houston partners persuaded Folse to set up a Seattle office.
Exploring Bainbridge, he and Carol found that Hobbit house deep in the woods, built by a former state ferry captain. His wife went to work nurturing a woodland garden while Folse rented office space in Seattle, hired a secretary and started networking.
His early cases provided a crash course in Northwest economics: homeowners suing over faulty siding; representing a waste and recycling company.
"Parker is not reluctant to go to court," says Peterson. "Judges like him. Juries like him. He's persuasive without being overly dramatic. It's a pleasure to try a case with him. But he also has the ability to craft a practical compromise that serves the interests of his client."
In 1996, Folse agreed to represent Alaska fishermen who complained that salmon buyers were colluding to suppress prices.
"We tried the case in Anchorage in the dead of winter, and we lost. But it exposed me to some of the top Seattle trial lawyers, and I got along with most of them."
One of those lawyers reached out and asked Folse to collaborate on what became his breakthrough case: representing Caldera Inc. in its claim that Microsoft had monopolized the market for computer operating system software.
Already embroiled in similar antitrust complaints with the Department of Justice and the European Union, Microsoft settled with Caldera in 2000 for a reported $275 million.
Being a newcomer to Seattle helped, he says. Microsoft had already worked with many of the city's largest firms, making it difficult for them to take on the local giant. "And the Microsoft cases had to be done on a contingency-fee basis, a model that was not well-established in Seattle," he adds.
This explains, in part, why the Caldera complaint was filed on its home turf in Salt Lake City—avoiding Seattle courts that might have proven partial to Microsoft, he says.
That case led to others, notably his work for Novell Inc., whose NetWare was an early leader in PC operating systems. As Windows dominated the market, Novell hired Folse to challenge the monopoly.
"By that time, I'd come to know the Microsoft lawyers, and I convinced them that this is a case that we ought to negotiate before I sue."
Following a year of negotiations, Microsoft agreed to pay a staggering $536 million settlement—with no suit filed and no formal discovery. Susman Godfrey's share was $88.9 million, by far the biggest fee the small firm had seen.
"What I do on the rare occasions when I need to remember this detail," Folse says, "is to check a pair of cufflinks I have. To celebrate the settlement, one of my oldest friends, a Susman Godfrey law partner, gave me a pair of gold engraved cufflinks with the number 536 on one and the number 88.9 on the other."
And that opened the floodgates. Over a span of about five years, Folse wrangled more than $1 billion in settlements from the software giant.
Arguing a complex case to a jury is challenging, which helps explain why so many of his cases have ended in pretrial settlements. But to negotiate such settlements, a lawyer needs to be prepared to go to trial and win.
Jim Butterworth is a Colorado entrepreneur and documentary filmmaker who hired Folse in 2003 to help protect his patents on early audio/video streaming IP. Over 12 years, they took on AOL (in a successful settlement) and AT&T in a jury trial. In the latter, Folse's task was to persuade a jury that AT&T was profiting enormously from Butterworth's IP.
At the close of the trial in San Antonio, Butterworth says the AT&T lawyer was "ripping me a new one," wagging his finger in Butterworth's face and suggesting he couldn't keep a job.
When Folse stepped up for rebuttal, he stood silently and seethed for awhile, then slammed his notebook closed, glared at the AT&T lawyer and growled: "The … audacity …"
"I'll never forget it," Folse says. "I turned to the jury and said, 'Mr. Butterworth had a job on Wall Street and he gave it up to create this innovative technology that changed the landscape of the internet.'" He had also spent months overseas making a documentary film about human rights violations in China.
"It was a Perry Mason moment," Butterworth recalls. "Parker isn't just the smartest guy in the room. He has the confidence in himself to go off script. He spoke from his gut. The jury's jaws dropped. The judge's jaw dropped. Everybody in the courtroom knew that he'd slammed the door on the case."
The jury awarded Butterworth a $27.5 million verdict that later became a $40 million judgment.
"Regardless of whether his client is a big company or any individual like me, he cares the same," Butterworth says.
Despite the huge sums he has won from Microsoft and others, Folse is well aware that his targets have profited enormously from his clients' inventions. "I have recurring misgivings about the American legal system," he says. "Whether it's monopolistic practices or pollution or whatever, it usually pays [for the big companies] to skirt the line."
Folse says his early influences were his mother and his Austin upbringing—"a hippie culture, Vietnam and civil rights struggles.
"There are so many pressures to make money by practicing law. And my advice is this: Never let that threaten your integrity or your self-respect. There will be temptations to bend the rules, and if a client insists on that, you quit. That's not just professional ethics. It's also self-interest."
"Parker isn't just the smartest guy in the room. He has the confidence in himself to go off script." —Jim Butterworth, client
---
Folse takes fewer new cases now. Post-pandemic, he ventures more often into his Seattle office, which has grown to 25 lawyers plus staff. But his life revolves increasingly around his other passions. He spends an hour or so every morning with local and national newspapers, blogs on his heavy metal website (see sidebar), hosts an annual Scottish-themed gala in Seattle and a pig roast at his Bainbridge retreat.
"I'm not sure I have an ideal equilibrium," he says. "I worked so hard, and I wasn't always around for my kids."
In recent years, he's made adjustments. Though he works mostly from home, Folse feels responsible for the people he recruited and mentored. He takes particular pride in the young lawyers he hired who went on to become part of the legal team representing Dominion, the voting technology company that accused Fox News of libel in its coverage of the 2020 election. Fox agreed in April to pay Dominion a settlement of $787.5 million.
"They do fine without me," he says. "They're my other family."
---
Heavy Metal Dreams
How does Parker Folse relax? By donning earphones, turning up the volume to 9, and savoring an hour or two of Ghoul, Wormrot, Castrator or Misery Index.
Perhaps Folse's legal rivals would better understand their antitrust adversary if they knew that his other passion is extreme heavy metal. Witness his website, where he reviews the latest offerings of groups like the afore-mentioned Misery Index.
Every spring, Folse and two friends stage a weekend extravaganza in Seattle, The Northwest Terror Fest. "It's three nights of extreme heavy metal—black metal, doom metal, grindcore," he explains. "Forty bands at two Capitol Hill bars. It's not a moneymaker, but we try to break even, just supporting this kind of music."
Folse is not a musician, but music inhabits his soul. "My mother was a music teacher and a pianist with the symphony. She made us take piano lessons and I sang in the school choir."
For years, he was too busy practicing law to think about music. Then the family moved to Seattle, where his teenage kids lured him into the local music scene. He started going to shows, gravitating toward heavy metal.
In 2009, he launched a heavy metal blog, reviewing "metal songs with good riffage, crushing drum work and harsh vocals."
"I write every day, under a pseudonym," he says. "We post reviews every day. No charge."
Search attorney feature articles