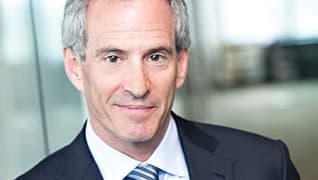 Photo by: Redstone Pictures
Keep It Simple, Stupid
That's what Steve W. Berman has always done, in class action lawsuits against Jack in the Box, Big Tobacco, Toyota, the NCAA …
Published in 2014 Washington Super Lawyers magazine
By Erik Lundegaard on June 13, 2014
Ask most lawyers a question and 10 minutes later you'll have to ask another. Ask Steve W. Berman of Hagens Berman a question and 10 seconds later you have to ask another. Conversation with him is less a leisurely round of golf than a rapid-fire game of pingpong.
How many cases is he involved in right now? "Probably 40," he says.
Which was the last case he took to verdict? "Average Wholesale Price. It was three years ago."
Why class action? "[My old firm] got involved in the WPPSS case."
And after that? "Others came in. I knew that's what I wanted to do."
Because? "So many people are involved in what you're doing. You can make a big difference if you succeed."
This brevity is actually part of the secret to his success. Early on, one of his mentors, Paul M. Bernstein of Bernstein Litowitz Berger & Grossman in New York, told him KISS: Keep It Simple, Stupid. So that's what he does.
"I think attorneys talk too much," Berman says. "When I sit in court, I'm like, 'Come on. Get to the point. Say something you haven't said in your brief.'"
He adds, "I'm not as smart as other lawyers who get way into the details and lose sight of the core of a case. Since I'm not as sophisticated, I just look at the core. I try to make everything easy for the judge instead of trying to show him we're smarter or we understand all the details of this product. We explain it in a simple way."
Berman, 59, is as lean and trim as his answers. There's nothing extraneous about him in appearance or manner. Even his salt-and-pepper hair is cut short. His emails outdo Calvin Coolidge for brevity.
"You never ask Steve Berman a compound question in an email," Hagens Berman partner Sean R. Matt says with a laugh. "Because you'll get a single-word answer, yes or no, and you won't know which question it applies to. It's one of the first things I tell young lawyers who join us."
"He's like e.e. cummings," says partner Anthony Shapiro. "He doesn't believe in punctuation, capitalization. It's a running joke at the firm. When he sends you an email, it takes you a moment to put your Berman filter on it. 'What does he really mean? Because this is not English.'"
On a typical day, Berman gets to work at his spacious, 33rd-floor corner office in the Denny Regrade area, with commanding views of downtown Seattle and Puget Sound, at 5:30 a.m., so he can work unhindered by the demands of, among other things, being managing partner of his firm; before others can, as he says, "deflect my stuff." He takes four minutes for lunch ("four to six," he allows), then hits the building gym for an hour and a half. He doesn't stop working there, of course. He brings his iPad and goes over emails and signs documents while on the stationary bike. Then it's back to the office. He usually works 12- or 13-hour days. Family dinners, at 7 p.m., are sacrosanct. Summers, he bikes in from Mercer Island.
His firm gets three or four class-action inquiries a day, he estimates, but 95 percent of the time there's no case. "I'll get either an email from another lawyer or an email from some consumer," he says. "We begin investigating. We look to see whether there's a problem that's widespread. Are people complaining? … If it looks like there are a lot of complaints, then we begin to look at it. Is there something actually happening wrong here? If there is a wrong, is there some obstacle to pursuing it as a class action? Like an arbitration clause? We go through all that and then make a decision."
He tends not to search out cases himself. He's not shopping in the grocery store or reading the newspaper and thinking: Hey, this looks like a class action lawsuit waiting to happen.
"I have partners that think about that all the time," he says. "They're constantly calling me. I'm going 'Really? Six dollars? Forget it.' But sometimes, I think of stuff like the e-books case. I'm a voracious reader. I was talking with my partners. I said, 'I don't understand, these books used to be $9.99. Now they're $14.99 all of a sudden. What happened?' That's how that case got started. We're alleging that the six big publishers and Apple conspired to raise the price of e-books to fight off Amazon's $9.99 pricing."
One of his more famous cases, the Toyota acceleration case, resulted from a simple phone call. Hundreds of cases were already filed, the media was already reporting on it. And Berman?
"I'm thinking I don't want to bother," he says. "There are lawyers already organizing. They're holding seminars saying they're the expert in this. … It's just going to be a popularity contest as to who runs the case. I don't usually win those."
Then a former secretary phoned. She said her Toyota kept running away from her. She couldn't trust it anymore. They were selling it at a $4,000 loss.
"It kind of hit me," Berman says. "$4,000 is a lot to a legal secretary who may make $45,000."
So he got involved. As for the popularity contest? He won it without entering. Judge James V. Selna of the U.S. District Court for the Central District of California appointed two co-lead attorneys—including Berman—for the consumer economic-loss class without even sorting through resumés.
"To me, that's unprecedented," says Frank Pitre, of Cotchett, Pitre & McCarthy in San Francisco, who was appointed to co-lead the commercial economic-loss class.
"Don't bullshit the judge" is another lesson Berman learned from Bernstein. "When he's wrong," Shapiro says, "and the judge says, 'Well, Mr. Berman, I can't agree with you because of this case and that,' he's willing to say, 'Your honor, you're right; we concede that point.' … It's a simple skill, but so many lawyers let their egos get in the way."
Take the opposition in the Toyota case.
The first critical argument concerned what defined the class. Berman argued for a broad definition: anyone having a Toyota with an electronic throttle control. Toyota's lawyers argued that the class should be limited to customers who had actually experienced sudden acceleration, but to Berman, this was a ticking-time-bomb argument. "I've shown in my complaint that there's a statistically significant chance, greater in a Toyota car than any other vehicle, that you're going to have a runaway," he argued. "The law can't be that you have to wait for the bomb to go off and kill or injure someone before you can sue."
Judge Selna turned the question to Toyota's attorney. "'So take Mr. Berman's point: Do you have to wait for the bomb to go off?'" Berman remembers Selna asking. "She wouldn't answer. She made an argument. The judge said, 'I don't think you heard me. I asked you this question.' And she made an argument. So on the fourth time, the judge, who's kind of an Irish, pale-complexioned guy, is red in the face. He said, 'I'm a federal judge. When I ask you a question, I want a yes or no answer. I've asked you this question three times. You give me a yes or no answer or you're going to sit down.'"
What happened?
"She deflected again," Berman says, shrugging. "Then they had lawyers who overpromised. They were so full of their knowledge of the product, they kept trying to teach the judge all this stuff that didn't mean crap. … They actually had a car delivered to the basement of the courthouse, where they were simulating stuff for the judge. … The whole courtroom was filled with all these things, and they couldn't get their technology to work. I was like, 'Really? You spent all this money and it doesn't work?'"
In comparison, Berman kept it simple. "I said, 'I'm going to play one film. It's a film from Consumer Reports where they tested cars. They have what's called a brake override, and [the Toyotas in question] didn't have a brake override. It showed how the cars stopped if they had a brake override and didn't stop if they didn't.
"He got the point that the cars should've had brake override."
The final result?
"A $1.6 billion settlement," Berman says. Then he blinks, without expression, and waits for the next question.
Berman grew up in Highland Park, Ill., where his father ran an insurance company. He played soccer in high school and college at a time when most of the country barely knew the sport. How did he get so ahead of the curve?
As with any Berman story, don't expect romanticism.
"I was playing [football], second-string quarterback, going into my junior year," he says. "I'm calling plays in the very first scrimmage. There's a guy across the way. He just hated me. I think it was anti-Semitic. He says, 'Berman, I'm going to fucking kick your ass every day.' He was an animal. All of a sudden I realized, I'm only 5'10", and I'm not going to get any bigger. This guy is going to kill me. So I go, 'Timeout.' I hand the helmet to the coach, take off my pads, run over to the soccer field. I tell the coach there, 'I want to play soccer.'"
This pragmatism is true with the law, too. Berman became a lawyer, he says, because he was a child of the 1960s and wanted to make a difference.
Ah. So he admired someone like William Kunstler?
"I don't think it was anyone specific," he says.
A Supreme Court case maybe? Or To Kill a Mockingbird?
"No. Just a general sense of making a change."
He had Highland Park friends who were radicals, who protested and blew up buildings and went on the run. "I said, 'That's really not the way to make change,'" he remembers. "'The way to make change is to get trained in what the establishment does, and make change through the process.'"
So he did: Michigan undergrad, University of Chicago Law School, Jenner & Block. His first mentor was Jerold Solovy, a legend. "I was on the fast track," he says. "I worked for [Solovy] and he worked 24/7. Everyone who was on the star track worked like that."
After a few years, his wife objected. She wanted a family. That's how they wound up in Seattle.
Berman first thought of moving to the West Coast when he traveled to California for a college soccer game. "It was like, 'Wow. There's mountains, there's water.' I remember driving from San Francisco to San Jose. Back then, it was all farms. I bought a fresh apricot right off the road. It was so exotic. I said, 'I've got to live here.'" But Janet was a Chicago girl and didn't want to move. Initially. His workload at Jenner was like the St. Louis arch: his gateway to the West. But which city? Janet didn't like San Francisco and thought he'd be bored in Portland. So one August in the early 1980s, they visited Seattle. "On the last day, we were going out to the San Juans," he recalls. "The sun was setting. I go, 'How could you not want to do this?' … We never came back."
At corporate firm Shidler, McBroom, Gates & Lucas (now K&L Gates), Berman became involved in his first class action from the plaintiff's side. It was the Washington Public Power Supply System (WPPSS) case, a public works project that mismanaged the creation of two nuclear power facilities into a $2.4 billion boondoggle. "We sued all 88 towns and cities in the Northwest," he says. "They were defendants. The underwriters were defendants and the city of Seattle was a defendant." The case settled for $753 million in 1988, leaving Berman with a taste for class action. He looked around at other firms but few would touch him. "They said, 'You're like a lightning rod, suing everyone around here.' Betts Patterson was the only firm that would hire me. They had a plaintiff's practice that was floundering. They wanted someone to come in and fix it."
He did, but noisily. He sued all the big local companies: Nordstrom (shareholder), Weyerhaeuser (defective siding), SeaTac Airport (noise pollution), Microsoft (misrepresented earnings), Boeing (shareholder). "In the late '80s and '90s, when you would meet with boards of directors of public companies," says securities defense attorney Barry M. Kaplan of Wilson Sonsini Goodrich & Rosati, "people wouldn't refer to the risk of 'securities class actions'; they would refer to them as 'Berman lawsuits.'"
Other lawyers began calling him "Berman the Vermin," but he shrugs over the reputation. "I don't spend a lot of time schmoozing," he acknowledges. "I do my work and get to my family."
"When he was younger, I could see how people would think he was abrasive," Shapiro says. "Now he's direct … and, frankly, quite respectful to opposing lawyers."
Berman's reputation, in fact, may say as much about Seattle as it does about Berman. He's a cut-to-the-chase guy in a city where people stand waiting for the light to change at 2 a.m. with no traffic around. "If he were in New York," Shapiro says, "no one would bat an eyelash."
The inevitable break from Betts Patterson was sped by the Jack in the Box E. coli case in 1993. A potential client, a kid who'd lost a kidney, came in. "When I brought it to the executive committee, they said, 'Well, we think we might pick up an insurance company client,'" Berman remembers. "That client was paying $130 an hour, discounted. I said, 'Look guys, if you're all about bucks, I'm going to make more money on this case than you're going to make representing this client. It doesn't even make economic sense.' But it was a turf war. The partner who had that insurance client didn't want to anger that client. I said to the [plaintiff's group at Betts Patterson], 'Look. This is why I became a lawyer. Do you guys really want to stay around here in the hopes that we're going to represent some insurance company?'"
A week later, he teamed up with Betts colleague Carl Hagens, and Hagens Berman was born.
Their timing was good. In follow-up WPPSS cases, the firm repped Chemical Bank, which then hired them for other, non-contingency litigation. "We had half our lawyers working on hourly rates for the first three years of the firm," Berman remembers. "We were able to keep the lights on."
Around this time, too, Berman went national. He'd been reading about Mississippi Attorney General Michael Moore's pending case against Big Tobacco and wanted in. "My mother was a smoker. I used to listen to her hack away all night long," Berman says. Eventually he was appointed special assistant attorney general on the case, where he represented 13 states, including Washington. It resulted in the biggest settlement in U.S. history: $206 billion.
Cases kept coming. He's been lead attorney against Enron (retirement accounts), Charles Schwab (securities), McKesson (rollback of benchmark prices), and the NCAA (concussions).
During a time of increasing corporate power, Berman is one of the few who puts CEOs in the hot seat. In the deposition for a shareholder suit against Jack in the Box after the E. coli case, he remembers waving the company's prospectus before its CEO. "It says here [Jack in the Box has] the safest cooking facilities in the United States. … It's a lie, isn't it? … Four people died and 50 people were injured. So you couldn't have had the safest cooking facilities, could you?" Against Toyota's CEO, he remembers asking, "Are you familiar with this accident where a state trooper was on the radio trying to stop his car? He couldn't stop his car and he died. … Isn't it true sir, that if he had a brake override, he would not have died?"
"I think he's a tenacious advocate," says Mel Goldman, a defense attorney with Morrison Foerster in San Francisco who has opposed Berman in many cases over the last 30 years, most notably the McKesson cases. "I've certainly done no survey of plaintiff lawyers across the country, but my guess would be he would be ranked among the top 10, top five, plaintiff lawyers in commercial cases."
"I've opposed virtually everything he's ever done on the merits, but in terms of the way he does things, I'll tell you this: He's a very energetic, well-prepared opponent," says Kaplan. "There were years where we talked pretty much every day on multiple cases we were handling. And I was always struck by the fact that Steve could talk about the details of one case and then immediately switch to talk about the details of another case. I would have to say, 'Hold on, slow down. Let me refocus now on the second case.' He was just"—Kaplan snaps his fingers—"very fast."
"I thrive on challenge and on being the underdog," Berman says. "And in most class actions, you're the underdog. Take Toyota or Tobacco. We walk in with a couple lawyers. There's 50 lawyers on the other side with unlimited funds, turning over every stone they can to prevent you from reaching your goal. I like that."
Hagens Berman now has 59 attorneys in nine offices in nine cities around the country, including Boston, New York, Washington, D.C., Chicago, LA and San Francisco. Sometimes he'll be working in a city so often, it makes sense to open an office there. (That's San Francisco.) Sometimes an attorney he likes asks him to open an office where they are. (That's Boston and Chicago.)
He's known tragedy. In 1997, Janet died in a car accident in Oregon. He was suddenly a single parent with two boys, ages 6 and 4. Intent on keeping life as normal as possible for them, he returned to work within two weeks. Within a year, he had met the woman who would become his second wife, Kathy, on a blind date. They have a daughter. He coached soccer for all of his kids and now he refs in his daughter's soccer league. "Probably the most humbling job one can have," he says. "I get yelled at every Saturday or Sunday. I tell my wife I'm used to it."
In his spare time, on airplanes, he's written two novels about criminal defense attorney Sam Sharpstein, and was recently asked by his brother-in-law, a photo editor with Vanity Fair, to write a book about his own career. Something about his younger son made him consider it. For years his son was pre-med, then took a course in international law and studied one of his father's cases, Sarei v. Rio Tinto, and came away impressed. Now he's going to law school. "So maybe if I can write about some of those cases, it would inspire kids to do this kind of stuff," Berman says. "Because I don't think enough people going to law school do what I do."
For now, anyway, he's put the book on hold. So many things could go wrong. Consider, for example, Berman's tendency toward brevity. "It'd be a short book," he concedes.
More important, it would require him to look back, and to Berman, the key to being a good plaintiff's lawyer is to move on. When he and Shapiro took the SeaTac/noise pollution case to trial, they thought they'd won it. After the verdict came in against them, Shapiro called Berman, who was back at the office and behind his desk. "What are you doing?" Shapiro asked. "We just lost." "Well," Berman replied, "this is the next one we're working on."
Search attorney feature articles