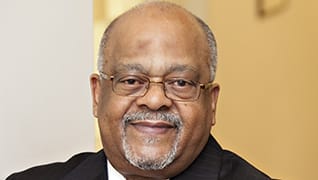 Photo by: Rick Dahms
Making Connections
Jeffrey Beaver has always brought people together; now he's helping Sound Transit unite the whole region 
Published in 2020 Washington Super Lawyers magazine
By Bob Geballe on July 16, 2020
Jeffrey Beaver is helping reshape King County— but not through politics. It's more like a jurisprudential version of Euclidian geometry: finding the shortest legal distance between two points. Beaver is the lead eminent domain trial attorney at Miller Nash Graham & Dunn, which is handling the lion's share of land acquisition for Sound Transit as its light rail system knits the region together. 
That network, scheduled to be completed in 2041, will have 116 miles of track and cost upwards of $60 billion, eventually providing nearly 24-hour service from Everett to Tacoma. "The light rail system will bring big benefits to the regional economy," Beaver predicts. Plus, connecting diverse neighborhoods makes for more cohesiveness. "A mobile population is always good—it prevents people from being ghettoized." 
Conducting the exhaustive research—and dealing with landowners who may not be happy about losing their property to the transit system—requires a great deal of patience, empathy, and commitment to Sound Transit's vision. 
Beaver, who manages much of his firm's condemnation litigation, concedes it's a delicate business. "I don't go after property owners like a mad dog; I try to use quiet dignity, including when it involves a mom-and-pop business or a personal residence," he says.
"There are a lot of complexities in eminent domain," adds Matthew Hansen, who oversees the condemnation practice at Miller Nash. "These are sensitive issues, and Jeffrey is adamant about treating property owners with respect, and trying to always do the right thing." 
Beaver aims to be fair in the settlements offered to property owners. "I try to keep Sound Transit aware of the fact that, because you have folks with money in other areas who can fight, you don't want to give them more [consideration], say, than you gave the folks in the immigrant communities along Martin Luther King Way."
Still, some negotiations end up in court. Steve DiJulio, who leads the eminent domain practice at Foster Garvey, often finds himself across from Beaver in the courtroom.  "He is well organized and presents a friendly and approachable manner to the judge and jury," DiJulio says. "Jeffrey has been doing this a long time, and he does a great job managing his team."
Beaver's experience is wide and varied. In the 1970s, before law school, he worked as a mortician, then conducted coroner's investigations for a time. After getting his J.D., he finished a clerkship for Judge Jerome Farris in the Ninth Circuit U.S. Court of Appeals in 1986, then went into private practice. For a time, he and a partner ran their own firm, then Beaver joined the precursor to Miller Nash Graham & Dunn. He trained Sudanese lawyers in the late 1990s to represent victims of the genocide in Darfur, litigated a case resolving a wrongdoing stemming from the Japanese internments during World War II, and participated in a King County effort to improve the inquest process. 
This eclectic mix of experiences is obvious to anyone visiting his office. Against a backdrop of Elliot Bay and Myrtle Edwards Park, Beaver sits under a shelf displaying, among other things, a rugby ball, a collection of hardhats, several African masks, a few stuffed animals (beavers included), and a can of Billy Beer (promoted by Jimmy Carter's brother, vintage 1978). His desk supports several precarious stacks of legal papers; also a leather-bound box of keepsakes including a photo of Beaver (vintage 1975) dressed as a genie in his college production of the opera Il Trovatore. After moving to Seattle in 1985, he brought his choral talents to the occasional performance for Seattle Opera—despite never having voice training.
"He has all the usual lawyer attributes—he's smart, he's analytical—[but] what makes Jeffrey special is the human qualities," says Mark McPherson, executive director of City Forest Credits, who clerked with Beaver for Judge Farris in 1986. "He's not just likable, which works well in front of juries, but he is really lovable—warm, generous, good-spirited, and honest and direct. He really connects with people." 
Beaver, a native of San Francisco, was born in 1951 to a banker father and a mother who worked as a probation officer. He was the middle child of three, and grew up during the days of San Francisco's counterculture. At Lowell High School, Beaver was a sprinter and a football player. "I could scoot a bit. I ran a 9.6-second 100—but that was 100 yards, not meters," he says. He also sang in the school choir. "A girl I was infatuated with was in the choir, so I joined. Had to get up at 7 a.m., and that's saying something for me." 
He left the comforts of home to go to school at Morehouse College in Atlanta.  "I wanted something that the West Coast didn't offer—I say I became 'bilingual' while I was there," Beaver says.  "It was the school that Martin Luther King Jr. went to. Civil rights leaders would always come on campus. I chauffeured Dr. Benjamin E. Mays; Martin King Sr." Beaver saw himself as a physician in the making, and focused on a pre-med track … until he got to organic chemistry. "That cured me," he says. "I got a degree in physiological psychology, and then went home for a couple of years."  
"I did think about staying in the South, but wherever I went, I felt like a fish out of water," he reflects.  "At Lowell High School, I had a longstanding relationship in a fully integrated community, but in Atlanta, I was starting anew with kids who were not so respected. I was proper, and some of my black contemporaries made fun of me—that was hard."
When Beaver returned to the Bay Area, he wasn't sure what he wanted to do.  He went to mortuary school, then found a job in a funeral home. "Working in the funeral home made use of my background in physiology and gave me a chance to do some grief therapy," he explains. "I had gotten involved in my church, and I had a desire for the ministry."
But the job was more emotionally draining than he anticipated. So he decided to become an examiner for the Chief Medical Examiner's Office in San Francisco.  It was the late 1970s. "We handled all the sudden, unexpected or violent deaths in San Francisco," Beaver says. The job brought him into the middle of the 1978 murders of city board Supervisor Harvey Milk and Mayor George Moscone. "I did the medicolegal investigations into their deaths." 
Despite the trauma to the whole community, other investigations hit him even harder. "Milk and Moscone were actually fairly clinical. The hardest reports I did were those involving children—things like sudden infant death syndrome," says Beaver, who has four daughters and six grandchildren. "I had young children at the time, and I remember going home and constantly checking on them at night to make sure they were breathing."  
Beaver says it was Ronald Reagan's presidential election in 1980 that pushed him into law school. "I had seen what he had done as governor, and I decided I didn't want to be in the public sector." He enrolled in the University of Oregon School of Law, and immediately hit a wall. "I was married, I had two kids, in my 30s, had owned businesses, and figured I knew what was going on … but every time we'd do a case study, I'm coming out the wrong way and I couldn't figure it out." 
So he put into practice a lesson he learned from his sophomore football coach, Jack McBride. "He had a big impact on me. His approach was, 'Suck it up, be tough, the game isn't over till it's over.'" Beaver camped in the law library and read everything he could; and at some point during his first year, "there was a metamorphosis," he says. "I started to think like a lawyer. I could see both sides of the argument."
He has carried that attitude with him ever since. "I guess what I took from that is … there may be people who are intellectually stronger than I am, but down in the trenches, they'll never beat me because I'll be better prepared."
In 2017, Beaver was asked to join the inquest-review committee convened by King County Executive Dow Constantine to come up with recommendations for improving the county's inquest process after Seattle police shot and killed African American resident Charleena Lyles in 2017. Her death further corroded the long-troubled relationship between minority communities and the local police. 
"We invited people from the community to come and talk," Beaver says. "It was pretty intense, but we want to create a system that the public will have confidence in."
His previous work with the medical examiner's office gave Beaver a valuable perspective. "I had some experience in divorcing myself from blame and focusing on cause. So it's either going to be natural cause, accidental death, suicide, or death at the hands of another—which is homicide. And that's all we say. The charged racial atmosphere doesn't come into play." The committee has come up with several recommendations that have been adopted by the county, such as ensuring that families of those who die in police-involved violence are allowed legal representation at the inquest. 
Over the years, Beaver has taken on a number of pro bono cases that were deeply meaningful to him. One involved resolving a nearly 60-year-old injustice that occurred during World War II. Gordon Hirabayashi, a Japanese American student at the University of Washington, was arrested for failing to turn himself in for internment camp. He was sentenced to 90 days in prison in Arizona; the arrest stayed on Hirabayashi's record for more than 40 years. Beaver joined an effort to expunge the record, finally getting the Ninth Circuit Court of Appeals to overturn Hirabayashi's conviction in 1987. 
Why put all this effort into a long-ago arrest? "Because it was manifestly wrong," Beaver explains. "You see these tendencies all the time; you see it now with Middle Easterners. They are under suspicion—just because they look a certain way. We say that's not the American way … but it is the American way in terms of history and actions."
Beaver has used his legal know-how to help other countries as well, such as his work in the late 1990s with the International Criminal Court to help train the Sudanese lawyers to assist genocide victims. "I heard a presentation about the Court at an American Bar Association event," he recalls, "and I was thinking I've been very fortunate … I've got a practice and been sitting on my hands. I've got to get up and do something larger than myself."  In 2018, he spent two months in Tanzania, helping develop legal systems to tackle both human and animal trafficking.
Time out of the country gave Beaver some insight into himself and his culture. "I learned how impatient I am, and how impatient we are as Americans," he says. "In Africa, the attitude is that it'll happen when it happens—maybe today and maybe tomorrow. … If your job is to cut down a tree, you take a couple whacks and someone's going to come along behind you and finish the job. … The object is just to get the tree cut down. You may not be the one that accomplishes it, but it eventually becomes accomplished. 
"It's not 'get this done and get this done now,' it's 'get it done right, and get it done with some permanency.'"
Traveling has also allowed Beaver, who was just elected a fellow of the American College of Trial Lawyers, to reflect on the U.S. legal structure. "Even though we have to deal with issues of implicit and explicit bias here," he says, "I don't think there is another legal system that is as evolved as ours."
But he has concerns: He believes the nation's current state of political discord could be eroding that system. "It's multifaceted," he says. "Political attacks against judges have a tendency to erode the independence of the judiciary. [And] I can't tell you how many times I go before a jury and they're not up to speed on the role of American government or the three branches of government. Justice is under attack."
As one way to preserve the system's strength, Beaver works with young lawyers through the Washington Leadership Institute, whose mission is to recruit, train and develop traditionally underrepresented attorneys for future leadership positions.
"We bring in 12 lawyers, put them in a crucible, charge them to come up with a project to help people understand the law," he explains. One of the projects last year was an initiative to inform farmworkers of their legal rights regarding sexual harassment and assault on the job.
In his view, such projects are crucial to civic health. "We don't teach civics anymore in high school, so we have people who don't know what government does, what responsible roles are, what the checks and balances are," he says. "There needs to be a reeducation about what government can do, what the courts do, and what is law." 
---
Calming Influence
"Jeffrey is a bit like Teflon," Matthew Hansen says. "Things just seem to roll off him." Hansen tells of a scene at a light rail eminent-domain trial a couple of years ago. A new paralegal had prepared a series of slides for Beaver to show the judge and jury. 
"She had loaded the slides incorrectly, so they came out sideways," Hansen says. "She was frozen and didn't know how to fix it. Everything just stopped." 
Rather than lose his cool, Hansen says, "Jeffrey walked up to the projector, turned it on its side, and went on with his presentation. The judge just sort of looked at him, and the jury laughed. He's really good at calming things down."
Search attorney feature articles