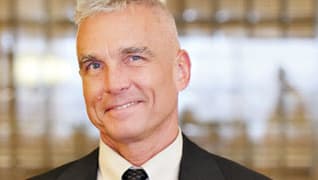 Photo by: Redstone Pictures
Paramount Duty
Thomas Ahearne wins one for public education
Published in 2012 Washington Super Lawyers magazine
By Erik Lundegaard on June 13, 2012
On Jan. 5, 2012, in McCleary v. State of Washington, the state Supreme Court not only affirmed the 2010 ruling of King County Superior Court Judge John Erlick, it affirmed the English language. It ruled, among other things, that paramount duty means "first and highest priority," all means "each and every," and ample means "considerably more than just adequate." Somewhere, Merriam and Webster breathe a sigh of relief.
This concern for nomenclature was part of the vocabulary test that is Article IX, Section 1 of the Washington State Constitution. It reads:
"It is the paramount duty of the state to make ample provision for the education of all children residing within its borders, without distinction or preference on account of race, color, caste, or sex."
Thomas F. Ahearne, an insurance and constitutional lawyer with Foster Pepper in Seattle, and lead attorney for the plaintiffs, doesn't remember who first contacted him about the case back in 2004. "I get calls from people all the time," he says from his 32nd-floor office in downtown Seattle overlooking Elliott Bay. "'Oh, this person's violating the constitution, and the state—or whoever—is not doing what the constitution requires, blah blah blah.' Nineteen times out of 20, you listen to them on the phone, you're polite to them, you say, 'If you want to come in, we can talk about it.' Nineteen times out of 20, they think something's not fair and therefore it must be unconstitutional. So … I don't remember."
But he does remember the first time he read Article IX, Section 1. "Wow," he thought. "I've read the state constitution a lot, and I don't recall it ever saying 'paramount' anywhere else."
It doesn't. As Ahearne is quick to point out, only one other state constitution, Florida's, includes the word "paramount" in its education provision. And even there, education funding is deemed "a paramount duty" … rather than "the paramount duty."
But there was still the small matter of rallying the troops. In the fall of 2004, Mike Blair was the relatively new superintendent of the Chimacum School District on the Olympic Peninsula when Ahearne and Jerry Painter, general counsel for the Washington Education Association, asked to speak before the Chimacum School Board on the possibility of suing the state. Blair put them on the agenda but didn't know if there would be any interest. He says it's "a leap" for school boards to get involved in such a case. "It's a lawsuit," he says. "You're using public funds. Do you get involved in a lawsuit against the state of Washington?"
After a 20-minute presentation by Ahearne and Painter, however, board member Quentin Goodrich raised his hand and said, "Yes, I want to be involved." The rest of the board followed his lead.
Chimacum was the first school district to join the suit, Blair remembers. "Us and Omak," he says. Of the nearly 300 districts in the state, he adds, "We went to trial with about 35 school districts. When we went in front of the [state] Supreme Court, we had 175, 180." They formed a nonprofit, Network for Excellence in Washington Schools (NEWS), which includes community and education organizations. That was part of Ahearne's strategy. To make it about more than school boards.
But there was still the small matter of proving the case. "The court system basically says all ties go to the state," Ahearne says. "You have to have a really, really strong case for the judges to say, 'Hey, legislators, who swore to uphold the constitution? You're actually violating the constitution.' So it was going to be tough."
And leading the charge? A man who admits he never would have become a lawyer if he'd known what it takes to be one. The man arguing in favor of greater school funding was someone who admits, without much prompting, that he actually hates to read.
Ahearne looks like the straightest arrow in the quiver. He's fit, square-jawed, with a salt-and-pepper crewcut. In his headshot on the firm website he sports an American flag pin in his lapel.
"He's a proud American," says Chris Emch, a partner at Foster Pepper who came on board McCleary when it became apparent it was going to trial. "It's reflected in his truck and his cowboy boots, and his passion for NASCAR and motorcycle racing. He's one of the few attorneys who could walk across a military base and not look out of place."
"The thing about Tom is he's such a real person," says Stephanie McCleary, who works in the personnel department for the Chimacum School District, has kids in the school system, and is, of course, the McCleary in McCleary v. State of Washington. "When he arrived at the Supreme Court, he pulled up in his old black truck. You've got all these fancy cars at the Supreme Court and he pulls right up in his truck. He doesn't change who he is. What you see is what you get."
At the same time, as straight-arrow as he appears, Ahearne has an amused appreciation for the curves life throws. How, for example, did he wind up practicing insurance law? Well, he arrived at Foster Pepper in October 1986 when the firm was in the midst of representing the city of Seattle in the Washington Public Power Supply System bond-default case—which was the largest municipal bond default to date. "I'm the low man on the totem pole," he says. "One of my first assignments was, 'OK, how are we going to convince the city's insurance companies that they have to pay for this? So, Tom, just go live in the library for a month and basically write a treatise on Washington insurance law.' Once I did that? Any time an insurance case came into the office, it was, 'Oh, those policies are so boring. But Ahearne knows about it. Give it to him!'"
His foray into constitutional law was equally fluky. One weekend, partner Hugh Spitzer got a call from a municipality that wanted to sue over Tim Eyman's 1999 car-tab initiative, and Spitzer walked the hallways looking for a litigator. He found Ahearne.
They won, and Ahearne has since been called upon to combat Eyman's anti-tax initiatives half a dozen times. (He figures he's batting .500.) Then he went on to represent Secretary of State Sam Reed numerous times, against both Democratic and Republican challenges, during the 2004-05 gubernatorial recount. He came away with such respect for Reed, a Republican, that he later contributed to his campaign fund: "He always did what he thought was the right thing."
During the recount cases, says Kevin Hamilton of Perkins Coie, who represented the Democrats, "It became almost an inside joke, where my Republican colleagues, Harry Korrell or Rob Maguire [of Davis Wright Tremaine], would stand up and say something, and we, predictably, would stand up and take the opposite position. Then Tom would stand up and say, 'They're both wrong.' And more times than not, he won. The judge sided with him.
"I remember one point during the trial where it was a relatively minor evidentiary objection. I can't remember whether I made it or Rob made it. Tom started making his 'plague on both your houses' position, and Rob and I started looking at each other, like, 'I don't really care. Do you really care?' So," says Hamilton with a laugh, "we just withdrew it because we got tired of hearing Tom argue."
Hamilton obviously admires Ahearne's talents. "He's careful, he's precise, he's professional and he's easy to deal with," he says. "He's never one to play games for strategic advantage." But they don't socialize. Ahearne says he doesn't socialize with lawyers: "Most of my social friends, I try to not let them even know I'm a lawyer."
"He enjoys being an outsider," Hamilton says. "He revels in being neither a Democrat nor a Republican. … I could never be in a position like that. I'm far too partisan. I'm actually closer to Rob and Harry than I am to Tom, because I understand them better. We're both very political. We both want the best things for our country, we just see different paths to getting there. But for somebody who opts for this middle ground … What is that?"
Middle ground or not, Ahearne was a delegate for Hillary Clinton at the 2008 National Democratic Convention. Of course, when Ahearne tells that story, he presents himself, as he often does in his stories, as a hapless victim of circumstances and bad judgment.
How did he become a Clinton delegate? "I can't keep my mouth shut," he says. I.e., he went to his Bainbridge Island caucus, didn't like some things being said, spoke up, went through a repeat performance at several other caucuses, and the next thing he knew he was in Denver.
Why did he become a lawyer? "I got tricked," he says with a smile. I.e., growing up, he watched Perry Mason with his mother and thought the job was perfect for him. "You just showed up in court and talked, and you always got the witness to break down and confess; and you had Paul do all the work for you, and Della took care of everything else. And literally, that's what I thought lawyers did until I went to law school. If I knew then what I know now, I would not have been a lawyer." Then he executes a perfect stage whisper:"I hate reading."
Ahearne was born in New Mexico in 1959. His father, a scientist, was in the nuclear weapons program for the U.S. Air Force, so they moved a lot. "I enjoyed it," he says. "See a lot of the country. Meet a lot of people. Different perspectives."
One place they never lived was the Pacific Northwest. So, after getting his B.A. from Notre Dame in 1981, and his J.D. at the University of Chicago in 1984, and spending two years clerking for a federal judge in Texas, how did he wind up in Seattle?
"I was tricked," he says with a smile, adding, "I get tricked a lot." I.e., during law school, he interned at Foster Pepper in the summer, and remembers thinking, "Man, it's beautiful here! This is the best place in the world!" He hadn't yet experienced the long slog, from November to June, of overcast skies and perpetual drizzle. "Obviously, it's nice enough that I haven't moved," he adds, shrugging.
Answers like that are part of Ahearne's amused side. Then there's his combative side. He played soccer in high school because, he says, "the center of the football team pounded the crap out of me. There was no way I could get back at him physically. But I could steal his girlfriend, and his girlfriend was a cheerleader for the soccer team. So I started playing soccer." Pause. "She was my girlfriend for three years."
His office is cluttered with gimcracks and trinkets on almost every shelf, and, in the corner, a massive, mounted, bison head. Ahearne is an avid bow-hunter. When asked how many arrows it took to bring this one down, he rolls his eyes. "If you need more than one arrow," he says, "you're not doing it right."
Motorcycle racing is a relatively recent hobby. He commutes to Seattle via the Bainbridge Island ferry, and for years he had to watch the motorcycles disembark first. So one day, about three years ago—after extensive bargaining with his wife of 25 years—he bought one. When he began to get too many speeding tickets, a colleague suggested track racing. There are now several framed photos of him, leaning around a turn, on the wall of his office.
Next to these photos you'll find a fist-sized indentation in the wall. Ahearne shows how his own fist nestles perfectly in the hole. It's his hole. He made it several years ago. He calls it "a measured response to an IT difficulty." A server went down, several hours' worth of emails were lost, and the IT people used by the firm at the time gave the helpful advice IT people tend to give: Why not email anyone who might have emailed you during this time and ask them if they emailed you? Ahearne's first response: "Do you even live in my world?" His second response was the hole in the wall.
Mostly, though, his office is cluttered with exhibits left over from the McCleary case. Mike Blair talks up the "volumes of evidence Tom and his team had to work with." He talks about the "30 three-ring binders full of evidence and expert witness testimony." It meant a lot of reading.
"I read a lot now," Ahearne says. "Because the only thing I hate more than reading is losing."
In January 2007, McCleary and NEWS filed their lawsuit, and more than two years later, in August 2009, the case went to trial. It lasted until October, and the trial judge issued his ruling in February 2010.
Early on, to combat the national expert witnesses the state produced—who argued that more money didn't necessarily mean a better education—Ahearne, somewhat controversially, decided to rely upon school superintendents as his experts.
"Sitting superintendents can be a problem," says Blair, who retired from his own position in 2010. "They're always in this positive-spin mode. It's hard to say in front of the court that we're failing our kids. If it gets back to the community … 'Wait a minute, you're failing the kids?'"
But it worked. Moments were serendipitous. One superintendent arrived disheveled and apologetic because a new student had shown up that morning, putting them over the legal limit on teacher-to-student ratio. He spent the morning doing triage. Another superintendent reported that, the day before, a student crossing the highway had been hit by a car—a student who had been bused to school until budget cuts widened the parameters of which students were bused to school.
Levies helped fill budget gaps but also raised matters of fairness, since more money can be raised in Seattle than in Yakima, or on Mercer Island than in Seattle. Textbooks were sometimes 18 years old. That's assuming there were textbooks. "My daughter was in a high school that didn't have textbooks in math," McCleary says. "The teacher was making half-sheets of Xeroxed copy paper to save paper."
Blair was the first superintendent to take the stand. "My job," he says, "was to lay down the groundwork in terms of funding: how Chimacum spends $10 million and the state gives us $6 million, and the other $4 million is a gap that's made up by levy and this and that." Such as fundraisers, athletic fees and federal dollars.
"I said, 'If you want to, Judge, come to Chimacum. We're no Taj Mahal out there. This is basic stuff. To run a district with a thousand kids, you're putting 25 to 30 kids in a classroom. You've got a few secretaries, and a few custodians, and no money for maintenance, no money for technology, no money for textbooks.' I said, 'If the levy wasn't in there, we'd really be suffering.' And he's looking at it and going, 'What would you do if you only had the $6 million that the state gave you?'
"The fact that we're spending $10 million, and still failing our kids, and the state's only giving us $6 million, I think that really resonated with Judge Erlick."
It did. "State funding is not ample, it is not stable, and it is not dependable," Judge Erlick declared in his ruling in favor of the plaintiffs. Two years later, the Washington Supreme Court backed him up. More, it retained jurisdiction over the case. This case has been won before, in Seattle School District No. 1 v. State (1978), but that Supreme Court trusted the Legislature to comply with its ruling. It didn't. This one means to keep tabs. "This court cannot idly stand by as the Legislature makes unfulfilled promises for reform," read part of its 80-page ruling.
Stephanie McCleary, says Ahearne, "was 13 years old when that 1978 Supreme Court decision came down. Her daughter was 13 years old when we filed this lawsuit. An entire generation had passed, and the state had done tons of studies and made a bunch of promises, but hadn't done anything to comply with the constitution. … Her daughter is now a senior in high school, so she's not going to benefit at all from this."
Is anyone? That's the key question now. "Our Supreme Court has ordered our Legislature to do something that's hard, very hard, with their public schools, and we'll see if they do it promptly or if they drag their feet and stall," Ahearne says. He smiles but his eyes remain combative. "I have a good guess as to what they're going to do."
Search attorney feature articles