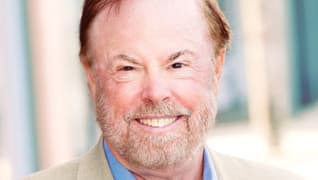 Photo by: Redstone Pictures
Picking Fights With Big Shots
That's what Hoquiam attorney Paul Stritmatter does best—and the smart money's on him
Published in 2013 Washington Super Lawyers magazine
By Ross Anderson on June 11, 2013
Twenty years ago, Grays Harbor residents were rankled by a multimillion-dollar air pollution complaint against the Weyerhaeuser pulp mill, a local industrial icon that employed hundreds. The offending lawsuit was filed not by meddling Seattle tree-huggers, but by 240 fellow residents—people who claimed they had been sickened by the mill's emissions.
Worse still, many of the plaintiffs were represented by Paul Stritmatter, a local lawyer from a family whose century-old Grays Harbor roots reached as deep as Weyerhaeuser's, inspiring Aberdeen's The Daily World to run a cartoon of the hometown crusader facing off with the forestry giant in defense of his gas-masked clientele.
"It was a gutsy move," recalls John Hughes, the highly respected former Daily World editor and publisher. "So many residents had a family member working at the company. … But it was a profile of courage that was typical of Paul."
The trial dragged on for 13 weeks, with Stritmatter arguing that hydrogen sulfide venting into the air from the company's huge wastewater ponds was causing severe headaches, eye irritation, coughs and worse among his many clients. "The irony," he says, "is that there were regulations governing dumping in the water, but no such standards for air pollution."
In a test trial, Stritmatter's team tried 22 of the cases. The verdicts, if averaged and applied to all 242 plaintiffs, would have equaled $7.4 million. Rather than try the remaining 220 cases, Weyerhaueser agreed to settle them.
The outcome was typical for Stritmatter. For more than 40 years, this local lawyer has been picking fights with big shots. And he usually wins, with awards and settlements totaling hundreds of millions of dollars over the years. Along the way, he's served as president of the state bar and the state Trial Lawyers Association. He's a founder and former president of the nationwide Public Justice Foundation.
 Stritmatter is not just one of the region's most skilled lawyers; he is one of its most versatile. While many personal injury lawyers focus on areas such as auto accidents or products liability or medical malpractice, Stritmatter's wins span the spectrum of personal injuries.
Yet he remains a small-town counselor who works out of the Stritmatter Kessler offices in downtown Hoquiam, goes home for lunch with his wife, and thrives amid the concrete skies, rusted steel and peeling paint of this rain-soaked mill town.
"Many of my old schoolmates moved away years ago, and they tell me I'm crazy to stay," Stritmatter says. "But I've never regretted it. This is my home, and I suppose it always will be."
With his bushy brows and high forehead, framed with red-tinted hair and close-cropped beard, Stritmatter could be mistaken for a friendly bartender at your local pub—until you get him talking about his long career representing people horribly injured by accidents involving everything from motorcycles and traffic signals to fraud and faulty machinery.
"Every case, every client is more interesting than the last one," he says. "I love what I do."
 Stritmatter's hometown roots date to 1901, when one set of grandparents arrived in Hoquiam. His grandfather took a job at a lumber mill and eventually worked his way up to foreman. His father went through local schools, then studied law and became a prominent figure in Grays Harbor courts and civic affairs. He was "a small town do-anything-and-everything lawyer," Stritmatter says.
Back then, Hoquiam and neighboring Aberdeen were booming, feasting on some of the world's richest fishing grounds and timberlands. But by midcentury, when Stritmatter was in elementary school, the area was gradually declining, along with its natural resources. "Our high point was in the '20s," he says. "The census count has declined every decade since."
As a youth, Stritmatter had no interest in pursuing his father's law career, opting instead for a year of pre-med courses at the University of Washington. Later he switched to economics. Bachelor's degree in hand, he changed his mind again and applied to law school at Willamette University in Salem, Ore. "I soon realized that's what I should have been doing all along."
After clerking for state Supreme Court Justice Matthew Hill, then for Justice Charles Stafford, he packed up and headed home to Hoquiam, eventually buying a home on the hill at the edge of town, and sharing his father's practice.
In his first week on the job, Stritmatter got involved in his first personal injury case—representing a woman who had tripped and injured herself on an Aberdeen sidewalk. The original claim against the city had been for $2,500 in damages, but the jury awarded her $14,000.
"Word got out and I started getting calls from other lawyers asking if I would handle their cases," he recalls. "I had guys who had been practicing in town for 20 or 30 years who were afraid to go to court. Before I knew it, I was doing 100 percent personal injury cases."
Why was he so successful? Stritmatter is a dogged researcher who comes to court well-prepared. But he also has an easy conversational delivery that works well with juries. And he believes his work is enhanced both by his personal interest in medicine and his ability to empathize with his injured clients.
An early example was Breivo v. Aberdeen, a road-design case in which four local youths were injured when their car hit a structure in front of a breakaway light standard at a sharp turn in downtown Aberdeen. The driver was speeding, which made the case substantially more difficult. "People told me: 'You can't win a case like that,'" he says. But Stritmatter, a young lawyer at the time, was able to show that the city engineer had intentionally placed a structure—made with a short telephone pole and a water tank filled with cement—to protect the light standard because it had been knocked down repeatedly in previous accidents. His client won a $214,000 verdict, three times the previous record for Grays Harbor County.
"That capped it," Stritmatter says. "I was asked to speak at bar association seminars about the concept of negligence in road design. Nobody had even contemplated the idea of suing a municipality over design of a roadway."
After his father's death in 1982, the young lawyer maintained the practice, along with his dad's reputation.
He is perhaps best-known for his novel legal strategy in Brown v. Yamaha. His client and a friend were in their early teens when they pushed a motorcycle up to a hillside park, started it up and took turns riding it. At some point, the cycle's throttle stuck and the bike went airborne, ending in a crash that left the youth paralyzed, unable to move or speak. Once again, Stritmatter was advised not to take the case because the youth was not licensed to ride the cycle.
As the trial approached, the helpless young man was being bounced back and forth between his mother's place and a nursing home. Stritmatter decided he needed to better understand his client's life. "So I basically rented the bed next to him for 24 hours—bedpan and all. My client was wide-eyed, watching me, amazed to see me there beside him."
It was a miserable night. Most of the patients were elderly, many with dementia. "The screaming and chaos went all night," Stritmatter says. "That poor boy couldn't sleep. No one could sleep."
Stritmatter couldn't use his experience as evidence in trial, "but I learned what his life was like in that place, and that motivated me."
The lawyer was able to convince the jury that the cycle should have been equipped with a kill switch. The fact that the boy was not supposed to be riding was ultimately irrelevant, because the absence of a kill switch meant that a licensed adult could have suffered the same injuries. The jury awarded the youth $10 million, another record amount.
That case "catapulted my career," he says.
Over the years, Stritmatter has represented scores of people suffering all manner of injuries. His wins have included a $6.1 million award in Kittitas County for a young mother injured by a drunk driver, $5.5 million for a client injured at an unsigned railroad crossing in Pierce County, and a $2.2 million settlement for a roofer who was rendered paraplegic after falling 35 feet on a job.
In his four-decade span of practice, Stritmatter says much has changed. He has teamed up with several other attorneys, and Stritmatter Kessler Whelan Coluccio has become one of the region's leading personal injury firms.
Meanwhile, the "lawyer-as-gunslinger" mentality that he witnessed early in his career has been replaced by a discovery process that has become more complex and expensive, with more cases settled out of court. The Internet and other technological advances have transformed law offices. Trial lawyers spend more time dealing with the psychology of clients, witnesses and, especially, juries. And, of course, personal injury awards have exploded into the millions of dollars.
Stritmatter, however, derives particular satisfaction from his work with public-service class actions, whose success is measured less in dollar amounts than in their effects on public policy.
In the early '80s, Stritmatter teamed up with lawyers from across the nation to organize a national public-interest law firm, now called the Public Justice Foundation. Its mission, he says, is to "take on important, cutting-edge litigation that individual lawyers would not take on." He has served on the foundation's board for 30 years, including one as its president.
A classic Public Justice case cropped up in 1991, when Washington apple growers paid for extensive Spanish-language advertising in Southwestern states, luring thousands of Latino workers with the promise of good jobs, housing and immigration assistance to those who showed up to harvest a bumper apple crop.  "The crop was late and there were no jobs and no housing, yet the ads continued," he says. "It was a nightmare, with all these hardworking people stranded with their families with no money, no jobs and no place to live."
Stritmatter worked with Public Justice to sue the Washington Apple Advertising Commission—now called the Washington Apple Commission—which was funded by the growers, and eventually obtained a settlement of $617,500.
"It was a heroic undertaking," says Arthur Bryant, current executive director of Public Justice, headquartered in Washington, D.C. "It was a daunting challenge trying to adequately represent people, many of whom did not have home addresses. Few would have taken it on, but Paul did and obtained the largest settlement of its kind."
Such cases lead to significant changes in law and public policy, Bryant adds. "Paul is an incredibly good lawyer, but the important difference is that he is deeply committed to justice in the public interest. Every lawyer has to make judgments about which cases to take, but Paul is far more influenced by a case that stands to make a difference."
For that reason, in 2010 the foundation named Stritmatter a Champion of Justice, one of just five honorees in its 30-year history.
These are the cases that remind Stritmatter why his work is important. Like other personal injury lawyers, he frequently encounters the argument that huge personal injury awards add to everybody's costs of goods and services and insurance. But he doesn't buy it.
The civil courts are this society's strategy for enforcing safety and reducing the risks in everyday life, he says. "That's why we have much safer cars than we used to. Safer airplanes. Safer roads. Countless products are made safer because of people like me. I believe we have made our community and our nation a safer place."
In some societies, safety is theoretically imposed by sanction, and by the threat of criminal punishment. When a contaminant was found in Chinese-made baby formula, the Chinese government sentenced the company's executives to prison and one middleman to death. Our society's approach is to use the courts; companies build safe products or risk being sued for damages by the likes of Paul Stritmatter.
"When you leave corporate America and government to enforce safety standards, some flat out don't do it," he says. "I make them do it by fighting them, one case at a time."
Search attorney feature articles