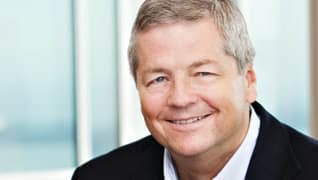 Photo by: Redstone Pictures
Power Player
How David Burman helped decide a historic governor's race
Published in 2012 Washington Super Lawyers magazine
By Ross Anderson on June 13, 2012
With its tan brick-and-sandstone façade and high-arched windows overlooking the town park, the Chelan County Courthouse is one of those venerable public monuments that lend dignity to small-town America and its legal institutions. So it was this courthouse, in May 2005, that became the venue for a historic trial at which election officers and political scientists converged to debate which candidate had prevailed in the 2004 gubernatorial election—one of the closest in U.S. history. At stake, they said, was the very credibility of the democratic election process.
One could imagine Clarence Darrow and William Jennings Bryan holding forth from those courthouse steps. The case drew in some of the state's finest lawyers to Wenatchee; among them was David Burman, a square-shouldered trial attorney at Seattle's Perkins Coie, whose affable style eventually helped win a ruling for Gov. Chris Gregoire and the Democrats.
To do this, Burman had to immerse himself in the complex statistical theory that became the basis of the Republican challenge, then dismantle that argument. "The small-town courthouse brought a little drama to the trial," Burman recalls. "It was a period of intense, long working days, seven days a week. Election contests like this are very, very unusual. And we were dealing with a challenging legal theory, interesting legal issues and factual issues."
Seven years later, Burman keeps a copy of the trial transcript on a shelf in his 42nd-story corner office overlooking downtown Seattle, the Pike Place Market and Elliott Bay. That trial was a high point in a 35-year career filled with important cases dealing with civil rights, school desegregation, freedom of speech and intellectual property. His clients range from Costco and Google to the Democratic Party. He's argued twice before the U.S. Supreme Court.
"David is dogged about his practice," says Robert F. Bauer, a longtime colleague at Perkins who recently served as White House counsel to President Obama.
Burman's performance in that Wenatchee courtroom was a return to his small-town roots. Born in rural Iowa, he was raised in Laramie, Wyo., where he went to high school and college and got married. Even in that very red state, he was imbued with the idealistic fervor of the 1960s, so he majored in political science and set off for Georgetown Law School in Washington, D.C.
Law degree in hand, he clerked for two esteemed jurists—Judge Spottswood Robinson III of the D.C. Circuit Court and Justice Byron White of the U.S. Supreme Court. "I was an affirmative-action candidate—justices don't get many applicants from Wyoming," he quips. He keeps photographs of both jurists on his office wall.
In 1979, he and his wife migrated west to Seattle, where he was drawn to the Northwest climate and lifestyle. Chris Bayley, the former Republican county prosecutor, was one of the Perkins lawyers who interviewed him. "He was very young, almost cherubic," Bayley recalls. "And he had all the necessary smarts, but he also had a way of cutting through the chaff to the heart of the matter. A good lawyer has to do that."
Soon after starting at Perkins, Burman found himself working with Bayley on the legal cases surrounding Seattle's controversial desegregation plan, which bused students across the city. Initially, he volunteered his time, but eventually he was hired by the district.
In retrospect, he admits to disappointment that the busing—though it was upheld by the courts—didn't succeed, even in Seattle, in integrating schools and neighborhoods. "I'm not a social scientist," he says. "Clearly, desegregated housing would have been a lot better. Overall, I think it had significant benefits, but I'd have a hard time adding up all the pros and cons."
His involvement was heavily influenced by his work for Judge Robinson, who had been one of the civil rights lawyers who argued the landmark Brown v. Board of Education case before the U.S. Supreme Court. He recalls late-night conversations with the judge. "The experience had a profound effect on me," he says.
So Burman pieced together his unusual practice, a mix of complex corporate litigation and a consistent dosage of pro bono civil rights cases. He has defended Google against critics alleging the search engine invades personal privacy, and represented the producers of a play challenged by relatives of the late rock singer Janis Joplin.
In recent years, he's returned twice to his clerkship haunts, arguing two cases before the U.S. Supreme Court. Over a span of eight years, he served as pro bono attorney to defend the state's nonprofit foundation that finances legal aid for the poor. The money comes from short-term interest earned on escrow accounts set up by lawyers to handle certain transactions. When conservative critics challenged the legality of the fund, Burman won a narrow 5-4 decision in 2003. "That's the case I'm most proud of," he says.
Two years later, he was back arguing a case in which he was never allowed to meet his clients, nor even to know their real identities. The couple had defected years earlier from behind the Iron Curtain, agreeing to spy for the CIA in return for a new life in the U.S. Years later, the government reneged and the couple sued. The case was decided, Burman says, based on a case dating back to Abraham Lincoln, who made a similar agreement with a Confederate spy.
"In that case," he says, "the court ruled that, if you are a spy, you can't rely on the government to keep its promises, because the nature of covert activity is that the government has to be able to have deniability. There cannot be a contract between the U.S. government and a spy."
"I tanked that one, losing 9-0," Burman says with a smile. "So I'm one-and-one at the Supreme Court. I need a tiebreaker."
One possibility is his case against the city of Seattle, which in 2010 passed an ordinance allowing people to opt out of receiving phone directories. The publishers were required to pay a fee for each book actually delivered. Burman represents the phone book publishers, who say the program violates their freedom of speech.
"It's an interesting case, and the facts are relatively undisputed," he says. "We are arguing that the Yellow Pages are entitled to the same First Amendment protections as any other publication."
While his politics are mostly liberal, Burman says he's comfortable with a more conservative, free-market stance when it comes to economics. "I think I can do an effective job on either side of an issue. There are probably situations where I would draw a line, or not find it fun to take a particular position."
Last year, a federal judge issued a ruling favorable to the Seattle ordinance, but Burman recently took the case to the 9th Circuit, where judges appeared more receptive to his First Amendment argument.
Either way, Burman has proved to be a gracious and challenging adversary, says Jessica Goldman, of Summit Law, who is arguing the city's case. "He's a tough advocate, but always pleasant and courteous," she says. "He's a model of how it should be done. It's never in anybody's interest to have an antagonistic relationship."
Even as he prodded that case along, Burman represented Costco in its effort to crack Washington's 70-year-old monopoly on retail liquor sales.
"Costco has been a client for a long time, and they asked me what arguments could be made," Burman says. "It's amazing how entrenched things had become, with big financial interests having grown up around the way things are. There were powerful people with a lot of money at stake.
"We were on the side of free enterprise, of allowing people to make their own decisions about what's best for them."
In that case, the 9th Circuit ruled partially for the state liquor board in January 2008. But last year, Costco was able to push through a state initiative that eliminated the state monopoly, effective this year.
At the dramatic 2005 trial in the Chelan courthouse, spurred by the Democrats' hair-thin margin of victory, Republican gubernatorial candidate Dino Rossi's supporters had pored over election returns and found disturbing instances of sloppy work—lost ballots, people who voted twice, votes by convicted felons whose eligibility was questioned. They sued, arguing that, if you excluded illegal and dubious voters, Rossi had actually won the day.
They managed to get the case tried in Wenatchee, which is famed for its production of apples and Republicans, and in front of a judge who had overturned a local election a few years earlier.
"It was a fascinating case," Burman says. "One advantage was that, when it involves elections, it's going to be resolved pretty quickly. So you get an intense trial, but there's going to be an outcome."
Burman's role was to focus on the Republicans' statistical argument. Elections are important events managed by workers who can make mistakes. The Republicans recruited some high-powered statisticians who assembled an argument that the errors occurred disproportionately in heavily Democratic King County; that, if you threw out votes by ineligible felons and others, the result would change the outcome.
Much came down to Burman's cross-examination of the Republican expert witnesses, including a California college professor whose statistical theory was central to their case.
"I never studied statistics in college, and I've always wished I had," Burman says. "So I'm sort of self-taught. A big part of it was reading what the witness had written and looking for inconsistencies."
He found them. In court, he repeatedly apologized for his lack of sophistication on the subject, luring the professor into his trap. "I felt he was very dismissive of me," Burman says. "He could not believe this lawyer was going to attack his work. And he wouldn't look at me."
When the time was right, as the witness peered toward the Republican lawyers for help, Burman pounced. "Please quit looking at them," he barked. "Look at me and answer my questions."
The opposing lawyers protested, and the judge wagged his finger at Burman. But the witness was shaken.
That was when it became clear that the Rossi lawyers' argument had fallen apart, says Jenny Durkan, a fellow Democratic lawyer at the time who is now the U.S. attorney for Western Washington. Burman had done his homework, grasped the Republican statistical argument, and made his own case that the elections errors had not affected the outcome. The Republicans, for example, had argued that ineligible felons were likely to vote Democrat; Burman and company were able to demonstrate that crooks are bipartisan. Democrats presented evidence that five felons they had interviewed said they had voted against Gregoire.
A few days later, Judge John Bridges, reputed to be a Republican himself, issued his judgment.  Yes, there had been sloppy work by lazy election officers, he said. But "there is no evidence that the significant errors … resulted from someone's desire to manipulate the election." He specifically dismissed the Republican statistical argument, declaring their expert's analysis to be "not consistent with generally accepted scientific standards."
It was an important win for Democrats, Burman says, but also for the electoral process itself. 
Elections officials, regardless of party, will always be prone to error. But he shudders at the prospect of turning that process over to the courts.
Seven years later, Gov. Gregoire is wrapping up her second term, and Rossi has all but disappeared from politics.
Burman and his wife, now empty-nesters, have moved into a condo in Pike Place Market. So Burman strolls to work past vegetable stands and street vendors. He still skis and hikes and yearns to get back to fly-fishing, which he hasn't tried since his school days in Wyoming. And, as a longtime admirer of Arctic explorer Ernest Shackleton, he studies maps of Antarctica and plans to make his own voyage to the polar continent.
But first he'd like a crack at that Supreme Court tiebreaker.
Search attorney feature articles