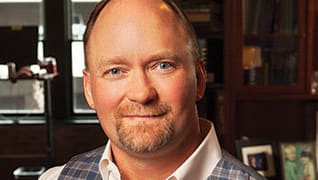 Photo by: Rick Dahms
Righting Wrongs and Keeping Things Simple
Darrell Cochran has taken on the state of Washington, an insurance powerhouse and Apple with his special brand of 'inefficiency'
Published in 2017 Washington Super Lawyers magazine
By Lisa Wogan on June 9, 2017
Darrell Cochran paces in front of an empty jury box in Courtroom 315 at the Pierce County Courthouse on a drizzly February morning. His auburn hair and goatee are close-cropped; his complexion bright. He seems younger than his 49 years. Whispering to himself, he stretches his neck from side to side, like an athlete eager for the bell. 
Once the jury is seated, Cochran dives straight into his opening for the case against the Washington State Department of Social and Health Services. Using a simple PowerPoint display, he tells the story of 11 days in the life of a 6-month-old baby named Canaan. He begins with the first calls to Child Protective Services about suspected abuse and continues to the day the infant arrived at Mary Bridge Children's Hospital, brutally beaten. Cochran explains the ways the system failed to protect the child. He stands a few feet from the jurors. His voice is subdued, and at one point drops almost to a whisper. The atmosphere becomes intimate, with everyone leaning in a bit, until the judge asks him to speak up. 
Cochran likes juries and, based on his success, they appear to like him, too. Which is good, because he's not what you'd call settlement-minded. 
"Efficiency is the model in most personal injury practices," he tells a visitor a few days before this trial. "You want to get your case, get it settled or resolved, and move on to the next one. That's a great business model. We don't tend to do that."
By we, he means Pfau Cochran Vertetis Amala, the 9-year-old Tacoma firm where he is managing partner. And what they tend to do is pursue challenging suits doggedly for years, often in the face of tremendous institutional pushback. 
It's an approach that has yielded big judgments, including $57 million in Rekhter v. Washington Department of Social and Health Services—a class action over reduced benefits for in-home health workers. Cochran celebrated that huge jury verdict over mac and cheese, chicken strips and milkshakes with his then-4-year-old daughter Skylar, a few days before Christmas in 2010. (Cochran's wife, Wendy, and their five children have a way of surfacing in many of his stories.)
His appetite for complexity has also landed him in the middle of many high-profile cases, including a series of stunning sexual-harassment lawsuits against Western State Hospital ("a culture that frankly would shock you, given how depraved it frequently is," Cochran says); precedent-setting racial discrimination cases in Puyallup and Brewster school districts; and, more recently, multiparty wrongful-death lawsuits stemming from the devastating 2014 landslide near Oso, which killed 43 people. All of which produced corrective public policy wins along with substantial settlements.
"Darrell really likes to right a wrong," says law partner and friend Tom Vertetis. "So many times, people have really complicated cases that most attorneys won't look at because they are too complicated. Darrell—if there really is a wrong—he's not afraid to dig deep." 
Take Northern Oyster. In the mid-aughts, Cochran took up the cause of a father-son oyster-growing concern in the Willapa Bay. They believed their oyster license had been yanked in retaliation for complaining about a lack of environmental oversight along the shore. It was no easy thing to prove.
"Darrell brings me on, and I'm like, 'Wow, this is a really complicated case,'" Vertetis relates. "Darrell said, 'Look, this is wrong. We're going to take this to court and beat the state of Washington.'"
On the plus side, the plaintiffs had Cochran's capacious brain. "One of my only intellectual gifts is that I have a really good memory," Cochran allows. "I can digest a lot of written information and have it at my fingertips. So that helps me be quick on my feet." 
The trial ran three weeks in Pacific County. In the end, Cochran and Vertetis obtained a $1.4 million jury verdict against the state for unlawful and tortious conduct. (And just in time—Cochran's wife started having contractions during closing arguments.) "The level of complexity in proving disparate treatment and discriminatory intent with all of the state employees was a really challenging thing," Vertetis says. "But I will tell you, to this day, this is one of the proudest things I've done. It clearly was the right thing to do."
Located on the second floor of a 1919 Tacoma building owned by Pfau Cochran Vertetis Amala, the firm's offices can be reached only by walking through the showroom of tenant Signature Design and Cabinetry. Upstairs, Cochran's brick-walled office is huge and filled with entertaining décor. Framed jerseys and signed baseballs and basketballs, purchased at fundraising auctions, are everywhere. Family photos. A treadmill desk. A photogrammetry model of a 50-pound king salmon that he caught on a fishing trip.  
It's a loved and lived-in space—where partners' kids play together on weekends—that conveys his passion for family, community and a career he was meant for since he was 5 years old. "It's God's honest truth," he says. "I was always a sandbox lawyer from the get-go."
He studied communications and political science at UW, then attended University of Michigan Law School, where he was gunning for a big firm in Chicago. An auspicious meeting with plaintiff's attorney Jack Connelly of Gordon Thomas Honeywell changed all that. He ended up at that firm, less than an hour from where he was born.
Only a few months after starting, Cochran was asked to join a meeting at which the firm was considering representing children who were abused at the O.K. Boys Ranch, a home for neglected and abused youths in Olympia. 
The home was two blocks from where he grew up, and Cochran successfully pushed for signing on. Over the next five years, he worked case after case, helping to expose unimaginable routine physical and sexual abuse that lasted more than a decade. In total, the O.K. Boys Ranch cases yielded $60 million for more than 60 boys. They also spurred major revisions in how Washington licenses and monitors group homes. 
"In the process of hearing these horrific stories from people I knew as a boy, I had to stop doing sex abuse cases," Cochran says. "It was altering my life and my perspective on humanity." 
But after some time away, Cochran came to a realization: "I kept seeing more cases and, given the expertise I had developed, eventually decided somebody had to get back after it, so I might as well bring myself back into the fold."
He stepped back in to assist with child-abuse cases against the Congregation of Christian Brothers. More recently, he has spearheaded a crusade—there may be no better word for it—to hold the Olympia School District responsible for failing to protect very young victims of sexual abuse.
"The Olympia School District cases drive me crazy," he says, "in large part because it's my hometown, and to see such a reprehensible school district response to such a grave public health threat makes my heart hurt." 
From 2005 until January 2010, Olympia School District bus driver Gary Shafer molested kindergarten-age and developmentally disabled children. In 2011, he was convicted of assaulting several girls and sentenced to 14 ½ years in prison. During the course of the investigation, Cochran says, Shafer admitted to molesting at least 30 children but provided only a couple of first names.
When Cochran learned that so many children might have been abused, he locked on. "I begin immediately asking for public records requests. 'Show us the investigation you've done to find the other 28, because we have two,'" he says. "Crickets. Nothing." The district told him it didn't want to get involved in a police investigation. So he waited until after Shafer's conviction. Then he circled back, asking the district to show its efforts to find out who else was molested and what steps were taken to warn parents that their kids might have been victims. "They hadn't done anything," he says. 
"Even today, the district only provides information to its parents when we make it happen," Cochran says. Now it's paying. He obtained a $1.5 million verdict for one victim and protected it on appeal. He settled a second case for $750,000 and a third for $1.2 million. He took the fourth to trial, established gross negligence against the district; that case is on appeal on the damages. He is currently representing two other girls whose cases will go to trial this fall. Along the way, he says, the case has pretty much "cleaned out the high brass" of the district.  
Cochran's efforts on behalf of the victims in the Olympia School District and his role as lead counsel in a recent $7.5 million class-action settlement against MultiCare Health System were two of the cases cited when he was named 2015 Trial Lawyer of the Year by the Washington State Association for Justice.
Wearing his baseball cap and suit vest around the office, Cochran looks every inch the "happy-go-lucky person" Tyler Francis says he is. Francis is the athletic director at Charles Wright Academy, where the Cochran children attend school and their dad coaches his daughter's basketball team. In addition to professional commitments such as WSAJ (Cochran is president-elect), he has volunteered over the years with Special Olympics and the Tacoma Symphony, as well as with youth sports. 
"He's a calm presence and he just has that little smile and grin when things aren't going well," Francis says. "He's a big teddy bear. He connects with them." 
What works on the court works in the courtroom. "To be a successful personal injury trial lawyer, you've got to have genuine care," Cochran says. "The juries have got to know that you really care and that it matters."
Carol Sheard saw that firsthand. Cochran took the case of her 26-year-old daughter, Laura, who was killed, along with her boyfriend, when an SUV traveling at high speed rear-ended their Hyundai on Lake City Way in 2011. Two years earlier, the SUV driver, Daniel Habeeb, had crashed into another car and killed a passenger. At that time, prosecutors did not pursue a vehicular assault charge because Habeeb was diagnosed as psychotic at the time of the crash. He was placed on probation and committed to a psychiatric ward.
The Sheard family wanted to know why Habeeb had been driving again, and why he was off his medication. Because the potential award for her parents was limited by issues including the fact that Laura was an adult, the Sheards worried they wouldn't find an attorney willing to take up their cause: to ensure this sort of heartbreak wouldn't happen again.
"We all feel that Darrell took it on because this is something he was passionate about," Sheard said recently. "This is exactly the kind of tragedy that he is trying to prevent. Finding Darrell was a godsend." The case resulted in a $1.5 million verdict against the driver and an undisclosed settlement with a counselor. Earlier this year, Cochran testified in Olympia against proposed legislation that would provide additional immunity for psychiatrists in cases like the Sheards'. 
Lately, Cochran has been looking to test his mettle more on the national stage, including a consumer case in California against Apple on behalf of five iPhone users who say a defect caused them to lose data. "It was fun tangling with the great lawyers representing Apple," he says with a smile, "and will be for many years to come." He has also been named trial counsel on the Premera Blue Cross data breach case, in which 11 million people may have been exposed to identity theft. 
For the moment, he's laser-focused back in Courtroom 315, trying to win an award that will help support the child, Canaan, who faces a lifetime of challenges due to his brain injury six years ago.
Before the judge and jury take their places for the opening statements in Canaan's case, the room has a strangely festive air, at least in the spectators' gallery. Several of the benches are filled with friends and family—Darrell's wife, Wendy (who was a paralegal at the firm until their fifth child was born), three of his children, his mother and father (who rarely miss an opening statement), several colleagues from the firm, and a few other friends. 
The blending of family, community and work, which marks Cochran's life, is in full evidence. It's also an opportunity. Cochran draws the jurors' attention to the spectators, as "a sign of community interest in the case." Only 10 seconds into his statement, and it's his first score. 
Postscript: On March 12, the day before closing arguments, the state more than doubled its previous settlement offer, to $1.5 million. The guardian ad litem for Canaan accepted it, and also plans to file a claim accusing the hospital of failing to recognize and report probable abuse during the Oct. 11 visit. "I'm wounded that I couldn't get this one to verdict," Cochran writes in an email, "but the result is a good one for the client."
---
A Few Facts about Darrell Cochran 
Game-day ritual: Cochran watches select scenes from A Few Good Men—Kevin Bacon's opening and the cross-examination of the first few witnesses: "It gets me fired up." 
Work soundtrack: Miles Davis' Kind of Blue. A big jazz fan, Cochran studied performance trumpet at the University of Washington and still plays.
Where he gigs: "When one of my children's pets dies, I get to play taps," he says. "Occasionally, I'll wake them up with reveille in the morning, just to be a turd."
Signature topper: Around the office, Cochran wears a baseball cap with the insignia "#1 Cochran," an auto dealer in Pennsylvania. "My wife tries to throw it out every other day," he says. "So I keep it here to preserve it."
Search attorney feature articles