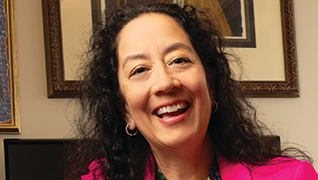 Photo by: Rick Dahms
Standing Her Ground
Karen Koehler lands a $123 million verdict against Ride the Ducks
Published in 2019 Washington Super Lawyers magazine
By Ross Anderson on June 24, 2019
When the civil suit over the tragic 2016 Ride the Ducks crash went to court in Seattle last fall, it didn't look like a fair fight.
One side of the courtroom was jammed with insurance defense lawyers—mostly men, more than enough to field a softball team—looking the part right down to their uniform black suits over blue shirts and club ties. They clustered around the left side of the extended table, overflowing into the audience.
The plaintiff team numbered one paralegal and two lawyers, led by a petite woman in a black jacket with wavy shoulder-length hair.
But the optics were deceiving. If there was a mismatch, it was plaintiff's attorney Karen Koehler who held the advantage in the four-month long trial. In fact, this was evidenced in the staggering $123 million jury verdict against Ride the Ducks International and Ride the Ducks Seattle—an award Koehler says is the highest in state history for a non-class-action plaintiff's personal injury case.
"It was within a few million of what we had asked for in the settlement," she says. Ride the Ducks appealed, but two months later settled for the verdict less about $5 million. Along with additional settlements during and post-trial, Koehler says the total recovery for clients represented by her team came to $134 million.
In her quarter-century of trial work, Koehler has thrived in the underdog role. One of the top personal injury attorneys in the state, and past president of the Washington State Trial Lawyers (now the Washington State Association for Justice), she also has become accustomed to winning—including a string of seven-figure settlements and judgments.
Koehler attributes her success in large part to her parents—especially her mother, born to Chinese immigrants. "Mom was a little fighter," Koehler says. "She started out as a chemical engineer, but then changed her mind, went to law school and practiced law while raising three girls."
As soon as Koehler started reading, she was picking up her mother's law books. "I was hooked," she says. "I worked with her through college and law school and never really wavered from that course."
Initially, Koehler practiced insurance defense law. She married, had three daughters, then got divorced—all while working her way into another firm, where she continued with insurance defense.
In 1996, she switched to plaintiff's work. "Being a single parent while starting up a personal injury practice was one of the biggest challenges of my life," she recalls. "I don't sleep much and have a lot of energy, so I wrote books on law and practice. I noticed there were no female legal authors, so I felt it was my moral duty, as well as wanting to become known as a plaintiff personal injury lawyer. I'd work on them in the middle of the night, midnight to 4 a.m., juggling work and kids. But, like other forms of adversity, single parenting helped challenge and center me."
She got her first big case in 2001, representing the family of Kristopher Kime, who was beaten to death while trying to assist a woman injured in the Mardi Gras riot in Seattle's Pioneer Square. Other lawyers told the family the case against the city was weak, but Koehler was outraged by the failure of Seattle police to protect Kime and other victims. She  obtained a $1.75 million settlement.
In 2004, she joined what is now Stritmatter Kessler Koehler Moore, taking on equally difficult cases, including one involving the family of Cheryl and Tim Owen of Bothell, who were killed—and other family members badly injured—in 2012 when a tree fell on their car near Stevens Pass.
"I hired an arborist who showed that the tree was rotten. But trees rot, right? I located eyewitnesses and learned from the Department of Transportation that hundreds of trees had fallen at the same time and that there had been warnings that the road was dangerous. One tree falling down is an act of God, but hundreds of trees falling down was predictable, and preventable."
The state ended up paying $10 million.
Down at the courthouse, Koehler is recognized for her trial strategies, which are frequently unconventional. For opening and closing arguments, she is inclined to adopt unusual voices. "I sometimes channel inanimate objects," she says. "I've been a bus, a telephone pole; I've been a sidewalk."
Her personal wardrobe might be best described as stylishly black.
But her office at Stritmatter, in a nondescript office building at the south end of the Ballard Bridge, is chic and pink. She works surrounded by pink chairs and a pink carpet, with a large abstract painting on her wall that includes splotches of pink. At one end is an antique armoire loaded with personal mementos and poetry books.
Koehler's practice is "paperless." Her personal model is not Gerry Spence or Clarence Darrow, but Oprah Winfrey.
"I've learned from her," Koehler says. "She can be warm and caring, and her audience is warm and caring. She can get mad, and her audience gets mad. That works for me."
She adds, "There are bigger, louder lawyers. That's not me. I'm not big, and I don't have a dominating presence or a big voice. I don't wear cowboy boots or buckskins, and I don't sound like James Earl Jones."
The challenge is how to tell her clients' stories in such a manner that the jury will remember them weeks later in deliberations. "You owe it to your jury to tell your story in a compelling way," she says.
Her tactics have occasionally caused some controversy. In one case, an opposing lawyer sued her for defamation against his client; his lawsuit was dismissed by both lower and appellate courts. In another, a King County judge fined her and co-counsel $24,000 in 2018 for accusing a Seattle police officer of perjury in a fatal police shooting. The judge said the accusation was baseless; Koehler is appealing.
"I will never win the popularity contest of the defense bar association's plaintiff trial lawyer of the year award," she concedes.
But Koehler's trial work is about much more than courtroom dramatics, says Liz Quick, a plaintiff's attorney at Quick Law Group in Kirkland who worked with Koehler on a previous case. "She is highly efficient with her use of time, which is critical to a plaintiff lawyer, who has the burden of proof," Quick says. "She is a fierce competitor, but she knows how to choose her battles."
Perhaps there's no better example than the Ride the Ducks litigation, which emerged from the September 2015 crash in which one of the amphibious vehicles filled with tourists swerved across the Aurora Bridge into the opposing lanes and smashed into an oncoming bus loaded with international students on a city tour. Five people died and dozens more were injured, some severely, in a crash blamed by investigators on a front axle that broke on the bridge.
Koehler was contacted by one of the victims and she accepted. Another victim and another joined the case, until Koehler had 44 clients—all international students or tourists and their families from around the world. Several victims already had attorneys, but they joined up. "I had about a dozen co-counselors," says Koehler, who led the group.
The number of clients posed a challenge, especially since many had to testify using interpreters. Koehler represented each of them individually, and filed suit against Ride the Ducks Seattle and Ride the Ducks International (based in Missouri), plus the state and city of Seattle, whom Koehler argued worsened the tragedy by failing to install a divider on the bridge. In a separate case, the city and state paid $4.4 million to settle lawsuits by 12 plaintiffs last June. But in this case, the jury placed most of the blame on Ride the Ducks International, and the rest on Ride the Ducks Seattle. Four of Koehler's clients settled during the trial—for $8.5 million—while the remaining 40 stuck it out.
The trial was prolonged by deep differences among the defense parties, each arguing that other parties were primarily responsible. That situation almost certainly worked to the plaintiffs' advantage.
"Sometimes the best scenario is to have multiple defendants who are at odds with each other," says Patrick Rothwell, a veteran defense lawyer who tried an unrelated case against Koehler. "Karen understands that dynamic very well."
Koehler spent weeks preparing for trial. For her opening argument, she knew she didn't want a conventional approach.
"At the last minute, I decided to be the driver of the Duck. So I ordered up a captain's hat from Amazon and went with it."
The jurors sat rapt as she took them on board the odd vehicle and narrated a colorful tour through the city and onto the bridge, where it lurched out of control and into the oncoming lanes.
"Most of the tourists, they're looking out at the view. They think it's another part of the act—just more loudness. The Duck goes across and up into and through the bus, because it's a boat on wheels, and it spears the bus. Ejects people. You can see them falling …"
Over the weeks to come, Koehler called her clients, police, emergency responders, doctors, psychiatrists, engineers, highway experts and more—compiling a mammoth record.
"That huge team of defense lawyers was an odd dynamic," she says. "We had to share a table, and there were so many that they kept pushing us over. To dramatize it, we put a Lego wall across the table to keep the defendants at bay, and clearly on the other side."
Koehler doesn't believe in getting locked into a script. That does not mean she goes into trial unprepared. "I learn my cases well," she says, "but I don't come into court with a long list of prepared questions. Each of my questions emerges from the answer to the previous question. I don't struggle with the facts, but I struggle with how to best present those facts."
When Koehler teaches trial law—formerly at UW and in trial advocacy programs, now at speaking engagements around the country—she has some advice for young lawyers: "Prepare yourself thoroughly. Take notes. Then throw away your notes and just trust yourself. That's what works for me." 
---
Blawg and Order
When Karen Koehler leaves the office, she's liable to don tights and run an hour or so around Queen Anne Hill—frequently accompanied by her Brittany, Nala.
And then she'll go back to the laptop and post her thoughts to her award-winning blog, The Velvet Hammer. Whether they deal with her practice or her private life, her entries tend to be stream-of-consciousness, and frequently topical. "The purpose is to show that lawyers are people, too," Koehler says. "I want to give people a glimpse at a lawyer who is female, half Asian, a single mom and a grandmother."
Here are some excerpts from her decade of "blawgs":
August 2018: "Defense counsel writes to the judge that I have displayed 'histrionics and inflammatory rhetoric' in my legal argument.
If I am emotionally invested in fighting for my clients, does that make me overly dramatic? If I am very detailed in my explanations, does that make me an exaggerator? If I am aggressive, does that make my behavior inflammatory?
If I was a man, would they use this language to describe me?"
August 2014: "We learned the power of adjectives starting in about the second grade. These 'describing words' add color to our communication … Lawyers tend to be very good with language. We enjoy flexing our grammatical skills.
Adjectives are high on the list. We use a lot of them.
But in our quest to persuade with adjectives, we run the risk of appearing overly melodramatic. The melody and rhythm of what we are saying is drowned out by disharmony. The audience has difficulty finding its way through our tune and eventually resorts to ignoring the babble. This process subverts our credibility with both judges and juries."
April 2017: "Judges don't like it when attorneys can't stop bickering. They are irritated by having to deal with exchanges of snipes, digs and downright insults.
Last month after a trial ended, two jurors followed me down to the courthouse lobby. Both commented on how impressed they were that the attorneys acted in a civil manner. Sure, we disagreed and there were tense moments. But we were not overly disrespectful like the lawyers they saw on television. They appreciated that. I thought this was an interesting comment because I could not stand the lead defense attorney; every time he opened his mouth I could feel my teeth clench."
Search attorney feature articles