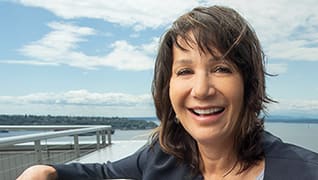 Photo by: Rick Dahms
The Big Picture
She prosecuted the Green River Killer. There's not much that can unnerve Patty Eakes
Published in 2021 Washington Super Lawyers magazine
By Ross Anderson on July 15, 2021
In November 2001, when the nation was still reeling from the 9/11 attacks, the Northwest was further stunned by the arrest of a Renton truck-factory painter named Gary Ridgway. 
King County prosecutors and deputies, who had been looking for the Green River Killer since 1982, had finally nabbed their man. But they needed to ramp up quickly to prosecute one of the worst serial killers in U.S. history.  
"It was such a momentous case, so stressful and incredibly sad that it had gone on all those years, leaving all those wounds in people's lives," recalls Patty Eakes. She had just finished high school when Ridgway began his horrifying spree and had been a deputy King County prosecutor for 11 years when he was arrested. 
King County Prosecuting Attorney Dan Satterberg, who was chief of staff to Norm Maleng at the time, remembers the department springing into action. "We had to immediately organize 20 years of paper and evidence that had been on the shelf," he says. "And we needed somebody who wouldn't freak out." 
Jeff Baird, who would be the lead prosecutor, promptly brought Eakes in on the case. 
It ended up consuming two years of her life and ultimately led to Ridgway's confession to the murders of 48 women. Her work was chronicled in several books and TV shows, including an episode of Criminal Confessions on the Oxygen network, produced by Law & Order creator Dick Wolf.
For a time, the Green River Killer defined her career, but that's history. In the intervening years, she has established herself as one of the most respected and versatile trial lawyers in the region, ranging from employment law to white-collar crime. Some of her cases, such as representing magician David Copperfield and former state auditor Troy Kelley, are high profile. More are not.
At 56, Eakes is a self-described "adrenaline junkie" with piercing brown eyes. She works out religiously, hikes and bikes, and keeps track of her kids. Sam, 23, attends the University of  Oregon; Max, 20, attends Occidental College in California. Her youngest, Graceanne ("Qiqi"), 16, is a high school sophomore who was adopted as a baby, coming from China to join the family. These days, Eakes practices in a contemporary downtown office, surrounded by legal volumes, family photos and art—including a print of the popular image of Kamala Harris juxtaposed with the shadow of Ruby Bridges, the Black schoolgirl in the Norman Rockwell classic print. It was a gift from an attorney who used to work with Eakes. "It meant a lot to me," Eakes says, adding with a laugh, "She always says that I remind her of Kamala Harris, with my prosecutor background—my 'fierceness,' as she says."
Born in Tacoma, she describes herself as "an Army brat," whose family moved with military assignments. Her paternal grandmother lived in Washington, so that became the family's "home base." Eakes studied at the University of Washington and became the first in her family to graduate, then went to UW law school "because I needed to defer my student loans." 
But she got a nudge toward law in her last year of college, doing an internship at the U.S. Attorney's Office in Washington D.C. "I kind of got a taste for the law and trial work," she says. 
On graduating law school in 1989, she took a job at a firm that did primarily construction law, but soon opted for the prosecutor's office, "where they shoved you into court—sink or swim."
As is the practice at most public law agencies, Eakes moved from unit to unit—drugs, sexual assault and "murder two," before getting to the prestigious Most Dangerous Offender Project and, later, the civil division. 
There were bumps, such as the district court judge who threatened her with contempt over the way she asked a question at her very first jury trial. "You learn from experience," she says.
In the early '90s, she prosecuted Renton parents who were accused of assault in the scalding of their infant. It was a difficult case and it took three trials before she got the conviction.
Later she prosecuted 13-year-old Willard Jimerson, one of the youngest defendants ever tried for murder in Washington. "I couldn't look at him without thinking about his being a kid," Eakes recalls. "In the courtroom, his feet barely reached the floor." She got the conviction, and the offender served his time and now works with troubled kids.
Her sole capital case was the prosecution of Michael Kelly Roberts and Timothy Dennis Cronin, escapees from a B.C. prison who returned to Washington and murdered a Lake Forest Park man they believed had turned them in for a previous crime.
"I'm not a proponent of the death penalty," she says. "I got the conviction, and then Maleng called me in and said: Your job is done. Leave it to the jury." (Roberts was sentenced to death and Cronin to life without parole—though a later state Supreme Court ruling led to sentences of life in prison without parole for Roberts and 43 years for Cronin.)
Then came the Green River Killer. After years of frustration, investigators had finally made a DNA match—and Ridgway needed to be arrested immediately in case he was prowling for his next victim. 
Eakes was an obvious pick for the prosecution team, Satterberg says. "By that time, she had become an elite homicide prosecutor. She's thorough and unflappable, impervious to the stress that comes with these cases."
But Eakes was torn. She had two young children at home. "I had to ask: Do I want to do this? And how can I not do it? I'd seen the impact on so many mothers and families. We can't give them back their daughters, but maybe we can provide some answers."
While scores of victims were linked to the same killer, Ridgway was originally charged in just four. That was enough to convict, but what about all the other victims?
Eventually, Maleng made the decision to take the death penalty off the table in return for the killer's help in finding the remains of his other victims. Ridgway began leading police and prosecutors out into rural South King County in the grim search. Eakes supported Maleng's decision, and she found herself in a van with the shackled killer. 
"It was tremendously sad, but also fascinating," she recalls. Psychiatrists had suggested that it would take a crafty monster to evade capture for so long. But Eakes saw no such intelligence. "He struggled just to understand what was going on."
On their first trip, they reached a site where Ridgway remembered leaving a body. Eakes climbed out and heard Ridgway addressing her from the van: "Miss Eakes! Miss Eakes! I think I see a bone by your foot."
There wasn't. "He just wanted some interaction."
In the end, Ridgway pleaded guilty to the murders of 48 women, and was sentenced to 48 consecutive life sentences and a $480,000 fine—$10,000 per victim. He confessed to many more that he could not be charged with, due to lack of evidence.
Eakes' work on the case demonstrated her ability to step back—to deal with a monstrous killer without internalizing the horror. "You can't do that work without compartmentalizing," she says.
"She is one of the most driven lawyers I know," observes defense attorney John Wolfe, who has been both a co-counsel and opposing lawyer. "But she's also amazingly down-to-earth, not above pulling on overalls and digging for victims. She has the ability to set it aside and go home to her family. In this work, your family is your escape."
While the presence of women has become common in areas visible to the public—prosecutors, public defenders and judges—Eakes says the transition has been much slower in private practice, especially in white-collar crime. Nevertheless, that's where she headed in January 2007. "The legal language is different," she says, "but the skills are the same."
One of her early clients was David Copperfield, the famous Las Vegas illusionist, who faced an accusation that he had assaulted a young model on his private island in the Bahamas in 2007. Soon she found herself jetting off with co-counsels Angelo Calfo and Anne Bremner, interviewing Copperfield at the MGM Grand. 
Eakes and Copperfield had "a great connection," Bremner recalls. "She was brilliant, but calm and reassuring." They came home with confidence that Copperfield had been falsely accused—and with a photo of themselves "levitating" at the magician's personal museum. Maybe not an actual magic trick, but a fun photo.
Copperfield was never charged, but his was a classic case of the importance of the presumption of innocence, Eakes says. Being rich and famous made him a juicy target. "There's a natural instinct among jurors to think that, if you're on trial, it's for a reason. Once charged, it's an uphill battle for the accused."
That case also introduced her to Calfo, himself a former white-collar prosecutor. They worked well together, so they eventually launched their own boutique litigation firm, Calfo Eakes, which has 17 attorneys, mostly women.
A few years later, the two took on the case of State Auditor Troy Kelley, accused of possession of stolen property and related crimes in the real estate boom leading to the Great Recession of 2008-'09. With more than 100 witnesses and thousands of pages of evidence, the first trial led to acquittal on making false statements to the IRS and a hung jury on others. The government persisted, and the second led to a partial conviction and a one-year prison sentence.
The publicity and complexity made Kelley's a challenging case, says Calfo. "Patty has learned to think like jurors," he says. He describes her mindset as: "It's not about me; I'm the least important person in the room. It's about the jury. So you don't speak over their heads. You tell a complex story in ordinary language."
Witnesses and juries simply like Eakes, he adds. She makes them comfortable. "[But] when she cross-examines opposing witnesses," he says, "she smiles and picks their pockets."
He recalls a complicated business case where Eakes was cross-examining an expert witness and read a description of accrual accounting. When the witness took issue with her definition of the term, Eakes made it known she had taken the definition from a book––Accounting for Dummies. That brief exchange dented the witness' credibility. 
In recent years, her practice has ranged far and wide. Her cases have included:
Representing the president of a native-owned Canadian cigarette distribution company accused of tax evasion and perjury, charges that were dropped after a jury trial.
Successfully defending King County twice against claims of employment discrimination.
Representing a woman who was sued by an airline pilot who claimed she had falsely accused him of assaulting her in his hotel room.
Eakes' versatility runs counter to the conventional wisdom that attorneys should narrow their focus, says U.S. Magistrate Judge Michelle Peterson. "It's always about facts and the law, but her diverse practice gives her the ability to see the bigger picture in every case."
More recently, Eakes filed a class action lawsuit on behalf of Capitol Hill businesses over lost business and other damages caused after the city of Seattle allowed protestors and others to take over their neighborhood—the infamous Capitol Hill Occupied Protest, or "CHOP"—in the wake of the George Floyd police killing in Minneapolis. 
"I understand and appreciate the impulse to address racial inequities," she says. "But there is no precedent for this. Our clients tried to work with the city, but nobody was responding."
Despite her demanding schedule, she has volunteered at various times with nonprofit programs ranging from domestic-violence prevention to the Seattle Police Foundation. She also helped organize the local chapter of the Women's White Collar Defense Association, mentoring young lawyers.
One tip she gives them is how to connect with juries.
"The language that lawyers use is often lost on the people they most need to convince," she says. "Short, declarative sentences. Plain speaking. If I have to look a word up, then I take it out."
---
Mistaken Identity
Contrary to popular wisdom, prosecutors do have a sense of humor. 
In 2002, Patty Eakes prepared to fly down to Nevada to interview a prostitute who had encountered Gary Ridgway. KING-TV, the Seattle NBC affiliate, misreported it, saying, as she recalls, that the Green River Task Force was going to Nevada to interview prostitute Patty Eakes.
Eakes took it well. KING corrected its story and apologized. Profusely.
Later, she received a note from someone—purporting to be Prosecutor Norm Maleng, her boss—"warning" her about office rules against outside employment. 
Search attorney feature articles