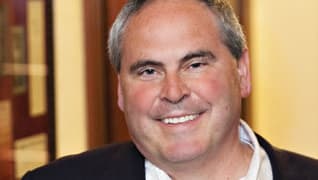 Photo by: Redstone Pictures
The Big-Picture Man
Tacoma attorney Jack Connelly's long-shot cases have triggered major reforms
Published in 2012 Washington Super Lawyers magazine
By Harris Meyer on June 13, 2012
On a recent morning, Jack Connelly drove from his Tacoma office through rush-hour traffic to hear a Seattle-area lawyer pitch him a case involving a less-than-sympathetic victim. One defendant had a strong argument; the other had no liquid assets. "There's a wrong there, but it's a difficult case," Connelly told the lawyer.
He took it anyway.
"Some cases you take for various reasons, and over time they turn out way better than you expected," he says. In this instance, he was concerned about the terrible harm done to the plaintiff, and he also wanted to support his colleague, who had represented the victim in the past and felt passionate about the case.
It would hardly be the first time Connelly took a long-shot case because he saw a wrong that needed to be righted or institutional practices that needed to be reformed. Often, he ultimately lands a big verdict or settlement. In this case, the outcome remains to be seen.
Connelly, 56, is a broad-shouldered, round-faced man. Everyone calls him Jack. On a recent day, he looked a bit like a plainclothes cop in his tieless white shirt, sweater vest and round-toed black shoes with rubber soles.
Over 30 years, he has won many multimillion-dollar judgments from state and local government agencies, corporations and insurance companies, including some of the largest verdicts ever against Washington state.
"He takes on cases that deal with bigger societal issues," says Terry Abeyta, a prominent plaintiff's attorney in Yakima. "There weren't many lawyers willing to take on the government in those cases, and he's been incredibly successful."
Connelly's wins against the state—as well as other entities and private companies—have involved supervision of released felons and oversight of child-care facilities; sexual abuse by sports coaches and police officers; and consumer-safety issues.
He gets particular satisfaction from the cases that bring improvements in public safety. A long-running set of lawsuits against the state starting in 1994 for sexual abuse and other mistreatment at the privately run O.K. Boys Ranch group home for troubled youth resulted in more than $60 million in compensation for more than 60 boys. It led to significant changes in how the state licenses and monitors group homes for juveniles.
"The state had to stop and look at what was going on and make sure it doesn't happen again," Connelly says in his deliberate, low-key speaking style. "It's a sad commentary, but it takes a large payout to cause practices to change."
Defense lawyers say he's a formidable—though polite and cordial—foe. "He sees the big picture well and exploits the opposing side's weaknesses, as a good attorney should," says John A. Miller, who still rues losing a 2008 case Connelly brought against the Pierce County Prosecutor's Office on behalf of a deputy prosecutor who claimed she was wrongly fired; the county was hit with a $3 million jury award. "He took a case I didn't think was very good and got a very good verdict."
"A trial with him is exhilarating and very, very tough," says Sandra Bobrick, Miller's co-counsel in that case. "It's like riding a bucking bronco."
Connelly's views on law and justice are closely bound to his strong Catholic faith.
"There's no way life should be valued more simply because one person made more money," he says while sitting in his office, a historic converted restaurant fronting Commencement Bay in the Old Town section of Tacoma. The two-story building houses the six-lawyer Connelly Law Offices.
Now, despite his busy practice, he's running for the seat of retiring state Sen. Debbie Regala as a Democrat. In 2005, as president of the Washington State Association for Justice, he led plaintiff's lawyers in a successful campaign to defeat a ballot initiative that would have capped noneconomic damages and attorney fees in medical malpractice cases.
At Connelly's century-old, bayfront home, he gets out of his black Land Rover and is greeted by his 6-year-old son, Luke, who breathlessly announces that Grandma just cut her finger and had to go to the urgent care center. Peter, 9, asks Dad to go on a treasure hunt. James, 14, arrives home from crew practice and decides to go up to the rec room over the garage with a buddy and make waffles. "Don't burn it down," Connelly calls out.
With seven children at home, ages 4 to 16, and two older ones away at school, Connelly says it's just too distracting to live at the house when he's in the middle of a trial. So he stays with his colleagues at his "lucky hotel" near the courthouse in Kent from Monday through Thursday during trials. His wife, Angela, hires college students to help with the kids.
"I move out so I can focus exclusively on the trial," Connelly says, sitting on an easy chair with 4-year-old Veronica fidgeting beside him. "Kids are so fun to have and such a challenge that I feel guilty if I'm not focusing on them."
When he's not in trial, Connelly manages to get home in time to drive the kids to their frequent sports practices and attend their games. Defense attorney Bobrick says those events are a factor in scheduling depositions with him. "He would make it clear he had to stop at such-and-such time to make a family commitment," she says admiringly.
Angela says she and Jack try to imbue their children with the importance of making a difference in the world. "I know it's in Jack's heart to fight for the vulnerable," she says.
Connelly, widely recognized as a master of talking informally to juries, now has to campaign as a political candidate. He admits to having difficulty in talking about himself. "Selling yourself is a weird thing," he says.
Angela agrees that her husband is not the back-slapping political type. "With Jack it's like peeling back layers," she says. "Every time you peel back another layer, it's wonderful."
Connelly's great-great-grandfather was an Irish immigrant from County Limerick who worked in the stockyards in Chicago, where Connelly was born. When he was 5, his father, a corporate labor negotiator, moved with his wife and six children to the Tacoma area.
A champion swimmer in high school, Connelly went off to Stanford University, where his public policy major convinced him to become a lawyer. He earned his law degree at University of California Hastings College of the Law in San Francisco. Knowing he wanted to be a litigator, he returned to the Tacoma area and started practicing in 1981 at the insurance defense firm where he interned, Gordon Thomas Honeywell.
He quickly realized he preferred being on the plaintiff's end, and, in an unusual arrangement for a firm that does defense work, started to take on personal injury cases. One of his first high-profile successes was a $2.2 million settlement in 1990 with the Lake Washington School District in a case involving a high school basketball coach accused of sexually molesting five boys. Connelly's successes led to an expansion of personal injury work at Gordon Thomas Honeywell, where he eventually headed a team of 11 lawyers doing plaintiff's work.
In 2006, after practicing for 25 years at the much larger firm, he started his own. Connelly likes the smaller firm environment, where everyone is doing the same kind of work and there are less office politics.
Connelly's office hallway is lined with framed articles of the big cases he and his colleagues have won. He still seems moved by his clients' triumphs and travails.
In 2007, he tried a negligence case against a major ski operator on behalf of a college wrestler injured in a ski jump crash that left him a quadriplegic. He argued that the company operating the terrain park was negligent in building the jump with too small a landing area. There had been only one successful case previously on that issue, and that verdict was overturned on appeal. His firm spent $350,000 on experts and other costs. "As it approached trial, I thought I should have my head examined," he says.
Connelly recalls that on the witness stand, the young man focused on the things he still was able to do, such as becoming an excellent writer. At one point Connelly asked him about his mother, who was sitting in the courtroom, listening in tears. The young man winked at her and said, "I've got the best mom in the world."
"It was a beautiful moment from a kid who'd been a tremendous athlete and now all he could do was move his head," Connelly says. "I think we almost won the case on that wink."
Connelly landed a $31 million award (later reduced to $14 million for assumption of risk) for the young man. But he particularly cherishes the newspaper headline: "Terrain park safety becomes top priority after key lawsuit." Smiling, Connelly says,"This is the kind of headline that turns me on. It's the reward for what we do."
Another case Connelly relishes is too new to be up on the wall. Last November, he and his young partner, Micah LeBank, won a products liability case against a baler machine-maker on behalf of a worker who lost an arm in a factory accident. To combat the defense argument that the worker was responsible for the incident, Connelly stressed how hard the man, his wife and their two young children had worked to achieve a "new normal" in their life.
Unable to return to factory work, the laborer went to school and trained as a medical technician. He finished at the top of his community college class and got a job at a children's hospital. "Instead of presenting him as someone looking for compensation or a handout, we highlighted that this was a guy who was very heroic and turned his life around," Connelly says. "The jury appreciated that fact."
Enough that the jurors awarded his client $4.85 million. The case was appealed and ended with a $4.7 million settlement for the man.
"Jack presented the positive side of the plaintiff as well as the negative, so jurors got a much better-rounded picture of the individual," says King County Superior Court Judge John Erlick, who presided over that trial. "I don't want to say he's understated, but some attorneys overplay their cards and undermine their credibility. They ask for too much money, exaggerate someone's injuries or engage in hyperbole. I don't see Jack doing that."
Connelly agrees that overplaying a case and trying to pluck jurors' heartstrings is counterproductive, especially at a time when so many Americans have heard the tort reformers' arguments and are suspicious about injury claims.
"We're living in a time when juries are cynical, and the most distrusted person in the courtroom is the plaintiff's attorney," he says. "The most important thing for a trial lawyer is to understand that those 14 people in the jury box see everything and collectively are about 40 times smarter than the attorney."
He describes a 1999 negligence trial against the Seattle Fire Department in which he represented the young widow of a firefighter who had died, along with three colleagues, in a warehouse blaze. The city was offering her far less than it offered the other wives, who had been married longer. Connelly chose not to put the very sympathetic widow on the stand, instead showing damages through her sister's testimony and photos of the couple.
"A lot of what you do in trial is by instinct," he explains. "It turned out not only to be compelling, but it preserved her dignity and didn't make it look like she was up there testifying to try to make money." The jury awarded her $5.6 million.
Abeyta says Connelly's approach has had an impact on his Washington colleagues. "He's taught all of us trial lawyers a lot about how to connect with jurors and present a case in a way that makes them feel they are not only compensating someone who's been hurt but also making government more accountable and their communities safer."
Connelly says, "If you present juries with the actual, honest, down-to-earth truth about people as they really are, there's a beauty in that, and jurors respect that. My job is to bring out the humanity of my clients, because humanity is beautiful."
Search attorney feature articles