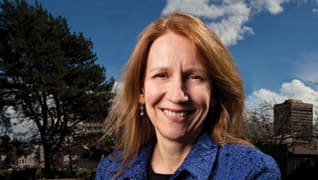 Photo by: Rick Dahms
The Competitor
Rebecca Ringer's battles for justice began with Sadie Hawkins Day
It was a tough case. The plaintiff, Sammy, was a brain-damaged 4-year-old boy. Rebecca Ringer's job: to prove that her client, a pediatrician, hadn't missed a diagnosis.
"The allegation was: He was having significant vision loss and brain damage that was going to result in him being a special-needs child with limitations in adulthood," says the veteran medical malpractice attorney. The plaintiff's case rested heavily on pictures taken before he was a year old showing a white spot on one of Sammy's pupils, which they contended was a congenital cataract. 
Ringer knows her medical science. She located a renowned expert on using photos to vision-screen children. He told the jury, says Ringer, that "what they might think looks like a cataract just plain isn't." She walked the jurors through her client's successful medical track record. "I think it was clear to the jury she's a very detailed, cautious provider that wouldn't have missed a significant finding, even once, let alone multiple times," she says.
Defense verdict. Her fifth one in 2010. If there's one thing Ringer, 51, is known for in the legal community, it's this: "winning," says Paul Whelan, a successful Seattle attorney who happened to be her opponent in that case. "She's got a natural way with the jury."
Says Francis Floyd of his unassuming partner at Floyd, Pflueger & Ringer, "She has a win-loss percentage that's almost unparalleled. She speaks softly, carries a very big stick."
Ringer didn't always speak so softly. At 13, she was fed up. She'd just read To Kill a Mockingbird and was hell-bent on righting the wrongs at her high school in the tiny Midwestern town of Quinter, Kan. "They were actually ready for me to leave high school early because I'd made myself rather a pain by trying to institute separation of church and state—which didn't go over well—and some gender equality."
Ringer also had a beef against the idea of having one, and only one, annual event at which girls were encouraged to take a turn asking the boys for a date. "Every year, I would crusade against that stupid Sadie Hawkins dance," says Ringer, petite, bright-eyed and still impassioned. "I'd make the same speech: Let's just declare that it's Sadie Hawkins era! If a girl wants to ask a boy out, it's fine from now on."
Though Quinter, population 1,000, had no attorneys, Ringer steeped herself in books about lawyers and the "best closing arguments," and invoked then-new Title IX when she wanted to make a point for gender equality by going out for the boys golf team (she won that case, too). "I had never golfed, ever," she admits.
The wheat farmer's daughter had big dreams. "I would go out and be a criminal defense lawyer, save the innocent from the weight of the system bearing down on them. It seemed great," she says. She sped through high school in three years; studied political science at the University of Kansas; and, with high marks, headed off to Cornell Law School, the youngest in her class. While there, she interned at Prisoners' Legal Services, fighting for inmates' civil rights.
Always decisive, Ringer met and—nine weeks later—married her husband, Bill Cohon. She gave birth to her son, Dylan, before graduation, "which isn't that unusual for western Kansas," she says. Her classmates at Cornell insisted on including Dylan in the informal Class of '83 photo.
When Ringer graduated, she was certain the Legal Aid Society, the public defender in New York City, would hire her. Turns out they said, "Thanks, but … no, thanks." "I think they looked at this hick from the little town in western Kansas and thought I'd be eaten alive by the clientele," she says, laughing.
But nobody—then or now—eats Ringer alive. She took a job at a New Jersey firm that did medical malpractice defense and immediately found it fascinating. She spent those early years brushing up on medical science, helped by Bill's family members, who were doctors in different specialties. In 1987, Ringer and her family moved to Seattle.
"I like living in a community that's racially, culturally, religiously, sexually oriented diverse. It just feels richer," she says.
Peruse local newspaper clippings and you'll glimpse her name and the few tight-lipped comments she's made about clients over the years.
In 1995, Dr. Gordon Thomas was accused of sexual misconduct with a patient. He admitted to having sex with her, but said it was consensual. "She came to him for a hearing difficulty. They hit it off: He wasn't married; she wasn't married," says Ringer, who represented Thomas. When the woman found out Thomas had slept with others, according to a Seattle Times article, she broke off the affair. "One of the negligence claims against Dr. Thomas was that he had somehow exacerbated her multiple personality disorder by not referring her for psychiatric care," says Ringer. The jury awarded the woman only $45,000: "less than the offer that we made before trial," says Ringer.
More recently, another client—a former King County Jail doctor—was accused by the state of unprofessional conduct, more than three years after the death of an inmate in his care. "I think the pace at which they have conducted their investigation shows they can't be hugely concerned," Ringer said dryly to the Seattle Post-Intelligencer. According to the P-I, the inmate was reportedly a heroin addict who was suffering from withdrawal symptoms. The case is ongoing.
Ringer prefers to keep her clients' troubles private. At her modest office, she sifts through medical records, researches science and locates expert witnesses who will help bring her clients to resolutions against any number of allegations. "Anything from psychiatric care to an allegation to foresee suicide attempts, to failure to timely diagnose glaucoma, to failure to timely diagnose breast cancer." She pauses. "I like how it's so varied."
Providers like Virginia Mason Medical Center, Providence, Group Health, The Everett Clinic, and numerous individual doctors and nurses have reached out to Ringer.
"Most of my clients are pretty straight with me on whether they think there is a problem in their care. If there is, they tell me, 'I've thought about this one a lot and maybe in retrospect, I should have done something here, earlier, versus here, later,'" Ringer says. "But if they have gone back and looked, and really do think that they met the standard of care, it's hard for them to understand that there are professionals taking a different position.
"They're very nervous about juries. They're thinking, 'That's not a jury of my peers; I need a bunch of doctors deciding my case.' I have to spend a lot of time educating them that I've seen it time and time again—you put 12 people together and they get real smart as a functioning group. Somebody's going to get it."
"She's not afraid to try a case," says partner Floyd. It's part of why he hired her after she and her partners at Kingman Peabody Fitzharris & Ringer disbanded in 2007. "Some litigators talk about going to trial, but they don't really want to. She is preparing the case for trial from the very first day; she's thinking about tactics, about issues that might come up." Ringer's taken 50-plus cases to jury verdict.
Her wins last year included an esophageal-perforation case. After a procedure, the patient's esophagus had a stricture. "Meaning the [esophagus] is supposed to be open like this, and it was shrunk down," Ringer explains, demonstrating with her fingers. Her doctor client tried to open the stricture by passing a weighted tube down it—the typical remedy. "What you're trying to do is almost a controlled tear. But if it tears more, you develop a hole, [so] you're putting food down an open hole in the chest cavity, which is really, really bad," she says. That happened; the patient sued. Ringer argued to the jury that it was an inescapable risk of the procedure. "Any doctor can do everything right and still have this occur," she told them. 
 "She knows her medicine better than any other lawyer that I've met," says Floyd. "That's extremely important if you're going to be doing med mal defense."
Over the last five to 10 years, Ringer's focus has shifted—from mostly med mal defense to a greater emphasis on administrative law and licensing matters, thanks to increased scrutiny from the state Department of Health. "They've issued a lot more letters of investigation to doctors, nurses, physical therapists, pharmacists," she says. She thinks it's because the department received criticism for lax oversight of a few "bad-apple doctors." At any given time she's defending the practices—"livelihoods," she says—of more than 15 clients before boards.
 "I do appreciate that they have an incredibly difficult task," she says of the department, but confirms their tepid relationship. "Here's a classic example," she says. "I walk into [a hearing] and they all have metal triangular nameplates—every commission member, the judge, my adversary. I'm like, 'Where's mine?'… I mean it's not really fair that I'm so much the outsider that I don't get my own nameplate." So Ringer (think: big stick) makes them all take down their nameplates.
She's glad to find the opposite true in the courtroom, where she's seen many of the same opposing faces for 20 years. "It encourages all of us to really abide by the high ideals of civility and professionalism that I think govern the entire profession," she says.
Last year, Ringer served as president of the Washington chapter of the American Board of Trial Advocates (ABOTA), embodying those ideals. "She has a lot of respect from both the defense bar and the plaintiff's bar," says Whelan. 
"She's honest and very ethical. She calls it the way it is," says Floyd.
During her helm, ABOTA launched the James Otis Lecture Series, which invites local high schools to send a promising student to the state Supreme Court on Constitution Day (Sept. 17). The inaugural lecture told the history of the Washington courts. "[Former] Justice Gerry Alexander is just a brilliant historian," says Ringer. "Justice [Tom] Chambers has the wig and the robe to play the role of Justice [James] Madison." Ringer loves stirring excitement for law in the next generation.
Including her son. Dylan's now an associate at her firm. "Where I come from, it was pretty common—the family farms tended to go to the sons. … The pharmacist had a son who became a pharmacist," she says, "because it's fun to be building something with your offspring." Her daughter, Blossom, is studying comparative religion in grad school.
OK, Ringer doesn't always reign in court. Take the tennis court. Her record there is spotty, but not for lack of passion. "She takes more pride in her tennis game than anybody I've ever met," says Floyd. Ringer says the game is another outlet for her competitive instincts. She's also an ardent fan.
So, no, Ringer's not in Quinter anymore (though she receives the local paper: "Helps me keep up on the price of wheat," she says). Nor in Monte Carlo, where she recently watched tennis pros play backdropped by the Mediterranean Sea. But she likes her environment: "I tell people I'm pretty lucky because I get to spend my [time] with a whole bunch of people who are smarter than I am, learning new stuff every day."
Search attorney feature articles
Helpful links
Other featured articles
Aida Macedo's search for the perfect practice
Family attorney Justin Crozier was an Army mental health specialist
Karl Tilleman is as sure a shot in court as he was on the court
View more articles featuring lawyers
Find top lawyers with confidence
The Super Lawyers patented selection process is peer influenced and research driven, selecting the top 5% of attorneys to the Super Lawyers lists each year. We know lawyers and make it easy to connect with them.
Find a lawyer near you