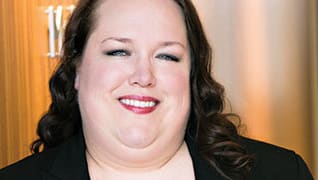 Photo by: Bob Geballe
The Great Debater
Tacoma family law attorney Laura Carlsen can parry like nobody's business
Published in 2015 Washington Super Lawyers magazine
By Bob Geballe on June 15, 2015
There's nothing unusual about a lawyer working long hours, spending weekends poring over cases, chewing on the details of a litigation over dinner.
Laura A. Carlsen takes things further. "I dream about cases," confesses the Tacoma family law attorney. "I worry a lot about all my clients. I'm still learning to keep it all in balance."
Her passion for the law has its roots in her high school debate club. She attended Auburn High School, where her debate coach was Michael Burton, also an English teacher and baseball coach. Burton took the debate program from an outlier to one of the largest such programs in the state. "He was amazing," she recalls. "He secured a lot of funding for us, and he was a great coach."
Carlsen also left an impression. "She was very strong analytically—very smart and very focused," Burton recalls. "A great team leader and a great researcher."
She discovered a talent not only for constructing a good argument, but also for thinking on her feet—and in public. At a national tournament in 1997 at the University of California at Berkeley, a multiday event with hundreds of participants, Carlsen and her debate partner finished eighth. "I was surprised, but not really," she says. "We had been successful locally, and I was well-prepared."
What she wasn't prepared for was her reaction to Berkeley. "I fell in love at first sight," she says. "It was the most interesting town I had ever been to."  Auburn, Carlsen explains, was homogenous during her childhood. Berkeley, not so much. "It was very diverse," she says. "On Telegraph Avenue, I saw a woman leading a man on a leash. That was something new to me." 
Exposing the students to a different culture was a conscious choice, Burton says. "We'd always take an extra day to see Berkeley and San Francisco. For kids from Auburn, seeing that diversity was unbelievable. And Laura really bought into it."
During the trip, Carlsen decided she wanted to attend UC Berkeley. She also discovered that many high school debaters planned to become lawyers. "The whole debate training really gave me confidence," she says. "I had 15 to 20 public speaking events. At some point you've made every mistake possible, so you just do it."
After college, Carlsen got a job running a cinema in Berkeley, then moved back to the Puget Sound area and managed a Cold Stone Creamery in Federal Way. "I knew I wanted to be a lawyer," she recalls, "but I felt I was young. I wanted to gain a sense of responsibility."
She then got a job as a paralegal assistant at McKinley Irvin, where her aunt worked. Firm partner David Starks says Carlsen's abilities became apparent early on. "I knew she was going to be good at this. She helped me with the longest family law trial I have ever had—a three-week-long litigation dealing with custody of an 8-year-old girl." The case pivoted on what Starks calls an "abusive use of conflict," a situation in which one parent compiles a list of generally incidental events, trying to prove a pattern of abuse or neglect. It was complex and required an immense amount of information-gathering and organization.
Within a year, Carlsen headed to Eugene for law school at the University of Oregon. There, her experience outside of school paid dividends. "I saw that those of us who had had jobs knew how to buckle down," she says, "but a lot of people who'd gone straight through were mainly partying."
When she graduated, McKinley Irvin was happy to hire her. "When we hire people as lawyers, we're usually looking for three to five years of experience," Starks says. "But we were so certain of Laura that that wasn't an issue."
Carlsen recalls, "They didn't baby me. David told me, 'It's going to be 'trial by fire.' And he had me file a motion immediately. It was daunting."
"Maybe I did that because that's how I was initially interned," Starks reflects. "If the boat is going to float, you start the water into the tub. Whatever she was going to learn, she was going to learn faster on her own. The good ones are going to transition from coming to you and asking, 'What should I do?' to telling you, 'This is what's going on.'"
The emotional demands of family law soon became clear to Carlsen. "I was representing a 19-year-old girl," she relates. "She had been abused by her husband; she was essentially kept as a slave. Her husband and his counsel said she basically deserved it." Because her client had learning disabilities, Carlsen says, "it was really hard for her to speak for herself. When I listened to her husband talk about her, I was so upset.
"I just realized that, whatever happened, I would still be there. … I wouldn't back down." The court commissioner granted her client a restraining order and a protection order against domestic violence.
"A family law lawyer is going to meet a lot of people at the worst moments—their hair isn't done, makeup is a mess—you have to be able to help people when things seem the darkest," Starks says. "You really have to love people to do this well."
Carlsen's compassion for people going through tough times originates from her childhood; both her parents had gone through divorces from previous spouses. "So I do have an understanding of what that means," she says. "When a case gets nasty, or it's someone's safety, or there are children impacted, we will do whatever needs to be done."
Another difficult case involved a man who was attempting to paint his wife as erratic and a poor parent. "He had told her that they were all moving to another state," Carlsen says, "so she got a job and relocated. But after she moved, he flipped things around and stayed here with the children. Then he filed for divorce, sued for custody, saying she had abandoned them, and got a temporary custody order."
The court appointed a guardian ad litem to oversee the children's care, and Carlsen decided the best approach was not to fight the temporary order directly, but to have the mother gain the guardian's confidence. "I realized that [the mother] was just such a warm, loving person—we wanted the guardian to get to know her.
"One day, we were getting close to trial, and it all just clicked. The guardian saw what we had seen—who she was, how the husband had manipulated things to make her look like a poor parent." The mother ended up getting custody.
Working just minutes from Joint Base Lewis-McChord, Carlsen has become an expert in military family law, which is close to her heart since her father and both grandfathers are veterans. "There's a large group of people who move a lot, and are subject to state, military and federal law. And deployments are hard on families," she says. "Younger couples, who may be in different countries for a long time, find it especially difficult."
The intersection between military and state law is complex. "Generally speaking, all military benefits are governed by federal law," she says. "There are some benefits the state can address because federal law has allowed it, and there are many others states cannot address because federal law has forbidden it. Even within those categories, there are rules and guidelines."
Carlsen has also found herself handling a growing number of cases involving the LGBT community. In 2009, she handled a case involving a lesbian couple and an adopted Russian child. The couple co-parented the child for more than seven years, then parted, and one was left without parental rights. At that time, the issue of parental rights in same-sex relationships had come before the state courts only a couple of times. "We had a 2 ½-week trial to establish that the co-parent had parental rights," Carlsen says. "As a result of that case and the others, Washington state now recognizes the parental rights of both parents in a same-sex partnership." In 2012, of course, the state went a step further by legalizing same-sex marriage.
After hours, Carlsen gives back to the community. She judges moot court at Seattle University and the University of Washington. She also writes for the Tacoma-Pierce County Bar Association and serves on its editorial board. She teaches continuing legal-education classes on topics such as military family law and spends time at free clinics giving military families basic legal information.
An avid photographer, Carlsen has an office full of photos of her travels through Europe. She also loves to head into the mountains with Finn, her 3-year-old golden retriever, who carries his own backpack. Carlsen is preparing for a 12-day trip around Mount Rainier this summer, on the Wonderland Trail. Hiking is her favorite way to recharge her batteries after an emotionally demanding case. For just a while, she says, "I love pretending that civilization doesn't exist."
Search attorney feature articles