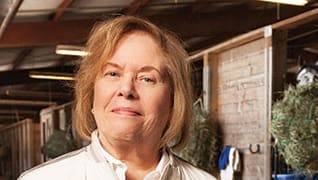 Photo by: Rick Dahms
The Many Lives of Janet George
The onetime blackjack dealer, pilot and prosecutor brings a lot—especially empathy—to the family law table
Published in 2018 Washington Super Lawyers magazine
By Bob Geballe on June 18, 2018
"Wait a second, I can find it," says Janet George, rummaging through a pile of documents on a table near her desk. She pulls out a 1977 issue of True Detective: "I'm in here." Sure enough—three-quarters of the way through "The Tragic Revenge of the Jealous Husband" by Seattle true-crime writer Ann Rule—there she is, in a slightly blurred black-and-white photo, poring over documents with fellow prosecutor Doug Whalley at the trial of wife-killer Heinz Jager. 
The cutline reads: "Prosecutor Janet George was particularly adept at questioning the psychiatric experts." Rule later used the Heinz Jager story, and this same line about George, in her book Mortal Danger.
For someone who spends her days engineering marital endings for high-net-worth clients—such as Julia Calhoun, who divorced former Microsoft executive and minority owner of the Seattle Mariners Chris Larson in 2012—a past appearance in a true-crime magazine might seem a bit incongruous. But then, George is anything but traditional. Her hobbies and professional résumé are nothing if not eclectic. 
She's been a blackjack dealer, a flight attendant, a psychiatric nurse and a King County deputy prosecutor. She sees this melting pot of vocations as her field study in human behavior, the foundation of her law practice. 
"People who are going through divorce can be difficult, angry, upset," George says. "I like helping them through the most difficult part of their lives. Almost, the more challenging it is, the more I like it."
Longtime friend Jim Fletcher, retired as senior partner at Preston Gates (now K&L Gates), says, "Janet is probably the most empathetic person I know. She just has a tremendous feel for people." 
George grew up in the fertile inland terrain of Northern California. Post-World War II Salinas was a well-to-do town, populated by "a lot of rich farmers," she recalls. Her parents moved there from Texarkana, Texas. "My mom was a classy dresser—a Southern lady who loved music and culture," George says. "My dad was the opposite. They were not well matched, but they stayed together." 
George describes the Salinas of her childhood as a "horse town," and she was obsessed with horses. Still is. "I have two brothers, but I was my mother's problem [child]," George says. "I'd come into the house with my riding clothes on, and she would make me change in the garage. I was a tomboy."
Every summer, Salinas had a big rodeo. "I loved to ride in the opening parade and sit on the fence during the rodeo," George remembers. The event attracted Hollywood stars, including longtime John Wayne co-star Ward Bond, and two up-and-comers from the TV series Rawhide: Eric Fleming and Clint Eastwood. The celebrities usually served as grand masters. "When people asked me why I didn't get married," she says, "I tell them, 'I met Clint when I was 16, and he asked me to wait.' That shuts them up." 
After high school, George wanted to go to college in Colorado ("so I could ski"), but her parents said no. So she attended community college for a year, then transferred to nursing school at Stanford. "I got into psychiatric nursing. It just fit. It was about helping people do things differently," she says.
One summer during college, George got a job dealing blackjack at a Lake Tahoe resort: "I had grown up with cards, so I knew how to do all the fast, fancy-dealing stuff. I also could keep track of what I'd dealt, and we only used two decks at that time."
After graduating from Stanford, she came to the Pacific Northwest to get her master's in nursing from the University of Washington. But first, she did a stint as a flight attendant with Flying Tigers, a low-cost carrier that flew all over the globe. "They were like bush pilots," George says. "A lot of World War II flyers who flew by the seats of their pants." 
After getting her master's degree, George became an assistant professor at UW's nursing school. She also worked as director of nursing at Seattle Mental Health Institute, counseling families and young people in crisis. "That experience taught me to be non-judgmental," she reflects. "I had toyed with getting a Ph.D. in nursing, but I guess I was ready for another challenge. I was interested in the intersection between medical and legal issues, so I decided to go to law school." 
In 1972, George was accepted into the first class at the University of Puget Sound's law school, vaulting through the program in 24 months. 
After graduation, George joined King County Prosecutor Chris Bayley's criminal defense team—and that's how she ended up in True Detective. "That was a great job," she says. "There was a lot of collegiality in the office, and I loved jury work, but I knew I didn't want to be a prosecutor for life." 
After two years in Bayley's office, George started looking around. She took the first job she was offered, with Wolfgang Anderson, a well-known family law attorney. 
"People told me, 'Don't take that job, because you'll be in family law the rest of your life,'" George says. They were right. "I had intended to be a medical malpractice lawyer, but Wolfgang introduced me to family law, and I really liked it. I care about people."
After working with Anderson a few years, she set out on her own, building her firm mainly through word of mouth. In 2017, she joined McKinley Irvin.
Through nearly four decades, George has crafted her approach to family law: "I don't consider divorce a failure. It's not right or wrong, and I just want to see people get through it with as little damage as possible." 
Bellevue-based divorce lawyer Tom Hamerlinck has worked the opposite side of the bench from George a number of times. "Janet is a very effective advocate," he says. "We have very different styles. I am very detailed and fact-based, while she will focus on the personalities in a case and leave the specifics to the expert witnesses." 
That difference in approach played itself out when George and Hamerlinck handled the Larson-Calhoun divorce, which involved a net worth of hundreds of millions of dollars. "I had to establish what was my client's separate property," Hamerlinck says. "Her presentation is … more focused on the big picture. She emphasizes her client's contribution to the marriage." 
George adds, "Chris' approach to the division of property was more pragmatic, mostly based on worth. Julia's reasons for wanting things were more emotional."
The two-week trial presented plenty of opportunities for friction between the attorneys. Those opportunities were happily missed. "There were thousands of exhibits," Hamerlinck recalls. "But we agreed to use electronic exhibits; otherwise we would have filled the courtroom with boxes. I am able to work those things out with Janet, but not always with other lawyers. 
"I often kid her because she's so interested in how people got together. I tell her she always believes her client is the 'good' person." 
Fletcher says George is a pro at amicable endings. "She has handled a couple of divorces for friends of mine; they were done in such a professional and non-acrimonious way. … One couple actually got remarried three years later. She is very holistic in her approach."  
"With my background as a therapist, I help my clients work through their anger and make a decision," she says. "That's part of divorce: You just have to deal with the anger. They get half their money, half their kids; they get dumped, so there's a lot of emotion, and I help them through it so they can make more rational decisions."
Another focus for George is ensuring the children suffer as little as possible. She's a big donor to CASA, which provides legal services to children in situations of divorce, abuse and neglect; and Treehouse, which helps children in foster care. "Julia Calhoun had over a hundred foster children," says George, "and she got me interested in it. I'm glad I did. These kids in foster care—they are tomorrow's world. The better they have it, the better the world.
"I will want to volunteer time if I retire. But most of my friends say I'll never leave the practice. I love it; I love the people; they bring fascinating issues, and I learn from each one."
---
The Name is George. Janet George.
Janet George has a slate of activities that would make James Bond happy: racehorse owner, skier, golfer, former pilot. 
During the '90s, George says, "I learned to fly with the Wings Aloft club based at Boeing Field. Then I bought a Cessna turboprop. I loved to fly to Sun Valley to ski, or fly to the little airfields around the state. I love the little cafés at the airports." 
George folded her wings a couple of years ago, when she decided her eyesight was no longer up to par. She decided to golf, a sport she has attacked with characteristic enthusiasm, and with the mixed results most golfers would understand. "I went out 17 days in a row last Christmas to try to learn how to hit the ball right," she says of working with a simulator. "I learned a lot, but I don't know if I'm any better. I'm hoping to see in about two weeks."  
She also owns part shares in five racehorses. "I have a box on the finish line at Emerald Downs and try to attend any time they race," she says. "We go to the paddock where they saddle and walk the horse around, and we speak with the jockey and trainer. Just like the big kids at the Kentucky Derby."
Search attorney feature articles