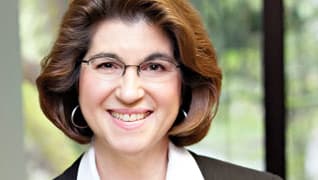 Photo by: Redstone Pictures
The Right Ingredients
Family lawyer Marijean Moschetto's recipe for success: empathy, diligence and experience
Published in 2013 Washington Super Lawyers magazine
By Peter Lewis on June 11, 2013
In Marijean Moschetto's world, three passions—family law, psychology and baking—happen to intersect.
The one she's worked at the longest—if you count Girl Scouts—is baking. 
"Master baker" is closer to the mark, friends say, pointing out that Moschetto's devotion to creating blissful sweets speaks to her performance as a family law attorney. Cooking tolerates improvisation. A little bit of this, a little bit of that. Baking, on the other hand, is more precise. To get the right result, you have to achieve specific chemical reactions.
"If you don't add the right amount of leavener," Moschetto notes, "you're going to have a flat mess."
Washington State Supreme Court Justice Mary Fairhurst met Moschetto when they were on the board of governors for the state Bar. "With baking, you have to be careful and precise," Fairhurst says, "and that is what Marijean is, both in baking and her family law practice."
That's where Moschetto's interest in psychology—the field she originally intended to pursue—comes in handy. In a sense, practicing family law, which includes playing the part of confessor and counselor, has brought her back to that arena.
The third passion, family law, is one she's been practicing for more than three decades.
Moschetto would be the first to admit she's not as in control of outcomes for her clients as she is of a pan d'oro or all manner of biscotti.
After her introduction to baking in grade school as a Girl Scout, she continued to learn from an aunt who was in the catering business with her sisters, one of whom was an exceptional baker. They prepared Italian desserts. "And I got to sample the goods," Moschetto says. She loves baking, she says, because it "makes people happy."
A self-described "advanced beginner" in Italian who is learning the language at Bellevue College, Moschetto tests out new recipes on her classmates.
She is far more than an advanced beginner when it comes to family law. Unlike criminal and contract law, where cases typically hinge on the application of relevant statutes and case law, she notes that judges in family court have broad discretion. And when family law cases go to trial, the judge is also the jury.
Imagine a divorce case in which spousal maintenance is at issue and the higher-earning spouse makes $100,000 a year. He or she makes the case that $1,000 per month for a year is a good deal.
The lower-paid spouse earns $30,000 a year and explains why $2,000 a month for four years is fair.
The judge rejects both proposals, and determines instead that $3,000 a month for 18 months is an appropriate resolution.
"The judge gets to make the call," Moschetto says. "It doesn't make sense to the person that makes $100,000; doesn't make sense to the person that makes $30,000." And yet the court's decision may be just as reasonable as the parties' requests, she says.
Court-decreed spousal maintenance and custody decisions can be very difficult to swallow, especially when the client "is looking at you to be their savior," Moschetto says. "But that's the nature of discretion. The judge looks at the whole thing and says, 'This is what makes sense to me, based on my experience, my judgment and what the law tells me.'"
Unlike California law, Washington statute allows judges to dip into "separate property" assets acquired before marriage, which puts more in play, Moschetto notes.
As a result, the most reliable way for soon-to-be-exes to control how things are going to turn out is to negotiate resolutions instead of letting a judge decide, she says.
That's what more and more of her clients are doing. Compared to when she started out, the clients Moschetto encounters these days are far more sophisticated. They arrive ready to help shape their futures rather than rely on her to handle everything. They also tend to better understand how to manage money matters.
Given the high cost of trials, the reality that most of her clients have limited resources,  and King County Superior Court's requirement that opposing parties first try to resolve differences through mediation, it's no wonder 95 percent of family law cases settle pretrial,  Moschetto says.
Moschetto was born in Seattle, the middle of three sisters. As kids, they all worked for their father, Joseph Moschetto, who practiced law in King County for more than 35 years.
They answered the phones and ran errands. Their father, who maintained a general practice, started out in a single-room office he shared with another lawyer in the old Olympic National Life Building on Madison Street between Second and Third Avenues.
Moschetto grew up in Seattle's Beacon Hill neighborhood and attended Catholic schools: St. George Parish School and Holy Names Academy, from which she graduated in 1969. She earned her undergraduate degree at the University of Washington.
She initially planned to become a psychologist but gave up the major because she found the program at the UW "too much in the head and not enough on the ground."
"There was not enough contact with people and whatever was really going on with them," she says. "That's what really attracts me … dealing with people on day-to-day issues and becoming involved in solving those issues."
She earned her law degree at University of the Pacific's McGeorge School of Law in Sacramento, then returned to Seattle and joined forces with her father. They practiced together in Seattle until they moved to Bellevue in the '80s.
One of her Dad's longtime clients was Frank Colacurcio Sr., the strip-club magnate and alleged organized crime figure who served time for tax evasion and racketeering. He was under indictment when he died in 2010 at age 93.
Moschetto's father was not Colacurcio's defense attorney, but was the lawyer for his corporations, she says. She knew nothing about the defense issues.
"He was Uncle Frank to me," she recalls. 
After her father died in 1989, Moschetto and another attorney at the small law firm, Joe Koplin, who practices personal injury and workers' compensation law, started their own firm.
"We have a saying in family law that we see good people at the worst times of their lives," says Moschetto.
Hurting spouses sometimes have trouble separating what's good for their children from what they believe they are entitled to. Or from their feelings of loss, anger or sadness linked to a relationship they never expected to fail.
Parsing these sensitive, emotional issues while trying to arrive at an equitable arrangement that covers parenting, spousal maintenance and property division entails far more than "simply taking somebody's information and saying, 'Well, this fits this law,'" Moschetto says.
The most highly charged question? Who will have custody of the kids for what periods of time.
"Even after 33 years of practice, that [topic] can be, for me, some of the most difficult discussions," Moschetto says.
The scope of family law has grown with the recognition of committed relationships between gay and lesbian partners and, more recently, legalization of same-sex marriage in Washington. She hasn't seen any yet, but it's just a matter of time, Moschetto says, before same-sex divorces arrive.
A case from about 20 years ago that still stands out involved a devout Catholic couple who were married more than three decades. The husband came to believe he needed to change his gender. He withdrew community assets to travel to Southeast Asia for a sex-change operation.
The wife came to see Moschetto to initiate a divorce. The wife would have been within her religious rights to condemn her husband for committing a sin. It wouldn't have surprised her, Moschetto says, if she had left him.
But that's not what happened. The wife did not want to hurt her spouse, and the couple wanted "to honor what they had before," Moschetto says. They continued living together during and after the divorce, treating each other with kindness and respect.
The lesson for lawyers, Moschetto notes, is that people can adapt and that "these cases are not always made up of people that hate each other."
Moschetto's advocacy for amicable divorces is one reason why M. Janice Erickson (Michels) believes she is so successful.
"She really works for that as a first approach," says Erickson, former executive director of the state bar association. "Settlement; any process that will result in a divorce without angry people, especially when there are kids."
For nearly two decades, Erickson served as King County Superior Court clerk, in charge of a variety of court services. She also volunteered as a court-appointed special advocate looking after the interests of kids caught up in divorces. That gave her a firsthand look at how attuned Moschetto was to their needs.
"There are plenty of family law lawyers," Erickson notes, "who are more interested in winning at all costs."
When Moschetto started her practice, she says, "it was accepted that mom would get the kids and dad would have alternating weekends. And Dad would pay child support of some amount. The amount was either negotiated between lawyers or decreed by a judge, and frankly, I don't know if it was ever adequate for the kids."
Things changed on that score in the '80s, Moschetto recounts, when the feds, using funding as a stick, insisted on a predictable system of child support. That led to new child-support statutes in Washington and other states to standardize systems.
Like most family lawyers, Moschetto represents both husbands and wives. In addition to seeing more women as the main breadwinners these days, she has noticed an increasing number of separating parents whose starting point is that the kids "are the children of both of them and they should have equal time."
Like her father, Moschetto has employed her sisters at her law firm. Her older sister still works as Moschetto's office manager and receptionist. A younger sister worked as her law partner's secretary and later became Moschetto's secretary. At one point, she hired her mother to answer the phones.
"You know the Italians, it's what they do," she says with a smile.
Moschetto is committed to helping lawyers become well-rounded people, "not just lawyers in the courtroom or their office." As former chair of the state Bar's Professionalism Committee, she offered tips to other lawyers on how to be courteous not only to their clients but to opposing clients. Now she is poised to take over as chair of the Washington bar's Solo and Small Practice Section, which offers guidance on how lawyers can run their practices in a civil manner, including the do's and don'ts of billing.
A tragic, high-profile case that hit close to home in November 2004 highlighted the need for civility.
Kevin Jung, a Korean-American attorney who rented space in Moschetto's law office, was getting in his car in the office parking lot when another lawyer named William Joice shot him in the head. Opposing parties in a civil suit had hired the two attorneys, and Joice believed that Jung "was being too aggressive," Moschetto recalls.
Convicted of attempted first-degree murder, Joice received an exceptional sentence of more than 30 years. Jung survived the attack but suffered severe brain damage. Fifteen months after he was shot, he died, at age 45, leaving behind a wife and two young sons.
It turned out that Joice, a former Snohomish County deputy prosecutor, had a substance-abuse problem, a failing business and a troubled marriage, Moschetto recalls.
She believes that helping lawyers get a better handle on their practices can lead to less stress and more balanced lives. Moschetto leads continuing legal-education classes and participates in other bar activities. Other attorneys are especially happy to serve on her committees, Erickson says, because in addition to the benefit of her legal acumen, they know there's a bonus: platefuls of homemade Italian cookies.
For her part, Moschetto counts Fairhurst and Seattle-based Judge Mary Alice Theiler, chief magistrate of the Western District of Washington—both of whom served with her on the state bar's board of governors—among her mentors. 
Along with Erickson, the four women remain baking buddies—the "Four M's" share the same first initial—and meet quarterly at each other's homes. In December, Fairhurst hosts a colossal holiday bake-off at her house.
"In December, when we meet at my home in Olympia, we do our holiday baking all day," says Fairhurst. "Marijean, besides baking herself, coaches us as we bake and have questions.  Often she spends so much time helping us that she continues [her own] baking when she gets home."
Search attorney feature articles