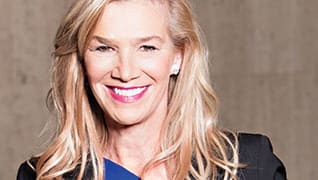 Photo by: Redstone Pictures
The Rock Star
High-profile trials and links to headline-grabbers like Amanda Knox and Mary Kay Letourneau have garnered the spotlight for Anne Bremner, bringing celebrity and sprezzatura
Published in 2014 Washington Super Lawyers magazine
By Ross Anderson on June 13, 2014
In the fall of 1988, a WELL-respected retired police official took the stand in King County Superior Court, testifying as an expert witness on behalf of a Seattle man who claimed the city had violated his civil rights by accusing him of arson—a charge which had later been dropped. On cross-examination, the witness assertively fielded questions from a young lawyer defending the city—a striking, blond-haired 30-something woman with an easy smile.
His testimony complete, the cop stepped down and commented to the plaintiff's attorney, David Allen, something to the effect of, "Well, I showed her …"
Allen could only sigh and think to himself: Quite the contrary. "He grossly underestimated her," recalls Allen, an esteemed Seattle criminal defense attorney with Allen, Hansen & Maybrown. The expert witness had been effectively discredited, picked apart and dismantled by a defense lawyer half his age.
The lawyer who won for the city was Anne Bremner. Twenty-five years later, nobody is likely to underestimate her courtroom skills. She has tried scores of cases—including dozens defending police officers—with seldom a loss.
Bremner is also one of the state's most recognizable attorneys, thanks to her work linked to high-profile names like Mary Kay Letourneau, Susan Cox Powell and Amanda Knox, as well as her frequent on-air legal commentaries on CNN, Fox and other networks. In Seattle's legal community, Bremner is something of a rock star.
Her reputation extends nationally. She was the first woman from Washington state to serve as a fellow of the International Academy of Trial Lawyers, and is also a fellow of the American College of Trial Lawyers—whose group photos look like men's clubs. Earlier this year, Bremner flew to Ireland to accept an award from the Dublin University Law Society at Trinity College for "excellence of advocacy and commitment to causes." Previous recipients include former British Prime Minister Margaret Thatcher and U.S. Supreme Court Justice Antonin Scalia. "When I got the call, I thought it was a joke," Bremner says. "But it was for real."
Bremner's courtroom success is a credit to hard work and a keen legal mind. But her growing celebrity is widely attributed to other rare qualities as well—a personal charisma that works her own brand of magic with television audiences and juries alike. 
All this swirling around a likeable woman who at one point seemed headed for a career in medieval studies.
Bremner is the child of a pioneer family that migrated to Western Washington from Scotland, by way of Iowa, in 1880. She grew up in Olympia, where her father was a practicing psychiatrist and her mother a psychiatric nurse.
Bremner went to Stanford University for her undergraduate degree—"I loved everything about Stanford," she recalls— then considered grad school in her major field, medieval studies. "But my dad said: 'Not gonna happen on my dime,'" Bremner recalls with a laugh. "He thought I'd do well in law school."
So off she went to Seattle University, where she finished her degree in just two and a half years.
"But I didn't really want to be a lawyer until I became a clerk for Judge [Robert] Dixon," she says. "He was so smart, an excellent mentor. I sat through a lot of trials, and a light bulb switched on; I realized this is exactly where I want to be."
Fresh from her clerkship in 1983, she moved to the King County Prosecutor's Office, where she encountered another influential mentor—the late Norm Maleng. "A wonderful man," she recalls. "Genuine, smart, fair-minded. He always seemed to make the right decisions."
Bremner proved to be a quick study, taking on extra trial work and specializing in the difficult area of sexual assault prosecutions. "From the start, I gravitated toward victims," she says. "This was back before there was a Victim Bill of Rights, and I felt there was no effective voice for victims."
She believes her family's long involvement in psychiatry may have made her more sensitive to victims of sexual assault, for whom the criminal justice system can be emotionally excruciating.
Dan Satterberg, who eventually succeeded Maleng as King County prosecutor, found Bremner to be "a fearless trial lawyer who won the toughest cases.
"She was dynamic in trial, with tremendous energy—more energy than any other person I knew," Satterberg says. "But she was also so compassionate, so good with the victims. There are no voluntary participants in the criminal justice system; nobody wants to be there. But Anne made people comfortable by simply becoming their friend."
When an in-office rotation came along, Satterberg was pegged to succeed Bremner in the sexual assault unit. Among the cases he inherited was a high-profile case of sex abuse committed against the children of a prominent Seattle woman. "I wrestled with that case," Satterberg recalls, "but all I could see were the problems." 
Bremner, meanwhile, had become closely attached to the woman and her children. She asked if she could take that case back, and Satterberg was happy to oblige. "She ended up getting a conviction in a very difficult case against a very good defense attorney," he says. "That's a skill they can't teach in law school."
But Bremner's compassion for victims and their emotional trauma extracted a toll. One case in particular involved a young boy who was shot by his best friend, she says, just to see what it would feel like to shoot someone.
"It was unbelievably senseless," she says. "I watched those parents sitting there in court every day, and it broke my heart. I brought it home with me too much."
So, after five years, she decided to move on. Maleng helped steer her toward Stafford Frey, a Seattle firm that specialized in representing police officers. And for the next few years, Bremner worked tirelessly in defense of police, fire investigators and judges accused of misconduct. She defended the fire department against an allegation of malicious prosecution. She represented the Seattle Police canine unit against a class action suit brought by the ACLU. She defended officers in multiple inquests involving shootings and represented the city in some of the litigation arising from the 1999 WTO riots.
One of the most famous cases was the 10-week trial of a lawsuit Vili Fualaau brought against defendants including the Highline School District over claims arising from Letourneau's highly publicized affair with Fualaau, her sixth-grade student. Bremner successfully represented the Des Moines Police Department in that case. She and Letourneau became friends and have stayed in touch.
With each victory, Bremner won plenty of fans at city hall and area police departments. She acknowledges that the defense may have an advantage in such cases; when police testimony is contradicted by civilians, jurors want to believe the cops. Still, her winning record is impressive.
Her courtroom tactics are frequently unconventional. Allen recalls a trial where, during closing arguments, Bremner read extensively from an Atticus Finch speech in To Kill a Mockingbird. "And she got away with it!" he adds with a chuckle.
Bremner periodically rereads Finch's stirring arguments for inspiration. A copy of To Kill a Mockingbird sits on her office shelf. "That's what most of us aspire to," she says, "to be like Atticus Finch and to deliver a memorable closing argument at the height of an important trial."
She has reached out beyond that base of law enforcement clients. She represented an auto parts company against an allegation of discrimination. She defended a commercial contractor who was sued over a fatal accident involving a construction crane. And she successfully represented Olympic Pipe Line Co. in a settlement surrounding a highly publicized fatal pipeline accident in Bellingham.
"I love that old blessing: 'May you live in interesting times,'" she says. "I've been very fortunate to have cases that interest me. I'm cause-driven. I'm a sucker for people who need help."
That also explains why so many of her cases and clients are headline-grabbers. "Anne is articulate and very comfortable with the media," says Mike Patterson, with Seattle's Patterson Buchanan Fobes & Leitch, who opposed her in the Fualaau case. "That serves her well, because if you just issue a 'no comment,' they're going to do the story anyway."
Bremner says she doesn't seek out publicity; the spotlight just tends to follow her cases. She obviously can't argue Amanda Knox's murder defense in an Italian court, but she can serve on the home front as an adviser and spokesperson for The Friends of Amanda Knox. More recently, she has become not just a lawyer, but a spokesperson and adviser to the parents of Susan Cox Powell, the missing Utah woman whose two young sons were later killed by their father in a murder-suicide.
Meanwhile, Bremner has become a frequent guest on CNN and other television networks, a celebrity avocation that began locally in 1995 when she was asked to comment on football star OJ Simpson's murder trial in California.
"Then came the Letourneau case, and Court TV came to me and said: 'You'd be good on the air,'" she recalls. "So I bought a cool outfit and went off to New York and did Court TV. And then I got a call from MSNBC and Fox and CNN, and it just kept coming at me."
When she was invited to go on Fox with Bill O'Reilly, she had to ask who he was: "That helps keep me from getting nervous, because I've never heard of these people."
Then she got a harsh lesson in the side effects of celebrity. Driving home from a dinner party in 2010, she was pulled over and charged with driving under the influence. Seattle-area media covered the case intensely as Bremner defended her reputation. Ultimately, she apologized, pled guilty and was sentenced to a fine and two days in jail.
"It was embarrassing," she says. "But there was also a little bit of 'Doctor, heal thyself.' I'm now able to tell clients who are getting bad press: 'Tell me about it.' 'I've been there.' As one good friend tells me, I can benefit from every humbling experience I can get."
The incident doesn't seem to have hurt Bremner's career. She stands out in a profession still dominated by middle-aged men with gray suits. When Bremner talks to women aspiring toward law, she assures them that there is a need for female trial lawyers. "I tell them: I don't want to be the Bonnie Raitt of lawyers. And they look back at me as if to ask: 'Who the heck is Bonnie Raitt?'"
Her gender may help draw media attention, she says. But it does not win trials. Trials are won, she says, by lawyers who understand the Italian concept of "sprezzatura," which means "taking complex things and making them simple."
"Good trial lawyers make difficult things understandable," she says, "and they are interested in the human condition. They have empathy; an ability to connect with people."
Her fellow attorneys agree. Satterberg has watched her for 30 years, and remains as impressed as ever. "It's not easy to make complicated things understandable to a jury," he says. "Her style is unique, not one that other people can replicate."
King County Superior Court Judge William Downing worked alongside Bremner at the prosecutor's office, and admires her courtroom flair.
Bremner feels that lawyers and the law are misunderstood today. She hears the lawyer jokes, but to her, practicing law is not a laughing matter.
"We think for a living," she says. "That's what we do. And we engage in civilized combat that sometimes is not quite so civilized. But law is a profession, not a business."
In a society plagued by growing inequality, Bremner says, the courtroom must be a bastion of equality. "We're not born equal, and that's the reality. But in a courtroom, we are truly equal."
Search attorney feature articles