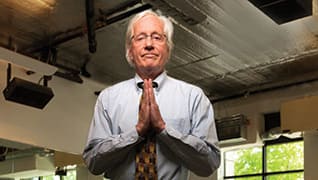 Photo by: Rick Dahms
Zen and the Art of Criminal Defense
How Richard Hansen wins the cases he 'has no business winning'
Published in 2016 Washington Super Lawyers magazine
By Ross Anderson on June 10, 2016
In the fall of 1969, Americans found themselves focused on the tumultuous trial of the "Chicago Seven," the antiwar activists accused of conspiring to incite a riot outside the 1968 Democratic National Convention. The courtroom drama showcased radicals such as Abbie Hoffman and Bobby Seale, as well as celebrity lawyer William Kunstler, who defended them.
As the trial dragged on, the courtroom audience frequently included a lanky, nondescript college student with an Art Garfunkel hairdo.
Inspired by those events, that former student, Richard Hansen, went on to study law and has become one of Seattle's best criminal defense lawyers—perhaps the Northwest's answer to William Kunstler. He's an elected member of the prestigious American Academy of Appellate Lawyers, and founding president of the state Association of Criminal Defense Lawyers. 
Hansen has tried 135 jury cases and argued some 100 appeals, including many of the region's most challenging and highly publicized cases. And as one Washington judge put it in a Bar survey, Hansen "wins cases he has no business winning." 
It's Zen, Hansen says. But we'll get back to that.
At 68, Hansen has traded the afro and far-left politics for a slightly more centrist version, and a thriving practice in a corner office in One Union Square with a sweeping view over downtown Seattle and Puget Sound. In the past two years, he has tried four murder cases and doesn't see that pace slowing down anytime soon. "I love what I do," he says. "I'm good for another 10 years." 5
Hansen was raised in Galesburg, in western Illinois, where his father ran a successful lumber business. In the late '60s, he resisted an opportunity to take over the family business and went off to school at Northwestern, just north of Chicago. When the Chicago Seven were put on trial, he rode the "L" downtown to stand in line for a seat.
On graduation, Hansen and three pals bought Triumph motorcycles and set off on a grand tour of the country. "It was our Easy Rider trip," he recalls. "Sort of an aimless journey of discovery." Two of those buddies—Neil Evans and Chris Gibbons—went on to serve as chief information officers at Microsoft; Evans created the Microsoft Network.
At one point, they all rode into Seattle. "I really loved the city," Hansen recalls. Months later, he applied to law schools, and was accepted at the University of Washington. He did well, and clerked for two years in Eastern Washington before being hired in 1976 by Seattle Public Defender John Henry Browne.
"My first trial was to defend a woman charged with agreeing to an act of prostitution," Hansen recalls. "When I cross-examined the cop, he kept laughing. I think he was embarrassed about making the arrest. So the judge says: 'I've heard enough,' and dismisses the case." 
Hansen loved the feeling, and decided to make a career of it. Along the way, he worked with colleague David Allen to set up an appellate division at the public defender's office. In the process, he became fast friends with Browne, Allen and other PD attorneys who eventually became equally successful criminal defense lawyers. He has fond memories of long work days followed by group work sessions at Merchant's Café and Saloon or even, occasionally, Allen's hot tub.
In 1979, Hansen and Allen rented office space and launched their own firm. They've never looked back. One of Hansen's first cases remains one of his most memorable. He defended a 19-year-old woman who admitted to the grisly murder of a man she claimed had virtually imprisoned her as a dancer at his Pike Street strip club. The jury ruled the stabbing death as self-defense.
A few months later, he successfully defended a New Orleans man charged with murdering a Whidbey Island man on a contract with the victim's wife and her lover. "That one made True Detective magazine," Hansen says with a laugh. "And after the verdict, the jury went out drinking with us."
Hansen's work remains closely tied to that of Allen's. The two are close friends and neighbors on the West Seattle waterfront, and rarely does one try a case without collaboration from the other. Colleagues consider Allen more methodical and cerebral, Hansen more creative and charismatic. They work well together.
"We talk about cases, exchange ideas and theories," Allen says. "What about this witness? Oh, I have a brief on that issue. That kind of thing."
Early in their practice, they took on the case of Steve Titus, who had been wrongfully convicted of raping a female hitchhiker. Titus was freed after The Seattle Times revealed flaws in the prosecution, and eventually an ex-convict confessed to the crime. Hansen and Allen did not work on the criminal case, but they tried the civil lawsuit, scouring records which ultimately established that police had tampered with reports and evidence to make their case. Sadly, Titus died of a heart attack before the trial, which ended with a $2.7 million verdict for his family.
In 1987, the partners collaborated again in appealing the convictions of Kevin Coe, known in Spokane as the "South Hill Rapist." Hansen and Allen persuaded the state Supreme Court that four of the victims' identifications of Coe were inadmissible because they had been hypnotized by police. A third conviction was upheld, however, and Coe remains in prison.
The same year, Hansen took on one of his best-known and most difficult defenses. Tyrone Briggs, a former high school basketball star, was charged with seven counts of assault and robbery against women on Capitol Hill. Briggs denied the charges, and Hansen argued that it was a case of mistaken identity of the young African-American defendant. The case was tried three times, first with a hung jury, second with a conviction—which Hansen got reversed on appeal—and third with another hung jury and a different attorney, after which the case was dropped.
"Richard is a smart guy and a charming guy, and that matters in court," recalls Mark Larson, a King County prosecutor who opposed Hansen in the Briggs trials. "He knew how to hit all the issues, how to deal with eyewitnesses, how to package his message."
Anne Bremner, a prominent civil-defense attorney at Seattle's Anne Bremner P.C., has tried a couple of big cases opposite Hansen. She says his success has much to do with how he deals with jurors: "He's always very elegant and eloquent. When he walked up to the bar to cross-examine my witnesses, I'd feel the blood rushing to my face."
Hansen's persuasive powers were tested at the Supreme Court with U.S. v. Gaudin in 1995, an appeal involving a technical issue of materiality of testimony. An appeals court judge had warned that supporting Hansen's argument could mean releasing a "tsunami" of habeas petitions from convicted prisoners. Hansen's challenge was to win over the late Justice Antonin Scalia, which he did—along with the rest of the court.
Bremner, who also worked on a major case on the same side as Hansen, says his courtroom style has only improved since she met him three decades ago. "He makes me proud to be a lawyer," she says. "Seriously, Richard is smooth—pure perfection." 
Hansen, who teaches law school classes at the University of Washington and Seattle University, agrees that his style has changed over his 40-year career. "The practice has taught me that understatement—and even compassion for hostile witnesses and nasty prosecutors—is far more effective in court than responding with anger or aggression," he says. Hansen even started meditating and practicing Bikram Yoga. 
Like most criminal defense lawyers, Hansen understands that he frequently represents guilty parties. "People ask: 'Why do you represent them?' And my response, of course, is that everybody has a right to an attorney. I learned that early on.
"And the question of guilt or innocence is not always clear-cut. That's why I win 80 percent of my criminal trials, but I plead out 70 percent of my clients."
If a potential client "is a jerk," Hansen won't represent him or her. And when he takes a case involving a gun, he insists on taking custody of weapons returned to defendants after acquittals. "They don't get them back, and I make sure that they don't go back into circulation," he says. 
So how does he win all those cases he has no business winning?
"I tell young lawyers: Forget what you learned in law school. Courtrooms are cold, sterile places. You have to humanize your client; tell a story that captures the jury's attention."
Hansen cites his defense, about two years ago, of a young college student charged with raping a woman during a night of heavy drinking at her apartment. When the case went to trial, Hansen declined to attack the alleged victim on the stand. Instead, he argued that "the only crime in this case is forcing these young people to recount the most embarrassing night of their lives in a public courtroom." The jury agreed and acquitted his client.
When absolutely necessary, he can confront witnesses he believes are lying. But more often, he says, it comes down to individuals who have succumbed to faulty memories and misperceptions.
"Sometimes we need to remind ourselves of the simplest trial tactics and the most basic human attributes of compassion, kindness and humility—that, to my mind, is what Zen Buddhism is all about," he says. "You've got to tell a story, connect with them, [make] eye contact. You've got to build your credibility and connect with them in a human way." 
Search attorney feature articles
Helpful links
Other featured articles
Jack Swerling is less fearsome than his courtroom moniker 'Mr. Murder'
A talk with rising stars who will take the legal profession into the 2050s
Four attorneys on why they love their rural practices
View more articles featuring lawyers
Find top lawyers with confidence
The Super Lawyers patented selection process is peer influenced and research driven, selecting the top 5% of attorneys to the Super Lawyers lists each year. We know lawyers and make it easy to connect with them.
Find a lawyer near you