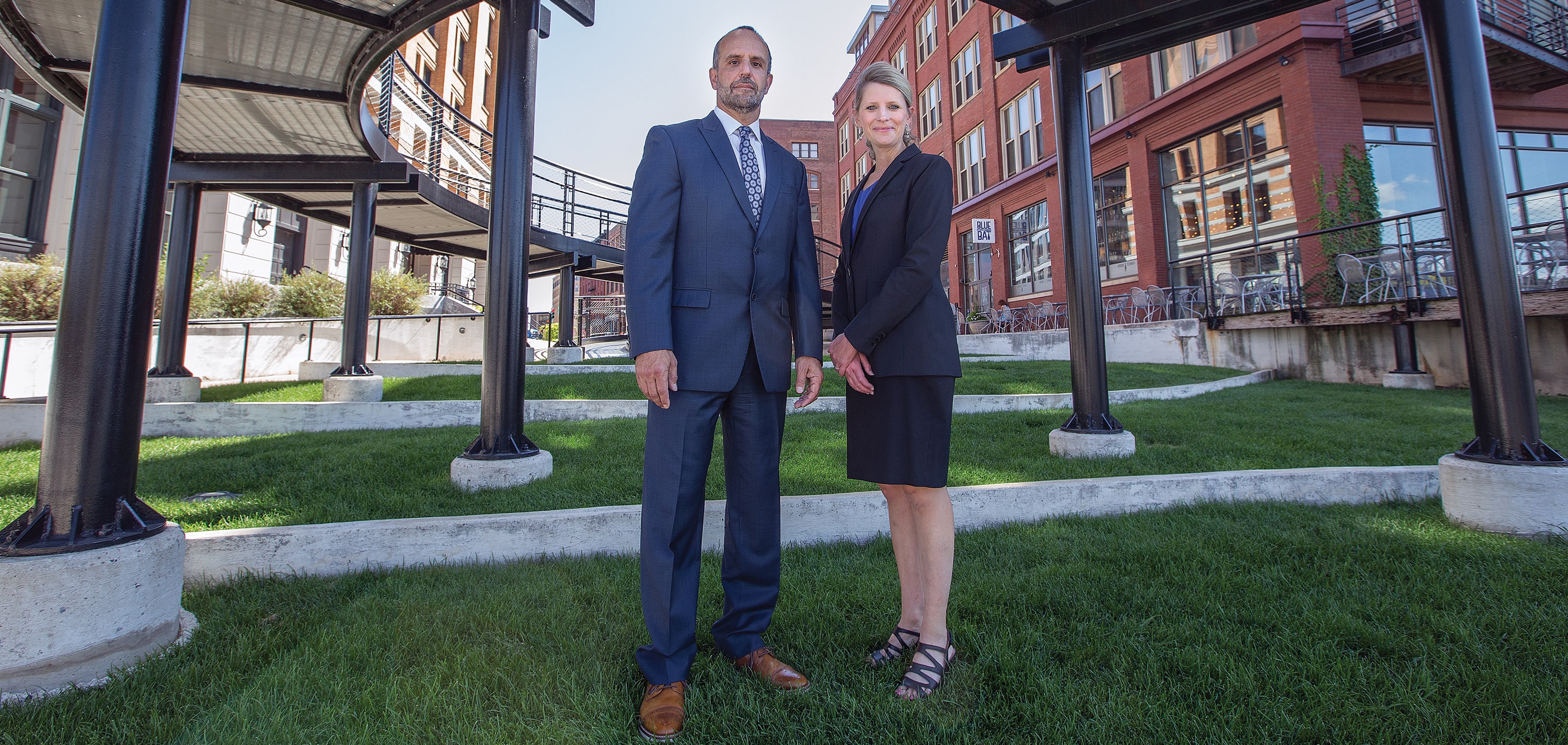 Bigger Than the Cases
Craig Mastantuono and Rebecca Coffee look to change the system for their clients and community
Published in 2022 Wisconsin Super Lawyers magazine
By Mark Schaaf on November 11, 2022
In 1996, 22 year-old Baron Walker received a 60-year prison sentence for his involvement in a pair of bank robberies. "My judge made it clear she wasn't giving me a sentence of condemnation," Walker says. "She didn't want to send me to prison for the rest of my life. She wanted me to serve some significant time, but whether I was let out after that was supposed to be up to whether or not I would learn and grow. If I met some particular programs and had institutional adjustment, she said I would be paroled."
By the time Craig Mastantuono and Rebecca Coffee finished working on his case in 2018, Walker had spent more than half his life in prison and had been denied parole six times.
Normally, the duo doesn't do appellate or post-conviction work, but a community member asked them to look at the case and they were inspired by Walker and his wife, Beverly, a powerful speaker who was featured prominently in Milwaukee 53206, a 2016 documentary about the zip code with the highest incarceration rate of Black men in the nation.
After 18 months and more than 100 pro bono hours, the duo worked collaboratively with the Milwaukee County District Attorney's Office to modify Walker's sentence. In 2018, he was finally released. Mastantuono and Coffee call it one of the most rewarding cases they've handled.
"Sometimes the system is working the way it's supposed to work, and the wrong result is still coming out," Mastantuono says. "That's when lawyers can really be at their best and say, 'You know what? Let's change the way the system is working and do something different, because we can see the injustice of it.'"
There's no question their work made the difference, Walker says—and not just in his case.
"This was the catalyst for a lot of change in the DOC. After my sentence modification, a lot of others in my situation were able to get back into court or were being considered for parole," he says. "I see a lot of guys home who now own businesses, are supervisors, are community activists; some have expressed that their drive to research their own cases was renewed by my situation."
Without Mastantuono and Coffee, he could still have 15 years left to serve. "They spent a lot of time on my case—a lot of sleepless nights," he says. "Craig and Rebecca have become like family to us, and they consider us like family, too. We've become very close, and I can't emphasize enough how much I appreciate them."
In some ways, they are an unlikely duo. One is a talkative kid who grew up on the South Side of Chicago. The other is more naturally shy, hailing from the Milwaukee suburbs. But Mastantuono and Coffee have a crucial commonality: a natural inclination toward social justice since a young age. As a result, they traveled down similar professional paths that eventually led to the creation of their Milwaukee criminal defense and crisis management firm, Mastantuono Coffee & Thomas.
"They're very complementary. That's what makes them work so well together and speaks to the longevity of their partnership," says Leah R. Thomas, who joined the firm 16 years ago as a paralegal, then became a lawyer and, as of earlier this year, a named partner.
---
Mastantuono, whose father's family was from Italy and mother's was from Mexico, was in the first generation of his family to go to college. After graduating law school in 1992, he cut his teeth in the public defender's office at the George N. Leighton Criminal Court Building in Chicago—known locally by the intersection at which it sits, 26th and California. It was there he learned about "the bullpen," where those in custody are brought up to go to court.
"I saw 25 Black men," Mastantuono recalls. "I learned about race and the criminal justice system right quick. The only non-African Americans that were in custody for criminal courts were brown people. As a Mexican-American, that was striking to me. Until you see it—until you walk into a bullpen for in-custody people and see, 'Hmm, everybody here is Black or brown'—you just don't quite grasp it."
Around the same time, four police officers in Los Angeles were acquitted of charges connected to the beating of Rodney King. It was a pivotal moment for Mastantuono, one he says helped solidify the direction of his career.
Two hours north, the verdict was similarly affecting Coffee, then a high school student in Menomonee Falls. Even as a kid, Coffee says, she had visceral reactions to racism and prejudice. When the verdict came in the King trial, the result was eye-opening.
"I was so outraged, and it fed into the social justice feelings I always had," she says. "It was one of those moments for me when I realized I needed to do something in my line of work. I didn't know what that was, but I needed to do something."
Like Mastantuono, Coffee interned at a public defender's office before finishing law school. Afterward, she went to Washington, D.C., to focus on policy work. She served as a staff attorney at the ABA Death Penalty Representation Project, a role that took her across the country to work with lawyers who represented defendants pro bono. She eventually returned to Wisconsin, in part to tackle issues around race and the justice system.
That's when she started calling attorneys for informational interviews—basically anyone who was willing to meet with her.
"You get calls like that a lot—from students looking for mentors, people looking for a job for their kid, or people looking for jobs," Mastantuono says. "She was persistent, and she came to my office to talk for 15 minutes to a half-hour."
"We ended up talking that first meeting for an hour or hour and a half, and by the end I felt like this was the person I want to work with," recalls Coffee. "He's saying the things I haven't been able to articulate in my head. It was a good meeting."
Mastantuono had opened his firm in 2002 and, in hindsight, says he needed a partner but didn't know it. In 2005, Coffee came aboard.
As for their dynamic in a courtroom, Thomas says Mastantuono's voice may be louder, which is well-suited to cross-examination, while Coffee can be more relatable, which helps with direct examinations.
"Interpersonal relationships are one of Craig's strong suits. So if they're working a case and need to talk to a detective, he might take the lead on that. But Rebecca has an ability to connect with people. She has a Midwest sensibility and she's a very earnest person, so when it comes to presenting in front of juries, that goes a long way," Thomas says.
"Craig is very meticulous, thorough and strategic," adds Walker. "I'd describe him as like a chess player who analyzes the setup and attempts to win the game before it even begins."
"As for their everyday dynamic, Thomas says, "All three of us regularly work together in varying capacities to brainstorm creative solutions to potentially difficult situations. Everyone supports each other, and the end result is a true collaboration."
---
MC&T has been involved in a number of high-profile cases—the kind, as Mastantuono puts it, "where we walk out and have a bunch of news cameras stuck in our face."
Earlier this year, they represented Mahud Villalaz, a Peruvian man who in 2019 got into a verbal altercation with Clifton Blackwell, after which Blackwell threw acidic drain cleaner into Villalaz's face and yelled racial epithets, including a demand that he go back to his own country. "Our role was to liaise with the DA's office on behalf of Mahud, who is a wonderful man, and the Latino community, which asked that it be prosecuted as a hate crime," Mastantuono says. In spring, Blackwell was convicted of a hate crime, and first-degree reckless injury with a dangerous weapon, then sentenced to 10 years.
"Mr. Villalaz's facial burns have healed from the acid thrown in his face; he still carries with him the bigoted hatred of that act, but also the support and empathy of his fellow American citizens," Mastantuono said in a statement after the verdict. "As Mr. Blackwell suggested, Mahud Villalaz is going back to his country today—the United States—knowing justice has been served."
The firm also worked on State v. Johnny Thomas, representing a former Milwaukee County supervisor accused of bribery. "Everybody told us we were going to lose that case because he in fact received, physically, cash from a person that was trying to set him up," Mastantuono says.
After the five-day trial, the jury deliberated for 45 minutes before acquitting him. "It was a big deal because it proved to us that the way cases are portrayed in the media sometimes is completely different than what a jury will see when they get inside of a case and really examine the evidence," Mastantuono adds.
The vast majority of the cases MC&T takes on are out of the limelight. "The big cases for me are these 'unremarkable' cases," Mastantuono says. "It's a privilege to serve people and help them overcome their bad decision-making, their addiction, their mental health crises, the hardships in life.
"Most of our cases aren't 'whodunit,' but 'what to do about it,'" he continues. "We love whodunits, too, but it's like baseball: Those cases are home runs, but the ability to get on base every day and try to help somebody hit safely, that to me is the pleasure of practicing law."
---
As the firm grows—they now have a six-person team across two office locations—Mastantuono and Coffee are proud to remain a woman- and minority-owned business, and they make staying active in their community a point of emphasis.
Since the firm's inception, they have organized an annual fundraiser for the Boys & Girls Club of Greater Milwaukee that has raised roughly $150,000. Coffee is on the board of Milwaukee's Finest Scholarship Foundation, which funds 15 scholarships for Milwaukee County youth, while Mastantuono chairs the Wisconsin Hispanic Lawyers Association's scholarship committee for Latino law students.
One of the goals of their charitable efforts is to attack the root causes of why criminal defense lawyers are needed, Mastantuono says. "To fulfill our values, we need to be bigger than just the cases and crises that we handle," he says. "If we can do that, we feel better about our practice."
But there's still a lot of work to be done.
Twenty-eight years after the King verdicts, video surfaced of George Floyd's murder.
"It was one of those experiences that, for me at least, felt like the rest of the world was seeing for the first time what we as criminal justice attorneys see—and what Black people see—all the time," Coffee says.
Over the years, Coffee and Mastantuono have identified many points in the criminal justice system that contribute to racial disparities.
"It can be difficult to talk about systemic racism in the criminal justice system on one particular case, even when you can see that it affected your client. Because the response is often, from judges or prosecutors, 'That might be a systemic issue, but this is just this one case over here,'" Coffee says. "The problem is you can't isolate individual clients. It doesn't happen in a vacuum."
"I am 100 percent convinced that a person of color does not have the upper hand compared to white people in any single one of those decision touchpoints," Mastantuono adds. "If you want to explain race and mass incarceration, you've got to go all the way back to the very beginning and analyze it all the way to the end. The statistics bear out what we instinctively know, which is that there are disparate impacts for people of color in the criminal justice system."
Still, from Rodney King to Mahud Villalaz, Mastantuono and Coffee continue fighting for a better criminal justice system.
"Having a small firm because it gives you the 'authority,' if you will, to do whatever you want to do, as long as you and your partners agree on it," Mastantuono says. "And when you and your partners share the same values, it's pretty easy to agree."
Search attorney feature articles