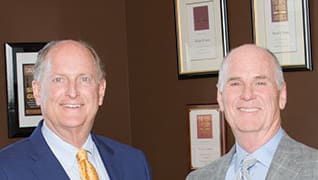 Photo by: Corey Hengen
Cream of the Crop
Cannon and Dunphy have built powerful legal careers from lessons they learned growing up in Wauwatosa
Published in 2017 Wisconsin Super Lawyers magazine
By RJ Smith on November 10, 2017
It was the mid-'50s, and William Cannon, who was 6 or 7 years old, was teaching himself to ride a bike using the old ride-and-fall-and-ride method. Making his way down the street of his Wauwatosa neighborhood, he spotted a red-haired, freckle-faced kid of about 4 watching. "Trying to ride a bike, eh?" asked Patrick Dunphy.
How far they've come.
Cannon and Dunphy now have decades-long careers as personal injury attorneys in Brookfield, about 10 miles from where they began a lifelong friendship in St. Jude. Their eight-lawyer office doesn't have any pictures of the old neighborhood hanging inside—nobody took that many pictures back in the '50s, Cannon says—and yet, "The pictures are in our memories, still burning brightly."
The proverb says it takes a village to raise a child, but in the St. Jude neighborhood it took only a few blocks. "Everybody knew everybody" in the enclave of Irish families, Cannon says. "In a one-block stretch, we had over 100 kids of Irish descent." The close-knit community created plenty of idyllic memories. 
"When the streetlights came on, we needed to be inside or our parents would whistle and we'd run like crazy," Cannon remembers. "We'd play football, kick the can, all kinds of sports. In the winter we'd ice skate and throw snowballs at the buses."
Dunphy is nearly three years younger than Cannon, so although they went to Saint Jude the Apostle School and Marquette University High School together, they didn't become close friends until later. But Dunphy was a good friend of Cannon's younger brother, Patrick, and was over at their house all the time. Dunphy vividly remembers Cannon's father, a judge with a booming voice and an imposing figure in the community. Everybody knew when Judge Cannon was home. The judge came within one vote of becoming commissioner of Major League Baseball; instead, from 1959 to 1966, he was legal adviser to the Major League Baseball Players Association. In the 1950s, he knew all the Milwaukee Braves, and the Patricks would ride over to the home of Warren Spahn, or Andy Pafko, or Joe Adcock, knock on their door and ask about last night's game.
Dunphy's father, meanwhile, had an active practice and taught law at Marquette University. Cannon's grandfather, a lawyer to Jack Dempsey and Shoeless Joe Jackson, won more than 100 jury trials in a row. 
"Our grandfather had a saying," recalls Tom Cannon, a retired Milwaukee lawyer and William's older brother. "He said, 'In the thousands of cases I have tried, I have defended the strong and the weak, the rich and the poor. But never the strong against the weak, and never the rich against the poor.' I think that established a point of view for us to aspire to." 
Dunphy graduated with a law degree from Marquette University in 1976. He clerked for federal district court Judge John W. Reynolds, then took a job with an insurance defense firm. By then, Cannon had graduated from University of Wisconsin Law School, worked for insurance defense firm Kivett & Kasdorf, and then moved to Habush, Habush and Davis, where he would later bring in Dunphy. In 1985, as rumors circulated Cannon was preparing to launch his own firm, Dunphy pulled him aside at the gym and said, "Whatever you are working on, count me in." 
Dunphy is quick with answers, until he's asked what advice he would give an associate who was weighing the pros and cons of forming a firm with an old friend. Then he pauses.
"I don't know if you can necessarily be a partner with every friend you have," he says finally. "You must have mutual respect for each other, and be willing to listen to each other's opinion as issues come up, and have compatible personalities." He says if you are too much alike, you won't have many disagreements, and if your views are too different, then you might not make it through difficult decisions. "You have to have comparable personalities and respect for each other and have to both be willing to pull our own weight."
Dunphy points to an injury case he worked on with Cannon at the beginning of their partnership. It was in Manitowoc, and it was "a brutally difficult case," he says, stretching on for nine weeks. In the middle of it, Cannon cross-examined one of the defense's witnesses. This, too, was brutal—so much so that the judge dismissed the jury and advised the witness that he was going to refer his testimony to the local district attorney, because what Cannon had gotten out of him amounted to perjury. "Bill's cross-examination was so devastating, so incredible, I've never seen anything approaching that in any other case I've tried," Dunphy says.
Cannon frames their differences. "We both have skills that are probably not similar because our personalities are so different. Pat is a brilliant trial lawyer and just so smart in everything he does. I'm more of the—to put it politely—take-no-prisoners school. But we both have accomplished it together."
Dunphy likes to make new lawyers at the firm read Malcolm Gladwell's Outliers, a book about how it takes the alignment of numerous circumstances to achieve success, not just talent alone. His own talent met the right timing in Norberg v. Badger Guns, which received national attention in 2015. A West Milwaukee gun store had sold a firearm to a buyer who was purchasing for a teenager who couldn't legally make the purchase himself. The gun was used to shoot two Milwaukee police officers, and Dunphy represented both of them. 
It was only the second case of its kind to go to trial since a 2005 federal law handed broad protection to gun dealers. The jury deliberated for nine hours before deciding the store had broken four laws and awarded the officers almost $6 million in health care costs, lost wages, pain and suffering, and punitive damages. (After the gun shop planned to appeal, settlement was reached at the policy limit of $1 million.)
The case drew national appeal, and was cited by Hillary Clinton on her campaign trail in 2015. "The most important thing is that licensed gun dealers know that if they don't adopt appropriate screening methods to assure they are not selling to straw buyers, that they have potential liability," Dunphy says. "You can't play Pontius Pilate and say, 'The straw person passed the background check so I can wash my hands, I did my duty.' … Hopefully it creates incentive for licensed gun dealers to properly screen all buyers."
Judge John DiMotto presided over the case and recalls the "gravitas" Dunphy brought to his courtroom. "He knows his case inside and out, he's very prepared, he anticipates things or issues that might be raised. In Badger Guns, it was clear to me that he had left no stone unturned in his preparation," he says.
"There are lawyers who don't fully understand what they've got before them or don't completely understand the issue … but he was ready for everything," DiMotto continues. "It is a pleasure to have lawyers like Patrick Dunphy and William Cannon in the courtroom because you know when they come in, it's going to be a well-tried case. … They have a very good reputation in the legal community, and it's well deserved. They have earned it."
Dunphy still looks to Cannon as a mentor. "I've been a lawyer 41 years, I've tried some of the most complex civil cases in Wisconsin and I've had the pleasure of trying some with Bill. Bill is the best courtroom lawyer I've ever seen. He is a brilliant tactician and fiercely competitive. And quite frankly, he taught me how to try a case. I carried his briefcase around, watching what he does. That's how I learned."
Dunphy cites a 2004 medical negligence case in which Cannon represented the family of a high school athlete, Sarah Hegarty, who died after enduring 89 operations, including two organ transplants. Hegarty suffered from small bowel volvulus and infarction—meaning her intestines had twisted and cut off blood supply. Cannon argued that her 1998 death stemmed from a misdiagnosis and doctor's negligence at Children's Hospital of Wisconsin. 
"[The hospital had] an unsupervised first-year resident who knew next to nothing about taking care of patients overnight," Cannon says. As a result of the lawsuit, "now Wisconsin hospitals have a real doctor on staff overnight. They don't let residents make [certain] decisions anymore at night, and I think that's made hospitals a lot safer." The jury awarded the Hegarty family more than $25 million.
Then there's Erica John and Donald Gallagher v. Harry John—"at the time, the longest trial in Wisconsin history," Cannon says, with a record spanning 23,000 pages. The late Harry John, president of Miller Brewing from 1946 to 1947 and grandson of the beer baron, began using a company-founded charitable organization to advance his own religious agenda. De Rance Foundation had been established to provide financial support for religious, charitable and educational causes, and in 1983 its assets amounted to $188 million. John had run it down to about $50 million when Tom Cannon was hired by John's wife, Erica, and the other foundation director, Donald Gallagher, to remove John as director. Tom then brought William in on the case.
John allegedly squandered money investing in a national Catholic television network, silver mines, a fortress in Colorado, sunken treasures, Mexican mutual funds and more. He even commissioned the creation of movies and sought to disseminate them via satellite transponders that had no customers on Earth. "He basically broadcast his religious films into outer space," Cannon says. "I think we painted a very clear picture that spending money searching for sunken treasure is not permitted by the IRS. Just like it would be if you went out to Las Vegas and bet on the roulette wheel; even if you won, that's still a violation. He had a lot of hangers-on that were just duping him, and lots of these programs were just absurd."
Together, the Cannons succeeded in a 1986 bench trial. Even today, William sounds overwhelmed by the experience. "There was a real cast of characters in that one," he says. "It could have been a novel."
Cannon recently returned to his old grade school to receive the Spirit of Saint Jude Student Alumni Award, which goes to a prominent graduate whose lifetime accomplishments serve as inspiration for students and alumni. Driving through the neighborhood on the way home, he was struck by how much of it felt the same.
Cannon and Dunphy still remember the values they absorbed from growing up there: "Be truthful, honest, responsible, and hopefully have courage when you need it," Cannon says. "I'm very proud to have grown up in St. Jude's because a lot of people served as ideals—examples you would want to emulate. You saw all the lawyers and doctors who preceded you and were committed to doing well in their profession and cared about helping other people."
"When you look back on how strong the fabric of our families and our neighborhood was, you can see how that has been reflected in the career paths we have chosen," Dunphy adds. "In essence, what we are doing is protecting or helping families because that's kind of what it was all about for us. It's a logical extension of what we and our neighborhood was all about when we were growing up."
---
As Sconnie as Baseball and Custard
Red neon letters light up the corner of 17th and Bluemound: FROZEN CUSTARD. Gilles Frozen Custard stand still does bang-up business in Cannon and Dunphy's old stomping grounds, and was a neighborhood landmark for them. "Pat lived less than two blocks away, and I less than three," Cannon says. 
"I loved riding my bike to Gilles for a razzanna sundae," Dunphy says.
"I always loved the chocolate custard," adds Cannon. "In those days, they didn't have all the flavors they have now. Just chocolate, vanilla and occasionally, on St. Patrick's Day, they had mint."
Their summers also meant baseball: "playing at City Park, watching Eddie Mathews hit home runs at County Stadium and riding the streetcar to Judge Cannon's courtroom to see all his memorabilia," Dunphy says.
Search attorney feature articles