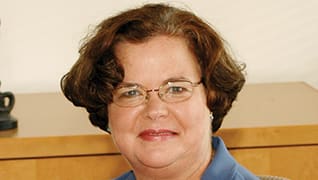 Photo by: Doyle's Photography
Lady Justice
Linda Balisle just wanted a part-time job; she wound up making new law
Published in 2006 Wisconsin Super Lawyers magazine
By Erin Gulden on November 14, 2006
The statue of Lady Justice in the Balisle & Roberson conference room is smaller and sassier than the standard representation. Her drab robe has been replaced by a flower-print dress, slit far enough up the left leg to reveal a slightly cocked hip. But the blindfold is still firmly in place, which is a shame, because the Lady is missing a gorgeous view of Lake Monona.
Lady Justice, a gift from a particularly grateful client, also misses the serious expression on Linda Balisle's face as she is pulled out of our meeting by an urgent call. Client calls are never ignored at Balisle & Roberson.
"You are talking about people in crisis," says Balisle, who has been practicing family law for 26 years. "It can be the difference between the client having their child or not, being safe or not. I think my partner hates when I say this, but we are guiding people through hell. This can be the worst time in their life."
Balisle considers emotional availability and attention to detail as essential as legal knowledge. That's why she and partner Linda Roberson hold weekly staff meetings so everyone in the office knows about each active case and can lend an ear if the lead attorney is absent. That's also part of the reason why, in 1993, Balisle and Roberson left a big firm, where they had practiced together for more than a decade, to start their own firm.
"I have to choose my words," Balisle says, pausing before explaining her reasons for breaking from the big firm. She decides on a diplomatic answer. "To do the kind of practice we wanted to do, we needed a smaller environment. It bothered me that [at the old firm] I didn't know everyone's last name."
"It was a scary thing to do what we did," says Roberson. "But she just came to me and said it was time. It took a leap of faith."
The leap paid off. Balisle & Roberson recently grew to 20 people and is now the largest family-law-focused firm in the state. During that time Balisle has worked on some of the most important custody and marital assets division cases in the country, including what is believed to be the first successful case involving the awarding of visitation rights to a nonbiological partner after the dissolution of a lesbian relationship.
"I have had a variety of good opportunities here," Balisle says. "We have made some good law, good progress for families."
If it hadn't been for her own family issues — good and bad — Balisle may never have found her way to the law.
Balisle always thought she would be a school teacher. When she was growing up in the South, that was what most educated women became. Her father worked for the farm equipment manufacturer Allis Chalmers, and her mother raised the children; but throughout Balisle's childhood her mother worked toward a degree in home economics, taking correspondence courses and attending class at whatever school happened to be nearby. For Balisle, education was never an option; it was a must.
"Growing up in the '50s and '60s I always felt that if you educated a woman, you educated a family," Balisle says with a hint of a Southern accent, the result of her "corporate brat" upbringing that moved her through schools in South Carolina, Missouri, Oklahoma and Tennessee. "The importance of education would be passed on."
She began her undergraduate career at the University of South Carolina but found the South's attitude less than conducive to her desire to learn.
"In the South I was always the first woman to do anything and it took too much energy," Balisle says. "People would have the attitude 'Why go to school? You are just taking a man's place.'"
So she transferred to the University of Wisconsin at Madison and graduated with a degree in journalism and history. After venturing into territory that was far from uncharted for women — she got married and then pregnant —she took the lead from Christy Brooks, her ninth-grade best friend, who was going to law school.
"I realized I could make as much half-time as a lawyer as I could fulltime in journalism and public relations," says Balisle, who had been working in the Madison Public Schools' information office. "I thought if I was going to be a mother, I should try to work part-time."
She took the LSAT and prepared for motherhood and the return to academia, when more complications arose. "My marriage fell apart," Balisle says. It was 1978. She was a single mother attending law school.
This wasn't the first time Balisle had considered law school, or even the first time she had taken the LSAT. Balisle had followed her friend Brooks, now a lawyer with von Briesen & Roper in Milwaukee, to the LSAT testing station during college, both out of curiosity and for moral support. Without cracking a book or taking a practice test, she attempted one of the hardest, most counterintuitive tests of logic.
"That is how naïve I was," Balisle says with a laugh. "I didn't know what I didn't know."
One section in particular captured what Balisle feels is the essence of law.
"I was fascinated by a section where you only know the facts the test provided for you and you were supposed to answer the question based only on those facts," Balisle says. "The facts didn't make sense, and they were counterintuitive to everything you knew. But what makes sense to someone may not have anything to do with the case. And that is how it is in law. The law is all that matters coming to a result."
Which doesn't mean that Balisle won't fight for what she feels is a just cause, no matter what the law, at that moment, may state. That is in fact what she keeps doing, and why she keeps making new law.
In the groundbreaking 1987 case of In re the Marriage of LaRocque, the stay-at-home wife of an appellate judge, after five children and more than 25 years of marriage, was awarded only $1,000 a month for one year in the divorce settlement. Balisle appealed and got the 49-year-old, who had never worked outside the home save for her husband's campaigns, $1,500 a month for life. The case would become precedent for divorce settlements around the country, and force judges to award maintenance based on facts such as the dependent spouse's educational background and work history.
Balisle also saw a desire for justice in the eyes of the nervous man sitting in her lobby one Thursday afternoon in 1991. A California court had just decided that the man's 4-year-old niece, who came to live with him after her mother was killed in California, would be sent back to California to live with a man claiming to be the biological father — a man who had never before tried to contact the mother or the girl. Initially the Wisconsin courts gave the California courts sole jurisdiction, but Balisle, and her California counterpart, appealed in their respective jurisdictions. It was a difficult case that went through state courts in California and Wisconsin, but after "months of sleepless nights," Balisle won custody on behalf of the uncle.
The personal touch she gives her clients is often returned. "[The uncle] called about a month ago and left a message saying [the girl] was doing well and going to college in the fall," Balisle says, adding that the man has called and sent letters and pictures every few years. "He just thanked me again for all the work I had done."
But perhaps the best illustration of Balisle fighting the counterintuitiveness of law to arrive at a greater version of justice came in 1995. She considers it her most important case to date.
H.S.H.-K. involved two women who were in a long-term relationship and raised a child together. Only one woman could be the biological parent, and she was inseminated by an anonymous donor, but both extended families participated in the naming ceremony and both women were active in community and school life. When the relationship fell apart, the biological mother decided to sever all contact with her partner, including her partner's right to see the child.
According to a court decision handed down by the Wisconsin Supreme Court only three years prior, the nonbiological parent had no recourse. Balisle knew she had to fight that decision when she met with the child and asked him who his parents were.
"He named both women," Balisle says. "Then I asked if he missed the [nonbiological parent]. He not only said, 'Yes,' but 'I want to stay with her and I know that makes my mom mad.'
"This child had an attachment," Balisle says. "Our juvenile courts are filled with children who have attachment disorders. Our divorce laws do their best not to sever attachments. And now the legal system was focused on severing a child from a person that [the child] considers a parent."
At the State Supreme Court she asked for a stay granting visitation rights throughout the appeals process. Since the process could take years, Balisle argued that the child and nonbiological parent could be virtual strangers by the time a decision was handed down. To her surprise, she won. She argued that visitation was in the best interest of the child, and since the biological parent initiated the parent-like relationship, the biological parent did not have the right to terminate that relationship. Once again, to Balisle's surprise, the Wisconsin Supreme Court agreed. New rules were laid down in determining the visitation rights of nonbiological parents. If the biological parent actively established a parent-like relationship between a person and a child, and that person had lived with the child for a period of years, and a schedule could be decided upon in the best interest of the child, then visitation would be granted. It was the first case of its kind to be published by a State Supreme Court, and its decision and criteria has since been adopted in a number of states. It was, according to Balisle, "a great step."
"It allows the child to grow up and choose to form their own relationship later," Balisle says. "Was it the best [result]? No, but it is something."
According to Roberson, Balisle always had the child's best interest at heart.
"She really wanted to create a situation that was best for that child," Roberson says. "Many people, including myself, told her winning this case was a pie-in-the-sky dream. But she did it. She won."
According to Balisle, it was a win for all involved.
"Everyone is great, he is great," Balisle says with a big grin. "That's all that's important, right?"
It has been 26 years since Balisle stumbled into the law. She is amazed that she has had the opportunity to appear in front of the Wisconsin Supreme Court on seven occasions, and she delights in how perceptions of family law attorneys have transformed from the sleazy divorce lawyer image to lawyers known for their strong multidisciplinary practices. Family law attorneys now deal with alternative families, fair division of assets and the preservation of families throughout the divorce process.
Balisle says she is also in the midst of her own rebirth.
"I feel like I am starting over," Balisle says with a radiant smile. "I really do."
With her only son, Sam, "launched," as she says, and doing well as an advertising executive on the West Coast ("He has one client," Balisle says with a playful smile: "Microsoft"), Balisle is ready to move on to a new stage in her life.
She and Roberson are focused on expansion. Not the firm's, but their own. Balisle finally convinced an apprehensive Roberson to start 3rd Power Communications, a company devoted to giving teleconferences and Web conferences on a series of family law issues.
"Linda is very good at thinking outside the box," Roberson says. "I just needed her to lead me into it, and now I am very excited about it."
Balisle has even more ideas. She recently filed a patent with the firm's 22-year-old "IT guy" for a voice-transcribing software program. She co-owns buykind.com, a Web site that sells and features only animal-friendly products. And she spends her summers and weekends tending to the prairie and woodland of her Spring Green farm. But the firm is still her first priority.
"I tell people here that Linda [Roberson] and I will probably be coming in here as drooling old ladies," Balisle says, gesturing around the room, past the gorgeous view of Lake Monona and that sassy Lady Justice. "There are a lot of other things in this world I enjoy doing, but this firm is what allows me to do everything else."
Search attorney feature articles