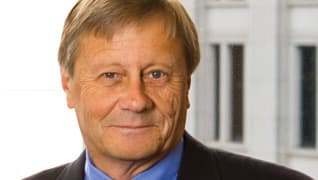 Photo by: Corey Hengen
The Quick and the Reserved
Terry E. Johnson likes helping lawyers with problems
Published in 2012 Wisconsin Super Lawyers magazine
By Angela McManaman on November 12, 2012
Terry E. Johnson, a professional liability lawyer with Peterson, Johnson & Murray in Milwaukee, doesn't talk much about his practice. "Probably a lot of the cases I deal with are nowhere near as interesting as you make them sound," he says.
He's even more tight-lipped about his clients. "They are not reluctant to share with friends and close colleagues that they've worked with me," he says. "In a magazine it's a little different."
Listing the compliments he receives from colleagues and friends—how his mind is a "steel trap"; how he is able to cross-examine or depose in record time and to maximum effect; how genuinely nice he seems—doesn't open up Johnson, either. It leads him to take a deep breath.
"First of all," he says, exhaling and smiling slightly, "I'm surprised you talked to my mother. I can't imagine anyone else who would say all those nice things about me."
All of which is exactly what you want in a professional liability defense lawyer.
"Somebody super responsible: that's what I would want," one lawyer says about her ideal professional liability attorney. "This is not a place to do bargain shopping. You would need someone incredibly experienced."
Brian C. Anderson, claims counsel with the Wisconsin Lawyers Mutual Insurance Company, agrees: "Don't aggravate that situation with an inexperienced legal malpractice attorney." That's why Anderson uses Johnson—who's been practicing for 37 years—to represent some of his members. "Terry is … an excellent attorney in defense matters in general, with real knowledge of legal malpractice from a liability and damage standpoint," Anderson says. "When claims come in against our insureds, they can be angry, shell-shocked. When Terry comes in, he puts their minds at ease."
Johnson's clients are not only shell-shocked; they can be, to phrase things gently, a little opinionated about the law.
"It's a challenging job to educate and represent people who feel like they always know what they're talking about or believe they know more [than you]," says Robert Kasieta of the Kasieta Legal Group and adjunct professor at University of Wisconsin Law School, who has known Johnson for 15 years, mostly as opposing counsel.
Johnson's longtime friend and fellow shareholder, Jim Murray, says Johnson combines professionalism and personality to build trust and mount a solid defense for clients who have difficulty believing he might know as much about their case, or how to defend it, as they do. "Terry's good at disarming lawyers he is representing who want him to do it their way," Murray says. "Eventually, they sit back and relax and let him take over. He's just so incredibly smart that sooner or later people realize he's best left alone."
Likewise, opposing counsel are forewarned to be as prepared as possible when facing Johnson.
"My preparation is tested more and more thoroughly when I'm working with Terry than with other lawyers," Kasieta says. "He's very good and very creative, the best kind of challenge. If you do well with Terry, you know you've done something."
Johnson describes his work thus: "Firm dissolutions, firm departures, discipline matters. Advising firms on matters in things like that before they result in discipline matters."
He's particularly effective on the "before" side of things, says Anderson, who estimates that of the 10 or so cases he's referred to Johnson yearly since 2003, about 95 percent are settled without trial, on terms amenable to both parties. 
"When there's a really large issue or exposure, it's especially good to get [Terry] involved in that he doesn't get rattled. He has the same kind of steady approach whether the claim is $25,000 or $4-to-$5 million. Those are the kinds of ranges I know he's been involved with for our attorneys. We've never paid anything near the top end."
By the time the case is over, Kasieta adds, "I'd be shocked if his clients don't love him."
Johnson, who tends to speak plainly, offers an even simpler explanation of what he does and why.
"I like helping lawyers when they have problems," he says. "I get some satisfaction from that."
Johnson grew up the oldest of four children in South Milwaukee, a suburb known for good schools, quiet streets, and the swath of beach, bluff and emerald parks that separate the city's eastern border from the vast blue of Lake Michigan. It's where Johnson first golfed, destroyed his knee at a church picnic, decided to become a lawyer and met his future wife, Linda, all by 11th grade.
Neither of his parents finished college, although his father worked as  a quality-control executive for the Department of Defense after several years in the Army. His mother worked in data processing for a nearby manufacturing company. All of their children are college graduates.
Johnson logged two years at the University of Wisconsin-Madison before returning home for his final two years at the University of Wisconsin-Milwaukee. At 19, he and Linda got engaged. At 20, they married. The young couple returned to Madison after Johnson graduated cum laude from UW-Milwaukee in 1972 so Terry could attend law school. Linda Johnson worked at a cancer research institute at the university. Their daughter, Heather, was born in 1974.
After law school graduation it was back to Milwaukee, where he worked for Borgelt, Powell, Peterson & Frauen, a litigation firm with an extensive insurance defense portfolio. His first years there, Johnson says, he practiced nearly every form of civil litigation except tax, with an emphasis on personal injury. He logged billable hours at what colleagues describe as an enviable and exhausting rate. He was often up at 3 a.m. and at work by 4:30 a.m. In record time, says Murray, Peterson was promoted to partner.
Johnson is typically brief in his summation of the period. "It turned out I enjoyed personal injury litigation, and was reasonably good at it," he says.
Curiosity, quiet confidence and the potential for greater independence, fueled by the encouragement and restlessness of senior partner Don Peterson, gradually took hold. In March 1982, Peterson, Johnson and Murray, along with attorney Mary Wolverton, left to form their eponymous firm.
Months later, Johnson found himself working in Madison, knee-deep in a case that would change his career.
In 1975, during an early September football weekend in Madison, a former fraternity house fellow invited a hometown friend to join him at the Chi Psi Lodge on Iota Court near Lake Mendota. People wound up doing what they do in Madison, on Greek Row, on a football weekend.
In the early-morning hours, a small electrical fire started in the third-floor library where the out-of-town guest slept. Johnson recounts the case as though he just tried it in the summer of 2012, not 1982, detailing a tragic combination of factors that culminated with the guest falling from a third-story window onto a concrete staircase.
The case came to the new firm in fairly routine fashion, through an insurance carrier client, and ultimately involved approximately 40 trial lawyers and 63 defendants. Johnson first worked to get the national fraternity, which had a commercial general liability (CGL) policy with one of Peterson, John & Murray's clients, dismissed on a motion for summary judgment a few months before the trial began. In court, he represented the Iota Trust Fund. The trustees had paid for renovated portions of the house, including the library, leasing them back to Chi Psi without cost to the fraternity.
Neither the trustees nor the trust fund Johnson represented were dismissed from the case, although the amount of liability as a group—19 percent—fell below that of the plaintiff.
"The case had a modest impact on the firm's finances, but it made a significant difference in my career," Johnson says. "I became acquainted with representatives of a significant legal malpractice claim here in Wisconsin. And I believe as a result of that acquaintance … [I] started to get work from them."
Johnson's approach to this work is a basic one and hasn't changed much in 30 years. No surprise, he's a conservative appraiser of his own work.
"I see so many good lawyers," he says. "People's view of how good you are as a lawyer, it comes from longevity and notoriety as much as skill. I don't say that to be self-effacing. I have a realistic view of myself."
He does admit to having a good memory and being a quick thinker, two qualities he says can't be overvalued in trial law.
"You don't have to be extraordinarily smart to be a good trial lawyer. You have to be smart. But more than smart you have to be quick," he says. "If you don't think quickly, and if you aren't confident about making the right decision, the opportunity is gone before you make up your mind. If there's a right question to ask, you've got to ask it now. If there's an objection that has to be made, if that next question gets asked, you might as well not make the objection. It's gone."
Again comes the pause, the one that often follows any question compelling Johnson to assess his own abilities. "I am that," he acknowledges. "I'm quick."
Kasieta, who has often seen Johnson  in action, agrees. "That quickness comes through in everything he does: phone conversation, negotiation strategies, in front of the jury," he says. "That makes him aggressive, but it's not a conventional aggression. It's never mean. When some lawyers are aggressive, they get angry. That's their aggression. With Terry, he finds vulnerability or weakness and he exploits it. That's his aggression."
In every malpractice claim he takes on, while experts are talking in hypotheticals about what a lawyer might have done or should have done or didn't do, Johnson's initial move is to get an insider's opinion. He goes straight to the opposing attorney.
"[Often] the only other relevant lawyer in the case is the lawyer on the other side of the lawsuit," he says. "If the other lawyers are well-disposed to you professionally, if you're decent, reasonable, polite, the chances of getting him to be cooperative and helpful are a lot better than if he hates your guts at the end of that first lawsuit.
"You can either have a good relationship with him or not," Johnson continues, "but it always makes things easier, and it's how we should behave. And in the unlikely event there is a malpractice claim, it's extremely helpful."
As for clients he has represented, Johnson adds, "All of the best ones and all of the worst ones are lawyers. Of all the gifts I've gotten, thank-you notes in the last 30 years, 90 percent of them have come from lawyers. I have more appreciation for lawyers of the importance of resolving their problems for them. Their emotional involvement, their reaction to what happens that is good and bad, is much stronger."
But 37 years are 37 years. Johnson talks, in vague terms, about reducing his caseload in the next three or four years. He now "sleeps in," occasionally, waking closer to 5 a.m. than 3 a.m. He's still in the office before 6 a.m. Seven days a week. No coffee required.
"Maybe a part of him wishes he were winding down a bit, but he's still got a passion for it," says Johnson's son, Nate. "I'll believe that he's winding down when I see it."
The younger Johnson, now a decade into his career and a shareholder at Peterson, Johnson & Murray, knows exactly what skills he aspires to inherit from his father.
"Attorneys can be really long-winded. I hope that what he's taught me is get to the point, don't waste time. That goes hand in hand with who he is. And everyone is happier because of it."
Search attorney feature articles