About Natalie Pompilio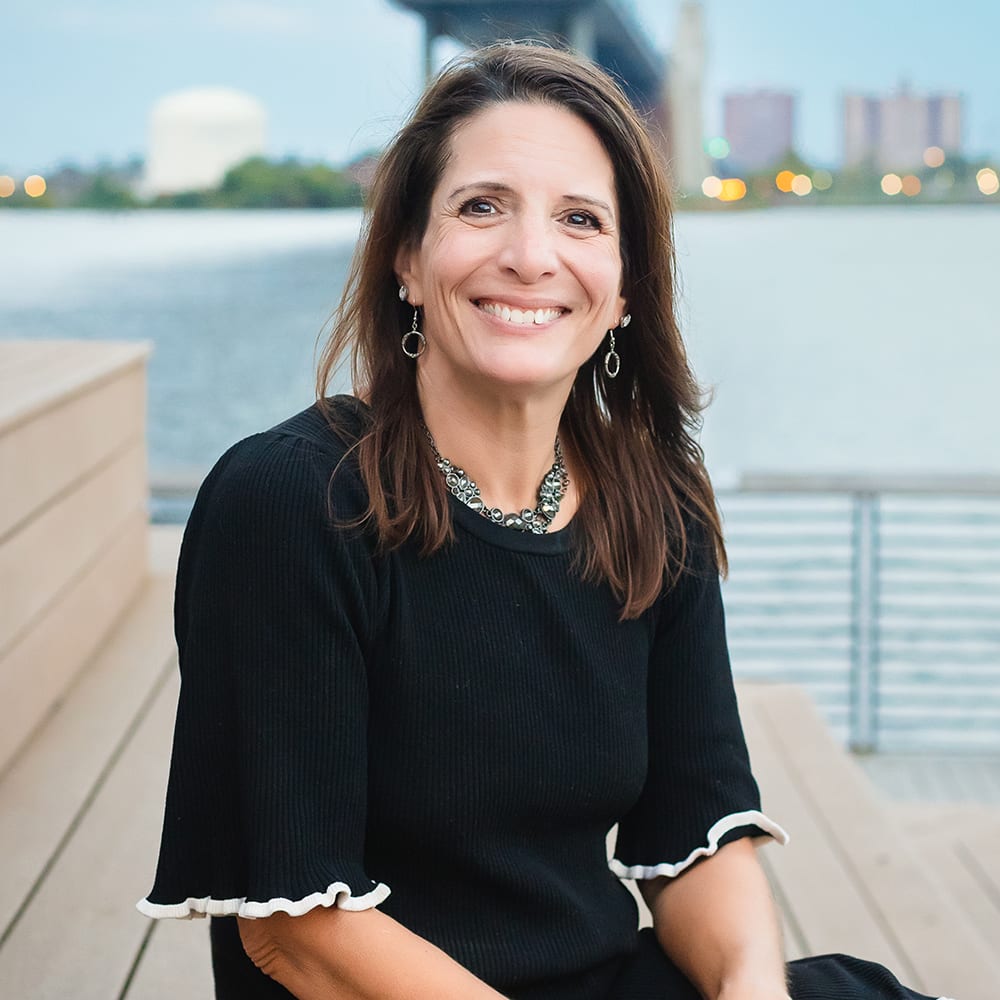 Natalie Pompilio
Articles written
24
Natalie Pompilio is an award-winning freelance writer based in Philadelphia. Formerly a staff writer for The Philadelphia Inquirer, The Philadelphia Daily News and The Times-Picayune of New Orleans, Natalie was on the ground in Iraq in 2003 and in New Orleans as Hurricane Katrina hit in 2005. She's collaborated on four Philadelphia-centric books: More Philadelphia Murals and The Stories They Tell (with Jane Golden and Robin Rice); Philadelphia A to Z (with photographer Jennifer Zdon); Walking Philadelphia: 30 Walking Tours Featuring Art, History, Architecture, and Little Known Gems (with photographer Tricia Pompilio) and This Used to Be Philadelphia (with photographer Tricia Pompilio. She holds degrees from Johns Hopkins University and the University of Maryland, and she's a rabid New York Yankees fan.
Articles written by Natalie Pompilio
Joanna Adu connects with clients caring for loved ones with disabilities
During college, Joanna Adu decided against a legal career. Five years post-graduation, she was living in Seattle and working in retail banking, the single mother of a son with a disability. At one meeting, a branch manager posed this icebreaker: What would you do if you had no fear of failure? "I didn't even have to think about it," remembers Adu, 39. "I said I would go to law school." She had begun reconsidering the career a few months earlier as she was weighing opportunities for …
From angelic singing to javelin tossing, Janet Rhodes has great bar stories
Janet Rhodes' work as an employment lawyer means she doesn't get to sing as much as she'd like, but she'll still perform for friends' weddings or bust out Pat Benatar's "Heartbreaker" on karaoke night. Rhodes, second in second row, at a Sandlapper Singers performance. Singing has been one of her passions since elementary school, when she joined the choir at her family's Methodist church, performing while standing on a stool and wearing a Christmas pageant angel costume because …
Former Judge Robbie Barr makes human connections everywhere she goes
Robbie Barr is used to people telling her she can't do something. She's also used to ignoring them."With most things in my life, where people say, 'You can't be a lawyer. You can't be a judge. You can't leave the bench and move to Denver. You can't dye your hair blue,' I do it anyway," says Barr, 69, the founder of BarrADR in Denver. "Maybe whatever's scaring me is where I need to go." The 5'2" Barr took up taekwondo in her late 50s, sported a shiner caused by …
Losing asylum cases has taught Anna Tijerina so much
Anna Tijerina lost her first asylum case. Badly. "The judge just tore me apart," the immigration lawyer says of the extortion case, which involved a woman in her 30s and during which the judge objected to every line of her questioning. At the close, she left the courtroom and sobbed—for her client, for herself, and for the injustice she felt she'd just witnessed. She didn't return to her office that day. But she did return the next, and felt stronger for it. "It was good motivation. …
How Steve Abreu launched a comprehensive disc golf-focused practice
Soon after he began playing disc golf in March 2020, trademark attorney Steve Abreu had a realization: The distinctive plastic Frisbees he was throwing were valuable pieces of intellectual property—and wasn't it his job to help companies protect their IP? Less than three years later, Abreu's firm, the Boston-based Sunstein LLP, has a client roster that includes disc golf's professional tour, its number-one player and multiple equipment manufacturers. It sponsors the Sunstein Series, a …
Nina Pirrotti on fighting the good fight
In third grade, Nina Pirrotti learned that girls weren't allowed to carry the American flag before school assemblies. Incensed, she prepared and passed around a petition and collected dozens of names. By the end of the school year, girls were carrying the flags, too. "Empowering the powerless, that's been a through line my entire life," says Pirrotti, of Garrison, Levin-Epstein, Fitzgerald & Pirrotti in New Haven. As a lawyer specializing in civil rights and employee advocacy cases, …
Jeh Johnson keeps giving back to his country
When Jeh Johnson discusses his role in making the legal case for killing Osama bin Laden, or ending the military's "Don't Ask, Don't Tell" policy, his voice is measured and thoughtful, its depth adding gravitas. When the conversation turns to his newest gig, hosting a R&B-focused public radio show, WBGO's All Things Soul with Jeh Johnson, some of that gravitas goes by the wayside. "I'll be back on the air tomorrow, 10 to 4, begging for money," he says of a co-hosting …
LeRoi C. Johnson on the childhood accident that helped forge a career
LeRoi C. Johnson was 10 years old, riding his bike across his hometown of Buffalo on an errand for his mother, when an inattentive ice-cream truck driver plowed into him, dragging the boy and his two-wheeler down the road. It was as bad as it sounds. He suffered from extreme facial lacerations. He broke both legs, both arms, a rib, and spent months in traction, followed by months in a full body cast. He missed four years of school. "I left school in third grade and came back in …
Chambord Benton-Hayes' path started with meeting Johnnie Cochran
Chambord Benton-Hayes was 11 when she read Johnnie Cochran's Journey to Justice, and she had questions. So she went to an Oakland bookstore to ask the author himself. It was 1995, and Cochran was arguably the most famous—and most quoted—attorney in the world, having just won a not-guilty verdict for O.J. Simpson after an 11-month murder trial. Benton-Hayes was first in line, the book clutched in her hand, her questions memorized. And then there he was. "I asked if the justice system was …
Fred Penney on the next wave of legal marketing
Fred Penney's not a famous actor, singer or athlete. He's a personal injury lawyer who 30 years ago founded an eponymous firm in Roseville, population 135,000. So why does he have 1.2 million Instagram followers? It's all part of the job these days, he says. Penney has always promoted his businesses in unusual ways, like putting his name on race cars, but it's his use of LinkedIn, Instagram and Facebook that have garnered him ink in Forbes and Entrepreneur. Colleagues and opposing …
Find top lawyers with confidence
The Super Lawyers patented selection process is peer influenced and research driven, selecting the top 5% of attorneys to the Super Lawyers lists each year. We know lawyers and make it easy to connect with them.
Find a lawyer near you