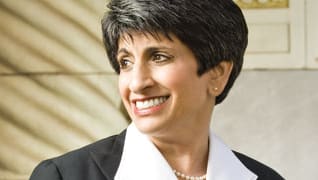 Photo by: Stan Kaady
Called to Serve
For Birmingham civil defense litigator Augusta S. Dowd, the legal profession represents a way of giving back
Published in 2012 Alabama Super Lawyers magazine
By Lisa Frederick on April 30, 2012
It wasn't until after Augusta S. Dowd had accepted a scholarship, enrolled at Tulane University's business school and stayed in her new apartment in New Orleans for a night or two that she realized she wanted to be a lawyer. "I went all the way down to the school and had an apartment, and left before orientation—it just didn't feel right," she says. "I came back to Birmingham and decided that this business of being a lawyer was something intriguing."
Almost 30 years later, Dowd is more than happy with her decision. The secretary, vice president and managing lawyer at White Arnold & Dowd in Birmingham has won many complex cases for clients, and finds trial law a perfect fit.
"This seemed to be my forum," she says. "I do enjoy the opportunity to advocate, to promote people's interests; I enjoy the give-and-take of the courtroom. It was just from the beginning a very comfortable arena for me."
One of four children—and the only daughter—of Palestinian immigrants, Dowd grew up with a strong work ethic and a firm foundation of family support. "My parents had a very conventional marriage, but my mother is definitely my role model," Dowd says. "She urged me from day one to pursue my dream. She said, 'America is the greatest place for a person to pursue their dreams and goals.' … Much of my motivation early on was to be independent, to have the ability to pursue those things of interest to me freely, and absolutely to pursue a vocation."
A few early signs predicted her future career. "My family always said I was a consummate arguer—I would not let go of a viewpoint. I also am a consummate reader and books about successful cases were always of great interest to me," Dowd says. "But it did not really dawn on me that this was a profession that I could pursue until, really, fairly late. I know that one of the reasons was that I didn't believe that I was as smart as the people I knew who were lawyers. I had such great regard for them. They were so poised and so articulate, and so solid in their viewpoints."
When she moved back to Birmingham after withdrawing from Tulane, Dowd looked for the opportunity to get some experience in law. She landed a paralegal position at Lange Simpson Robinson & Somerville and was clear of her intentions. "I was very upfront with them–I told them if I liked it, I intended to go on to law school, and if I didn't like it, I was moving on," Dowd says. "And I just hit [my] stride. It was a very comfortable arena for me, and a very exciting arena." She was accepted to Vanderbilt University Law School, earned her degree in 1982, clerked with federal Judge Seybourn H. Lynne from 1982 to 1983 and subsequently returned to Lange Simpson.
To say that she hit the ground running doesn't do her justice. "I had a very unusual start to my career," Dowd says. "Lange Simpson … had three [property] condemnation trials, jury trials, in a row, all brought by the same lawyer and all, from our perspective, representing the same client. And the Monday—I do believe it was as quickly as the Monday after I got licensed, but if not it was very shortly thereafter—a partner and I tried one of those cases and I had limited involvement in the trial. The next trial I had substantially more involvement because the issues are largely the same. The third trial, I tried the majority of the trial."
With the cases so close together, and all three within her first 60 days, she had no chance to get nervous. "I immediately had jury trial experience and was up standing before a jury before I even had time to think about whether it was intimidating," she says. "It was an absolutely terrific opportunity for a young lawyer, and I'm deeply appreciative to Rob Hunter, the partner at the time, and to the firm—and to that client, who was willing to take that risk."
Many of her Lange Simpson colleagues, she says, became important mentors and role models: Hunter, Ann Huckstep, Larry Clark, Henry Simpson. Their lessons have stuck with Dowd. "The clients are trusting you with their well-being," they told her. "You have to earn that trust. And that translates into working harder and longer and better than anyone else."
"Early on in my career, I took that mantra to a different level because I would be in a courtroom, and there really wouldn't be another female," she says. "And so when the one female in the courtroom stands up to speak, just inherently they're going to get more attention because it's a different gender. And I felt very, very strongly that I needed to be the most prepared person in the room.
"What you see more and more now that is so comforting to me is, women have now emerged to a point where they have more senior roles," she says. "They are the lead lawyers. They might be arguing at the Supreme Court instead of the male partner. And that's very, very encouraging."
Yet she also relays a telling anecdote. After arguing before the Alabama Supreme Court on a [telecommunications] case this past summer, Dowd spoke with a retired Supreme Court justice who had been in the audience. "He made the comment that he could not recall ever having a female argue before the Alabama Supreme Court. Now, he then went and talked to one of the court employees, who also could not generate the name of a female who had argued before the Supreme Court. That was mind-boggling to me. It never crossed my mind. We have a number of wonderful female Supreme Court justices. But the thought that it was worthy of a discussion about whether there had ever been a woman arguing, or when last a female had argued, was incredible to me."
Dowd took some time away from law in the 1990s to be home with daughters Bevan and Grace (now 26 and 23) and son David (now 22), but her passion for the field eventually brought her back to the courtroom.
"My experience at Lange Simpson had been terrific, but I also know that it's very hard to change mindsets and perceptions of people, and their mindset for me as a worker in the culture of the office was framed by how I had been before I had children," she says. "I really wanted to reinvent that [for myself once I returned to work]."
Her opportunity arose via longtime friend and colleague Mark White—founder of White, Dunn & Booker, the firm that eventually would become White Arnold & Dowd. The two had met when they collaborated on a matter during Dowd's time at Lange Simpson. "We discovered we worked together very efficiently and effectively, and frankly, it was fun," Dowd says.
White saw her talent immediately. "There are plenty of lawyers with exceptional credentials, but … it was pretty apparent that she had that extra something that makes a good lawyer a great lawyer," he says. Her strengths? "Clients instantly trust her. Jurors like her. Judges give her great respect. She reciprocates on all three of those deals: She likes clients; she respects judges; she enjoys jury trials. She has an incredible, exceptional reputation in the community for being a very gifted lawyer and very fine person."
Her firm offered her the family-friendly environment she desired and a law partner whom she credits as an important influence in her success. "Mark White has been a tremendous mentor and law partner," Dowd says. "I have learned more from him about lawyering than any [other] person."
"We have been referred to as Ralph and Alice Kramden occasionally," White says, in a nod to the spirited duo from the classic sitcom The Honeymooners. "I think having spent part of her time raising those three wonderful children, her management skills [and] her ability to balance schedules and her job with a family are second-to-none."
Of course, it's not always easy. One of her most notable time-consuming cases began several years ago when she served as a key member of the defense team for Monsanto Co., which had been involved in litigation since the 1990s. Residents of the Anniston, Ala., area contended that Monsanto had polluted waterways and land near the company's local plant with chemicals known as PCBs, allegedly causing a variety of illnesses in those who claimed to have ingested them unwittingly. "Monsanto had entered into a substantial settlement, but more cases came down the pike, and the company's viewpoint was: We have settled with thousands of people. It's time to start trying these cases," Dowd says. "The company put together a team of lawyers from, I think, four or five law firms, and I was privileged to be not only on that team, but on the trial team." Dowd and her colleagues successfully tried two of the cases—one in federal court, one in the Jefferson County courts.
The Monsanto case certainly helped to raise her profile in the legal community. "I think it helped some to identify me with mass tort litigation in a successful fashion," she says. "But more importantly, I think it helped folks to see that those cases can be tried, can be tried successfully. It is expensive. But for me personally, cases like that are so rarely tried that just being a part of that was a real boost for me, I think, in the collective eye of at least the legal community, and I think it was for the other lawyers."
Dowd's work greatly impressed Martin Zucker, assistant general counsel of litigation at Monsanto Co. "Augusta skillfully and gently handled very sympathetic and delicate witnesses before our jury," he says. "Her ability to do this was an important part of our winning the case."
A recent case is especially close to her heart: representing leaders from Catholic, Episcopal and United Methodist churches opposed to the controversial 2011 law that, as written, gives Alabama police officers the authority to arrest suspected illegal immigrants during routine traffic stops. The law, as written, also makes it a crime to transport or provide shelter to an illegal immigrant. The religious leaders she represents contend that it would thwart their mission of feeding and transporting those in need.
"I had to sit down with my mother, who's been here since 1952, and talk to her about the paperwork she'd have to have with her, warn her that because of the way she looked or the way she talked, she could readily be profiled," Dowd says. "It was so hurtful to her. She said, 'I've been in this country over 50 years. This is my home. My family is here. And you're telling me now I'm not wanted in my own home?'
"I commend the bishops and the sisters and the monks for standing tall," she continues. "[The law] is wrong. It denigrates human dignity and decency, and it's a terrible reflection on our state and, unfortunately, on our leadership. We're going to continue to fight this one." (As of press time, the case was argued at the 11th U.S. Circuit Court of Appeals, with the court deciding it would not rule on the case until the U.S. Supreme Court rules on the current Arizona immigration laws.)
Dowd, who's not charging for her legal fees in this case, calls it "one of the most meaningful matters I have been privileged to be a part of."
"It is not often in life that a lawyer truly gets to do God's work," she says. "That is what that case means to me."
"I have always felt strongly the need to give back and to help others," says Dowd. "And I have been very blessed that there have been times and opportunities in my life to do so." Her fundamental perspective on her job? "People don't come to see me when they're happy; they come to see me when they've got a problem," she says. "And I do view myself as a solution finder."
The commitment to service that runs through her practice is just as strong in her personal life. Although she's been involved with quite a few charitable organizations over the years, serving on numerous boards, she says, "I concluded a couple of years ago that I needed to focus and channel my energies. And I am privileged now to be on the board of the YWCA. … That is a moving and shaking organization." 
She met husband David, now an attorney at the Birmingham firm Burr & Forman, during law school. "David is a huge influence in my life and he has been a great mentor, supporter and cheerleader," she says, adding that the same is true of the couple's children. "Without family support I could not have pursued the career path I have taken. I also think the example our children have in the two-career, successful marriage formula has had a huge impact on [them] and has helped … them to think far more expansively about the options available to each of them."
Indeed, she's gratified that her kids all have felt the same freedom that she did to pursue the endeavors to which they feel drawn. Grace is a teaching assistant in studio art at Dartmouth College, and David is a senior computer science major at Dartmouth. And Bevan, who works as a project manager for a consulting firm in Birmingham, plans to follow her parents' lead, and will be attending Berkeley Law in the fall.
"I don't think there's anybody that is any more called to the law," White says of Dowd. "She truly has a spiritual element about her. She's determined and committed to using a skill she has to try to get order out of chaos and try to … find peace where there is a complete lack of tranquility. She tries to leave a client better than she found them."
Search attorney feature articles