Living the Motto: Chris Williams Is Still Prepared
Eagle Scout Chris J. Williams became the first LEED-certified attorney in the state of Alabama
Published in 2011 Alabama Super Lawyers magazine on April 25, 2011
Updated on May 26, 2016
Chris J. Williams considers himself lucky. He spent his childhood running around the Mississippi woods, visiting national parks with his family and camping with his Boy Scout troop. Three academic degrees, two careers and a family later, he's continuing that environmental passion as the first attorney to become an accredited professional (AP) in Leadership in Energy and Environmental Design (LEED) in Alabama.
"I have long believed that environmental conservation and economic development are not mutually exclusive," says the 38-year-old shareholder at Birmingham's Maynard Cooper & Gale. "The explosive interest in, and growth of, green technology and sustainable development in the last few years is a testament to that fact." Obtaining his LEED AP, Williams says, gives him the chance to better assist potential clients interested in developing or updating properties to meet environmental goals, and at the same time, increase their company's efficiency and profitability.
While Williams' environmental interest is lifelong, his path to law was not so direct. After earning a master's degree at Yale School of Forestry & Environmental Studies in 1998, he worked as project manager for an environmental consulting firm in Birmingham.
However, the job wasn't as fulfilling as he had hoped. "I did a lot of the analysis and identifying what the problem was for a particular issue, but didn't get involved in what we do about it," he recalls. He found he envied the attorneys he worked with who got the chance to explore and enact solutions and make decisions. He decided law was a better fit and enrolled at The University of Alabama School of Law. After graduating summa cum laude in 2004, he joined Maynard Cooper & Gale.
Within the year, he was tackling a major case, assisting several partners at his firm in defending McWane Inc., a national pipe manufacturing company, when the U.S. Department of Justice Environmental Crimes Section accused it of Clean Water Act violations. Williams prepped witnesses, served as the liaison between the firm and plant employees, and prepared graphics for the trial. The client was convicted in trial court, but the conviction was overturned in the 11th U.S. Circuit Court of Appeals. "On a basic level, it provided an early opportunity to obtain valuable trial experience in an important and complex environmental case," Williams says. "Ultimately, as part of a final settlement, our client agreed to build a unique urban park and constructed wetland in an underserved neighborhood. It has been an equally interesting and rewarding experience working with the same client on the development of that park."
Today his practice encompasses all areas of environmental law including toxic torts, land use disputes, citizen suits, Environmental Protection Agency and Alabama Department of Environmental Management administrative actions, and regulatory compliance and permitting issues. He also assesses the environmental risks and opportunities associated with real estate and other corporate transactions.
Williams appreciates the variety of issues he tackles. "The environmental science and studies touch on so many different areas of interest. It's economics, sociology, as well as science, biology, chemistry," he says. "What I love about practicing environmental law is that there is any number of clients with any number of different problems and all of them require a little bit of a different approach. I'm never bored by the issues that come up."
Williams also diversifies his practice through pro bono work with the state bar and Birmingham Bar Volunteer Lawyers programs, representing indigent clients. In 2009, Williams' pro bono work was recognized by the Alabama State Bar, which presented him with the Albert L. Vreeland Pro Bono Award. He believes he received it partly for his yearlong work representing a couple who lost their house in a fire. Halfway through reconstruction, the contractor abandoned the project, leaving the couple stranded; Williams filed a lawsuit on their behalf and obtained a successful settlement. "I think that, by becoming a lawyer and being accepted into the bar and having the privilege to practice law, we owe some debt to the rest of our community to provide legal services to those who can't afford it," says Williams.
Outside of work, Williams spends his time with his wife, Amy, and two children, Madeline, 5, and Noah, 7. With his son in Cub Scouts and the family planning a camping trip this summer to a number of spots in the West, including the Grand Canyon and Zion National Park, he's able to pass on his love of nature to the next generation.
"The fast-paced nature of the world today makes it increasingly difficult for children to spend time outdoors and experience some of those same awe-inspiring places that I recall visiting with my family as a young kid," Williams says. "Now that my kids are at the right age, I want to share those experiences with them as well."
While the little kid Williams once was may have never guessed he would become an attorney, Williams knows he'd be proud of what he's doing now. "I love being a lawyer. That's really what it boils down to. I still get to do that kind of stuff—be outside and tackling issues that involve those things that I'm interested in," Williams says. "One way to look at it is: Who better to work on these issues than someone who does have a respect for the environment?"
Other Featured Articles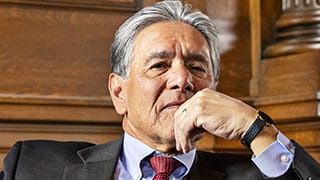 First Served
Sam Alba's long and storied legal legacy Featuring Samuel Alba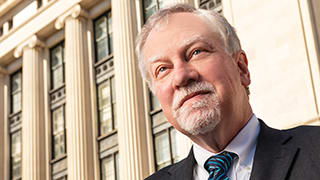 Choosing to Be Happy
How Steve Emmert found his niche Featuring L. Steven Emmert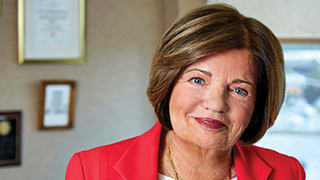 Lady Justice
Ellen Makofsky came to the law late but to elder law early Featuring Ellen G. Makofsky