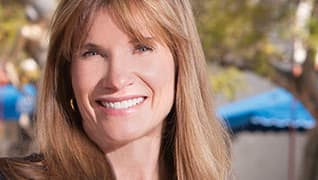 500 Hours of Prep for a 30-Minute Argument
If Kathryn Karcher lives in Washington state, why is she president of the California Academy of Appellate Lawyers?
Published in 2016 San Diego Super Lawyers magazine
By Erik Lundegaard on January 20, 2016
Q: After you graduated from law school, you biked across the country. Was this a reward for getting through school?
A: Everybody that I knew took some sort of major vacation or trip after law school. My thought process was that I could go to Europe for two weeks any time, but I can't go on a cross-county bicycle trip any time, and I might not have a gap like that again in my life.
Q: Did you go alone?
A: I had a boyfriend at the time but he'd never ridden a bike. He just said, "Hey, I could come with you." I said, "OK, fine." So, he went and bought a bike and started to get in shape.
Q: How did you get in shape?
A: I knew I could ride significant distances. The summer after my first year of law school, I didn't have the grades that could get into a law firm as a first-year. So I went to my dad and said, "Dad, I'm happy to get a job in a retail store, a movie theater or whatever." He said, "You'll have the rest of your life to take care of yourself. Let me take care of you over the summer. Just do what you want." So six mornings a week, I woke up, drank a bunch of coffee, read the Los Angeles Times, and got on my bike and rode anywhere for about 90 to 120 miles.
Q: What kind of bike?
A: It's a brand that nobody has anymore: an SR. I still have that bike. It was a $450 bike when I was in college. Awesome bike.
Q: What was memorable about the trip?
A: Nothing all that earth-shaking. Instead of packing big panniers and camping, we packed very little and stayed in whatever cheap hotel we found. It averaged about $20 a night, which was not any more expensive than our rent. I really liked being able to take a shower and put on decent clothes and go out to dinner, which is what we did every single night.
Riding that far on a bike, you realize that you see stuff in a completely different way than in a car. You see lizards on the side of the road. Deer run in front of you. On our toughest days, it was really hot. We would get up super early and be on the road from the moment you could see because you were simply dying by 11 a.m. But the even tougher days for me were when we were climbing the Rocky Mountains. It was so steep and so hard that I sat down on the side of the road and cried. But then you just get up and keep going.
We crossed into Canada through Sault Ste. Marie and then rode in Canada until we dropped back down into the U.S. on the East Coast.
Q: How did you come up with that route?
A: We wanted to see something in Canada. What you did then is you walked into your AAA office and they created something called a TripTik for you. They had maps in every part of the United States and they would pull the maps that covered your entire trip and get a heavy marker and say, "Here's your route." That's how we navigated.
There were times when we rode on interstate freeways, which sounds kind of scary, but when you're on them, there's a huge shoulder. I do remember—I think it was in Montana—we rode through an area that was infested with grasshoppers. There were something like a thousand grasshoppers per square yard. They horrified me. Of course, a grasshopper got into the slat of my helmet and I had this grasshopper trying to get toward my head because it couldn't go back out. That was pretty bad.
Q: What about the people you met?
A: They were all nice except for a truck that tried to run us off a state highway. It was so unlike the behavior of every other single person that we encountered. Everybody wanted to be helpful.
Q: Some people are bicoastal but you're uni-coastal—just different parts of it. You work in San Diego and in Bainbridge Island, Washington. How did that come about?
A: When I met my husband, I was working in San Diego and he was the managing partner of the Seattle office of DLA Piper Gray Cary. Both of us had recently gotten divorced. We met and fell completely head over heels in love. I knew I had a shot at being able to move my children here, and working here, and he couldn't [move]. So that's what I did.
Q: You opened your own practice.
A: Yes. It was a fearful time. "Will the phone ring?" You don't know if it will.
Q: When did this happen?
A: I started my own practice on January 1, 2008.
Q: What steps are involved in hanging a shingle?
A: I did all the housekeeping things you do: get malpractice insurance, change your address and phone number on the Bar website. I live in a huge house. It's three stories and over 6,000 square feet, and my office has always been on the top floor. Then I arranged for an office in San Diego. Clearly the challenge for me was keeping up the San Diego presence even though I don't live there.
Q: How often are you in San Diego?
A: Once or twice a month. For the first several years, I was hardly going but I was still getting work, so everything was fine. But I started worrying. People don't see you, they may forget. So a couple of years ago I got involved in the Appellate Practice Section of the San Diego County Bar Association. I had chaired it back in, I think, 2000. But I landed [back] there and said, "Hey, I'm happy to do whatever job you need done." And I was immediately on track to chair the committee again, which I will be doing this year.
Q: How would you differentiate the skills necessary for being a trial attorney versus being an appellate lawyer?
A: A lot of people think they want to do appellate law because they think of it as glamorous, but they have to be willing to personally read the record and that can be incredibly tedious: days and days and days of long blocks of tedium. That separates one type of lawyer from another.
There are just fewer things that are out of your control in appellate law. You write your briefs, they write their briefs, you go argue. The world is pretty defined. It's not like you go to trial and an impeachment witness shows up that you've never heard of and blows your case out of the water. The process of discovery and developing the factual record is very different than reading it once it's been developed.
Appellate lawyers tend to be analytical, highly creative. You must also be a great writer. When you're an appellate lawyer, each brief needs to be a premium piece of work.
Q: You grew up abroad, right? In India and Pakistan?
A: Right. We moved back to the States when I was kindergarten age.
Q: You learned Urdu. Shouldn't you be in the State Department or something?
A: I know. The problem is nobody spoke Urdu to me after we came back, so I lost it. I was completely fluent when we were there. I kept speaking it for a couple years after coming back. But then it died, unfortunately.
Q: Why were you born abroad?
A: Well, my dad was born in Canton, China, along with his two brothers. They were there until he was about 11. Then the country came crashing down around them with the civil war between Chiang Kai-shek and Mao Zedong. They escaped right before the fall. My dad was actually on a boat that passed near Pearl Harbor within two hours of when it was bombed.
Q: On December 7, 1941?
A: Yes. I mean, scary close. The captain announced to them, once they were safely past, what had just happened. Nobody on the boat knew that.
Q: Why was your father born in Canton?
A: His father was a doctor—what they called a medical missionary—for the Presbyterian church, which meant the church sent him and other healthcare workers over to simply take care of people who were there. So my dad's goal, when he went to medical school, was that he was going to be a medical missionary, too. That's how he, and we, ended up in Pakistan and India. He worked in hospitals and clinics where people would walk for days to get medical care. He said what he remembered most was that women's tongues had been cut out—because of some violation of how they were supposed to behave—and they were coming to him for help.
Q: You're from a family of doctors, so why the law for you?
A: I was never a math-science type. Honestly, I grew up idolizing my dad. Because of that I thought I needed to be like him. I wanted to have what he had—and by that I mean financial security and a profession that people look up to. I knew it wasn't going to be medicine. I'm a psychology major and I got into one of the top programs in clinical psychology in the country, and I went and started that program, but really quickly I thought "I'm out of here" and I left. So I'm kind of sitting there going, "OK, what do I do?" and I just thought, "How about law school?"
Q: Did you have a mentor?
A: Marcie Mihaila. She and Charles A. Bird at Luce Forward really established the appellate practice in San Diego, and they did this in the two biggest firms in San Diego. By the time I came along, she'd established a great culture at Gray Cary. People really understood that if you had an appeal, you needed an appellate lawyer.
Marcie and I were already friends; then the associate that helped her with appeals left and she asked me if I wanted to do them. We were kind of seamless. She could write one section of her brief, I could write another, and you couldn't tell the difference. Our lives were pretty enmeshed. We would typically talk half an hour a day in each other's offices. She would wear pink leather pants with zippers at the side to work—not an everyday thing in a law firm. My husband used to call those her "drive-in-movie pants."
She was amazing and loyal. When most of our practice was in the intermediate courts of appeal, a California Supreme Court case came along. There were two issues that the court was reviewing and we each briefed one issue. Then the court dismissed review of her issue. Since it was her case and her client, I said, "Of course you're going to do the argument in the Supreme Court." She said, "I wouldn't do that to you. The client gets to decide, but I'll talk to the client and tell them that I have absolutely no hesitation in saying you should argue this case in the Supreme Court." And I did argue the case. Not a lot of people are necessarily like that.
Q: Did she give you any advice that you remember?
A: She was giving me advice all the time. She gave me advice about my life, too, especially when I started to get divorced. She always was restless and moved up to Seattle and started working out of our Seattle office. She met my husband there and told me what a great guy he was.
In October of '04, she was diagnosed with cancer. She was 49 when she died. Marcie was just a treasure.
Q: You're a member of different legal organizations. Which have been particularly helpful?
A: Currently, I'm the president of the California Academy of Appellate Lawyers. I was kind of stunned when I was elected. It's a huge honor. These are the top people in the state of California. They have huge brains. There are probably more nerds in our specialty than in most.
Q: Would you say that appellate lawyers tend to be introverts while trial lawyers are more extroverted?
A: I think so. Because they have to be OK with spending very long spans of time in their offices doing legal research and writing briefs and reading records. So their practice keeps them at their desk. If you're a trial lawyer, you have an ex parte hearing. You're doing a deposition. You're sending a deposition. A trial lawyer might have a month-long trial. An appellate lawyer has a 15- to 30-minute argument. That's it for the whole case that they've spent maybe 500 hours on. A 30-minute argument.
This interview has been edited and condensed.
Search attorney feature articles