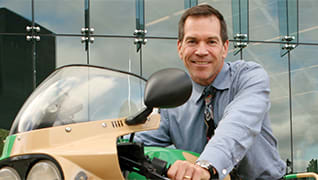 Photo by: Larry Marcus
A Bit of a Rebel with a Bit of a Cause
Schuyler Moore's life would make a great movie; but would he watch it?
Published in 2010 Southern California Super Lawyers magazine
By Erik Lundegaard on January 26, 2010
There are nine framed photos hung in a neat, tic-tac-toe-like square on the wall opposite the 16th-floor window in Schuyler "Sky" Moore's office overlooking Century City in Los Angeles. Eight of the photos are color photos of the motorcycles Moore owns and rides to work: '70s-era Triumphs and Ducatis and Nortons. During the day he keeps his riding leathers in a drawer and at night he hangs his suits behind his office door. He's been riding since age 15. He has never owned a car.
The photo in the middle is a black-and-white shot of a scruffy, long-haired teenager, electric drill in hand, working on a motorcycle and staring defiantly at the camera.
"That's me in high school, in Pali High," says Moore, 54, a partner in the corporate entertainment department at Stroock & Stroock & Lavan. Then he laughs. "That's actually my official high school picture because I didn't go for the photo. I was a bit of a rebel in high school so they came and took the picture in auto shop."
Asked why he was a bit of a rebel in high school, Moore pauses, but only for a second. "I was very much into drugs at the time," he says. "I was actually a drug addict at the time."
One word crops up as he describes those days: Fortunately. "Fortunately I wasn't on addictive drugs," he says. "I was mostly on psychedelics: uppers, downers, marijuana, LSD. Those fortunately were not addictive. Fortunately I stayed away from heroin and cocaine."
And fortunately a cop helped turn him around. Unfortunately it wasn't a good cop.
"I'd been arrested several times as a kid and was arrested again at 17, just before graduation. And it was just … I was handcuffed and had hair in my eyes and it was late at night, and this policeman made me hold the door open [for others in the station], and then laughed at me with his partner—at how funny it was to make me hold the door open. It was like kicking a dog when he's down. It was just this epiphany: This isn't working. My life … this isn't the plan.
"So I went cold turkey and had to climb uphill from there. You know? Struggle my way out."
Eight years later—after climbing from Santa Monica Junior College (two years) to UCLA (dean's list)—Moore graduated first in his class at UCLA School of Law and quickly made a name for himself as a tax attorney. But he wasn't satisfied. He leveraged his tax expertise to expand his practice: a security offering here, a debt offering there. He did the homework. He read the 13-volume Collier set on bankruptcy and worked on the Orion bankruptcy. He helped found Summit Entertainment and grew with the company. When it needed distribution, he learned distribution. When it needed financing, he learned financing. Soon he stopped advertising himself as a tax attorney altogether. "I shut off the T-word 18 years ago," he says. "I now keep it hidden, I call it my secret shotgun. So I don't advertise it and I don't push it at all. I just use it. So if I'm on a transaction and can smell tax issues, I can deal with them. But I don't promote myself that way because I don't want to be a tax nerd. I want to be the general corporate guy."
Current clients include production companies Hyde Park Entertainment, Natural Selection (co-financed by Muammar Qaddafi's son) and Reliance Big Entertainment, which recently provided $325 million of the $800 million that allowed DreamWorks to split from Paramount Pictures.
Moore is often an expert witness in participation cases—who gets what profits from which films. He writes columns, often controversial, for The Hollywood Reporter. His book, The Biz: The Basic Business, Legal and Financial Aspects of the Film Industry, is in its third edition, while his earlier work, Taxation of the Entertainment Industry, updated annually, is used by the Internal Revenue Service as the training manual for its entertainment group. He teaches motion picture financing transactions at UCLA School of Law and entertainment law at the UCLA Anderson School of Management. He's been married for 25 years. He has two daughters.
By any measure he's come a long way since that night in the police station. Yet what might surprise friends and family, colleagues and clients about the above story isn't that Moore was once a drug addict; it's that he paused before saying he was once a drug addict.
Moore doesn't pause. He likes speed, brevity, bluntness.
"Unlike many lawyers I know, Sky actually gives you a short and clear answer: 'Yes,' 'No,' or 'Your question doesn't make sense,'" says David Molner, founder and head of movie financing for Screen Capital International, with whom Moore has worked on approximately a billion dollars worth of deals. "He's also the fastest turn I've ever seen. I mean I'm astounded."
"When you call his office he picks up the phone, it doesn't take three people to get through to him," says Lori McCreary, co-founder, with Morgan Freeman, of Revelations Entertainment, a Moore client. "And he's a master of brevity. He has a net-profit definition that is, I would say, one paragraph, as compared to the sometimes 14- or 15-page net-profit definitions that go with most films I've worked on. And it's complete and clear."
"He's incredibly efficient as a transactional lawyer," adds Robert Hayward, chief operating officer and principal of Summit Entertainment. "And then being a tax lawyer? He'd immediately be able to give you the rundown of the tax consequences of everything you were doing. It's not like you'd have to have another lawyer, who would then come up to speed. It was, 'OK, Sky, turn the hat around. What does this do for us on the tax front?'"
Hayward cites Summit's purchase of the foreign distribution rights to Universal's American Pie in 1999 as an example. "We were concerned that the picture was starting to heat up—this was only a couple of months before release—and we needed to close very quickly or we were going to lose the deal. And we had Sky draft and close the deal. Just extremely quickly. Had we used another attorney it may have dragged on and on, and Universal might have realized they were making a mistake and nixed the deal." American Pie wound up making more abroad ($132 million) than at home ($102 million).
Everyone, it seems, has a story about Moore. The time he brought his motorcycle up the freight elevator and rode it around the hallways of his 1980s law firm. (He didn't last there much longer.) The time his students couldn't answer a simple question and he collapsed on the floor in disbelief. McCreary once ran into him at the Cannes Film Festival when he was beating the crowds by riding around on a motorcycle. "I was like, 'How did you get a motorcycle in Cannes?'"
Students become colleagues. Sally James took his class at UCLA Law and was so impressed she followed him to Stroock.
Clients become students. Nzinga Garvey, COO of Aria Entertainment, took Moore's business class after he agreed to represent her fledging company.
Opponents become clients. When asked how he hooked up with Reliance, which is owned by Anil Ambani, the sixth-richest man in the world in 2008, according to Forbes, Moore says, "I mentioned Hyde Park? It's owned by an Indian gentleman. And Reliance and a few other Indian companies kept showing up on the other side of Hyde Park, and I did a good job on those. And they didn't like being on the other side of me. So they hired me."
In the early 1990s Ann Mitchell was president of Jean Pierre Sand USA Inc., which was involved in negotiations to use the name and image of Michael Jackson. "The selection of Sky was the best thing we did in the whole project," she says via e-mail from Woking, England. "When we took Sky's advice, things went right. When we didn't, we normally ran into trouble, then backtracked and took his advice. … I always said that if anything happened to me, I wanted Perry Mason to be my attorney. Not anymore. I want Schuyler Moore."
Moore's workday begins around 7:30. He arrives at the office, reads the newspaper and the trades, and goes online for financial blogs. By 8:00 he's ready to roll. The e-mail alone is staggering. There's a handmade sign taped to his computer: Abandon all hope ye who enter here. He taped it up, he says, because, "One day last year I got back from a trip and I got on the Internet and tried to answer my e-mails?" His laugh is his punchline. As for why he couldn't check his e-mail via cell phone? "I don't use a cell phone," he says. "I don't check my BlackBerry." Wherever he is, he's completely on; and when it's over, he's completely gone. "One thing at a time," he says. Even when that one thing is juggling many things.
His day is chaotic but fun. "F-U-N," he says. He's serious about fun—whether it's riding motorcycles or dealing with those legal areas where contracts, securities, tax, bankruptcy and intellectual property collide.
"Here's fun," he says, showing off the number of people cc'ed in a typical e-mail. "I'm gonna scroll down. Ready? I'm scrolling. That's the distribution list on the DreamWorks transaction. There's about 50 people total. There are 10 for Disney, 10 for DreamWorks, 10 for everybody. Just the lawyers. For our side, it'll be me—it'll be one—at the meetings. I've got one associate working with me on it and that's it. So we're against a cast of thousands."
Ironing out the details of the Reliance/DreamWorks transaction is just one of the tasks he's juggling on this early August day. He's also in negotiations with Universal, on behalf of client Berry Gordy Jr., regarding certain Michael Jackson films (which Gordy owns) and the word "Motown" (which Universal owns). He's the U.S. tax lawyer for actor Paul Hogan (Crocodile Dundee), who's being investigated in Australia for tax fraud. And he's exchanging e-mails with the general counsel of Sony, which is co-financing a direct-to-DVD project with Aria.
But the main task, what kept Moore up until 11 the previous evening, is a simple term sheet. "There's a film called Machete by Robert Rodriguez," Moore says, "and it's a pretty high-profile project, and my client [Hyde Park] wants to close the deal today." His simple term sheet is now 57 pages. "People started sending attachments and approval lists and waterfalls and sales agent agreements that we kept attaching. So it's now grown into this beast overnight." Moore has simplified the waterfall—how the profits, if there are profits, get allocated—from 10 pages down to a couple of sentences, and others are e-mailing and phoning to sign off on this change. "I'm a big believer in E=MC²," he says. "Simplify, simplify, simplify."
That's the appeal of The Biz. In it, Moore breaks down most film transactions into three basic elements: Money In (who's contributing and what are the triggers?), Money Out (what's the order and priority for distribution?) and Control (who has it?). He divides most film financiers into two categories: schemers and dreamers. And he reduces the entire industry to one phrase-of-warning: "Most films lose money!" It's his mantra. In effect, he's warning potential clients against becoming clients. "The best position is to be controlling distribution," he says. "And the more clients move down the food chain, the more I tell them not to invest. At the bottom of the food chain, I tell everyone not to invest."
"In our initial consultation," Garvey says, "he gave every reason under the sun, as a financier, to get up and walk out of the room. Walk out of the business. Run for the hills.
"And it's passionate," she adds. "It's like, 'Get the hell out!' So I said to him, quite calmly—because, honestly, my business partner, who comes from the health care industry, was ready to bolt—I said, 'Here's the difference: Once you represent us, I have no fears that [the bankruptcy that pervades the industry] will happen.'"
He's nothing if not opinionated. In a recent column he called for a return to the studio system. On the radio show "The Business" on KCRW he called for an end to residuals.
Law schools? "They're often into philosophy and theory and hyper-space. I teach a very practical class, which is nuts and bolts: how you get through a day, how you close transactions, how you deal with issues that come up."
DVDs? "Blu-ray, in my opinion, is dead. It's a dinosaur. To watch the HD/Blu-ray thing was like watching dinosaurs fight. Because it's going to be replaced by video on demand. Completely."
The guilds? "I'm sorry. In this industry you're getting paid gross? You're telling me a truck driver on Batman should be getting a percentage of gross?"
How about an easy one? Now that he works behind the scenes, does he still enjoy going to the movies? "I don't go to the movies," he says matter-of-factly. "I don't have a television and I don't go to movies. Other than premieres. When a client invites me to a premiere I go.
"I don't even know who Robert Rodriguez is," he adds, referring to the Machete deal. "Everyone else seems to know who he is. He did Grindhouse apparently?" He reads aloud the cast list attached to Rodriguez's film: "Danny Trejo, Robert De Niro, Jessica Alba, Michelle Rodriguez." He pauses. "I know De Niro."
To clients, this is part of Moore's charm. "He looks at everyone on equal footing," says McCreary. Before Molner and Moore did a billion dollars worth of deals together, Molner was a newbie analyst in the business development group at Paramount and needed a lawyer to review his employment contract. That's how they met. "It was totally not worth his time," Molner says. "But he did it, he gave me fantastic advice. And he treated me with the same respect—and by the way, he hasn't treated me any differently, I suppose, over the years, as the more business we've done, the more important a client I've become but …"
Moore doesn't just not consume movies; he thinks they're a waste of time. He's written a book, as yet unpublished, called Duh! Suggestions and Stories from Dad, in which, in every other chapter, he tells his daughters his life story, followed by a chapter of advice. The most insistent piece of advice is to get rid of the TV; a close second is limiting other forms of media. "There is usually no lasting benefit of movies and concerts," he writes, "and as much 'fun' as it seems at the time, the net result is just an entire evening lost, with driving, parking and ticket lines added to the main event."
So: We have an entertainment lawyer representing billions of dollars coming into Hollywood—from India, England, Germany, the Netherlands, and soon, he says, from China—that's used to make movies, which, in general, he warns against making (financially), warns against watching (culturally) and can't be bothered with (personally).
And we haven't even gotten to the most interesting part of the story. It's the part that explains all the others.
First, a joke. As someone once said, it has the added benefit of being true. This bad-boy lawyer is, in fact, the great-nephew of Glinda, the Good Witch of the North: the actress Billie Burke, who played the role in the 1939 classic The Wizard of Oz.
The Moores moved into Burke's old home after they came to Los Angeles from Westchester County, N.Y., when Schuyler was 10. He's lived in the area ever since but still considers himself an East-Coaster. He has a twin brother, Pell, but there's still an air of solitude about him. He's a lawyer, as his father was—they moved West when his father became general counsel to Carnation Co.—but he isn't a lawyer because of his father. He's a lawyer, he says, because of his truancy, and because he was fascinated with 1960s cop shows like Dragnet, Adam-12 and CHP, and because when he was in college thinking of becoming a psychologist, he received sage advice from his older brother Barrett: "You know, Sky, you don't have the patience to listen to people's problems. Have you really thought about this?"
He's been knocked around. He was born cross-eyed and had operations to correct it at ages 1, 9 and 33. When he was 4 he got hit by a bus. When he was 5, he had an emergency appendectomy. Later that year he fell through an ice-covered pond and had to be pulled out by Pell. He split his head open running into the family car, burned the skin off his hand at a campout and put a screwdriver through his finger helping out at home.
Then he really began to get into trouble.
He was first arrested when he was 12. He and friends took turns shooting a BB gun at cars. His friends missed, he didn't. The cops came and got him that night. He began to pay less attention in school, drifted away from his parents. Then he found drugs, motorcycles and gymnastics. All three nearly killed him.
When stories like Moore's are told—stories of people who overcome adversity, such as drug addiction—the line to success is fairly straight. The person is reckless and then he's not. He risks his life and then he doesn't. Moore's path is bumpy. Not because of recidivism—he hasn't even had a drink since he was 21—but because whatever reckless spirit was in him from a young age didn't go away just because the drugs did.
When he was 19, he found himself alone on the Santa Monica beach—at night, in the rain—and decided it was the perfect time to attempt a double flip off the swinging rings. The eye operations had made ball sports difficult but he was a gifted gymnast. "Amateur," he says, "but pretty decent."
The double flip came up half a flip short. "I landed on my head from like 12 feet up. And snapped the fifth and sixth cervical vertebrae. And was not good."
He managed to drag himself to a phone booth and call a friend who picked him up on his motorcycle and drove them home. Yes, home. "I don't like hospitals," Moore says. "I've been in hospitals so much." It took the persistence of his roommates and his father to get him to a hospital, where it was discovered he had a broken neck, with partial paralysis of his left leg and complete paralysis of his left arm. The doctors were waiting to see if the nerves in the arm would grow back—they did—but Moore wasn't interested in waiting. Put in traction so the broken neck bones could realign and heal, Moore bugged every doctor coming through to give him a body brace. After several weeks, one doctor relented. Then with the help of Pell, Moore snuck out of the hospital … and promptly went back to street-racing his motorcycle—even though he had to lift his still-paralyzed left arm onto the handlebars to do it.
Is it worse breaking your neck or losing your spleen? Academic question to almost everyone but Moore, who's done both. At 16, inspired by the movie Easy Rider and the TV show Then Came Bronson, Moore rode off on his Honda CB450 on month-long camping trips across the country: Colorado and Pike's Peak; Wyoming and the Oregon coast; across Canada and down to New York. At 23 he was on such a trip, riding in northern California, but pushed himself too far and fell asleep. He woke up going into a gulley at 70 mph. After crashing and crawling back to the road, a highway patrolman came by but Moore refused an ambulance. "Because of the hospital thing," he says. "Because I'm against hospitals." Eventually he got to a gas station in Willows, Calif., and collapsed from internal bleeding. The bad news? There was only one hospital within 100 miles. The good news? It was right behind the gas station. The hospitals he keeps avoiding keep saving his life—although this time they had to take out his spleen to do it.
Moore, by his own estimate, has been in 20 motorcycle crashes—the last one a year ago—and nothing deters him from getting back on. "I've literally been out in a wheelchair at the hospital itemizing the parts on my bike to fix it," he says.
He's exhibited his need for speed in other ways, too. He got his pilot's license and flew planes until his third near-crash. He took up snowboarding and free-fall parachuting. Now he's hang-gliding.
And that's the part that helps explain all the others. "The combination of these [near-death experiences] gives me a perspective on life," he says. "I'm willing to be more out there, and take risks, and look like a fool and make mistakes, because how much worse can it get than dying? I mean, I've been there, right?"
There are two other photos in Moore's office worth mentioning. They're nondescript photos, one on each side of a folding frame that sits on the bookshelf opposite his desk. The photos were taken in 2002, and show Moore, looking gymnast strong, holding up, in one photo, his elder daughter Merritt, and in the other, his younger daughter Schuyler. Each daughter is doing a handstand on his hands. Each daughter is touching the ceiling with her feet.
"I call it 'Touch the Roof,'" Moore says. "From when they were 1-year-olds we were doing these tricks … that became part of their life and part of their fun. You could almost watch the progression from there to what they've become."
What have they become? Merritt is a student in the Harvard physics department having returned from a year off to dance with the Zurich Ballet. Schuyler is a senior in high school and a nationally ranked diver who, Moore says, "has offers from all the top Ivies," and was just accepted early admission to Harvard.
"They learned balance and they learned gymnastics," he says, regarding the photos.
That a man who lived such a crazy, out-of-control life could help others learn such balance and control. Did he think that was possible when he was young?
His answer is short and clear. "No."
Search attorney feature articles