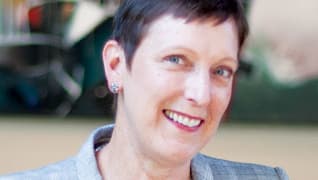 Photo by: Gregory Cowley
A Civil Defense
Don't underestimate the cordial Nancy Sheehan
Published in 2012 Northern California Super Lawyers magazine
By Joe Mullich on July 6, 2012
A number of years ago, employment lawyer Nancy Sheehan found herself in an unusual position in the courtroom: seated in the jury box. Surprisingly, she had been selected as a juror for a DUI case by a criminal defense attorney whom she frequently opposed on civil cases.
Sheehan says she found the jury deliberations "both fascinating and horrifying." Jurors ignored the judge's direction not to take into consideration anything that wasn't evidence—making Sheehan feel an ethical obligation to point this out to them.
That's not all she learned. She found jury selection "mind-numbingly boring." Keeping jurors engaged is something she keeps in mind at all times. "You have to be cognizant of the jurors and give them guideposts along the way, and keep the trial moving," she says. "I pride myself that, when I get up to question a witness, I have my documents and outline and am not shuffling for papers. I get a lot of feedback from jurors that they enjoy that approach."
The fact that an attorney who normally opposed her would choose to have her on his jury says a great deal about the level of respect that colleagues have for Sheehan.
"Judges and jurors have a high degree of respect for her professionalism and ethics," says Sacramento criminal defense attorney Donald H. Heller, who has opposed her in three cases. "[This] is complemented by her being a very nice person—very cordial and civil."
In an age when attorneys grouse about a general lack of civility, Sheehan is a case study in how to be an effective advocate and still get along with colleagues. In fact, she won an award for civility from the Sacramento chapter of the American Board of Trial Advocates in 2010. At the time, she remarked that some attorneys said it was the last honor they wanted, because they thought civility showed weakness. The reality is quite to the contrary, she says.
"The most feared attorneys are those who can get along with everybody and still get what they need for their clients," she says. "I fear them more than the attorneys who engage in endless skirmishes, who have a scorched-earth policy and serve papers at 5:30 Friday afternoon. I don't do it, and I tell my associates they don't need to do it. And I think this attitude has saved my clients tens of thousands of dollars by not engaging in needless discovery battles."
Radio personality John McGinness was a client of Sheehan's when he was Sacramento County sheriff. "She's not a flamethrower or bomb-thrower. She's always professional," he says. "And she's whip-smart—she plays chess when others are playing checkers.
"She gets the cop humor and gallows humor, and she's not offended. Behind closed doors, she can laugh at the jokes. But she understands the nuances of police work, and she can articulate her observations. She's a thoughtful woman who can express that officers have the constitutional power to deprive people of mobility without sounding argumentative or ideological."
Another client, Michael F. Sweeney, senior campus counsel at the University of California, Davis, says of Sheehan: "She has a wicked sense of humor. She's very good at mimicking others—in a gentle but funny way."
A sense of humor comes in handy in Sheehan's line of work. She has represented employers in sexual harassment cases of every possible permutation; as well as claims of discrimination based on race, religion and nationality—including a man who said his boss was discriminating against him because he was Norwegian.
"I said, 'Really? Norwegian discrimination?'" she recalls with a laugh.
She grew up on Long Island, and will happily show off the accent—or "speed impediment," as she calls it. She earned a degree in criminal justice at Long Island University, where she was thinking of become a probation officer or police officer. After graduation, she spent a year traveling and working odd jobs.
"A friend of mine had moved to Hawaii, so I went there," she says. "I met some attorneys who had gone to McGeorge [University of the Pacific, McGeorge School of Law] and I felt it was time to do something different with my life."
After graduating from McGeorge in 1983, she interviewed for a deputy DA position in Sacramento and was turned down. "It was devastating at the time," she says. "And there's an irony in that, since the DA office later became my client."
Sheehan joined Porter Scott, then a much smaller firm, after interviewing with "the silk-stocking downtown firms." She was hooked when the final interview question from one of the Porter Scott partners, Jim Mirabell, was, "Play softball? Got a glove?" The law firm softball team had a game that night. She played, joined them for postgame beer and pizza, and accepted the job offer that soon came her way.
"That was Jim's brilliance," she says. "He was saying, 'Take a look at us and see if you like us as a firm.' That's the way he sold me, and it's the way I've sold countless people on coming here over the years. This is a great work environment and down to earth. We don't have our names on the walls."
She adds, "This is the only law firm [in Sacramento] of our size and duration that hasn't had multiple split-offs and defections. I've been headhunted more times than you can imagine, but I love this firm and love this environment."
Initially, she handled the random cases that come a young associate's way. She defended a motor home company against lemon-law cases—delighting her dad (or "fadda" as she calls him in Long Island-ese), who used to work for Mobil Oil gas stations, and loved to show her how engines worked.
But Sheehan's track in employment law started 20 years ago when she took a case on behalf of the county of Sacramento, in which an employee at an animal shelter claimed sexual harassment.
"The allegations were so mild compared to what I've seen afterward," she says. The boss sidled up to the employee, put his arm around her, patted her head and said, "Woof, woof."
It was Sheehan's first jury trial. A minute into her opening statement, she felt like a "knife was in my eye." A tear was streaming down her cheek. Something, it seemed, had gotten underneath her contact lens. The judge let her go into his chambers to correct it.
"I hung my head, sure it was the end of my career," she says. "I had to come back and explain to the jury that I wasn't crying over my client's case."
But she had an ace in the hole, or what she calls her "Matlock moment." Before the trial, a witness had tipped her off that the defendant sold chocolates in the workplace that were in adult shapes suitable for a bachelorette party.
During the trial, Sheehan raised the eyebrows of the judge and the plaintiff's attorney by asking about the woman's side business, and then about the shape of the products. The plaintiff replied: "Hearts and stars and rabbits … and penises."
That deflated the woman's claim that her boss's action had traumatized her delicate sensibility. Sheehan won, and she's been trying cases of a delicate nature ever since.
"I'm a student of people," she says. "I am perfectly happy if my plane is delayed in an airport, because I can just sit there and watch people. It's a field that's also very intellectually challenging because the law is constantly evolving and changing. It's a huge workload just to keep up with it. … There is no end of the fascinating/appalling things people do to and with each other in the workplace."
Those people skills are crucial, given the broad range of personalities she has to deal with. Take a complex Title IX case for University of California, Davis, where three female athletes filed gender-discrimination claims because the campus did not offer a women's wrestling team.
Sweeney says Sheehan "does a good job at reading people and navigating dicey political issues. A university has a lot of folks who are really, really, really smart in their particular topic and know very little about legal issues. She's good at explaining the process and issues and ensuring those folks have confidence that they are informed and up-to-date."
The Title IX case went on for about a decade. "Whether it's 3 p.m. on a Sunday or 5 a.m. on Wednesday morning, Nancy is on her game," Sweeney says. "You really feel, as a client, a lot of confidence in her management of our legal issues. During this trial, 10 years after the events that prompted the lawsuit, she had 110 percent enthusiasm and go-get-em-ism." The case ended in a split decision, with no compensation for the plaintiffs. The university did pay a portion of the women's attorney fees.
She also represented UC Davis when a pair of researchers from China sued for racial discrimination after they were asked to move to another lab to make room for an incoming researcher who was working on the human genome project. The Chinese researchers had been offered space in the school of medicine, downstairs near the morgue. "They had a cultural aversion to working in close proximity to a dead body," she says. "They claimed discrimination because of their national origins."
As in many of her cases, an unexpected element popped up. Many years before, in an unrelated meeting, someone in the department had used the slur "chink." That comment colored the whole trial.
"I try to minimize the number of times I say [an offensive] word," she says. "I always try to get the judge to ask the jury during voir dire if hearing the word will make a juror so offended that they won't be able to be objective. The judges always say, 'No, thanks—you say the word first.'"
In the case of the researchers, she got a break thanks to one of the ironies that can pop up during a lengthy trial. The physician who had made the decision to relocate the Chinese researchers had retired—and had gone to China at his own expense to help the country develop a system of healthcare delivery. He testified by videotape from Beijing.
"I suggested that a physician who was biased against the Chinese would not choose to spend his retirement in a country with a billion of them," Sheehan says. "That gave me a softball to hit out of the park in closing arguments. The main thing was to make sure I didn't come off as a smartass."
Years ago, after Sheehan had won a case, a juror told her he found it disrespectful and distracting that she rolled her eyes when a plaintiff's witness was testifying. "I wasn't even aware I was doing it," she says. "It was a lesson I pass on to young attorneys. We might think the testimony is ridiculous, but we're not the jurors. When you're in a trial—from the moment you park your car, you're in the cafeteria, or—the jurors are watching you. You need to treat everything with respect and dignity."
In the fall of 2005, Sheehan was diagnosed with breast cancer. "Like all Virgo women, I studiously went for my mammogram checkup," she says. She underwent surgery and four months of chemo in 2006.
"Losing my hair was the easy part," she says. "It was weirder losing my eyebrows."
She suffered from "chemo brain." She would lie in bed dully staring at TV, couldn't remember things, and couldn't understand material she read. She was 48 years old.
"I wondered if I was ever going to get my cognition and organization skills back," she says.
By September of that year, she had enough hair—she describes it as "a Demi Moore crew cut"—that she felt comfortable appearing in public without a hat. "I knew I had to get back in the saddle," she says. She started with an easy case. "Virgo makes lists and prepares," she says. "I doubly and triply prepared."
After the trial, which she won, she and her husband went on a trip to Hawaii. Flying back to Sacramento, she had a strange feeling. When she reached the airport, she decided to continue on to Virginia, where she spent five days with her father, who had developed cancer the same year as she did. Soon afterward, he died.
"I believe in gut instinct, or whatever you call it, and treasure those last five days I had with him," she says.
Though Sheehan works hard, she tries to spend as much time as possible traveling with her husband and skiing with her stepson and her granddaughters. She also counsels other women who are battling breast cancer.
She keeps a photo in her office of herself during the chemotherapy period—"as a fabulous bald alien creature," she says—standing next to her husband.
"I keep it here to remind me of what the important things in life are," she says. "It was the first wake-up call when I had my own mortality thrown back in my face. … I don't want to spend time any time fighting or yelling with other people."
That might sound odd coming from a litigator.
"I look at litigation a little differently," she says. "I think it's advocacy at its best. A lot of lawsuits have no basis, but in this state, and in this country, everyone has the right to file a lawsuit. I will cross-examine hard, and fully represent my client, but I will also treat the plaintiff and witness with respect."
Search attorney feature articles
Helpful links
Other featured articles
From the minutia to the big picture, Deborah J. Caruso has it covered
Why Elena Karabatos is the family lawyer for 95% of the human race
Mike McMullen on life behind the lens
View more articles featuring lawyers
Find top lawyers with confidence
The Super Lawyers patented selection process is peer influenced and research driven, selecting the top 5% of attorneys to the Super Lawyers lists each year. We know lawyers and make it easy to connect with them.
Find a lawyer near you