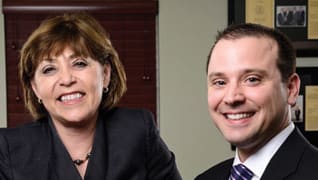 Photo by: Dustin Snipes
Across the Aisle: Linda Miller Savitt and David deRubertis
The two employment attorneys share alma maters and a big-picture perspective; but their disagreements are legend
Published in 2013 Southern California Super Lawyers magazine
By Joe Mullich on January 21, 2013
During Spring 2012, Linda Miller Savitt, an employment litigation defense attorney at Ballard Rosenberg Golper & Savitt, and David deRubertis, an employment plaintiff's attorney at the deRubertis Law Firm, were on opposite sides of a case that went to mediation. They were too far apart and unable to get a second mediation, so they got on the phone and talked through the case. They delineated each other's good and bad points. Eventually they found common ground and reached a settlement.
"There is this notion," deRubertis says, "that [lawyers] can't resolve any case or make any progress outside of a formal mediation. We can't have an honest discussion. We have to have a posturing discussion through a mediator. [But] with a lawyer like Linda, who has been to trial so many times, I am not telling her something she doesn't know. She's been in front of a jury enough to know the strengths and weaknesses of her case."
Savitt feels such frank talks are useful if the other side is smart and strategic. "David reads the files and knows the files," she says. "If someone just gives you a conclusion without concrete information, it's unpersuasive."
Norman Pine, an appellate lawyer in Sherman Oaks, knows both attorneys. "Both David on his side and Linda on her side take a strategic, long-term view about what's best for their clients and don't let egos get in the way," he says. "They think big picture."
Savitt and deRubertis share many things: aggressive attitudes, packed calendars, alma maters. They also share respect for one another.
"She is the best," deRubertis says of Savitt. "Ten years ago, only a very small percentage of lawyers regularly went to trial [in employment cases]. The game was to beat summary judgment and settle cases. Linda was the only defense attorney who was consistently trying five, six or eight cases a year."
"He has the incredible ability," Savitt says of deRubertis, "to be tenacious, difficult, and charming at the same time. He is strong and firm in his position but not unreasonable."
But respect doesn't mean agreement. Though the two attorneys are among the top employment lawyers in southern California, they took very different paths, with vastly different attitudes about business and workers, to get where they are.
By the time he was 9, deRubertis knew he wanted to be a trial lawyer. By the time he was 12, he thought he wanted to be a medical malpractice lawyer. (He'd just read The Verdict.) By the time he was 16, he was going into law firms up and down Ventura Boulevard asking for a job. At one firm, McCulloch & deMontesquiou, the office manager took in his 5-foot-6-inch frame and declared, "You're so cute. Can you start today?" He responded, "Can I tell my mother? She's waiting in the car." He didn't have his driver's license yet.
He worked there as a gofer and assistant for years. "During one 10-week quarter [in college], I spent eight weeks of it in trial with a partner while people in class took notes for me," he remembers.
Some of his decisions perplexed family and friends. Even though Ivy League law schools wanted him, he chose Loyola. "I saw that a ridiculously high percentage of the trial lawyers in Los Angeles came from Loyola," he says. "Unlike a lot of schools, Loyola emphasizes a lot of practical skills, and you're ready to hit the ground running." He was offered a summer internship at Paul Hastings, an international firm that represents many Fortune 500 companies, but he turned them down. "My heart is with the plaintiff," he says.
Today, deRubertis' office is in a nondescript area of Studio City. The small parking lot is entered through an easy-to-miss, vine-covered opening on Coldwater Canyon that gives the sense of entering a secret lair. The collection of bungalows, connected by brick pathways under a canopy of trees, has the cozy warmth of a bed-and-breakfast.
It's a hot Friday afternoon in September and deRubertis is wearing his standard summer outfit: shorts and a short-sleeve shirt. "I am fairly anti-corporation," he says. "I really believe this is the greatest country in the world, but I do believe that something about corporate America doesn't treat people right. Somebody needs to remind corporations that money is not the only thing out there. The people who made you that money should matter."
He launches into a story. For 12 years, his mother worked as an executive assistant at an insurance company, and at one point, her son, in a case related to work he did at McCulloch & deMontesquiou, had to testify against the insurance company as a material witness.
"My mom's boss, who had been to our house for birthday parties, was monitoring the case personally for the insurance company and watching me testify," he recalls. "After I testified, she was transferred to a job she hated, but she was given a raise so it wouldn't seem punitive. They put her in the dungeon."
Savitt's office, meanwhile, is on the 20th floor of a skyscraper in Glendale's bustling business district. On a Monday morning, she is dressed in an immaculate outfit, but her office is a mess. It can only be assumed that a desk lies somewhere beneath the scattered swirl of papers.
"I am management and business-oriented," she says. "Large and small companies provide jobs to a lot of people. I am a big believer that companies don't fire their superstars. You have to be fair to everyone in the workplace. You can't tolerate slackers or people who don't carry their weight—that isn't fair to the others. It's still legal to terminate people in California but you have to do it right."
Unlike deRubertis, the law was actually Savitt's third career. She spent one year as an elementary school teacher, then six years as a budget analyst for the city of Los Angeles. "Everyone around me was talking about pensions and retiring, and it was too boring and I didn't like that mentality," she says. "I was in my 20s and never thought I'd be old enough to retire. People encouraged me to go to law school. I figured four years would go by anyway, so I might as well go to law school and have something to show for it."
She, too, attended Loyola, but at night, while holding down a government job. Receiving her J.D. in 1980, she felt a stigma attached to being a night student from a lesser-known law school. "Everyone else at the firm had a pedigree," she says. "I wasn't Order of the Coif. I didn't go to Stanford or Harvard."
She notes, in those days, "There was so much money they had three lawyers researching the same memo. I didn't get to interact with clients or take a deposition. And I had just come from a job where I had a lot of independence and met with the mayor and city council."
Then she got involved in med-mal. "It made my career," she says. "I have a reputation for trying a lot of cases, which is unusual in workplace law. … They usually settle because there's a big risk factor for employers. If the employer loses, they have to pay the other side's attorney's fees." Savitt notes that she got her initial trial experience from handling medical malpractice defense cases. More of those cases go to trial.
As for how she wound up in employment law? "The labor law firms charge a lot more than the medical malpractice firms," Savitt says. "So our carriers started sending us employment cases for hospitals." 
Her reputation soared with a victory in the landmark sexual harassment case Fisher v. San Pedro Peninsula Hospital, which established a standard for a hostile work environment.
"An operating room nurse claimed that a doctor did all sorts of sexual things to nurses," she says. "She said he picked up nurses and threw them on a gurney and thrust his pelvis into them. She had to watch the harassment."
It turned out to be a case with a lot of wrinkles. Four years earlier, the doctor had a conflict with the nurse's husband, who was on the hospital's staff. Then she complained that the doctor assaulted her with "verbal sexual insults and offensive touching." After the hospital investigated these allegations, the doctor sent the nurse a letter of apology. However, the nurse contended that the doctor continued to sexually harass other female employees in her presence—though he would stop immediately when he noticed her nearby. "So she only witnessed his behavior for a second or two at a time," Savitt says. "The nurses all loved this doctor. They testified on his behalf and took the day off to watch the closing arguments to support him." Savitt won the case for the hospital, setting a landmark standard.
Lenore Espinosa, assistant general counsel for ABM Industries Inc., a facility management company, has hired Savitt multiple times. Three of the cases went to litigation. "We won one case, got one hung jury and the third one settled at the courthouse, but very favorably," says Espinosa.
"I've been an employment and labor lawyer for almost nine years, and you don't always fight an employment case," Espinosa says. "[But] if we didn't do anything wrong, she never backs away from taking a case to trial."
Savitt and deRubertis first met about a dozen years ago during a case involving a deputy city attorney who claimed she was transferred from her job for retaliatory reasons.
"[The city attorney] made a fabulous appearance at first," Savitt says. "She was a very beautiful, very articulate woman. When you start scratching the surface, you found she was stubborn, difficult and unreasonable. She didn't take constructive criticism well, screwed up a bunch of things and didn't accept responsibility."
Savitt won a summary judgment that was reversed on appeal. At that point, deRubertis joined the plaintiff's team. Savitt says, "I told him, 'David, you will really like your client … at first.' He laughed and said, 'I think I have a really good client.' … I ended up winning the case, and he called me later and said, 'I should have listened to you.'"
When those remarks are relayed to deRubertis, he booms with laughter. But he adds, "It wasn't about not liking her. It was [that] the client wouldn't appear as good of a witness as she seemed at first."
Savitt says her courtroom style was shaped by her two earlier careers. As a teacher, she had to learn how to communicate simply. As a budget analyst, she says, "We were told to write concisely and do half-page summaries. We developed good analytic skills, and I became good at ferreting out issues."
When she begins reading a case file, she starts diagramming the case, building the sequence of events, looking at the cast of characters, the actions and reactions, and applying common sense to them. At trial, she says, "I don't believe in using predone visuals in front of a jury. That gives them too much information at once."
For example, when she cross-examined a doctor in one case, she had him read the plaintiff's medical history aloud. As the doctor spoke, she put the data points on a board to show the jury that the patient's consistently low blood pressure countered her claims of high stress. "I want the jury to hear the evidence, see the evidence and write down the evidence," she says. "If we build the evidence as we go, and involve all their senses, they learn. That's the same thing you do as a teacher—involve all the senses."
DeRubertis' approach is to consider the case from his opponent's viewpoint. A month before trial, he typically conducts focus groups with a jury consultant. His co-counsel handles the plaintiff's side; deRubertis himself plays the defense attorney. "All of us fall in love with our cases and lose objectivity," he says. "There is no better way to get it back than to sit on the other side and try to win the case for the defense."
For a mock argument before a California Supreme Court case in 2009, he asked a group of defense attorneys to critique his presentation. DeRubertis says the perspective of the defense attorneys allowed him to craft "a middle argument" in a technical issue with which both conservative and liberal justices could live. The case, Roby v. McKesson HBOC, had resulted in the largest employment verdict in the nation five years earlier.
"In the first case I argued before the California Supreme Court, I had plaintiff attorneys be my audience," he says. "That wasn't as helpful. Even though I won, I wish I could do the case over again."
Savitt's main complaint about plaintiff's attorneys is that they overreach and frequently ask for sums not based on the facts. She points to a case in which her client had bought a troubled hospital on the verge of bankruptcy and hired a woman to fix safety violations. "She had some serious personal problems, and her grandfather was really sick, and she blamed all her emotional distress on us," Savitt says. "I could see where the jury would be attracted to the argument of someone trying to clean up problems in a hospital. I defused it quite a bit by saying that's why we bought the hospital and hired her—we wanted someone to uncover the problems."
Savitt says the woman's demand was never below $800,000, including $500,000 for emotional distress—which she found a galling amount since the woman immediately found another job and suffered no economic damages. The woman was eventually awarded $5,402.
DeRubertis, for his part, says too many plaintiff's attorneys underreach. "Often a referring lawyer will value a case at X, and I will look into the case and value it at many multiples of that," he says. Often, he says, referring attorneys don't dig deeply enough to understand how the client was affected. That approach is commonplace in personal injury cases but less so in workplace law. "Very often, in personal injury, the liability is clear," he says. "In our cases, we get distracted by liability because it's such a never-ending battle. We spend all our time on liability [and] liability games, and never ask clients about damages so they can prove harm."
In a recent case, for example, the referring attorney was so focused on liability he never found out his client's car had been repossessed and his children had to take showers at the neighbor's because his heat had been turned off.
But it's not just about financial damages, according to deRubertis. He points to a case involving a woman who was fired for failing to come to work after she checked herself into a hospital for suicidal depression. "In 16 months, she had a better job that paid more. Even her own psychiatrist testified she was in a better place," he says. "But for 16 months, she went through hell, selling off her few possessions and digging for recycling in trash cans. She didn't have a big economic loss, but she had a bad period of her life and those facts got the jury to be fair." She was awarded approximately $230,000, nearly a $1 million with lawyer's fees and costs.
At times, Savitt's and deRubertis' different points of view sound like cable-news talking heads:
She: "If someone is wronged, they are entitled to be compensated. But it's not the lottery. They shouldn't get rich off one bad event. Sometimes plaintiffs feel once they win the case, they should never have to work again. We have to disabuse them of that idea."
He: "I haven't seen any clients with a win-the-lottery mentality. I can't think of a client who wouldn't have chosen not to go through the case rather than receive a big recovery because their case has turned their lives upside-down. Some are fully able to not work, because of the recovery, but they keep on working. At the end of the day, most people get a lot of their value from their work."
At the same time, both attorneys suggest their different perspectives result, in large part, from case selection. Plaintiff's lawyers get to choose. "As defense attorneys, we don't have an option in the cases we take on," Savitt says. With deRubertis, she adds, "He doesn't pick dog cases."
Here's something else these two lawyers share: Both are married to people who work in the legal field.
Savitt's husband spent 30 years as a Los Angeles County deputy district attorney. "Sometimes for a strong woman it's hard to find someone who's not intimidated by you," she says. "I have a very strong man. He did what I do, but in a different field, criminal law, so there's no competition and no threats. Yet he can give me guidance, advice and insight because he's tried a million cases."
DeRubertis met his wife when she worked as a paralegal at a defense firm that opposed a number of his cases. "We talked on the phone for a couple of years, and she asked me out, which she'll deny, but she did," he says. "I showed up an hour late. It was just drinks and hanging out. We got together the next day, and spent literally the entire day together, and have been inseparable ever since. We've been working together for five years."
"He has an incredibly busy trial schedule," Norman Pine says, "but he's prodigious in answering questions from other lawyers on our Listserv. He'll say, 'You should read this,' and attach a brief, and add 'Contact me if you need more help.' With his trial schedule, I don't know how he even has time to see his wife, but he thinks it's part of his obligation to help his fellow lawyer."
Indeed, deRubertis claims no hobbies other than the law. He quickly corrects himself and points to a shelf with numerous photos of his daughter. The deRubertises just celebrated her first birthday with a party. Savitt was among the guests.
Search attorney feature articles